Welcome back to the second half of our series dedicated to the Chelsea, New York. If you missed the 1st  episode, you can find it on New York Habitat'sYouTube channel.
In the first episode of our Video Tour, we looked at the history of Chelsea, including the origin of its name, we took you to the Limelight Marketplace, some art galleries along 20th Street and the Hudson River Park.
Video tour of Chelsea, New York: Part 1 (7:00)
High Line
When the sun starts to set, one of the best places to be in Chelsea is the High Line Park.
The High Line was an elevated railway that delivered goods up and down the west side of Manhattan until it was abandoned in the 1980s.  Just recently the High Line was renovated to serve as a park, running from Gansevoort Street in the Meatpacking District to West 34th Street, between 10th & 11th Avenues.   It's a great place to meet friends, take a leisurely walk, or have a picnic.  Enter at Gansevoort Street so that you can walk the whole length of the park.  Along the High Line you can get a glimpse of a new wave of luxury housing designed by famous architects.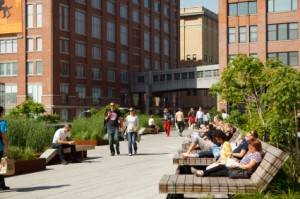 The Highline in Chelsea

Notable New Architecture along the High Line Park
You'll want to keep an eye out for some notable new architecture along the High Line. Here are a few locations:
The Della Valle Bernheimer design at 459 West 18th Street
The Chelsea Modern at 447 West 18th Street
The IAC Building at 555 West 18th Street
The Metal Shutter Houses at 524 West 19th Street
And Jean Nouvel's Vision Machine at 100 Eleventh Avenue
Chelsea for Buffs
Fashion Institute of Technology – Seventh Avenue at West 27 Street
For you fashion buffs out there, Chelsea is home to the Fashion Institute of Technology, the internationally recognized college for design, fashion, communications, art, and business. FIT's incredible campus takes up two square blocks between 28th and 26th St between 7th and 8th Avenues.
Communist Party USA Office
For political buffs, you'll want to note that the national office of the Communist Party USA is located on the 8th floor of 235 West 23rd St.
Saint Vincent De Paul Church & Edith Piaf
For French popular culture buffs, stop by the Saint Vincent De Paul Church on 23rd Street. Edith Piaf was married here in 1952.
In Chelsea, the night is young and there are plenty of ways to entertain yourself once the sun goes down, including theaters, dance classes and comedy clubs.
Comedy Clubs
In the mood for a laugh? The Gotham Comedy Club on West 23rd Street is a sleek and elegant lounge that hosts some of New York's finest comedy. Or check out the famous Upright Citizens Brigade on West 26th Street.
Theaters
For a show or a concert, here are a few of our favorite Chelsea venues:
The Joyce Theater at 175 8th Avenue
The Highline Ballroom at 431 West 16th Street
The Magnet Theater at 254 W 29th Street
Chelsea Markets – 75 9th Ave
You'll find a great market in Chelsea. The Chelsea Markets borders the Meatpacking District and Chelsea.
This New York food destination aims to please.  Inside the old National Biscuit Company's (Nabisco) factory we can find a marketplace representing the best that New York has to offer.  Here you can find vendors unique to the New York area, selling everything from sushi to gelato.  Any craving can be quenched at this eatery.
Because Chelsea is such a melting pot of cultures and it is so close to excellent food sources like Chelsea Market, and The Farmer's Market in Union Square, you really can eat whatever you like.
And if you want to shop at Chelsea Market, you're going to need a kitchen to cook all of the great food. Rent a furnished apartment or vacation rental from New York Habitat and you'll live like a local in Chelsea, including having your own fully equipped kitchen.
A kitchen in Chelsea:
Take a look at this fully furnished studio apartment in Chelsea (NY-8404). This apartment is situated on the 3rd floor of an elevator building. This simply furnished apartment has hardwood floors throughout and a tiled bathroom. The living area is furnished with a double sized futon. There is a dining table to have the option of eating all together. Air conditioning, cable television and Internet are all available with this rental.
Or for those who are only looking for a room, check out this fully furnished room available for rent (NY-7897) in a 2-bedroom apartment to share with the owner. This room for rent is situated on the top floor of a 4-story walk-up building. Tenants have access to a fully equipped kitchen, living room and bathroom. The room is furnished with a single bed and has air conditioning. There is a television with cable channels in the living room and there is a washer and dryer for the convenience of doing laundry in the apartment.
There are far too many great restaurants to mention them all. However, here a few we think are worth visiting:
•Don Giovanni at 214 Tenth Avenue
•Del Posto at 85 10th Avenue
•Moonstruck Diner at 400 West 23rd Street
•Buddakan at 79 9th Avenue
Chelsea has also got some great cafés and bakeries. Here are a few that you're sure to enjoy:
•Café Grumpy at 224 W. 20th Street
•La Grainne Café at 183 9th Avenue
•Billy's Bakery at 184 Ninth Avenue (between West 21st & 22nd Street)
And if you're looking for some bars and lounges, here are a couple to get you started:
You've got Raine's Law Room at 48 W. 17th Street. If you're in the mood for a casual, fun, and unique bar setting, visit The Frying Pan at 205 12th Avenue. This historic lightship was built in 1929, spent 3 years at the bottom of the Chesapeake Bay, and has now been salvaged and restored as the ultimate "dive" bar.
Well that's a wrap of the second half of our video series dedicated to Chelsea. If we've missed any of your favorite spots in the area, please share them with us in the comments section below.
And if you're coming to New York, be sure to book a vacation rental or furnished apartment with New York Habitat. You'll find furnished apartments all over Manhattan, Brooklyn and Queens.
Thanks for watching our New York Video tour and we hope to see you soon in the Big Apple!