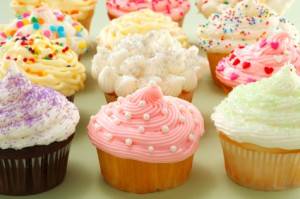 Cupcakes, Cupcakes, Cupcakes
Who would have thought that the once-lowly cupcake would enjoy such a renaissance in 21st-century New York? Once packaged and processed beyond edibility by names like Hostess and Entenmann's, cupcakes are now experiencing the kind of homemade, artisanal revival that recently made craft beers such a phenomenon. Since the craze shows no signs of waning, it's safe to say that cupcakes are now as much a part of New York's food scene as food trucks and ramen noodles.
For the benefit of newcomers and anyone else who's ready to indulge a sweet tooth, here are just a few of the most popular cupcake confectioners around the city.
The cupcake trend got underway a while back with Magnolia Bakery, still packing them in at 401 Bleecker Street in the West Village. Magnolia quickly drew such a rabid fan following that it was even name-checked on "Saturday Night Live" and "Sex in the City." They've now opened six locations around Manhattan, in case you don't feel like contending with the lines at the original; visit the Magnolia Bakery Website for hours and addresses.
Another heavyweight contender is the Crumbs Bake Shop chain, known for jumbo-sized creations that come in innovative flavors like Caramel Apple and the "Baba Booey." Crumbs now operates out of more than a dozen locations uptown and down, so visit the Crumbs website for a complete list.
On the Upper East Side, Two Little Red Hens, at 1652 2nd Avenue (between East 85th and 86th Sts.) draws consistent raves for its banana cupcake, its cream-cheese frosting, and for a tantalizing-sounding confection known as the "Brooklyn Blackout."
Don't overlook what Brooklyn has to offer, either! IKEA isn't the only reason to visit Red Hook, thanks to Baked (359 Van Brunt Street). This atmospheric hole-in-the-wall has been featured on the Food Network on account of its indulgent masterworks like the "Sweet 'N' Salty" cupcake.
Planning to sample any of New York's high-end (and, alas, high-calorie) baked goods some time soon? New York Habitat offers furnished rental apartments all over New York City city, so ideally you'll find one that suits your needs. Here are a few sample listings to give you a sense of what's out there:
– This fully furnished three-bedroom loft (NY-11763) is located on the third floor of a walk-up building in Brooklyn's trendy Williamsburg neighborhood. The apartment boasts hardwood floors, painted brick walls, and tin ceilings along with the convenience of a washing machine and dryer. Meanwhile, a wide variety of small restaurants, bars, cafes, independent shops, and music clubs can be found right around the corner on Bedford Avenue.
– A furnished studio apartment (NY-12216) is located on Manhattan's Upper West Side, just one block from Riverside Park and the Hudson River, on the 8th floor of a building with elevator, full time doorman, and the convenience of laundry facilities. Inside your apartment, a window offering great views of the George Washington Bridge!
Are you a cupcake fanatic?  If there's one particular creation you think anyone coming to New York needs to experience, don't hesitate to share your recommendations in the space below.