Welcome to the first video tour of our two part series dedicated to the Flatiron District, located in Manhattan, New York.
Here in the Flatiron District, you'll find that this historic neighborhood is a thriving retail district; but  why is it called the Flatiron District?
New York City Video Tour: Flatiron District – Part 1 (4:45)
Flatiron Building – 175 Fifth Avenue
Head to 175 Fifth Ave where you'll find a beautiful and curious structure known as the Flatiron building, which give the neighborhood its name. This ground breaking skyscraper was one of the tallest buildings in the city when it was completed in 1902.  Once it was finished, New Yorkers began referring to it as the "Flatiron" due to the triangular block it sits on, looking very much like an old fashioned flat iron.
The Flatiron District is roughly bounded by 20th Street to the south, Sixth Avenue to the west, 26th Street to the north, and Lexington Avenue to the east.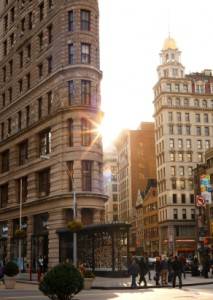 The Flatiron Building in New York City

History of the Flatiron District
The Flatiron District developed around a stretch of high end retailers along Fifth Avenue that drew in the most fashionable women of the late 1890s. In fact, prior to being known as the Flatiron District, it was known as "Ladies Mile" and later on "The Toy District" because of the Toy Center Building located at 23rd Street and Broadway, as well the American International Toy Fair, which has taken place there since 1903.
When the district became more commercialized in the 1890's, residents began moving further uptown, selling their brownstones to small businesses.
Today the 'Ladies Mile' may not have the glamour and glitz that it had in the past, but it has regained its retail shopping identity and is now a New York City Historic District.  Come here to shop for clothes, home goods and small boutique items.
Madison Square
Named for President James Madison, Madison Square was opened to the public in 1847 and was the focal point of one of Manhattan's most elite neighborhoods. It was home to the first two Madison Square Garden Buildings, the arena that the New York Knicks and Rangers play in, and is currently a bustling commercial district.
If you'd like to experience the Flatiron District like a true local, you should definitely rent a vacation rental or furnished apartment from New York Habitat. There's no better way to experience this city than to live in a real New York apartment.
Consider this fully furnished room for rent in the Flatiron District (NY-12595) is less than 2blocks away from Madison Square Park. This apartment is situated over 2 floors of a townhouse. The bedroom is furnished with 2 single beds, a closet, a dresser and a desk. The living room is shared with the owner and has a sofa, dining table and TV with basic cable. The kitchen is fully equipped to make meals in the apartment. Also, there is a dog in this apartment, so renters must love dogs!
Or maybe, this fully furnished 1-bedroom apartment in Midtown, New York (NY-12330) is on the 4th floor of an elevator building also within blocks of Madison Square Park. The bedroom has a king size bed, the living room is furnished with a sofa and dining table and there is air conditioning throughout the apartment. The kitchen is fully equipped and this apartment also has the luxury of a washing machine and a dryer! There is a cat that lives in this apartment, so owner does ask that cat is fed and please make sure no one in your group has allergies.
Lastly, take a look at this fully furnished 1-bedroom apartment in Union Square  (NY-7425). This apartment is situated on the 4th floor of a 6-story walk-up. Well furnished with a queen sized bed and a sofa, this apartment also offers air conditioning for the hot summer months as well as a washer and dryer.
Madison Square Park
The heart of the Flatiron District is undoubtedly Madison Square Park. With its lilac grove, children's playground and sculpture garden, it's a great place to spend a day outdoors.
The Birthplace of Theodore Roosevelt
Theodore Roosevelt, the 26th President of the United States, was born at 28 East 20th Street on October 27, 1858. His childhood home is open for tours during the week. Check out the official website of the Theadore Roosevelt birthplace for more details.
Well, that's a wrap of our first episode of our video tour of the Flatiron District. Feel free to leave us a comment below and share some of your favorite spots in the neighborhood.
Continue the visit with Part 2 of our Video Tour of the Flatiron District, and don't forget to subscribe to our YouTube channel.
Thanks for watching our New York video tour and we hope to see you soon enjoying the scenery in Madison Square Park!