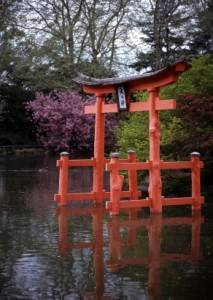 Torii Gate at Brooklyn Botanic Gardens
Spring has sprung!… and if you're like most people, you're probably feeling a basic urge to get outside and soak up as much greenery as you can find. You're probably already familiar with  New York City's famous public parks—but did you know that the city is also blessed with an exceptional array of public gardens in its outer boroughs? For the uninitiated, following is New York Habitat's quick guide to some of New York's most beloved urban oases.
Located in the Bronx, and easily reached by subway or Metro-North train, the New York Botanical Garden is home to 50 gardens and plant collections, all complemented by a wide variety of daily public events. Now through April 22, the NYBG's signature attraction is its annual Orchid Show—and this year's is a gravity-defying spectacle that transforms the observatory building into a giant hanging garden with a splendiferous assortment of orchids, ferns, and other equally exotic flora from around the world. Visit the New York Botanical Garden's website for directions, ticket prices, and the most up-to-date event schedule.
Last spring New York Habitat blogged in detail about the Brooklyn Botanic Garden, which is perhaps best known for Sakura Matsuri, its annual cherry blossom festival, which unfolds this year on Saturday, April 28 and Sunday, April 29. Come May, the BBG also promises a new visitors' center that will be distinguished by a "living roof." Stop by the Brooklyn Botanic Garden website for hours, directions, and a full calendar of events for visitors of all ages.
Founded as part of the 1939 New York World's Fair, the Queens Botanical Garden, in Flushing, offers 39 acres of rose, bee, herb, and perennial gardens for public enjoyment. Though smaller than its counterparts in other boroughs, the Queens Botanical Garden compensates with such attractions as a Fragrance Walk, a Bee Garden (literally buzzing with activity!), and bird walks year-round. As a bonus, the QBG's visitor center, opened in 2007, is widely considered to be New York's "greenest building." Head to Queens Botanical Garden Website for complete details.
Last but not least, if you'd like a fun boat ride as part of your green getaway, down on Staten Island, the Snug Harbor Cultural Center and Botanical Garden offers a free "Harbor in Bloom" festival from May 4 through 6 that's set to include garden tours, plant sales, tree giveaways, a composting workshop, and live music. For newcomers, Snug Harbor is located just minutes away from the Staten Island Ferry terminal, on the Island's northwest corner, and the views of New York Harbor and Manhattan justify a visit all on their own.
Ready to check out one of New York's green getaways on your next visit to the city? New York Habitat has furnished rental apartments all over town, so you're sure to find one at a location that works for you. Following are a few sample listings to give you a sense of what's available:
– A fully furnished studio in Midtown East (NY-15291) is located on the 30th floor of a 37-story high-rise with an elevator, which means you can expect fantastic views of Manhattan's southern skyline and the East River. Inside you'll appreciate hardwood floors with matching wood furniture and a modern layout that increases the sense of space. Around the corner on 1st Avenue, scores of shops, restaurants, and cafes are within easy walking distance.
– Downtown, another furnished studio apartment in the Financial District (NY-14658) sits on the eighth floor of an 11-story mid-rise apartment building with a gym and rooftop terrace shared by all the building's tenants. Other amenities include a walk-in closet providing ample storage space and a modern bathroom complete with glass shower. The apartment's convenient downtown location also puts nine subway lines within two blocks.
Excited about visiting one of New York City's public gardens this spring? Don't hesitate to reminisce about a favorite experience, or share a recommendation, in the space below.