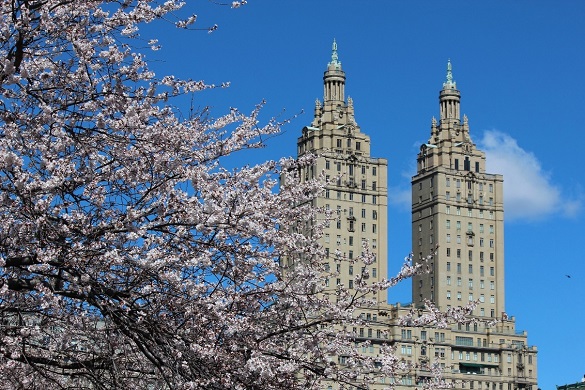 Spring is graduation season at NYC's colleges and universities!
Springtime in New York City is a time of renewal and springing forth from the stagnation of the cold winter months to the rebirth of gardens, parks, warm weather, and outdoor activities. New Yorkers love getting out and about; whether it's a stroll through Central Park, enjoying an outdoor concert, browsing the offerings at a street fair, or dining al fresco with friends. Additionally, the month of May adds graduation festivities to the mix! New York City's prestigious colleges and universities span all five boroughs, from technical and trade schools to Ivy League universities, schools with athletic programs, and everything in between. It's here you'll find FIT (Fashion Institute of Technology), Cooper Union, NYU, Fordham University in Manhattan and the Bronx, St. John's University in Queens, Brooklyn Law School and the College of Staten Island. As you can imagine, graduation time is a busy time in NYC! If you are a friend or family of a graduate, you're probably planning your trip to NYC for graduation ceremonies. Why not also make the most of your time here and fit in some sightseeing while you're in town? New York Habitat's agents can help you find a furnished rental apartment in proximity to an NYC college or university and convenient to some of the best spring activities and attractions to experience while you're in town!
Furnished apartments are a great family option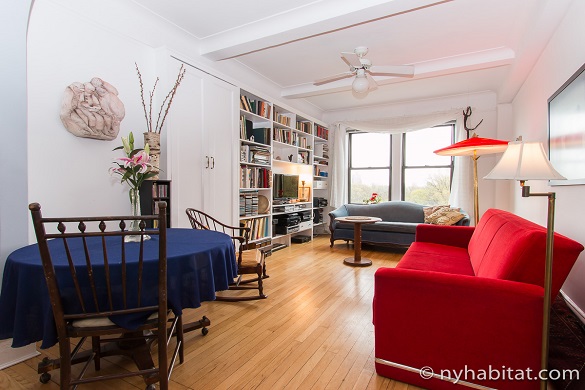 Rent this apartment with Central Park views in the spring
New York Habitat has fresh new additions to our apartment inventory just in time for spring. Is a fully-equipped kitchen to prepare family meals on your wish list? What about an outdoor space for enjoying the gorgeous spring weather in the company of family or friends? Do the kids each want their own bedroom? We have apartments to suit every scenario. When you're heading to NYC with the family in tow for graduation day, why cram into a hotel room or split up the family between hotel rooms when you can all spread out and enjoy a spacious furnished apartment together? If you're attending graduation ceremonies uptown at Columbia University or City College, this 3-bedroom/2 bath apartment on the Upper West Side can sleep five people in style. Enjoy the hotel-like luxuries of doorman service and an elevator, while also enjoying a Central Park view right from your living room! Three spacious bedrooms allow everyone to have their privacy in a homey environment, while multiple couches in the living room create a relaxing space to congregate and spend quality time together. Head to the park for a family picnic or plan a memorable graduation dinner at one of the Upper West Side's swanky restaurants.
Things to see and do in Manhattan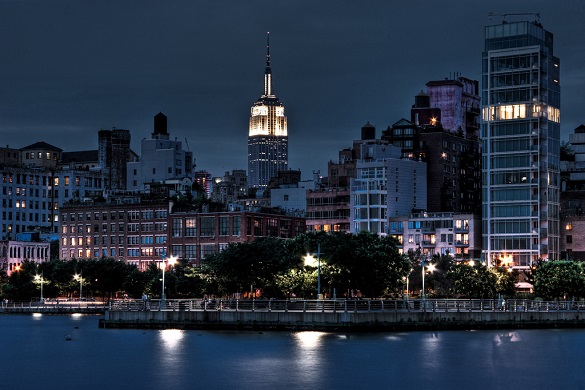 The views by the Hudson River are spectacular night and day
Graduation time is a combination of reflection on the events of the past, as well as looking forward with optimism and excitement about all that lies ahead. For fun, we've combined some outdoor spring activities with places to see and stay that incorporate both NYC's past and present! If you haven't been to New York City before, or just haven't visited recently, you'll want to check out the ever-evolving High Line Park. There's always a new art installation to discover or a novelty food vendor to tempt your tastebuds as you stroll through this elevated park built on former freight rail tracks. It's a fitting tribute to NYC's past, present and future, as abandoned railroad tracks and a little creativity birthed a whole new life to this area of the city. Now, trendy apartments, hotels, and bars line the route as you walk, mixing with old tenement buildings and industrial spaces of the past as well as freshly-planted flowers and trees. Catch a memorable sunset over the Hudson River from the High Line at the end of a perfect spring day. If you're looking for some family athletic activities, head to nearby Chelsea Piers Sports Complex where there's sure to be an activity for everyone, from golf, to rock climbing, to ice skating, just to name a few. The Bowlmor bowling alley is a great spot with fun for a whole family thanks to a festive vibe complete with blacklights, video walls, and arcade games.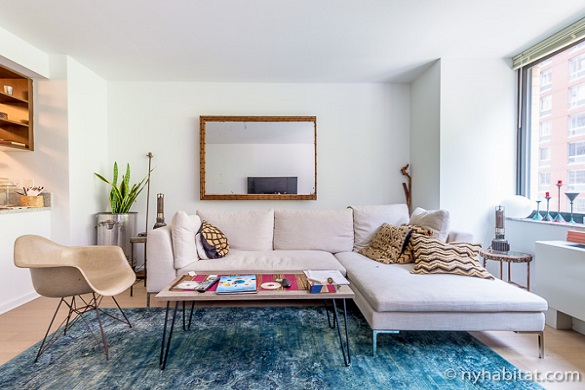 This Chelsea apartment is all decked out for spring!
If you're in love with the thought of the Chelsea area, you may want to snag this 1-bedroom apartment in Chelsea while it's available. Tastefully decorated with hints of bright spring colors and overlooking an inner building courtyard, this apartment will let you enjoy views of spring greenery right from your window. Prepare meals at home in the modern kitchen that opens to the living room and features granite countertops and stainless steel appliances. After dinner, you can work off your meal at the on-site gym or head to the rooftop and enjoy the stunning city views. This apartment has a prime location for getting acquainted with some of the best NYC attractions, located just a half a block from the High Line and the Hudson River. Rent a bike and explore Hudson River Park, stroll through the cobblestone streets of the nearby Meatpacking District and do some shopping, or hit a hip new eatery. Then, browse the art galleries of Chelsea on your way home.
Things to see and do in Brooklyn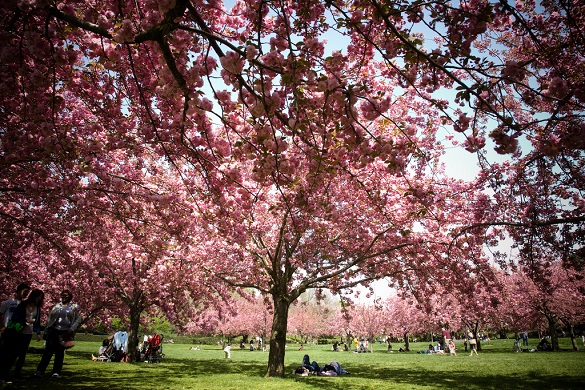 Spring is cherry blossom season, so head to one of NYC's spectacular parks and catch a view
From the Hudson River to the East River, Manhattan is full of things to do in the spring. Why not venture to the other side of the East River and discover Brooklyn? Home to a variety of academic institutions including Brooklyn Law School, Brooklyn College and Pratt Institute, it's also home to some of New York City's most beautiful, sprawling green spaces, which makes it a prime spot for spending spring graduation season in NYC.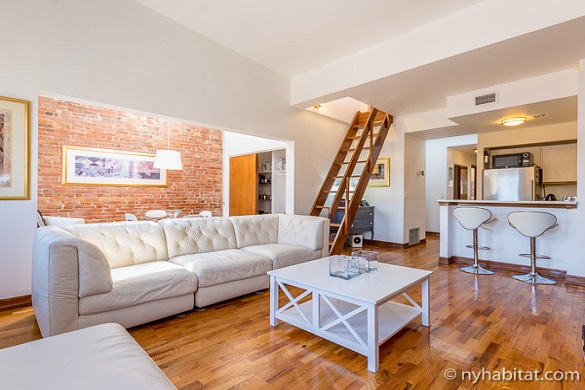 Modern and classic mix in this Clinton Hill 3-bedroom with terrace
This airy 3-bedroom apartment in Clinton Hill, Brooklyn is a convenient option to rent for families coming for an extended stay around graduation, or even for new graduates and their roommates as a shared starter apartment. Located near Brooklyn's famous Pratt Institute in a classic Brooklyn brownstone, this apartment is a mix of old and new. The monochromatic white living room is accented with original details like exposed-brick walls that add an urban Brooklyn vibe. Sink into the couch in the living room in front of the large flat-screen TV and enjoy a relaxing afternoon nestled in your new neighborhood. Prepare meals at home with ingredients from one of the local farmer's markets. The open kitchen is perfect for entertaining your guests as they lounge in the living room space. Barstools at the countertop offer a casual option for dining in addition to the dining table for four. Two bedrooms with queen-sized beds and individual flat-screen TVs occupy the same floor, while the third bedroom with double bed is up the wooden staircase on the upper level of the apartment. From here you can access a divine outdoor terrace space with wrap-around seating so you can soak in the sun and all the splendor of spring in New York City!
What better way to celebrate spring than to immerse yourself in the beautiful plants and flowers of Brooklyn Botanic Garden? Adult admission is just $15, seniors and students get a discount at $8, and children under 12 years old enter free. Here you can dine at the Yellow Magnolia Cafe (named after a Magnolia flower developed at the BBG) that sources its ingredients from local farms, and boasts views overlooking the garden's Lily Pool Terrace. The annual Cherry Blossom Festival each spring is one of the most famous events and a local favorite! The Brooklyn Botanic Garden also hosts educational activities for kids and families and classes for adults. Another essential spring event in Brooklyn is to spend a day exploring Prospect Park. This 585-acre park offers boating, fishing, horseback riding, hiking and jogging trails, and even a zoo for the kids and the young at heart. Equipped with BBQ and picnic areas, it's the perfect place to spend a gorgeous spring day dining al fresco with the family.
Weekend activities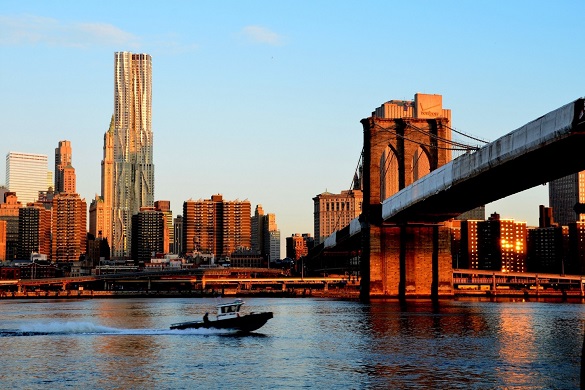 Discover all that Brooklyn has to offer in the springtime!
Whether you're spending a weekend in Brooklyn, or staying elsewhere and just visting, it's as simple as a subway ride. You can also take a scenic walk from the City Hall area over the Brooklyn Bridge from Manhattan. Spend a day shopping and meandering the cobblestone streets of DUMBO, then head to Brooklyn Bridge Park for a waterfront stroll with a spectacular skyline view of NYC. If you're craving some great New York pizza, check out Fornino Pizza at Pier 6, then head to Brooklyn Ice Cream Factory, located right in the center of the park at the old fire-boat house. Here, you can pick up delicious small-batch ice cream made in-house.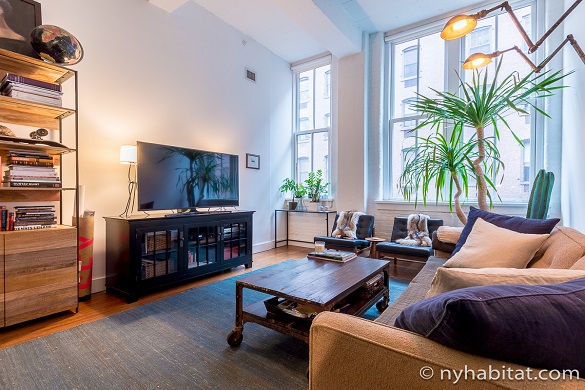 Live a little of Brooklyn's past and present in this DUMBO apartment
If you just can't get enough of DUMBO or its views, consider staying a little longer and renting this gorgeous, furnished 1-bedroom loft-style apartment right in trendy DUMBO! Located in what was once a 19th-century manufacturing building reminiscent of the area's past, it's now a luxury residential building in one of Brooklyn's hippest areas, complete with gym and rooftop deck. The interior of the apartment combines modern amenities with industrial-chic decor, hardwood floors and classic details from the building's past. This includes high ceilings and large windows to make the most of all that springtime sun! Pillow-covered cozy couches and greenery warm the space, while urban design elements like the industrial lamps, workman's desk, and rugged coffee table incorporate touches of the building's history into its current story. After all, New Yorkers are pros at taking urban industrial spaces and adding modern touches. The sleek furniture and amenities like a washer/dryer create the perfect mix of urban chic living.
Tips from the locals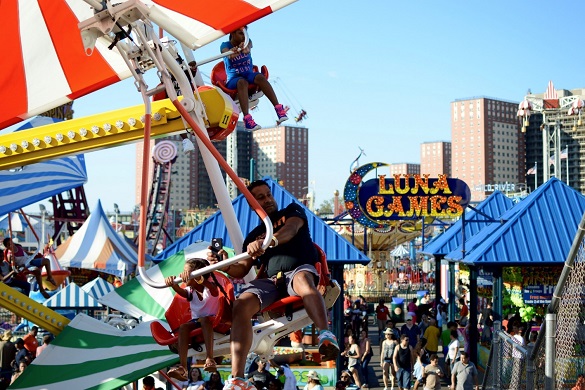 Coney Island is a timeless NYC treasure!
Bringing to mind some more of New York City's famous past, Coney Island is already open for the 2017 season! Head to this famous beach for a bit of nostalgia, the smell of the boardwalk's tasty treats, or the thrills of the world-famous amusement park! The vintage park is complete with brand new upgrades and blasts from the past like the iconic Coney Island Cyclone roller coaster. If you're the active type, or even just an avid spectator, there's also the Brooklyn Half Marathon that runs from Brooklyn Museum to Coney Island on May 20th. NYC beaches officially open May 27th, so trade the sidewalk for some sand and relax a little in the big city. Bike Month also runs through the entire month of May, so grab a friend and explore NYC on two wheels for something a little different!
Discover why spring is such a great time to visit New York City—school is out, the weather is great and the crowds haven't arrived yet! Browse more apartment options on our website, or let one of our experienced agents find something tailored to your specific needs. With us, you can make your next trip to NYC a one-of-a-kind experience! We're also launching on Instagram so you can peek inside more of our unique apartment rentals, and don't forget to tag us in pics from your NYC vacation with New York Habitat!