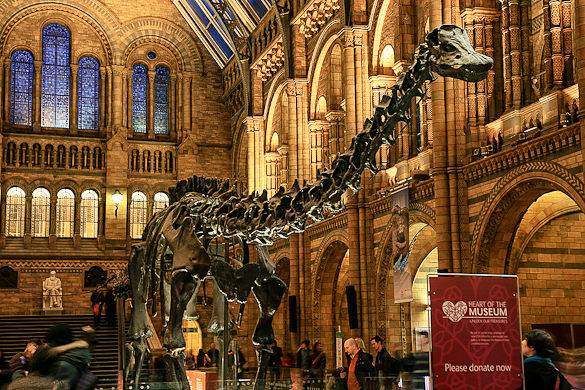 Dinosaur skeleton at the London Natural History Museum
London has a reputation of being an expensive city. Especially if you're visiting with kids, it can be hard to stay within budget with all the things you want to do and see. However, London is also a city with countless free attractions: in fact, there's enough to keep you entertained all summer! You just have to know where to look. A summer holiday in the capital of England can be the perfect family getaway, especially since there are so many free kid-friendly things to do in London. To show you how kid-friendly London really is, we've gathered fun and free things to do for the whole family this summer!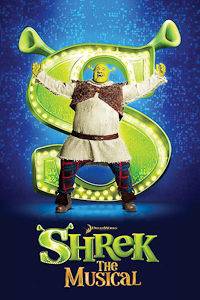 Shrek: The Musical is one of the shows participating in London's Kids Week
Kids Week 2012
This summer fest has a bit of a misleading name, since Kids Week will run from the 1st to the 31st of August this year! 2012 will mark the 15th edition of the annual event, where children get to experience London's famous theater and musical shows for free! For every full-paying adult, you can get one free ticket for a child of age 16 or under. You can also get half-priced tickets for two additional children. Participating musicals and shows include The Lion King, Mamma Mia, Shrek the Musical, The Lion, the Witch and the Wardrobe, The Phantom of the Opera, The Wizard of Oz, Wicked, Billy Elliot, Chicago and much more. To learn the ins and outs about the West End theater district, check out West End Musicals and Plays in London. Besides the shows, there will also be free workshops and other fun activities to do during the month-long event.  For more information and tickets, see Kids Week in London.
Museums in London

Even in the summer there's a good chance you'll get to experience the infamous London rain. Luckily, there are plenty of kid-friendly indoor activities in London to do!
For example, there are many museums in London, and most are completely free. A kid's favorite is the London Natural History Museum. This museum boasts a Dinosaurs gallery that features real skeletons, life-size models and even an animatronic Tyrannosaurus Rex! Other attractions in the museum include a "Creepy Crawlies" section, "the Vault" gallery where you can find real treasure, and "Visions of Earth", where you can take an escalator up into an earth globe.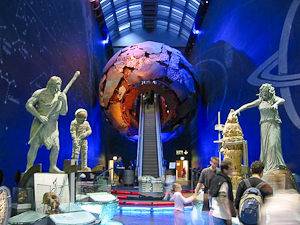 London Natural History Museum's Visions of Earth gallery. Picture by Michael Reeve.
The museum also has many interactive things to do for kids, like an earthquake simulator where kids can actually feel the earth move.
Another free kid-friendly museum is the Science Museum London. This museum features many interactive exhibits where kids can conduct their own experiments, and there are different attractions for every age group.
The V&A Museum of Childhood is a delight for children and adults alike. The exhibitions and displays are completely free, and there are also daily activities such as treasure hunts your kids can take part in.
Lastly, a museum with a very remarkable location in London is the HMS Belfast.
The museum ship is moored on the River Thames between the London Bridge and Tower Bridge. The ship belonged to the Royal Navy and played an important part in World War II. Nowadays, it is part of the Imperial War Museum, and children under 16 can explore the ship for free!
London Parks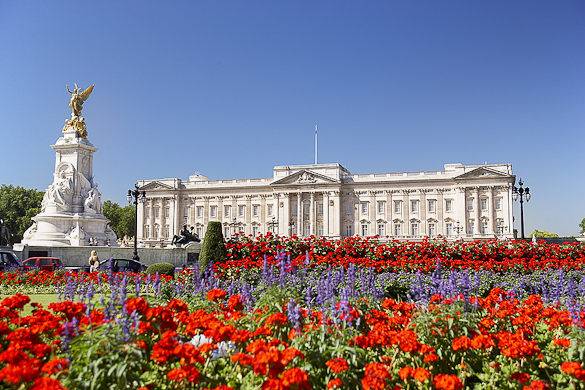 Flowers at the Queen Victoria Memorial Gardens and Buckingham Palace in London
For those lovely summer days when the sun does make an appearance, London has an amazing collection of Royal Parks where you can enjoy picnics, ball games and more. The oldest Royal Park in London is St. James's Park, where you will find St James's Palace to the north and Buckingham Palace to the west. You can take the kids for a stroll through the lovely park, and then watch the changing of the guard at Buckingham Palace! Close to the Palace is one of the largest parks in London: Hyde Park. There are many deck chairs scattered across the park, where you can soak up some sun or relax after a day of exploring the city. Furthermore, in the summer the park becomes the venue of many events such as concerts. And because London will host the 2012 Summer Olympics this year, there will be even more free festivals, concerts and other events to attend than usual! For more info about Hyde Park and the Olympics, see
Hyde Park at the Royal Parks
.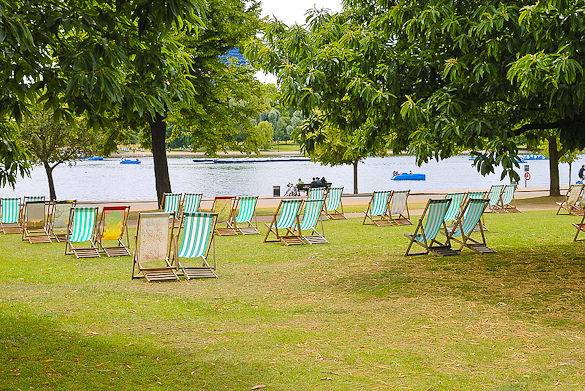 Hyde Park's famous deck chairs in London
To the west of Hyde Park you will find Kensington Gardens. With its wide lawns and beautiful shady trees, you'll quickly see why J.M. Barrie chose this park as the setting for Peter Pan in Kensington Gardens. This is a perfect park to explore with kids: be sure to search for the Peter Pan statue and the 900-year-old Elfin Oak tree stump! There is also a famous playground called Princess Diana Memorial Playground in the northwest corner of the Kensington Gardens. Here, the kids can explore a huge pirate ship, as well as other toys and play sculptures inspired by the Peter Pan stories, while you can rest your feet at one of the many benches.
Public Transport in London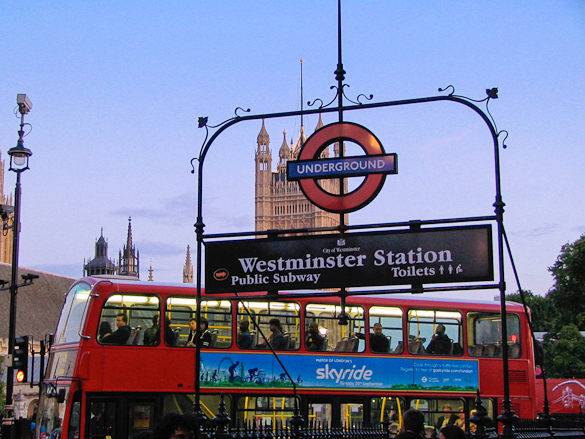 A London Underground station, red double-decker bus and Westminster Palace in the background
London has one of the most extensive subway systems in the world. When you're staying in London with kids, the subway is one of the easiest and most convenient means of transport to explore the city. It isn't free, but special rates do apply for children. Kids aged 10 and under can travel for free on the Underground when they are accompanied by an adult. There are special child fares for kids aged 11 to 15 on the Underground, but they can still travel for free on buses and trams. Children aged 11 and up do need to show an Oyster photocard to get to ride for free. Go to
London Underground tickets
for more information.
Vacation Rental Apartments in London for the Whole Family
If you're searching for affordable accommodation for your family vacation, it's worth looking into vacation rental apartments. Especially when you're looking for accommodation for three, four or more people, renting an apartment can be an affordable alternative compared to staying in a hotel. You'll get to stay together as a family in your own apartment, and you'll be able to enjoy additional amenities such as your own fully-equipped kitchen where you can prepare home-cooked meals!
We have many vacation rentals in London available, from studios to 4-bedroom apartments, and in many different neighborhoods. To give you an idea of an apartment that's well-suited for a family vacation, have a look at this 3-bedroom vacation rental apartment in Westminster (LN-703). This apartment is available for rent by the week, and can sleep up to six people. The fully-furnished rental features a comfortable living room, a kitchen and a master bedroom and 2 bedrooms. What's more,  there are three London Underground stations within 500 meters (1500 feet) from the apartment so it's easy to explore museums, landmarks and other areas in London as well.
We hope you've enjoyed this special kids feature about free things to do in London. Of course, there are still many other free attractions in the city we didn't get the chance to go into here. What's your favorite family attraction in London?