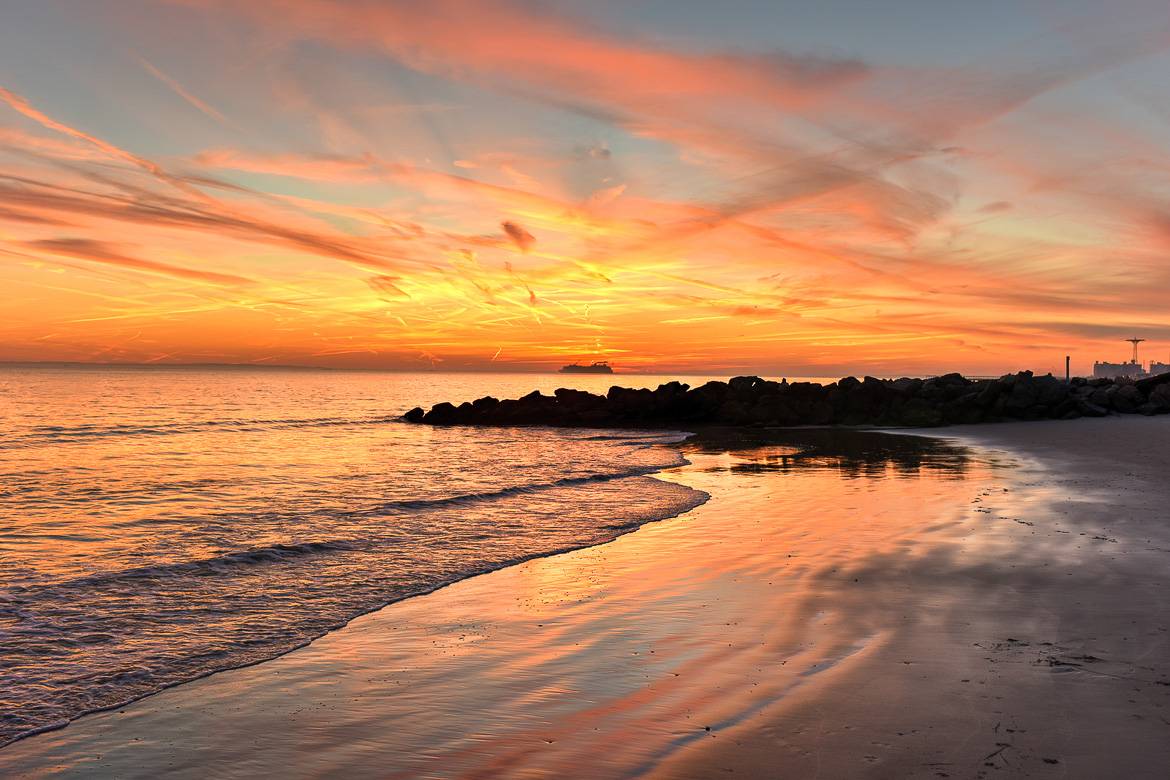 The beautiful summer sunset at Coney Island Beach
Since kids are out of school for the summer, there's no better thing to do than to keep them entertained with a trip to the city that never sleeps: New York City! With activities ranging from a trip to the amusement park at Coney Island to visiting the Bronx Zoo, NYC has everything you need to create an unforgettable summer vacation for the whole family.
1. Outdoor movies/Plays
NYC is known for an abundance of theater and film in its five boroughs, and summer's warm temperatures bring these great productions outdoors for all to enjoy. Shakespeare in the Park is a yearly event in the iconic Central Park. This year's completely free performances are The Tempest and Cymbeline. If your family enjoys films rather than plays, pack a family picnic and enjoy a summer evening at the Central Park Film Festival, which holds free movie showings for an entire week. Want a view of the dazzling Hudson River? The Summer on the Hudson festival offers opportunities to view movies, participate in children's dance parties, and even hosts early morning yoga sessions for parents! Your whole family will love these free events that won't leave a dent in your wallet. Check out more summer cultural events in NYC.
2. Luna Park/Coney Island Amusement Park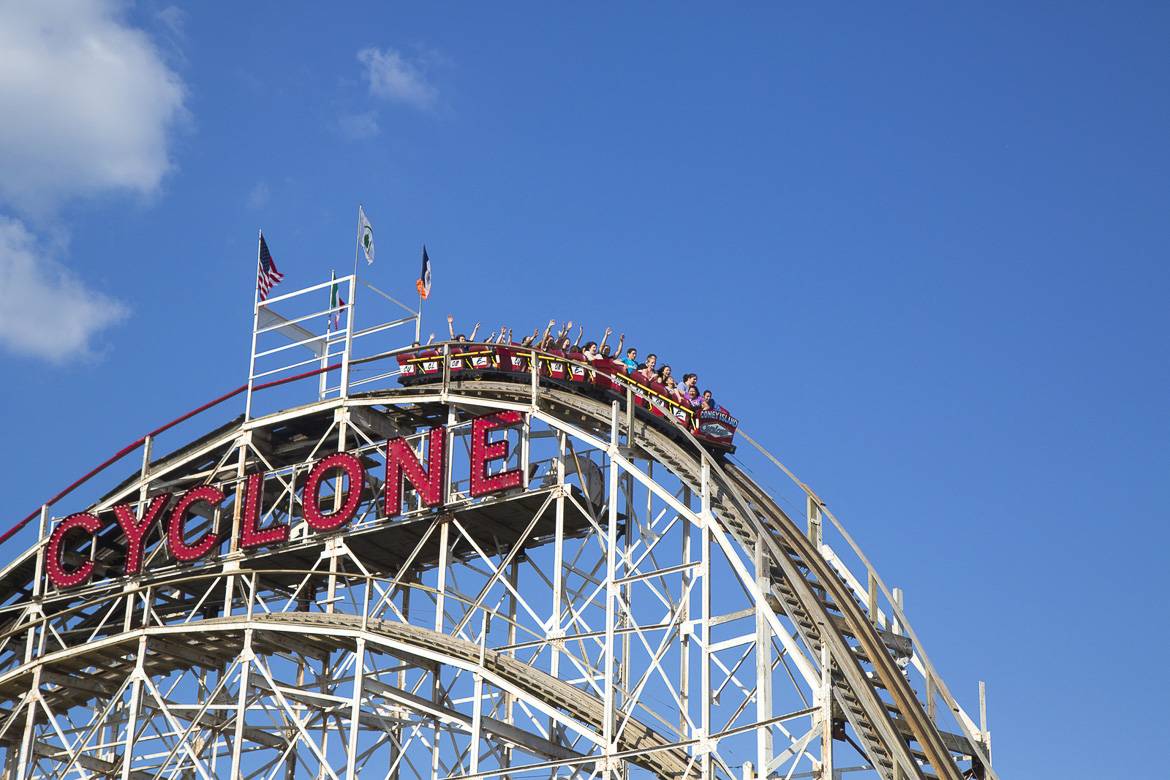 Cyclone, the historic wooden roller coaster in Coney Island, Brooklyn
Most visitors to the Big Apple don't know that there's an amusement park within city limits. Luna Park is a fully operational amusement park situated on Coney Island Beach and Boardwalk in Brooklyn. There are many thrilling and kid-friendly rides, so no one will be bored! If you need a break from the excitement of the park, take a quick stroll to the beach to observe the serenity of the waves. If you're looking for a larger-scale amusement park, take a quick bus ride from Port Authority to Six Flags Great Adventure in New Jersey. Are you considering moving to NYC? Check out our Brooklyn furnished apartments for great water views!
3. The beach
You know about Coney Island Beach, but did you know there are many more sandy shores in the NYC area? Brighton Beach is located right next to Coney Island. Without attractions like amusement parks, this area has a calmer atmosphere and is a great place for lounging. Adjacent to Brighton Beach, Manhattan Beach offers beachgoers a shaded park area to escape the sun's rays and have a BBQ. Rockaway Beach and Jacob Riis Beach Park are located in the borough of Queens. While both beaches were heavily damaged during Hurricane Sandy in 2012, they have since been revitalized with parks, charging stations, food stands, and even top-of-the-line bathroom stations. Explore our guide to the top 5 beaches in NYC for more!
4. Take a trip to the zoo, aquarium, and botanical garden!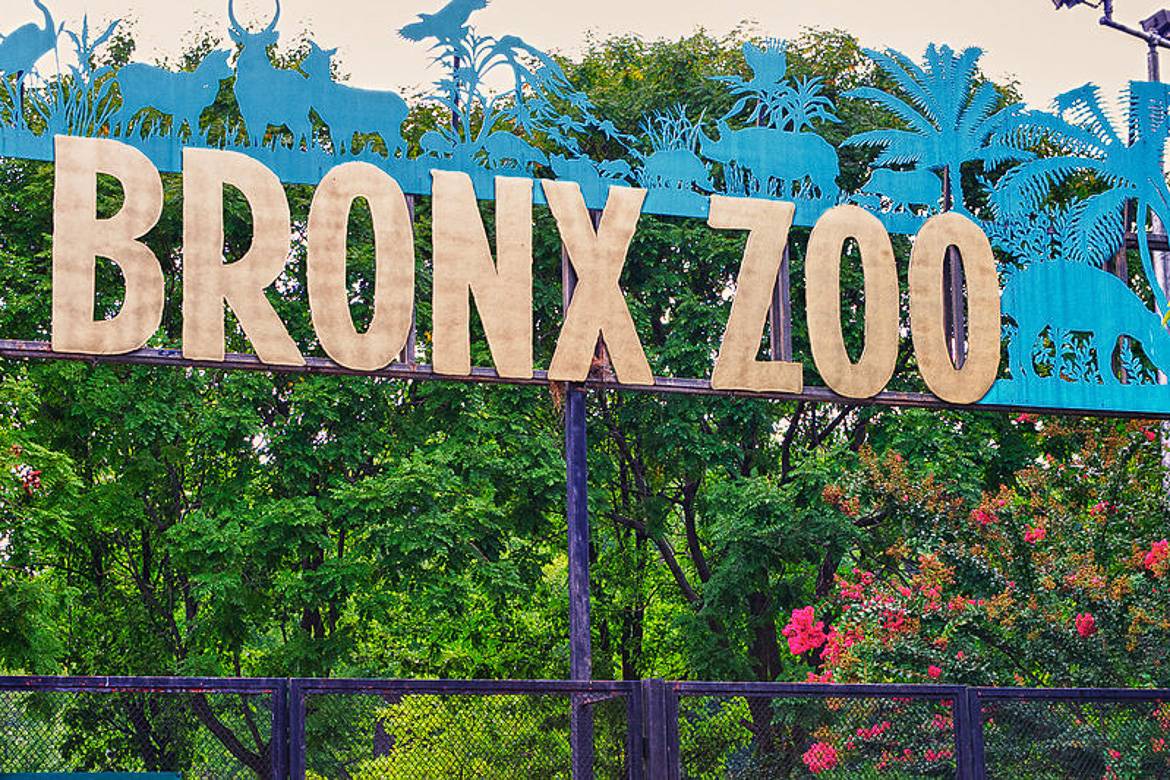 The iconic Bronx Zoo sign proudly displayed at the park's entrance. (Photo credit: Chris Costello)
Were you aware of the ample opportunities to view exotic animals and plants in the concrete jungle? There are many zoos, aquariums and botanical gardens throughout the city. The largest zoo, The Bronx Zoo, has 6,000 animals in its exhibits, hailing from all over the world from the African plains to the Himalayan highlands. Explore the borough of the Bronx in its entirety. If you can't spend an entire day in this large zoo, try the smaller zoos like the Prospect Park Zoo, Central Park Zoo, and Queens Zoo. Learn to live like a local in Park Slope, Brooklyn, which has direct access to Prospect Park. Don't forget about the animals from the ocean! Spend some time in the New York Aquarium in Coney Island to see various aquatic life. There is also the option of viewing thousands of species of flowers and plants at the New York Botanical Garden in the Bronx and the Brooklyn Botanic Garden in Prospect Park. While you're there, check out our vacation rentals in Park Slope, Brooklyn.
5. Family swimming pools
Take a dip in one of the NYC's many public indoor and outdoor pools of NYC. McCarren Park Pool, located in Williamsburg Brooklyn, is one of the larger pools in the city and is in an excellent location! Take a look at our furnished apartments in this popular neighborhood too. Did you know you can have amazing river views while you swim? The Brooklyn Bridge Pop-Up Pool is a pool in Brooklyn Bridge Park that offers million-dollar views of downtown Manhattan and the East River, while you're enjoying the refreshing pool. There's also the Floating Pool in the Bronx, which is situated directly in the East River. Check out our guide to the top 5 places to view the sunset in New York, which includes the iconic East River.
6. Boat rides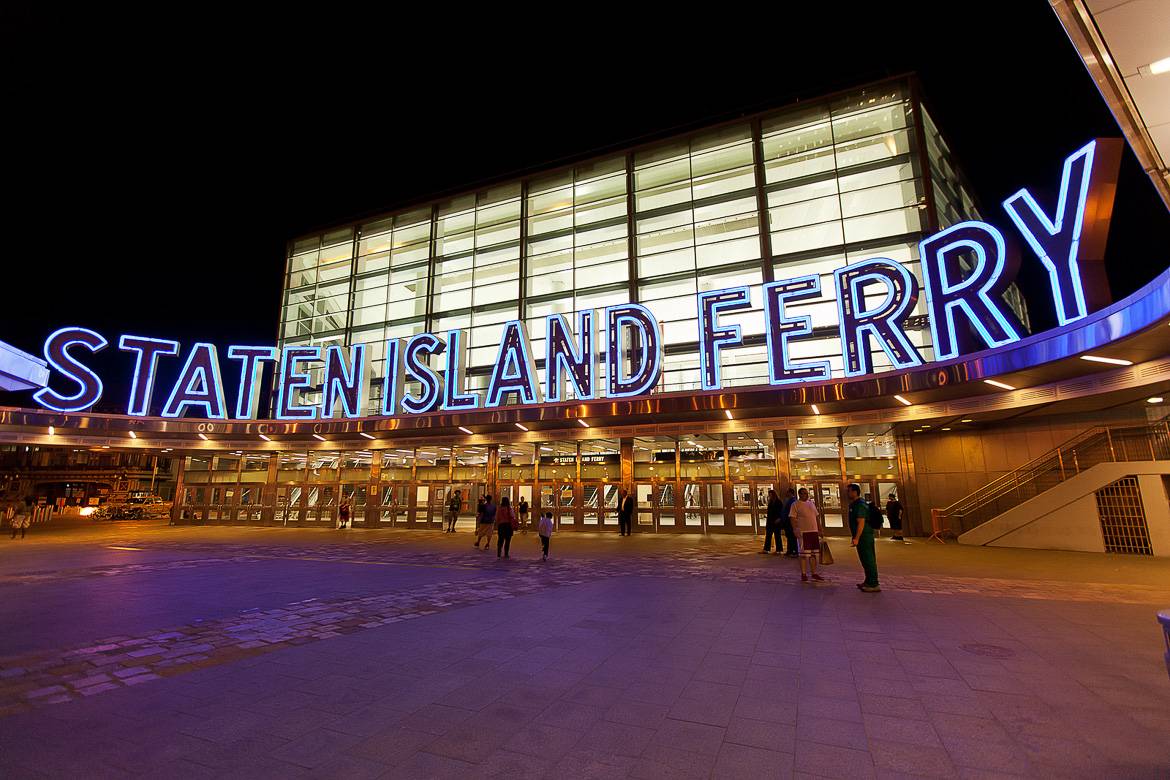 The lavish Staten Island Ferry terminal shines brightly at night.
There are many ways to view New York City by water, even some that are completely free! The Staten Island Ferry is the best way to travel from Manhattan to Staten Island and is free to ride. Many people ride the ferry just to get amazing views of the Statue of Liberty and Ellis Island. Take the ferry to get to Governors Island, where many festivals and fairs are held. The island is great for bike riding and picnics. We rated Governors Island #3 in our list of top 5 views of Manhattan! If you're looking for a something a little more thrilling, hop on the Shark Speedboat Water Taxi, where you will be shown iconic sights around the harbor at high speeds. Higher speeds allow the boat to create larger waves, adding an incredible amount of excitement to the boat ride! Here is more information about New York City's Water Taxi.
7. Fountains and sprinklers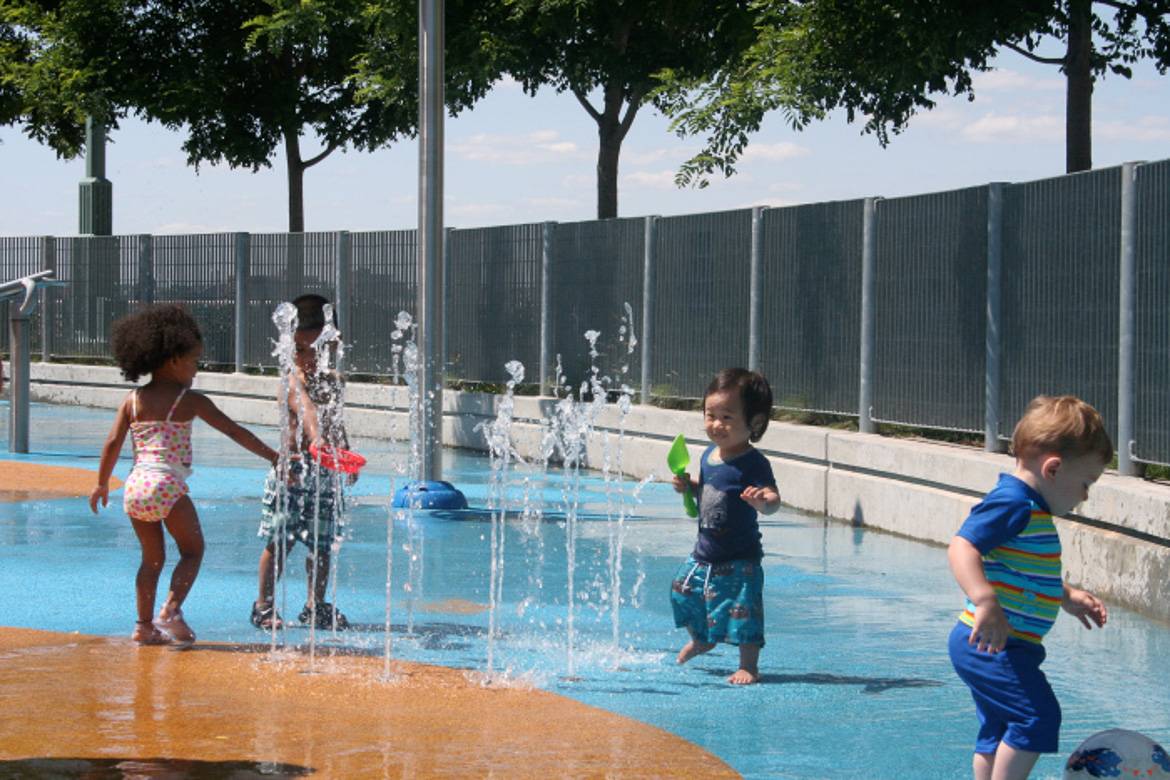 Toddlers play in one of the eight fountains at Pier 25 in Hudson River Park.
Take a break from the sights of NYC and enjoy the cool mists of multiple fountains throughout the city. While most public fountains prohibit people from entering the water, there are still many places where your whole family can make a splash. Ancient Playground on the Upper East Side offers small fountains in the playground for kids who need to cool down while at play. Check out our furnished rentals on the Upper East Side nearby. Another great playground, Heckscher Playground, is located in Central Park and also offers many water features! On a particularly warm day, your family can enjoy the breeze of the Hudson River in the Hudson River Park Pier 25 playground. This location on the banks of the river boasts eight different water features with an excellent view of the water. Learn to live like a local in Chelsea, Manhattan, where you'll find Pier 25!
8. Parks and festivals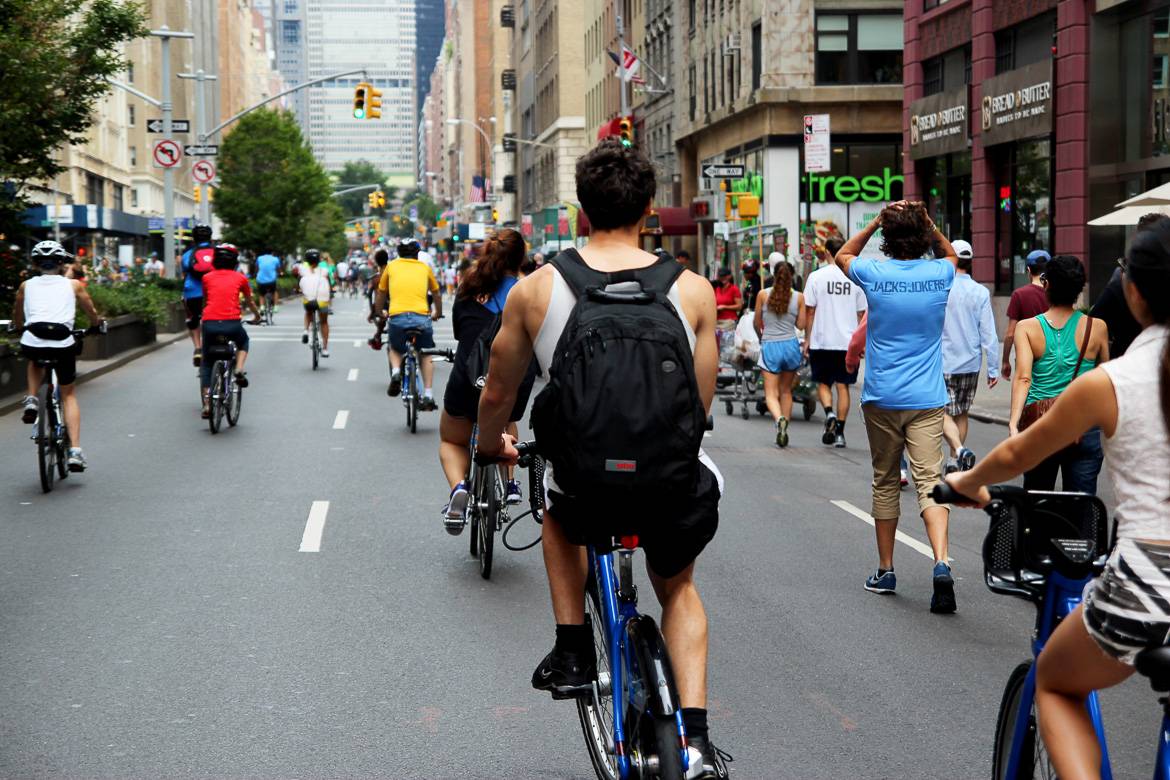 NYC closes the streets to vehicle traffic to allow bikers to explore the city during the Summer Streets Festival. (Photo credit: New York City Department of Transportation)
NYC hosts an abundance of summer festivals throughout the five boroughs. One of the most popular is Summer Streets, which is held for three weekends every summer. The city closes down avenues in Manhattan and opens them to vendors and cyclists. It's a great time to bike with your family without the worry of riding alongside heavy traffic. Other activities include yoga, rock climbing, and listening to live music. We even rated Summer Streets as a top yearly event in NYC! Another great event for kids is the Water Fight NYC, which is held in Central Park. The Great Lawn is opened up for hundreds of people with water guns to spray each other in a friendly and cool water battle. No kid could pass up a water gun fight, so be close to the action with our vacation rentals on the Upper West Side.
9. Landmarks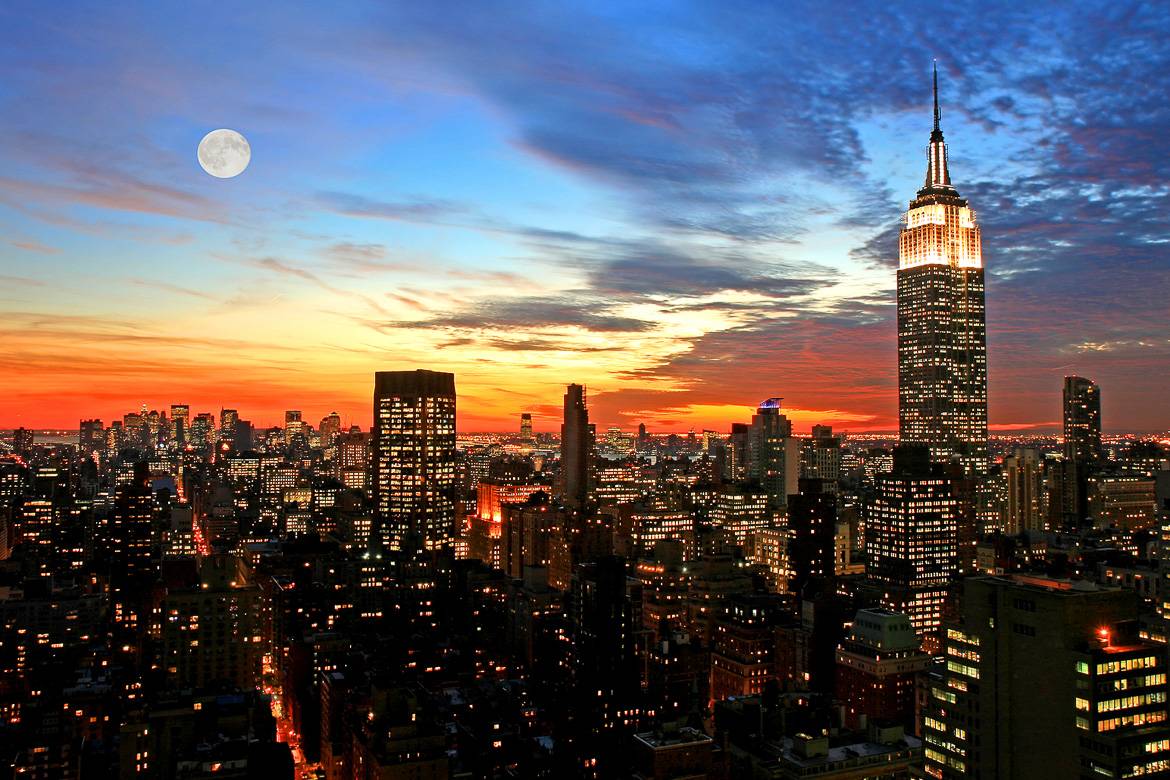 The Empire State Building illuminates the sky as the sun sets on a summer evening.
No trip to the Big Apple could be complete without seeing major landmarks. Take a stroll on the High Line, an elevated park that was once a train track. This site offers excellent views of the Hudson River and the neighborhood of Chelsea, Manhattan. Are you looking for more views of the entire city from above? The Empire State Building in Midtown East has two observation decks, one on the 86th floor and another on the 102nd floor. With their incredible height, the decks provide unobstructed views of the entire city that even your little ones will enjoy! Check out our furnished apartments in Midtown East. Another must-see landmark is the Statue of Liberty, accessible by quick ferry ride to Liberty Island. Discover the borough of Staten Island, which offers amazing views of the Statue of Liberty!
10. Summer kid-friendly events
Watch the sky shine bright with your entire family at the Macy's 4th of July Fireworks Show. This spectacular event will be sure to give your family lasting memories as you gaze at the New York skyline and watch the sky burst with color. You can view this event from Brooklyn Heights or downtown Manhattan as the fireworks erupt from the Brooklyn Bridge. Popular music artists also perform at this show! Browse our vacation rentals in Brooklyn Heights to stay near optimal views of the fireworks. Another great event is the Nathan's Hot Dog Eating Contest at Coney Island. Your entire family will enjoy the entertainment of seeing contestants chow down on these famous franks. Watching an eating contest really stimulates your appetite, so check out our guide to the top 10 pizza spots in NYC!
What are your favorite kid-friendly activities in NYC that we didn't include on our list?