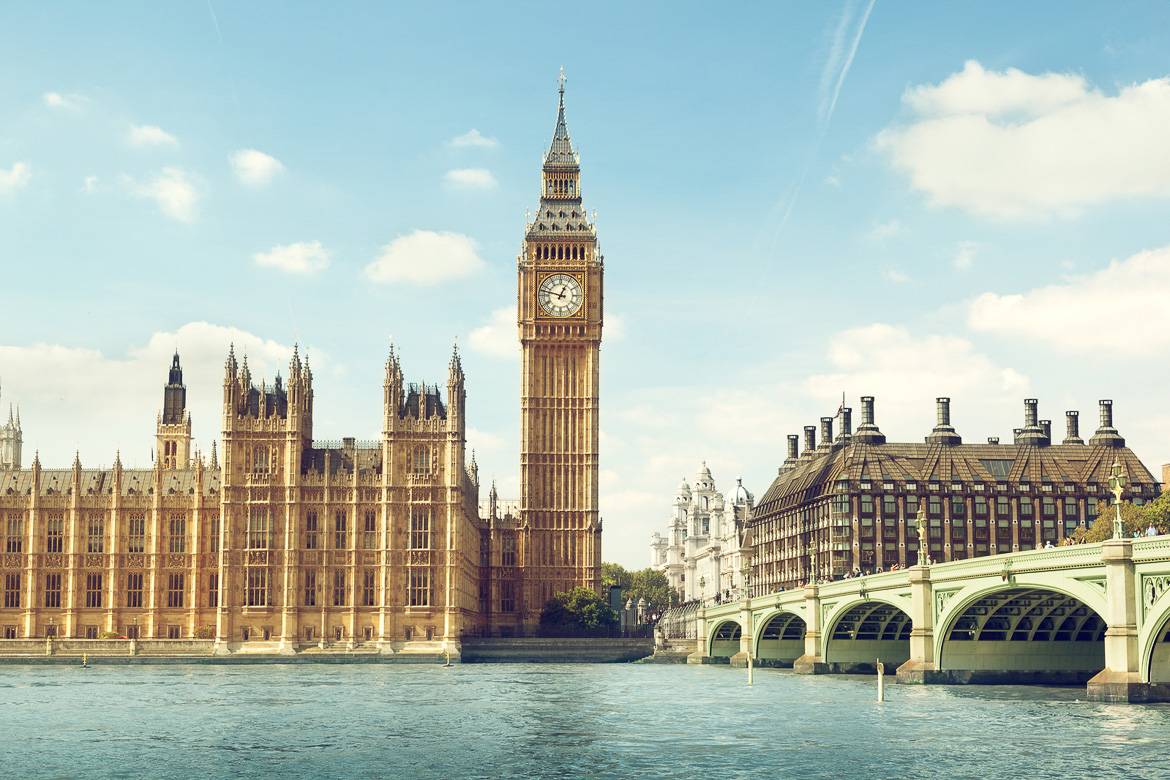 The London skyline is a sight to behold
'Summertime': it's arguably the favorite word of children everywhere! When school's out, what can you do to keep the kids from getting bored? How about getting inspired by this list of our top 10 favorite family-friendly things to do in London? Don't forget that summer doesn't just get all the fun. We recommend these top yearly events in London, too!
1. Nearby beaches
Nothing says 'summertime' quite like a dip in the water! Broadstairs and Sunny Sands are two beaches located close to London in the county of Kent. In the county of East Sussex, you'll find Camber Sands, and in the county of West Sussex you'll find Littlehampton Beach. The best part is that all of these beaches are under two hours from the city. You can decide to take a day trip or a weekened excursion. Take advantage of our London vacation rentals for easy access to beachfront adventures!
2. Have fun at the city's theme parks
Amusement parks are made for a summer day out with the family! At Legoland Windsor, the popular LEGO building toys come to life through a series of themed lands, rides, and attractions, with themes ranging from pirates to ancient pharaohs.
The London Dungeon merges macabre English history with interactive live-action shows and two rides. The attraction is great storytelling fun, but its gruesome nature might not be best for the faint of heart.
If you have adventurous preteens and teens in your group, take them to the London Bridge Experience & Tombs. Tour spooky facts about London's history before walking through the zombie-filled tombs–if you dare! Also, outside city limits is the Chessington World of Adventure, which includes a zoo, aquarium and theme park. And just remember; Disneyland Paris is only a train ride away.
3. London zoos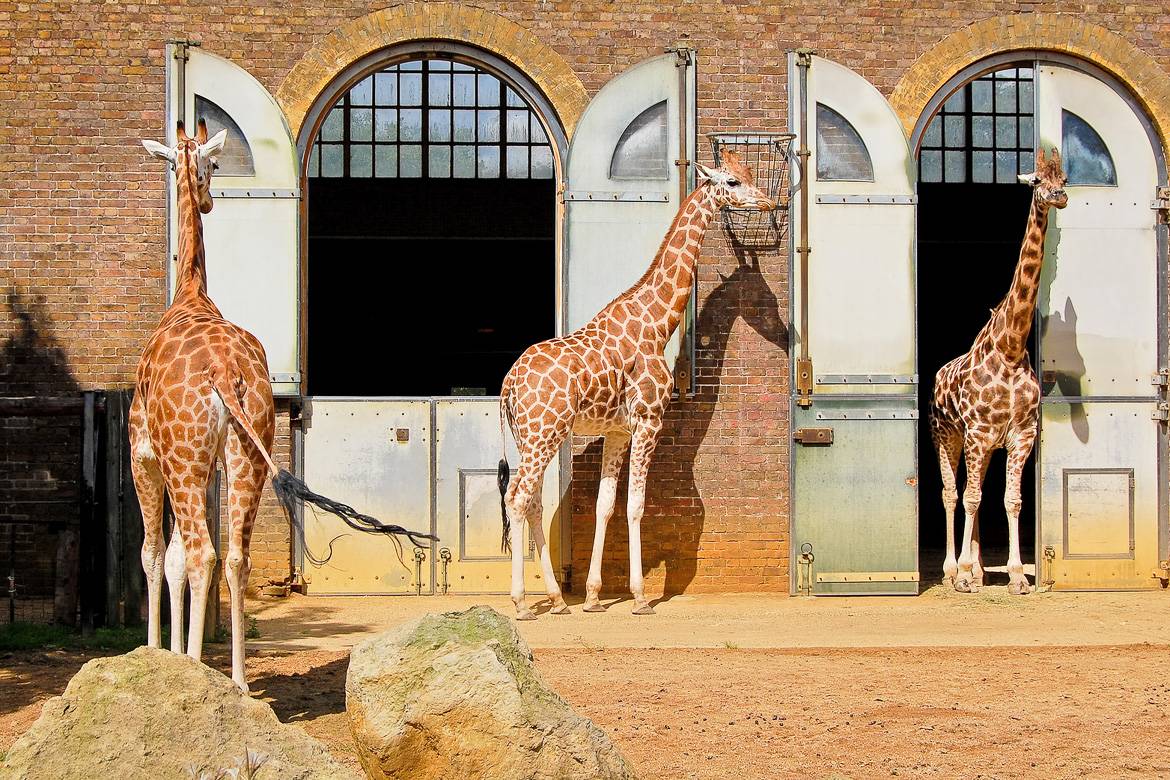 See giraffes and other African mammals at some of London's greatest zoos.
Gorillas, penguins, and tigers – oh my! These are just some of the animals you'll see at the London Zoo in the northern corner of Regent's Park. A facet of the Zoological Society of London, the zoo maintains its charity foundation by encouraging education and conservation efforts. The Battersea Park Children's Zoo is smaller in size, but not in charm! Lemurs, monkeys, and otters are just some of the critters housed there. Outside London is Paradise Wildlife Park – known for its multiple species of big cats. There's also Beaver Water World, an animal rescue facility that specializes in the protection of deer, reptiles, birds, and of course beavers. This is a perfect way to introduce your children to the differences between domestic animals and wildlife. Perhaps a furnished London apartment nearby is also just the ticket!
4. London farms
Encourage the development of your kids' green thumbs by taking a trip to some of the city's best gardens. Hackney City Farm conveniently brings the art of agriculture to a central spot in London so families can learn about raising farm animals and tending crops. Right outside the City of London (that's the City proper, not the entire metropolis) is the Spitalfields City Farm. Volunteers and visitors alike are welcome to celebrate the importance of livestock and agriculture. Young children will likely want to sponsor one of the farm's many furry creatures!
5. Museums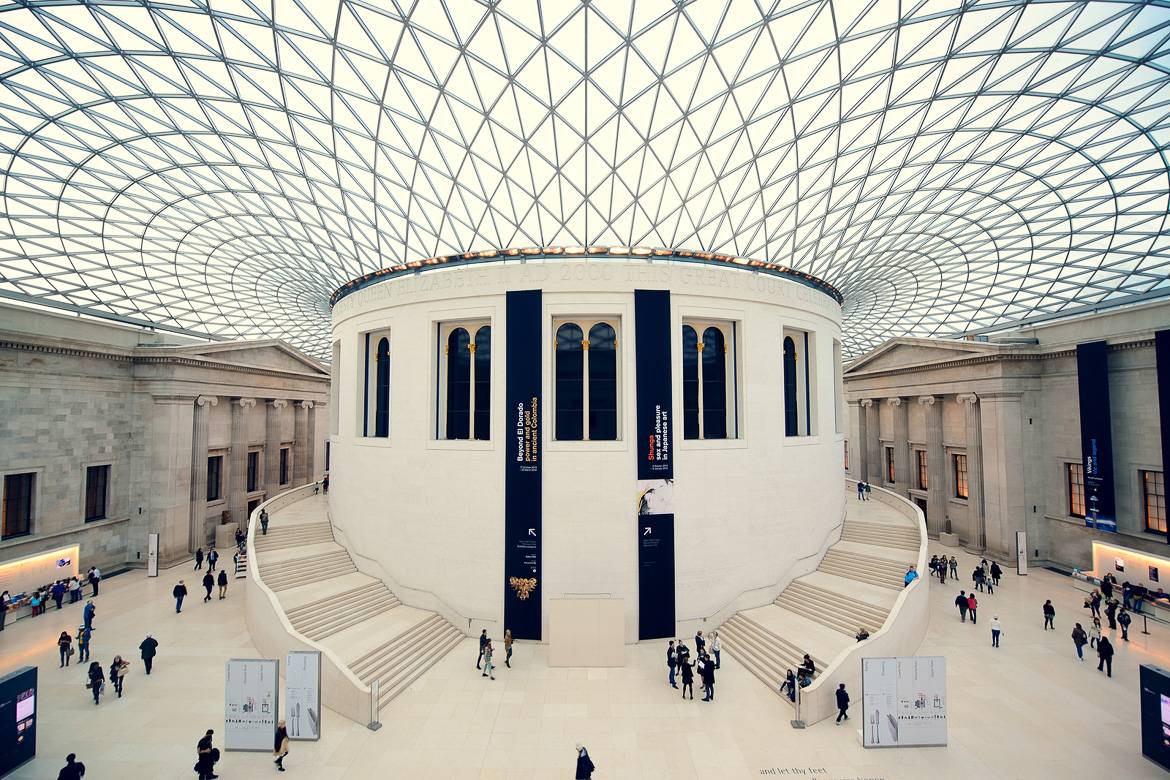 The British Museum's lobby is an architectural wonder
World-class museums dot the London metropolis. The Natural History Museum, housed in a historic Victorian building, should please budding geologists, paleontologists, and ecologists. For those who prefer to dabble in astronomy, medicine, and engineering, the Science Museum is just the ticket. The Geffrye Museum of the Home does not get the same level of attention as its peers, but don't count it out. The museum explores the role of the domestic space in London, with evolving exhibits and a permanent series of rooms. End your museum tour with the Museum of Childhood, which is home to a collection of playthings and toys that will delight both young and old. The British Museum, pictured above, is in the popular neighborhood of Bloomsbury; check out this guide!
6. London Eye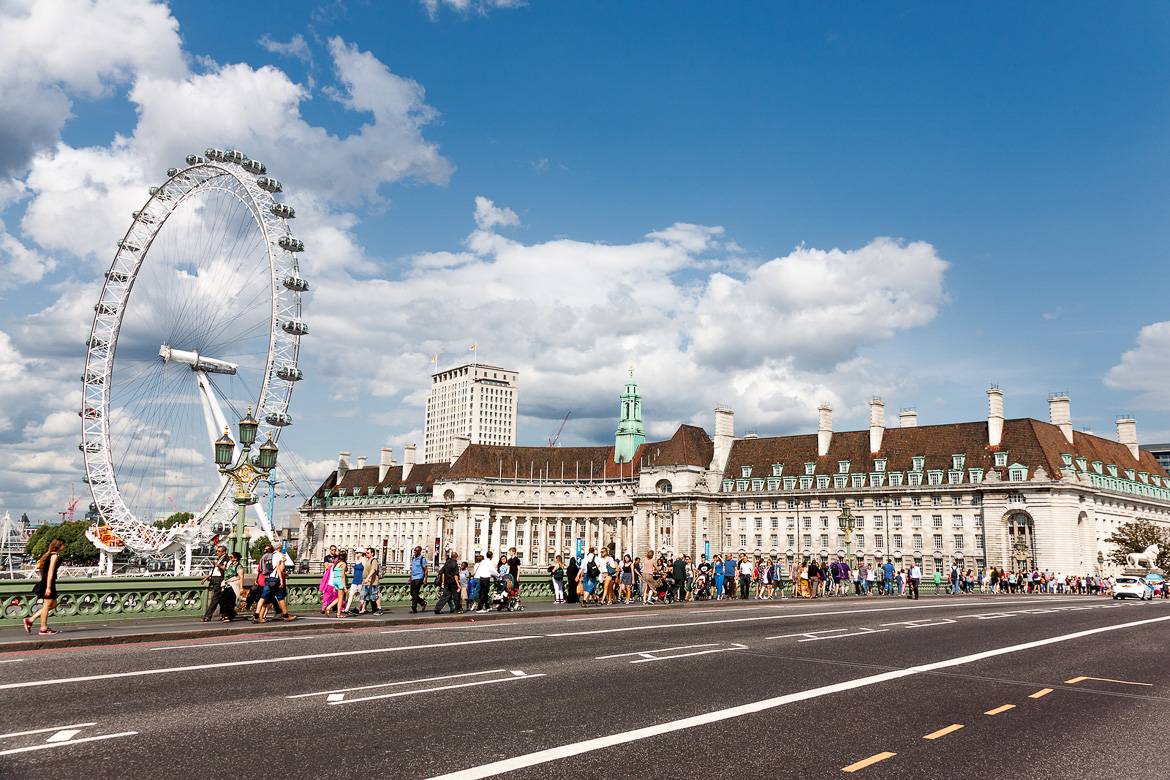 The London Eye provides stunning city views along the River Thames
With 40-kilometer panoramas to the north, south, east, and west, the London Eye is the best place to get a bird's-eye view of the enormity of London. It considered one of London's top sights, and for good reason: the slow-moving attraction gives riders 30 minutes to absorb the scenery and snap some incredible photos with the whole family. Take a glance into the courtyard of Parliament while you're up there, or book a reservation in the evening to witness dusk's beauty. Other spots to watch the sunset can be found here.
7. Changing of the Guard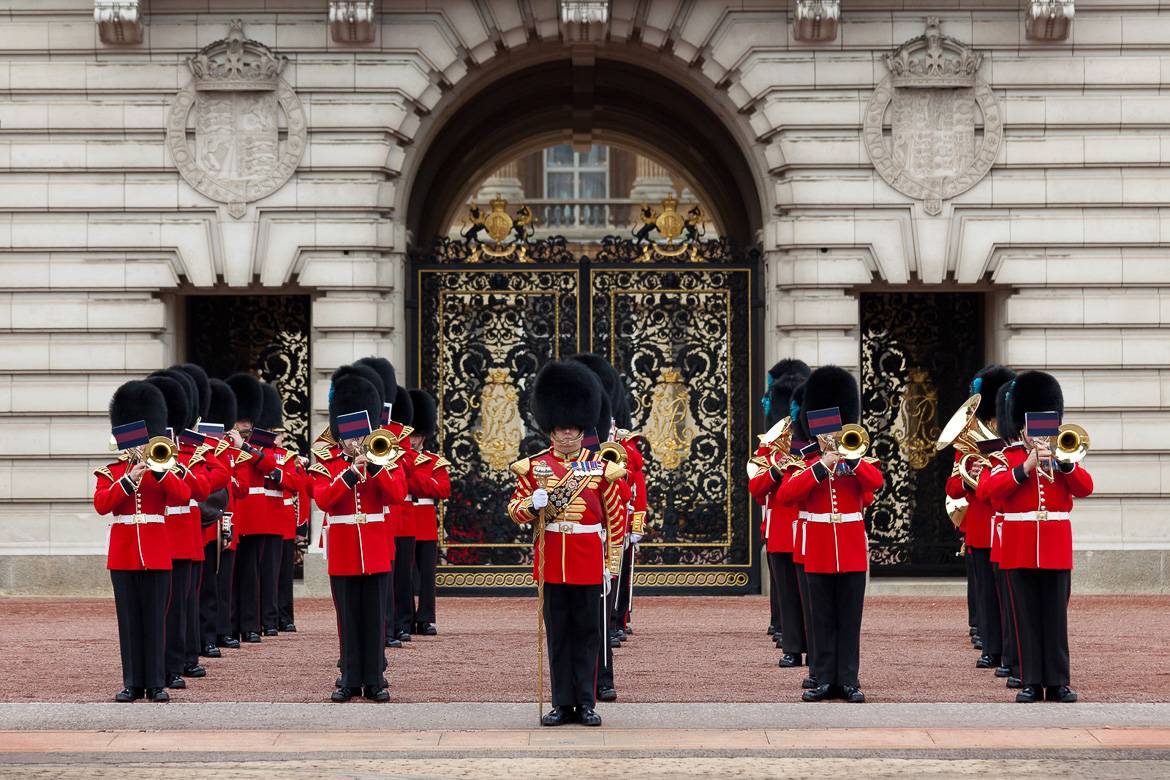 Changing of Guard is an iconic British tradition
A proud centuries'-old tradition, the Changing of the Guard is considered a must-see event for anyone visiting the U.K. capital. This pageantry is the changing of military regiments responsible for guarding Buckingham Palace. The custom lasts for approximately 45 minutes but is hugely popular, so expect large crowds. In the warmer months (usually between April and July), the Changing of the Guard is held daily, but from August onwards, the event follows an alternate-day schedule. Familiarize yourself with London basic etiquette here, which is especially important at such a proper event.
8. Roller skate, bike, or play in London parks with public bicycles
Hyde Park, Regent's Park, Richmond Park, St. James's Park, and Clapham Common have in common? They're all excellent sites for sampling the great outdoors! Maintain a healthy, active lifestyle while bonding with the family at these parks, where you can rent bicycles, roller skate around a rink, let your youngest run around playgrounds, or just admire the greenery. Be sure to stop and smell the roses while you're at Regent's Park. Here are other favorite London parklands!
9. Attend kid-friendly summer events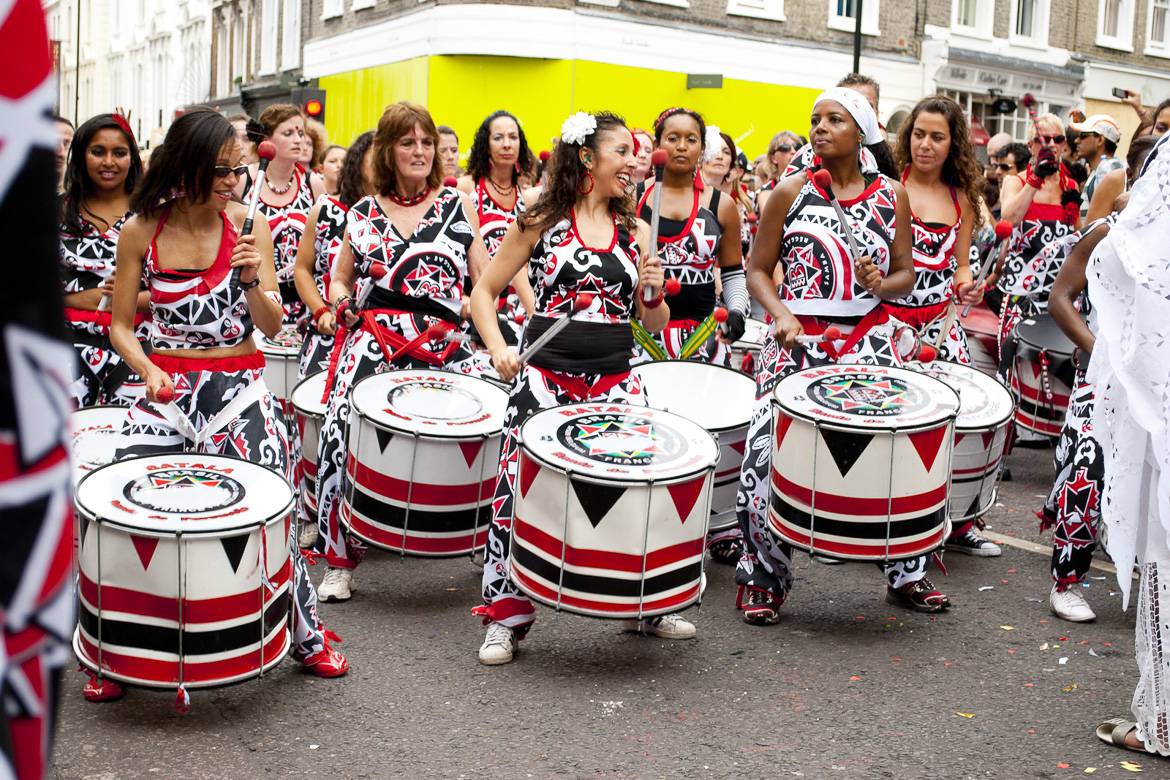 Enjoy the Notting Hill Carnival!
A number of summertime events in the city actively engage children in arts and culture. Kids Week, (beginning mid-June this year and running through August) allows youngsters to appreciate and experience the magic of live theatre. With a full-price paying adult, children 16 and under can attend some of the city's most popular shows free of charge! The non-profit organization also hosts workshops to complement the theatergoing experience.
Since 1964, the Notting Hill Carnival has been the biggest street celebration not only in the U.K., but in all of Europe . The festival honors the Afro-Caribbean communities of London through music, dance, and colorful, elaborate costumes. The weekend-long event is a great way to expose your child to a proud and radiant culture, and they will especially like the Parade for Children during the festivities.
10. Visit the city's markets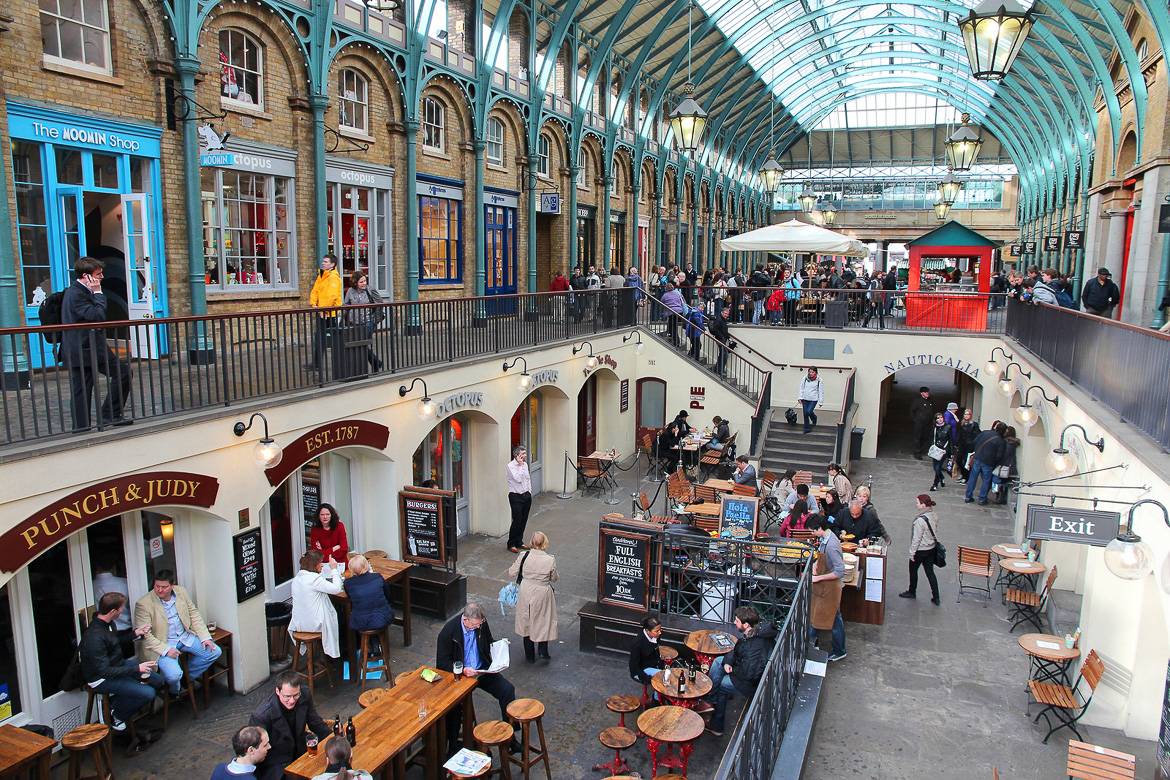 Covent Garden Market's funky atmosphere makes it a popular shopping spot
Marketplaces are some of the best locations to complete your shopping list. Covent Garden is easily the most famous, with an array of upscale restaurants and designer stores in and around its vaulted halls. Camden Market, with its vintage clothing shops and art galleries, is the funkier cousin to Covent Garden and worth a visit. Want to surround yourself in color? The Columbia Road Flower Market blooms with flower vendors every Sunday. It's the perfect spot to purchase an imported or domestically grown bouquet for a loved one or to brighten up your home. The surrounding street is also exploring. It's completely comprised of independent shops, which is not something you see very often these days. The Portobello Market is a quite informal affair. You'll discover antique tents next to fresh fruit vendors organized along Portobello Road in Notting Hill. The result is a market that's quirky and utterly delightful.
What are your favorite family-friendly summertime activities? Be sure to browse our list of favorite London winter family activities and our London holiday guide for later this year!