Welcome to the final leg of our 3 part series on the great Paris neighborhood, La Bastille. We invite you to catch-up with Part 1 of our Video Tour of Bastille and Part 2 of our Video Tour of Bastille.
Paris Neighborhood Video Tour: Bastille – Part 3 (5:44)
Shopping Scene
The area east of Place de la Bastille is known as the Faubourg Saint Antoine. Along rue de Faubourg Saint Antoine you are able to find some French chain fashion stores, but if you get off the main drag you can find all sorts of cool little boutiques scattered around the area.
And if you are headed north away from Bastille towards Place de la Republique don't miss the cool concept store Merci, located at 111 boulevard Beaumarchais 75003, where you can find used books, designer and haute couture clothes and mega discounts – and all profits go to charity!
Food, Restaurant and Nightlife
The Markets
If you are staying in an apartment near la Bastille you have two wonderful markets at your doorstep. Every morning except Monday you can wander the colorful stalls of the Marche d'Aligre just off of rue de Faubourg Saint Antoine near metro Ledru Rollin. A typical French market, you can find everything from fresh milk and cheese to fresh cherries and apricots or homemade pate. Enjoy a glass of wine after your finished shopping at the lively Baron Rouge (1 rue Théophile Roussel) while rubbing shoulders with the fishmongers, butchers or trendy locals.
Richard Lenoir open-air market
Right off of Place de la Bastille is one of Paris' largest open-air markets along Boulevard Richard Lenoir, open Thursday and Sunday mornings. Here you'll find the food market stalls with the occasional addition of clothes or jewelry vendors and live music.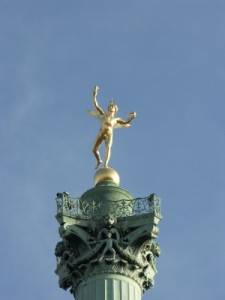 Bastille, Paris
Bastille Apartments
:
One of the great things about staying in a furnished apartment in the Bastille neighborhood is, once you've bought all your fresh food from open-air markets, you'll have a fully equipped kitchen to come home to. Cooking at home will not only give you an authentic experience in Paris, it will also save you money!
Check out this fully furnished studio apartment (PA-4062) in the Chemin Vert area, close to the the Marais and Bastille sections of Paris, is located on the 2nd floor of an walk-up building dating from 1850. This apartment is furnished with modern décor and includes a double sized bed and a dining table for 2. The fully equipped kitchen includes the convenience of a dishwasher.
Or, this furnished 1-bedroom apartment in Bastille (PA-3911) is located on rue de Lappe, within walking distance or one metro station to the Place de la Bastille. The Richard Lenoir open air market is only steps away. The bedroom is furnished with a double sized bed and there is a double sized sofa bed in the living room, as well. With a fully equipped kitchen and full size dining table, this rental is great for a Paris family vacation!
And for the times you prefer to dine out you'll have no problem finding great food in the Bastille!
Le Pause Café (41, rue de Charonne, 75011)
Arrive early to get a spot on the large terrace of the Pause Café. This artsy café has a great reasonably priced menu and several vegetarian dishes.
Crêperie Bretonne Fleurie (67, rue de Charonne 75011)
The Crêperie Bretonne Fleurie is an authentic creperie that looks, and tastes, like it could be in Brittany – where crepes are traditionally from.
Bistro Paul Bert (18 rue Paul Bert, 75011)
If you're looking for classic bistro fare, Le Bistrot Paul Bert ranks top on the Paris list.
Rino (46 rue Trousseau 75011)
If you have a more adventurous palate, give Rino a try, with its daring market-based cuisine near metro Ledru-Rollin.
Loving Hut (92, boulevard Beaumarchais 75011)
This new veggie restaurant has creative internationally inspired dishes along with a little shop.
While there are some great things to see by day around Bastille, it's at night that the area truly comes to life!
Rue de Lappe
Bastille is one of Paris' nightlife centers. Take a stroll along rue de Lappe and and this will be readily evident. Try a tasty cocktail at the L'Infini Bar (14 rue de Lappe) or grab a happy hour pint at the Barbat (23 rue de Lappe).
La Pirada – 7 rue de Lappe
For some salsa, tapas, cocktails and a great Spanish ambiance head to La Pirada (7 rue de Lappe).
Afterwards, why not catch a concert at the nearby La Scene Bastille (2 Bis Rue des Taillandiers) or the Café de la Dance (5 Passage Louis Philippe) or if you're in the mood for dancing, groove to some retro tunes at the seventies-deco Wax (15 Rue Daval) or the chic Barrio Latino (46 Rue du Faubourg Saint-Antoine, 75012), the famous three-story salsa bar.
Well, this wraps up our tour of the Bastille district. If you are looking for information on other Paris neighborhoods, take a look at our other video tours! There is definitely a lot more to see and do here, so if I've missed any of your favorite Bastille spots, be sure to share them with us in the comments box below.
Thank you for joining us and we hope to see you here soon, living an amazing Paris adventure!