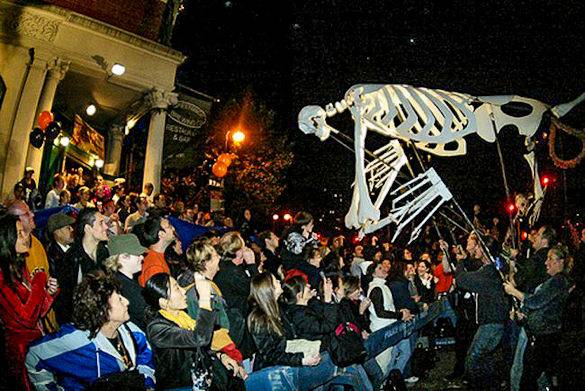 A spooky puppet scares the crowd at New York City's Village Halloween Parade
Throughout the States, October 31st is cause for a grand celebration: Halloween. Every year, children dress up to go trick-or-treating, pumpkins are carved into the most fantastical shapes and horror parties are held throughout the country.
In New York City, it's not just the kids who dress up. Every year, people from all over the world join the biggest public Halloween event in the States: New York City's Village Halloween Parade. This popular night parade features giant puppets, performers, musicians and of course people dressed up in the most bizarre costumes! Each year, more than 50,000 people walk in the parade, which is watched by another 2 million people standing along the NYC sidewalks.

The Village Halloween Parade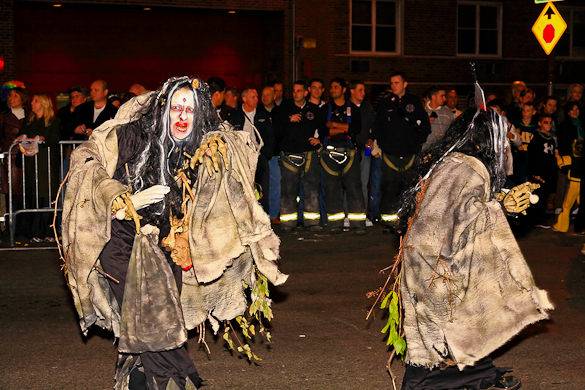 Creative witch costumes at the Halloween Parade in New York City
The Village Halloween Parade has been held in New York City every year since 1973. The route of the parade is about a mile long, and travels from Spring Street up along 6th Avenue to 16th Street. Although, the parade starts in SoHo, passes through Greenwich Village and ends in Chelsea, the parade is simply known as the Greenwich Village parade. To learn more about this New York neighborhood, watch our
Greenwich Village video tour
.
This year is the 39th edition of the parade, which will start around 7 pm on October 31st and end around 10:30 pm. Each year, the parade has a different theme. This year will be "Tick! Tock!" and the parade will start with a giant puppet of a rabbit being chased by clocks. Many of the costumes will be related to the theme of "time".

Participate in the Halloween Parade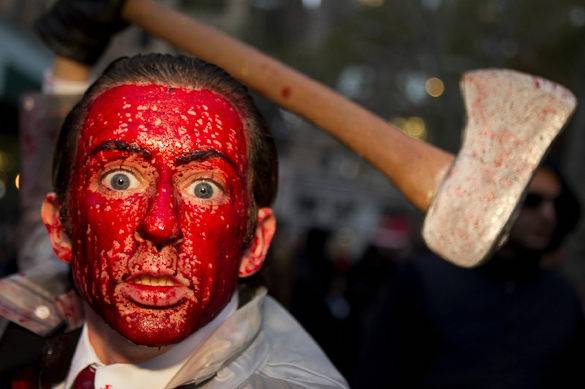 One of the many scary masks and costumes at Halloween in New York City
Participating in the parade is really quite easy: all you have to do is show up on time and in costume. This last part's important, because you can only walk in the parade if you're dressed up! A lot of people who participate in the parade create their own costumes, as there's also a costume competition held, in which you are automatically entered by walking in the parade. Winners of the competition are picked out by secret scouts in the parade. However, if you don't have the time or the ability to make your own costume, you can also rent or buy one quite easily. New York Costumes in the East Village (on 4th Avenue between 11th and 12th Street) is the largest costume store in the city, and specializes in Halloween costumes. Another way to participate in the parade without having a costume is by becoming a puppet animator. See the official website of
New York City's Village Halloween Parade
for more info.
How to Get to the Halloween Parade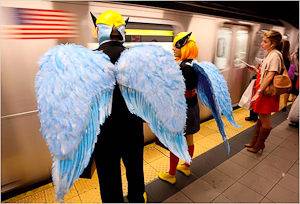 People take the New York City subway dressed in Halloween costumes
If you're coming to walk in the parade, take the subway to Canal Street (A, C, E or 1 lines) or Spring Street (C & E lines). You can only enter the line-up on 6th Avenue between Spring Street and Canal Street if you're approaching from the east and south. This means you have to be sure to take the east or south exit from the subway stations, and enter the line-up from Sullivan Street, Broome Street, Watts Street, Grand Street or Canal Street.
If you just want to watch the parade, you can also walk to the parade from a north or west direction. Two other subway stations along the route are West 4 Street (A, B, C, D, E, F or M lines) or 14 Street/ 6th Avenue (F, M or L lines). For those of you who are not a big fan of crowds, you'll also be able to catch the Halloween parade on TV live on the WPIX Channel and NY1.
Nonetheless, if you'll be in New York on October 31st, we absolutely recommend checking out the parade in person. There's really nothing quite like it in the world: there's a reason seeing the NYC Halloween Parade has made it onto a lot of famous bucket lists! Last word of advise: if you want a good spot to watch the parade try to come at least an hour in advance because the sidewalks will fill up quickly.

What to Do After the Parade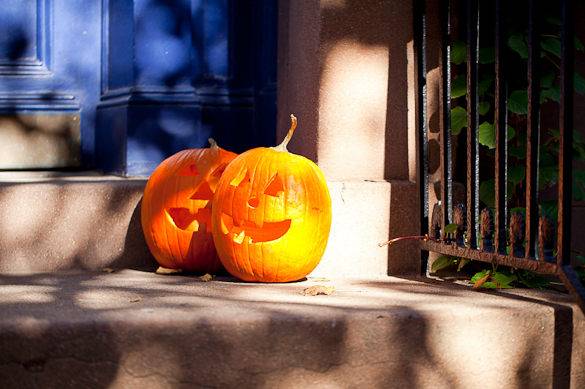 Two jack-o'-lanterns on a New York City doorstep for Halloween
The fun does not stop after the parade ends:  you can head to an official after-party at Webster Hall! The nightclub on 11th Street and 3rd Avenue will even let people in who are still wearing a costume. In fact, Webster Hall hosts an additional costume contest where the winner gets $5,000! Do take note that Webster Hall is strictly 21+.
At the end of a crazy fun night it's nice to be able to come home to an apartment where you'll be able to get a good night's sleep! We have many New York City vacation rentals available close to the location of the parade and Webster Hall, where you'll get to experience all the comforts of your own home. This will also come in handy when you decide to dabble in for example a paper mache creation for your costume or a jack-o'-lantern! Having a proper kitchen and kitchen table to work on has never been so convenient.
How are you planning to celebrate Halloween this year?