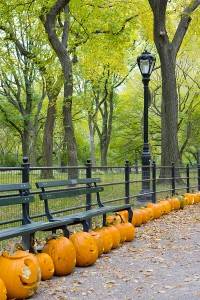 New York at Halloween
Halloween! Like many grown-ups, you may be inclined to dismiss it as an occasion for pumpkin-carving and maybe the occasional dress-up. If that's the case, you clearly need to come to New York to check out the Village Halloween Parade, the annual mile-long extravaganza that attracts a crowd of up to two million people, garners major international press coverage, and has been named one of "100 Things to Do Before You Die" by the popular guidebook of the same title. Trust us—this is fiendish fun of a kind you won't find anywhere else.
A beloved New York City tradition since 1973, the Village Halloween Parade is New York's only nighttime parade and, supposedly, the largest Halloween celebration anywhere in the United States. It takes place on October 31 every year, from 7:00 to 10:00 pm, and begins in SoHo on Sixth Avenue at Spring Street before proceeding north through Greenwich Village, along Sixth Avenue up to 23rd Street in the charming neighborhood of Chelsea.
The Village Halloween Parade has everything you'd expect in a big-city parade, from spectacular costumed marchers and puppets to marching bands and floats. But part of what makes the Parade so special is its unique democratic quality. Anyone who's interested in participating in it can join the fun—all you have to do is show up at the beginning of the parade route, between 6:30 and 8:30 pm, and take a place at the end of the line.
Of course, as anyone who's been to the Parade can tell you, another big draw is the crowd itself, who typically turn out in costumes as lavish and flamboyant as anything you're likely to see this side of Carnival time down in Brazil. The witty, imaginative DIY creatures and creations who line up and down the parade route run the full gamut from spooky to sexy, and have to be seen to be believed.
The theme of the 2011 Village Halloween Parade is "The 'I' of the Beholder." To find out just what that means (and no, we're not sure either), be sure to visit the Halloween Parade's official website for further details, complete information about how you can march in the parade, and other fun stuff.
Interested in seeing New York's Village Halloween Parade with your own eyes? New York Habitat has fully furnished rental apartments all over Manhattan that should meet a wide range of needs:
-A furnished 1-bedroom in Midtown West (NY-15923) offers spectacular views over the Manhattan skyscrapers. Boasting a contemporary decor and all the comfort of home,  the apartment is only four blocks from Central Park and puts you in the heart of everything.
– A fully furnished 1-bedroom apartment (NY-12017) is located on the third floor of a prewar walk-up in the East Village. The exceptionally attractive space features hardwood floors and exposed brick walls throughout, along with two large living room windows that allow for ample sunlight to filter in.
Do you have a favorite New York on Halloween experience you want to share with New York Habitat readers, or a recommendation for where to watch the parade? Don't hesitate to leave a comment in the field provided below.