Probably one of the most popular shopping cities in the world, New York City has something to offer for everyone. From famous department stores in Midtown Manhattan to small farmers markets in Brooklyn, this city presents an array of trendy products to fit every lifestyle. The Big Apple is an especially great destination for a shopping holiday if you're coming from Europe, as the exchange rate will be in your favor! In this article we'll take you around town to show you our favorite places to shop.
We categorized the shops into five neat sections, so you can easily spot your favorite kind of shop. We also included some shops in the greater New York area that were just too good to leave out. Without further ado: our top 5 shopping spots in New York City!
1. New York City's Famous Shopping Streets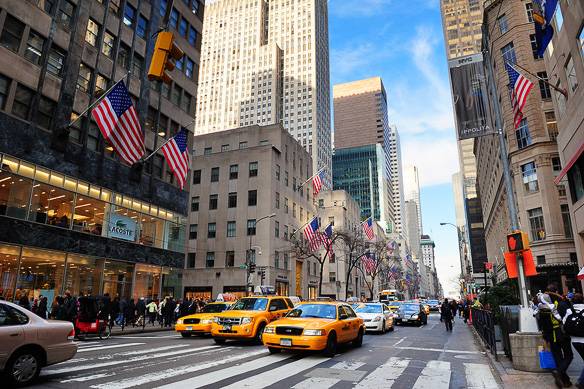 Busy shoppers on Fifth Avenue in New York City
When it comes to shopping, it's New York's high-end fashion streets that are probably best known throughout the world. Who hasn't heard of Broadway or 5th Avenue? Basically any avenue running north to south in Manhattan includes a variety of fashionable shops between 14th Street and 59th Street. This article will provide a quick overview of the best shopping streets in Manhattan and their most famous stores.
Let's start with the most famous of them all: You can't go to New York without walking along Fifth Avenue. 5th Avenue runs from north to south all through Manhattan, and the main shopping area can be found from 14th Street up to 59th Street. 5th Avenue is best known for its luxury boutiques and big department stores. You can find an Apple Store, Bergdorf Goodman, Abercrombie & Fitch, Banana Republic, Gucci, H&M, Michael Kors, Prada, Victoria's Secret, Tiffany & Co, and many more shops along 5th Avenue.
If Fifth Avenue is the most famous street in New York, then Broadway is a close second. Being the longest street in Manhattan, it's tough to think of Broadway as one area. Broadway starts at the tip of Northern Manhattan and runs all the way down to Lower Manhattan. In the area of the Upper West Side, you'll find many different kinds of shops lining Broadway. Close to Columbia there are some great college shops, while a little further down you'll find big stores such as American Apparel and Urban Outfitters, as well as smaller boutiques. In Midtown Manhattan Broadway is of course most famous for its theaters, but you'll also find many nice stores in this part of the city. Finally, in Lower Manhattan and Soho especially, Broadway features many famous names such as Topshop and Bloomingdales.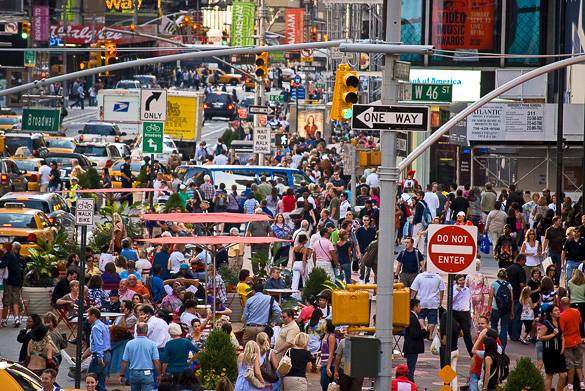 Broadway is a popular shopping spot, and the longest street in Manhattan!
Times Square may not technically be a street, but we felt it deserved a place in the list anyway. In Times Square you'll find some fantastic big-name stores such as an M&Ms Store, a Disney Store, Sephora, a Toys R Us, and a Forever 21. For more information about this great area, check out Discover New York City's Times Square!
Herald Square just south of Times Square is best known for Macy's enormous flagship store, but it also has an appealing Victoria's Secret store as well as a Gap and many others. Plus you get to shop in the shadow of the Empire State Building, which is a nice bonus.
The streets around Madison Square Park and especially around Union Square just south from Madison are all lined with awesome shops. Eataly just opposite the Flatiron Building is the place to go if you're a fan of cooking and dining on Italian cuisine. Union Square has a great big Barnes & Noble store where you can read for hours, and on the other side of the square you'll find a Whole Foods to do some heavy grocery shopping. To see what the square is like, check out our video tour of Union Square!
This southern side of Union Square is incidentally part of 14th Street, which is a street that runs from west to east in Lower Manhattan. On the west side 14th Street runs through the Meatpacking District where it boasts many great boutique shops, while on the east side it borders the East Village where you'll find many fun independently run stores.
2. Shopping Malls in New York City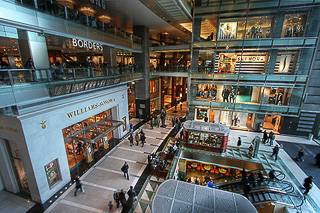 The luxurious Time Warner Center next to Columbus Circle in Manhattan
If there's ever a time to visit a shopping mall, it's when you're in the United States of America. Luckily, New York City has more than a few awesome shopping malls to offer! The following are some of our favorites.
The Time Warner Center next to Columbus Circle is a big shopping center with some great luxury shops. It features Hugo Boss, Swarovski, J. Crew and more. Also don't forget to pay a visit to the huge Whole Foods Market in the basement! For more information about the area, check out our video tour of Columbus Circle.
The Manhattan Mall near Herald Square offers a selection of stores. A big JC Penney's is the main occupant of the mall, but you'll also find a Victoria's Secret, Hallmark, Radio Shack and more.
Grand Central Terminal is best known for its food court, where you can find all kinds of culinary delights. However, Grand Central Station also offers a large collection of miscellaneous shops, ranging from Banana Republic to Swatch.
Queens Center Mall is a huge mall in Queens, which often offers better prices than the stores in Manhattan. You'll find shops here such as Target, Best Buy, Macy's and Designer Shoe Warehouse.
The Staten Island Mall on Staten Island also offers good value for your money. Look for the sales section at H&M or browse through the huge Victoria's Secret. The large mall has enough stores to keep you occupied for a whole afternoon.
Newport Centre is probably the biggest mall on our list. The huge mall in Jersey City offers lots of fashion stores and also has a great food court. Bath & Body Works, Forever 21 and Kohl's are just a couple of shops you'll find in this mall. The prices are also considerably better than in New York because of lower taxes in New Jersey. If you want to catch a movie while in New York, this mall has a great AMC theater that is a lot cheaper than those in the city! You can easily get to Newport Centre by taking the PATH train to Newport and getting off at the first stop after Manhattan.
3. New York City's Department Stores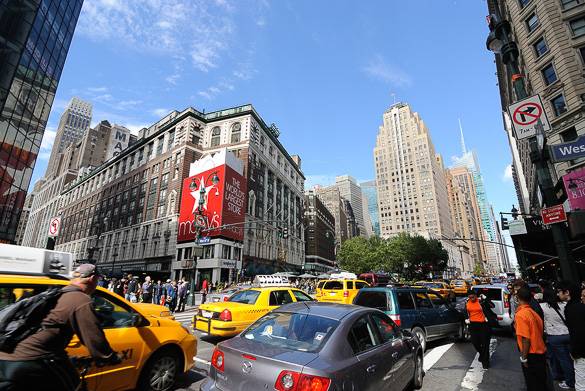 The huge Macy's flagship store at Herald Square in Manhattan
Manhattan is famous for having some of the best-known department stores in the country. The following are just a few of the great stores the city has to offer.
The flagship of Macy's in Herald Square is truly something to behold. The store covers an entire block, and even if you don't want to buy anything, the window displays are a sight for sore eyes. This Macy's is just one of several more you can find in the city. The huge Macy's in Downtown Brooklyn is also very nice and considerably less crowded. Also note that if you're an international visitor you can get a free 10% discount card on Macy's website.
Century 21 in Lower Manhattan is the ideal destination for discounts on designer clothes. Here is a helpful tip to fit your shopping needs: Never buy designer clothes from an expensive boutique before checking out the racks at this discount store! Chances are you'll find the same item but considerably cheaper. Browsing the clearance section almost always unveils hidden treasures. There's also a great branch of Century 21 on West 66th Street near Lincoln Center in the Upper West Side.
Bloomingdale's in Midtown Manhattan is a beautiful department store that doesn't get extremely crowded. You'll find a great selection of designer clothing here, featuring names such as Michael Kors, Hugo Boss and Steve Madden.
Saks Fifth Avenue is something of an institution in New York City. The store you'll find on 5th Avenue in Manhattan is, not surprisingly, the original Saks Fifth Avenue. This elegant flagship store is a delight to visit, and the service truly is impeccable.
4. Famous Markets in New York City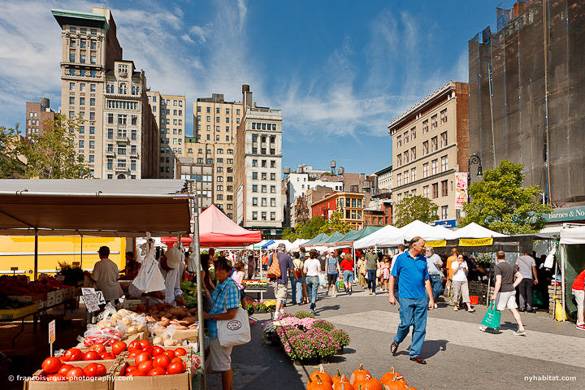 The Union Square Greenmarket is the go-to place for fresh produce in Manhattan. Photo by Francois Roux.
For a whole other kind of New York, head to one of the many flea markets and farmers markets that the city has to offer. Whether you're looking for a particular kind of vintage lamp or some of the freshest vegetables around, New York's markets won't let you down.
There are several famous Flea Markets to be found in the city. Hell's Kitchen Flea Market offers a wide array of antiques, vintage clothing and even original art, and is open on Saturdays and Sundays from 9 am to 5 pm. The Brooklyn Flea Market in Fort Green is often a little less crowded than the one in Hell's Kitchen, but still filled with locals. Besides antiques and vintage items this flea market also offers a lot of original art and quirky jewelry.
When you're talking about markets in New York the many Food Markets of the city quickly come to mind. There are several great farmers markets in NYC. The Union Square Greenmarket is the place to go for fresh produce and local products on Mondays, Wednesday, Fridays and Saturdays. Smorgasburg in Williamsburg, Brooklyn, features about 80 different food vendors! Every Saturday and Sunday you can find food from all over the world here. Other great markets include the Chelsea Market, Grand Central Market and Columbia Green Market.
If you truly want to enjoy the fresh produce and exotic foods you can buy at the food markets, consider staying in a vacation rental apartment in New York City! These apartments come with fully equipped kitchens, so you'll be able to cook whenever you want and also save money by not going out to eat! Another great advantage of staying in an apartment is getting to feel like a New York City local. While you're here, make sure to fully explore all the markets and stores in your neighborhood!
5. Outlet Malls in the New York Area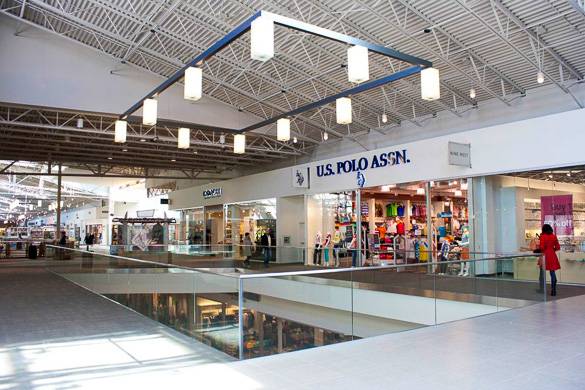 The Outlet Collection Jersey Gardens in New Jersey
The last category in our list is something that's very popular in the New York region: outlet malls. These huge shops or malls are a bit out of the way from New York City, but they offer fantastic value for your money. All the stores in these malls offer huge discounts, so it's definitely worth it to take a trip out of the city!
The Outlet Collection Jersey Gardens offers some of the best prices in the greater New York region. This huge outlet mall features clothes from Ralph Lauren, Victoria's Secret, Ann Taylor, Forever 21 and many more popular stores. By taking a bus from the Port Authority Bus Terminal you'll reach the Jersey Gardens within 35 minutes.
The Woodbury Common Premium Outlet is an outlet store that carries items almost exclusively from high-end shops. The discounts are great, but you should still be prepared to pay a fair amount of money for clothes from designers such as Burberry, Ralph Lauren, Gucci, Prada and so on.The town Westbury features several outlets, of which the most popular is The Gallery at Westbury Plaza, a Bloomingdale's outlet. This outlet store is considerably smaller than the other two on our list, but for many people this is a good thing as it's certainly more comprehensible. You'll find discounts here on many famous high-end brands.
We hope you've enjoyed this list of the top 5 shopping spots in New York City! Of course there are many more fantastic stores in the city that we didn't get to talk about. What's your favorite market in New York City?