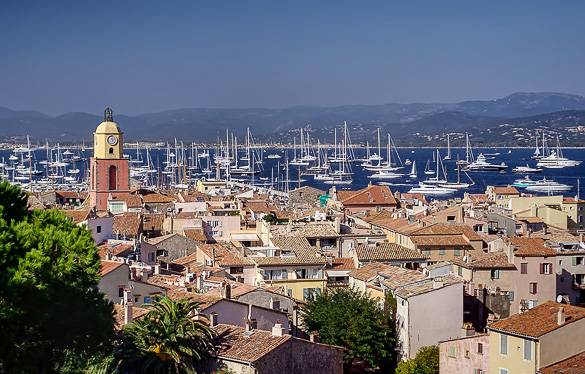 Saint-Tropez and its harbor in the French Riviera
Saint-Tropez in France calls to mind glitter and glamour, celebrities, yachts, white sandy beaches, exclusive clubs and beautiful art all at the same time. The wondrous little town is located in the South of France along the Mediterranean coast roughly between Marseille and Nice. In the summer months, Saint-Tropez is flooded by jet setters from all over the world who come to enjoy a luxurious holiday. The tourists increase the town's population by about 10 times in summer. When you want to be in the middle of it all, and dance the night away surrounded by celebrities in one of St. Tropez's famous clubs, the summer months are the time to visit. However, if you prefer a little peace and quiet and would like to discover the Saint-Tropez that has attracted so many famous painters over the years, then make sure to visit the town off-season. Whether you choose to come in summer or in the other seasons, Saint-Tropez is a town you simply cannot miss when you visit Southern France!
In this article, we'll take you on a two-day tour of Saint-Tropez, so you can get an idea of what 48 hours in one of the most famous towns of the French Riviera looks like. Welcome to Saint-Tropez!
Day 1
10 am: Visit Saint-Tropez's famous harbor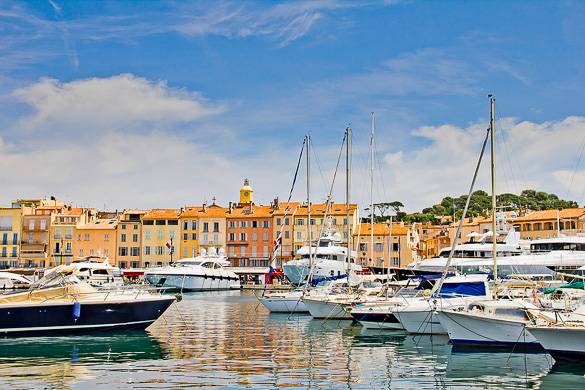 Yachts and sail regattas in the harbor of Saint-Tropez
The harbor is a great place to start your exploration of Saint-Tropez. The town was once a simple fishing village, but you won't find many fishermen's boats in the harbor nowadays. Instead, the harbor is filled with magnificent sail regattas and luxurious yachts. Take a stroll along the harbor to watch the boats come in and out, and after your walk settle down on a terrace of one of the many cafes that surround the harbor. Have a nice French cup of coffee with a croissant or pastry and enjoy the salty breeze coming from the Mediterranean Sea.
12 pm: Grocery shopping at the local food market at Place des Lices
After exploring the harbor, get ready for a nice local experience: grocery shopping at an outdoor food market. If you walk southeast from the harbor along the Rue Georges Clemenceau you'll stumble on a true gem of St. Tropez: the Marché des Lices. This open air food market is held on the square every Tuesday and Saturday from 8 am to 1 pm, and offers all kinds of fresh produce. Stock up on crispy baguettes, French cheeses and great wine to prepare your own lunch later on. Even when you visit on a day when the market isn't there, it's still very nice to see the square with the beautiful big plane trees. Almost any day of the week you can also watch the locals play a game of petanque at the square. It doesn't get much more French than this!
1 pm: Enjoy a French lunch in your own Saint-Tropez vacation rental apartment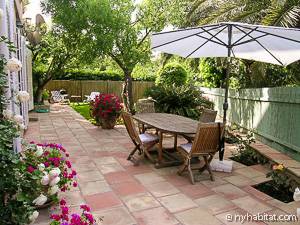 The lovely garden of a Saint-Tropez Vacation Rental
When you come to the French Riviera you'll of course want to experience the local cuisine.
And what better way to do this than to prepare a French meal yourself?
When you stay in a Saint-Tropez vacation rental apartment you not only get your own living room and bedrooms; you also get a real kitchen where you can enjoy preparing a French meal for your friends and family.
By staying in a Saint-Tropez apartment you'll get to feel like a local amongst all the tourists, and enjoy the best of what the French Riviera has to offer!
3 pm: Visit a St. Tropez beach
After having lunch back home in your apartment, pay a visit to one of St. Tropez's many beaches. There are three small beaches located in the town of Saint-Tropez, but the wide sandy beach most people associate with Saint-Tropez is a little further away.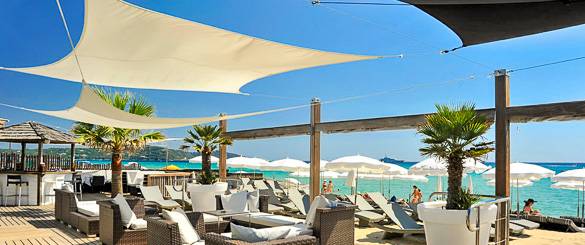 Pampelonne Beach and the blue water of the Mediterranean Sea as seen from Key West Beach
The Beach Pampelonne is located about 5 kilometers (3 miles) from the town of St. Tropez, and features beautiful white sand and clear blue water. Along this beach you'll find many of the famous St. Tropez clubs and private beaches. Most of these clubs have changing facilities, lifeguards and sun-loungers. There is also opportunity to go jet skiing, diving, wind surfing and more. Rent a mattress at one of the famous beaches such as Key West Beach, Tiki Club or Ocoa Plage, and enjoy an afternoon of sunbathing, sipping cocktails and eating ice cream.
8 pm: Have dinner in St. Tropez and go clubbing after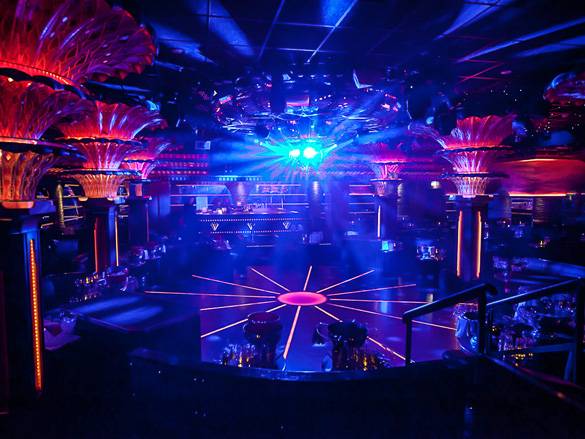 One of the famous clubs in Saint-Tropez
After you're thoroughly sun soaked, change your beach attire for something a little more glamorous and pay a visit to one of St. Tropez's famous restaurants, such as Colette. Make sure to make a reservation though, as the place gets crowded during summer nights!
If after dinner you don't feel like going home yet, stop by "Les Caves du Roy", which is one of St. Tropez's best clubs. Don't be surprised if you spot more than one celebrity!
Day 2
10 am: Soak up some culture in St. Tropez
After a night out on the town take some time for a cultural trip. Saint Tropez's famous yellow church has been featured in many movies and paintings, so it's nice to get a closer look!
To find out more about the culture and history of St. Tropez, see Saint Tropez: a cultural and festival spot on the French Riviera.
Alternatively, if your head is still up in the clouds with the celebrities you spotted last night, you can also take a celebrity boat tour. On the tour you'll be taken across the St. Tropez bay to see all the celebrities and designer houses.
12 pm: Visit the old fishing quarter and have lunch at a fish restaurant
The old fishing quarter of Saint Tropez is called La Ponche, and still features many authentic Mediterranean fish restaurants. Explore the little cobblestoned streets and alleys of La Ponche, and enjoy the orange-hued houses you'll see all around. Pick one of the fish restaurants in the area to have a nice Mediterranean lunch.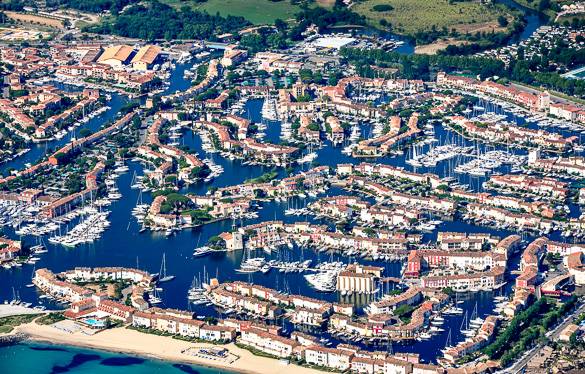 The seaside town Port Grimaud with its canals
Port Grimaud is a seaside town located just seven kilometers (four miles) west of Saint Tropez. Port Grimaud is often called the "Venice of the South of France", and it's not difficult to see why. The town is simply designed with charming canals, and coupled with the French fishermen's houses the town truly is a picture. There are many great shops and bars all around, so you can enjoy a long afternoon exploring Port Grimaud. Also don't forget to visit the beach, and to try an Italian style gelato!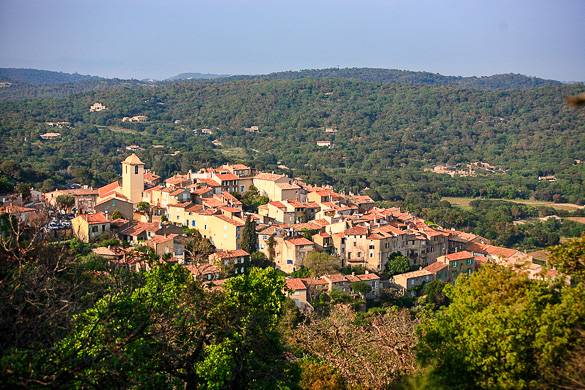 The village Ramatuelle in the mountains of the French Riviera
Alternatively, you can also choose to visit the village Ramatuelle, which lies to the south from Saint Tropez. This village was built on a mountain, and you can almost imagine you're in the Middle Ages when you walk through it. Enjoy the picturesque houses and the amazing views from the town, and feel miles away from bustling St. Tropez!
8 pm: Spend the evening in cosmopolitan Sainte-Maxime
Across the bay from Saint Tropez lies the City of Sainte-Maxime. This bigger city offers lots of attractions in summertime. There are markets held along the harbor every night, and many restaurants and stores stay open until late. There are also often fireworks organized at the beach of Sainte-Maxime during the summer season. There's nothing more romantic than to walk across the beach at night as fireworks explode over the Mediterranean Sea.
We hope you've enjoyed our little tour of Saint Tropez and its surroundings. Of course there's much more to see and do in this exciting part of the French Riviera!
What's your favorite destination in the South of France?