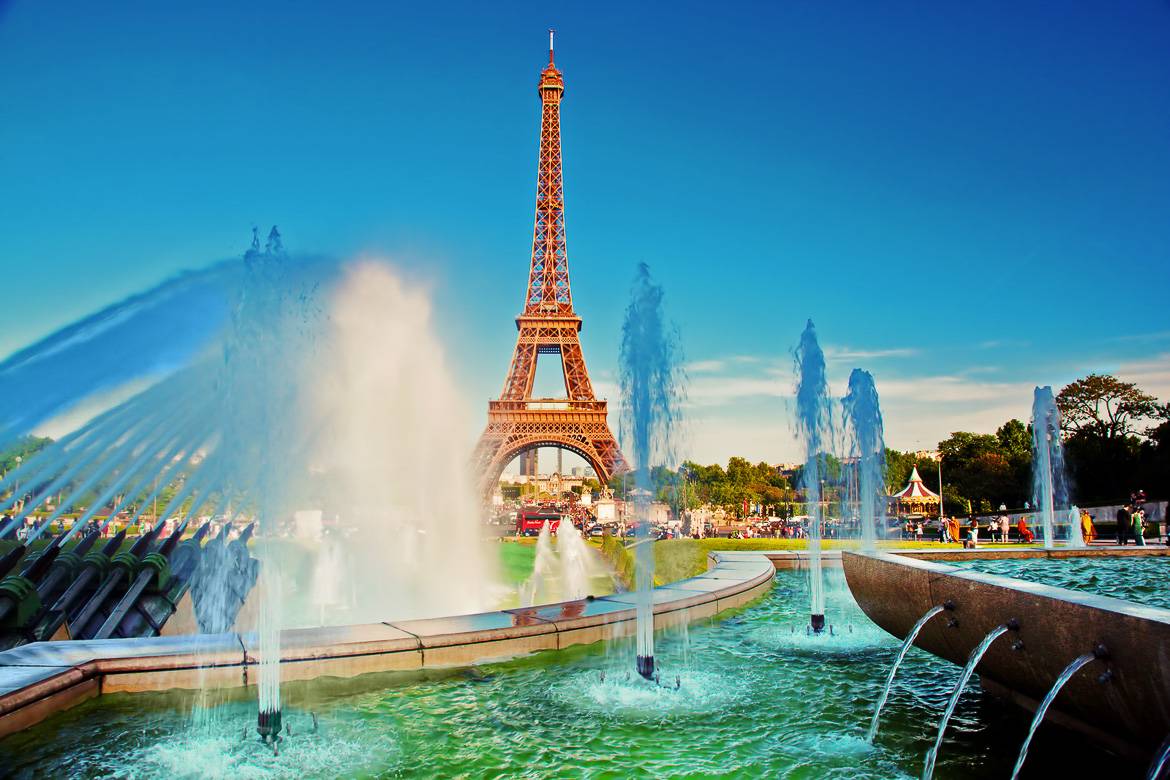 The Eiffel Tower and Trocadero fountains are a sight in the summer.
It's that time of year again! The birds are singing, the sky is blue, and Paris is opening its arms to the usual crop of tourists and lovers for the summer season. Paris is one of those cities where it's easy to be lucky in love, but whether you fall for tucked-away art cafés or swoon watching the Eiffel Tower illuminate at dusk is up to you. If you desire something a little more eclectic, read on and let us know what you think about these out-of-the-box seasonal events!
Watch outdoor movies in Paris
Why sit in a dark, stuffy theater when it's so pleasant outside? Each year, Parisians and visitors alike look forward to summertime outdoor movie screenings throughout the city. Whether you bring a date or a picnic basket (or both!), it won't take you long to figure out why this is one of Paris's most eagerly anticipated activities of the summer.
Sate your movie-watching cravings with a trip to the famous Cinema en Plein Air. The movie green is easily found in the Parc de la Vilette from July 23rd to August 27th. Tickets are €7 per show or €20 for five shows. There's a new show every weeknight, drawing from French and American classics like Super 8, The Social Network, Ocean's Eleven, and Hôtel Woodstock.
Take a whirlwind tour of Paris at the Cinema au Clair de Lune festival. Every year, the Forum des Images hosts screenings at a variety of iconic locations throughout Paris. This year's festival runs from the 1st through the 11th of August. The program includes popular films like Midnight in Paris and How to Steal a Million Dollars. Did we mention that entry is free?
Get your culture fix in Paris
Some people travel to relax, others to feel the blood-pounding rush of high energy in an unfamiliar place. Fortunately for you, Paris has some great opportunities to do both this summer!
Music festivals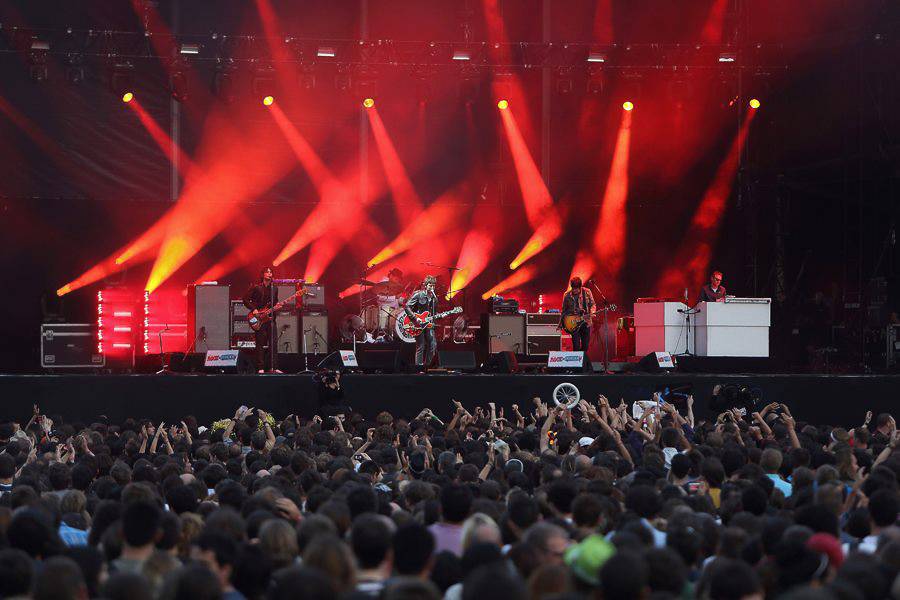 The Solidays Music Festival always attracts a large crowd. (Photo credit: Nicolas Joubard)
If you step outside and hear the faint sounds of anything from classical symphonies to experimental rock music, congratulations! You've found yourself in the midst of the Fête de la Musique! Every year on June 21st, Parisians wholeheartedly celebrate World Music Day (founded in France, of course). The city's musicians come out of the woodwork to play in the streets, in cafés, and on stages throughout Paris. It's free to listen, and exploring is encouraged. You never know what talent you could uncover!
If you find yourself idly wandering the Bois de Vincennes between the 7th of June and the 27th of July, be sure to drop by the Paris Jazz Festival in the Parc Floral. The Parc Floral is a gorgeous flower garden right there in the park. Entrance to the garden is €5.50, but the festival and concerts are free.
Renowned by artists and volunteers as "a little slice of heaven," Solidays is the second-largest music festival in France. Nearly 200,000 attendees flock to the Hippodrome de Longchamp to listen to legends and breakout performers alike. Hosted by Solidarité Sida, the event is also famous as a fundraiser for fighting AIDS. What a great combination!
If you love rock music, check out the Rock en Seine festival just outside the city at the Domaine de Saint Cloud. This event kicks off on Friday, August 22nd with the Arctic Monkeys, and concludes on Sunday the 24th with a great show by Warpaint. Tickets range from €49 to €119 depending on how many days you attend, and camping is available for three-day pass holders.
Cultural events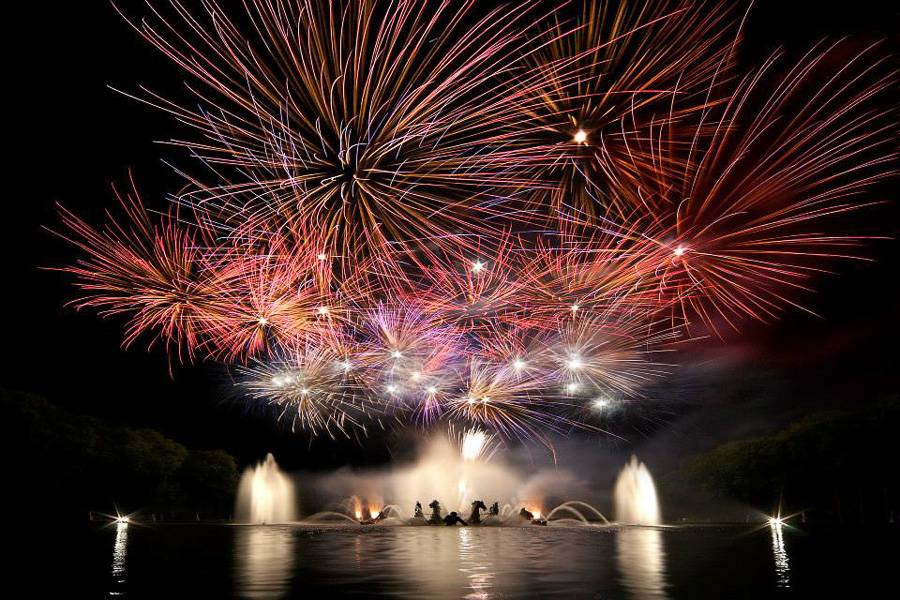 Les Grandes Eaux Nocturnes et Sérénade lights up Versaille in a fountain light show.
Have you ever fancied a trip to Versailles? From the 21st of June to the 13th of September, the famous palace of King Louis XIV will host a truly spectacular fountain light show every night. Known as Les Grandes Eaux Nocturnes et Sérénade, this beautiful tradition is one of the most lovely events in Paris. But don't wait till after dark! Get a head start on the evening by watching the sunset from one of these top 5 spots in Paris.
A multidisciplinary arts festival, the Paris Quartiers d'été Festival happens every year from mid-July to mid-August. Performances in music, theater, the circus, and more take place in parks, gardens, squares, and streets throughout the city. Founded in 1990 as a way to reclaim Paris as the artistic capital of the world, it has since evolved into an all-encompassing exhibition and attracts a broad and diverse audience.
Take some time to appreciate history during Paris's Journées du Patrimoine (usually during the third week in September). The European Council installed these heritage days as a way to connect the present with the past. During the weekend, the Palais de l'Elysée, the Sénat, the Assemblée Nationale, and various museums and theaters all open their doors to the public. In addition, the City of Paris has mapped out 35 heritage trails for anyone who prefers a walking or biking tour through history.
Sports events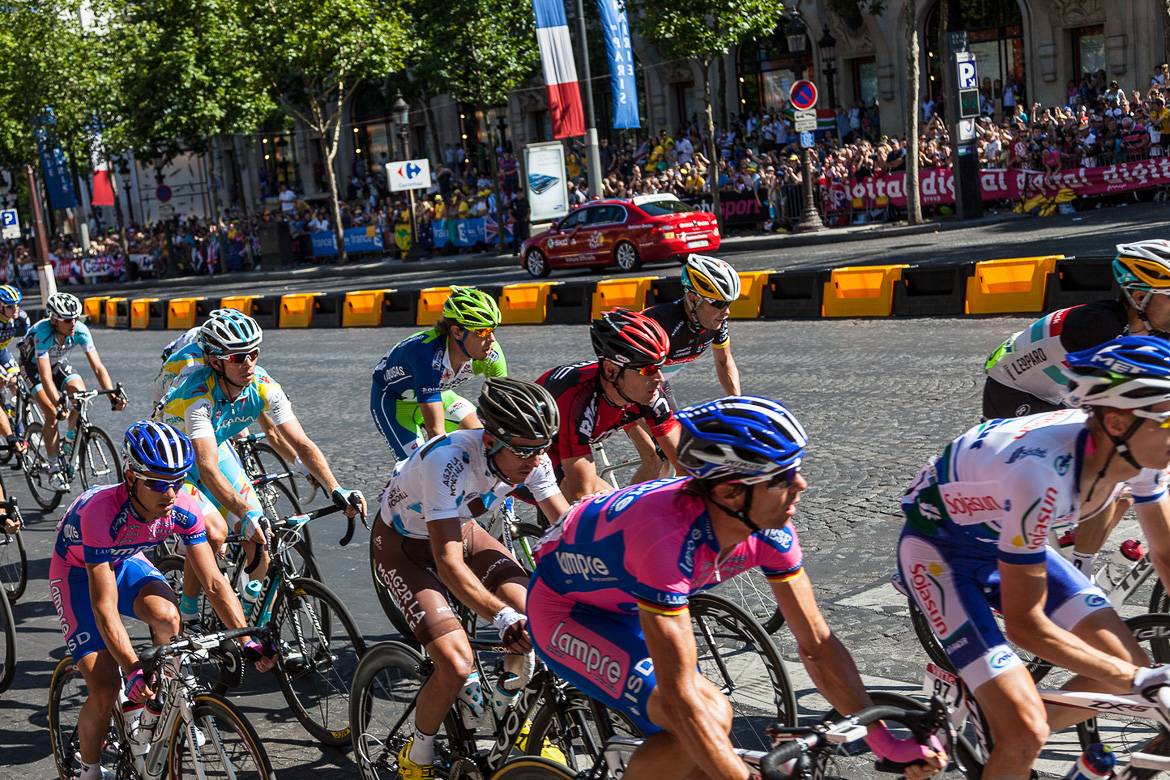 Watch world-famous cyclists cross the finish line of the Tour de France at the Champs-Élysées.
You may want to see the Soccer World Cup, easily one of the biggest international events of the year, from Paris. Local sports bars such as Rush Bar in the 11th Arrondissement and Le Players in the 2nd Arrondissement will broadcast the matches nonstop through June and early July, so you'll never miss a play.
Running (or riding) from July 5th thru July 27th, the Tour de France starts in Leeds and finishes on the Champs-Élysées in Paris. Watch world-famous athletes compete for the trophy, and get excited by the eager spirit that pervades the air as the final days approach. For more on this iconic finish line, check out our article on the Champs-Élysées and the Arc de Triomphe!
Live like a local in Paris this summer
While there are plenty of great activities to do during the day and night, at some point, even the most excited traveler has to sleep! Hotels can be expensive, catering to tourists and checklist travelers. For a more authentic perspective on this great city, why not experience it the way Parisians do? By renting a furnished apartment in Paris for 30 days or more, you guarantee yourself a trip that's both engaging and fun. Take advantage of the opportunity to try out a little bakery downstairs or talk to the locals who sip tea at the corner café, then invite your new friends over to teach you how to cook as well as their native French ancestors.
Are you not staying long-term? No problem! A vacation rental in Paris is the perfect solution for the short-but-sweet traveler. Stays range from two nights to just under one month, and you can put the extra money you save towards more fantastic activities in Paris.
Beat the heat in Paris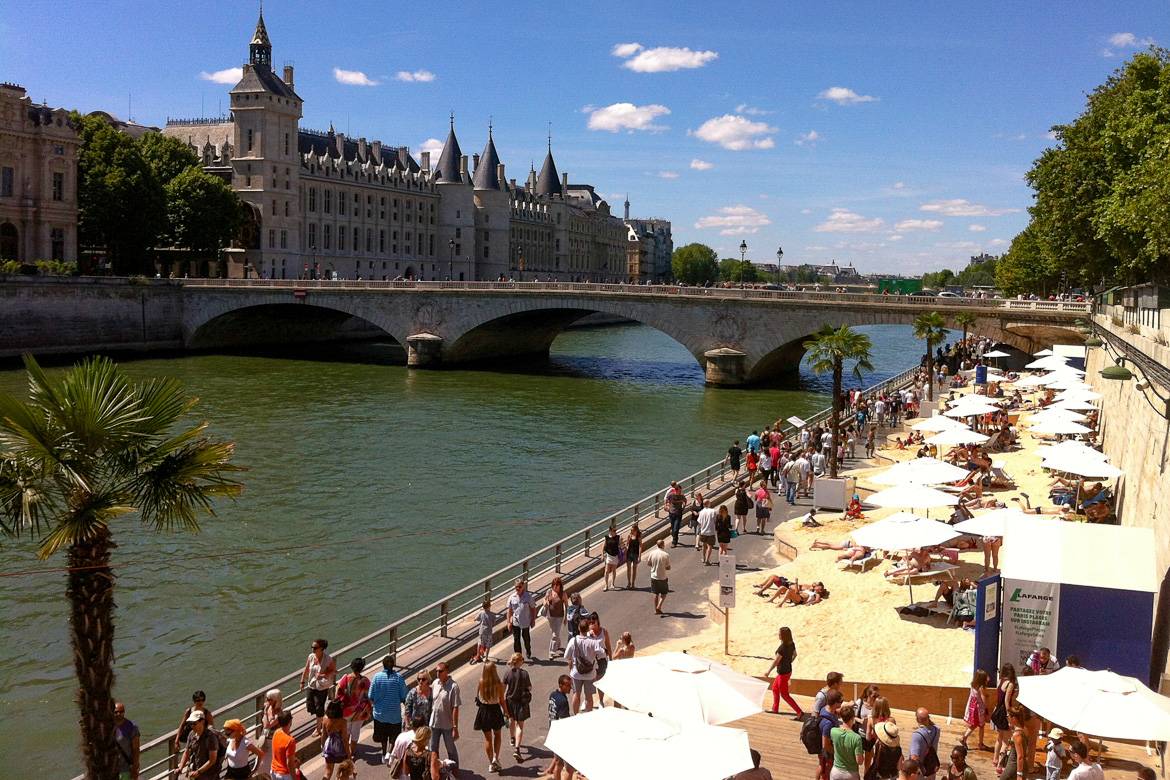 Have some fun in the sun at the Paris Plages along the Seine.
Can't decide whether to go to the beach or to Paris for your vacation? Well, what if we told you you could have your cake and eat it too? The Paris Plages is easily one of the most popular events in Paris. A four-week event starting late July, it literally turns the banks of the Seine into a beachy paradise. Sand is imported and visitors can sunbathe, kayak, play petanque, basketball, and volleyball, or enjoy free concerts. Want to know more? Check out our article on the 2012 season of Paris Plages here.
If you want to swim, Paris has some great options. You might not be able to swim in the Seine, but at least you can swim on it at the Josephine Baker swimming pool. This glass-walled pool rests on a barge permanently moored near the Bastille. A space-age style retractable roof defends against rain, but retracts to allow natural sunlight and fresh air. Other great options include the Butte aux Cailles swimming pool and the Chateau Landon swimming pool, the latter of which is the oldest pool in Paris.
More must-see summer events in Paris
Cast your eyes on the following list of additional, and super cool, summer events in Paris!
Ladies and gents, prepare yourselves. America may have Black Friday, but France has the Summer Sales: a month-long event of great deals from June 25th to July 29th.
Check out the oldest fair in France at the Fête des Loges from the 28th of June to the 18th of August. Eat all your favorite fair food (candy apples are a hit), compete in arcade games, and ride on Ferris Wheels, roller coasters, haunted houses, and more.
Over 700,000 marchers will come together on June 28th for this year's rainbow party in the streets of Paris. Join the crowd and watch the Gay Pride Parade's 80 colorful floats cruise through the streets of Paris.
Groove your way through the weekend of July 5th at the annual Carnaval Tropical de Paris. See great costumes, hear beautiful music, taste amazing food, and watch fabulous shows in a parade that's bound to have you dancing. This West Indies exhibition highlights the best of French-Caribbean fusion.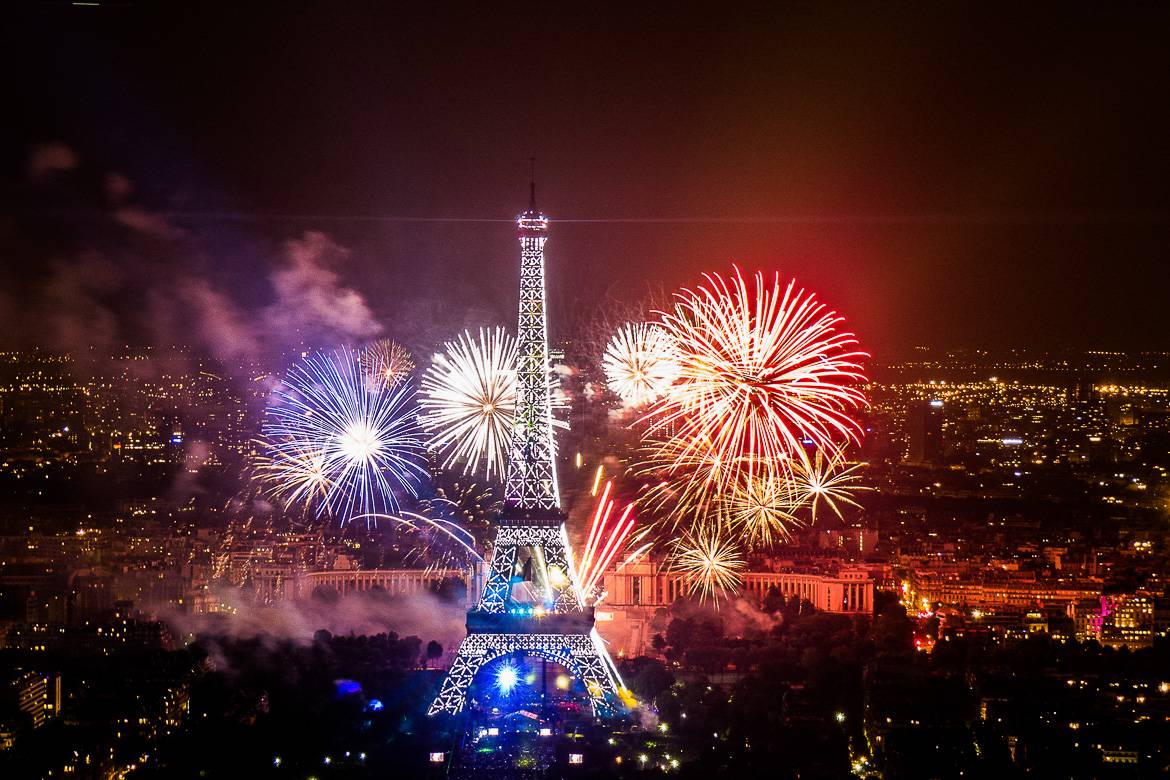 Bastille Day fireworks light up the July sky in Paris!
Celebrate France's independence from feudal aristocracy on July 14th with the Bastille Day Fireworks and military parade down the Champs-Élysées.
We hope you enjoyed reading about all there is to see and do in Paris this summer, but now it's your turn: What are your favorite things to do this season in Paris? Is there anything we missed? Let us know in the comments below!