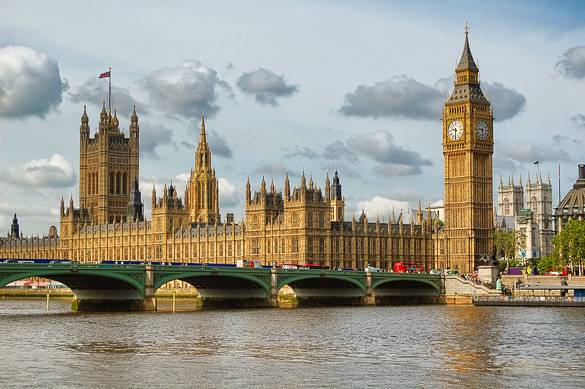 The Houses of Parliament and Big Ben in Westminster, London
When visiting London, you'll be hard-pressed to find a neighborhood with more beautiful landmarks than Westminster. From the Big Ben and the Houses of Parliament to Westminster Abbey and Buckingham Palace, Westminster is the beating heart of the politics and royal life in London. On your visit to the city, you'll get to feel like a king or queen when you choose to stay in this gorgeous neighborhood!
Westminster is one of the most central neighborhoods in London. It's roughly bordered by Mayfair and the bustling Trafalgar Square to the north, Knightsbridge and Sloane Street to the west, and the River Thames to the south and east. The neighborhood is part of the London borough City of Westminster, and not only houses some of London's most famous landmarks, but also two beautiful parks. There are several subway stations in the neighborhood, making it really easy to travel around town. From the Changing of the Guard at Buckingham Palace to the busy government workers around Parliament Square, you'll feel completely immersed in London life by staying in this area. Welcome to Westminster!
Go Shopping in Westminster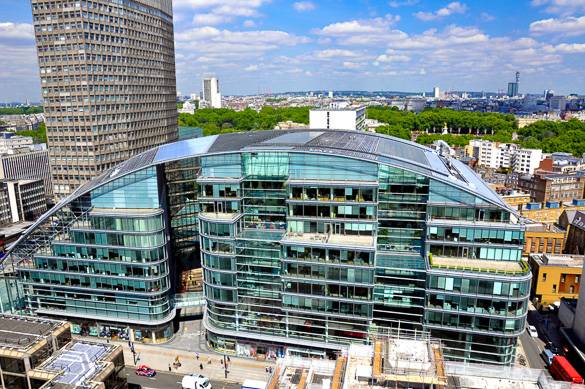 The modern Cardinal Place Shopping Centre on Victoria Street in Westminster, London
While Westminster isn't known for its shopping, the neighborhood still boasts some absolute gems. You'll find specialty shops such as a bookbinders shop, big department stores and modern shopping centers, as well as delightful fresh food markets.
Victoria Street is the main shopping hub of the neighborhood. Between Victoria Underground Station and the crossing with Buckingham Gate, you'll discover shops such as House of Fraser, Muji LK Bennett, and more.
Also on Victoria Street is the Cardinal Place Shopping Centre. This shopping center is located in a beautiful modern building with a glass exterior. Inside you'll find famous brands such as Marks & Spencer, Zara, Topshop and more.
The nearby Victoria Station also houses several stores, such as Boots, The Body Shop, Dorothy Perkins, Ann Summers Victoria, New Look and more.
For an entirely different experience, head to the specialty shop Shepherds Bookbinders on Rochester Row. This beautiful shop sells anything from writing goods to handmade paper. You can also take part in a bookbinding class during an in-store workshop!
There are two great food markets in the neighborhood. Head to the Tachbrook Street Market for amazing street food ranging from Mediterranean to Japanese. The Strutton Ground Market is another great place to go for lunch, and it also has several fresh fruits and vegetable stalls.
Westminster Cafes, Restaurants and Pubs
You'll find great cafes and restaurants in Westminster, but the many traditional pubs in the neighborhood are its true draw.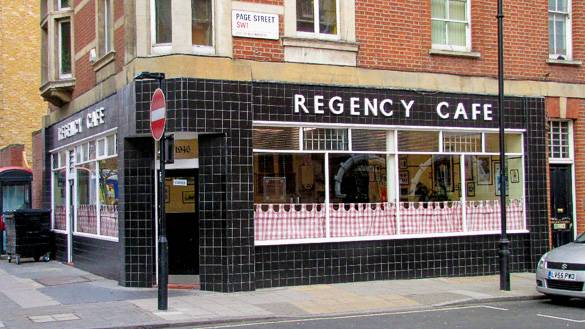 Get the best English breakfast in London at the Regency Café in Westminster
Head to Regency Café on Regency Street for the best English breakfast in London. The beautifully prepared eggs, sausages, hash browns, beans and toast are definitely worth waiting in line for. Whittard of Chelsea on Buckingham Palace Road is a cute teashop providing a wide variety of teas.
Quilon on Buckingham Gate is a southwest coastal Indian restaurant serving dishes with amazing flavors. Sake No Hana on St James's Street is a popular and fancy Japanese restaurant. The sushi is incredibly fresh, and the sake is delicious! The Cinnamon Club is another fantastic Indian restaurant, and it's located inside the beautiful former Westminster Library on Great Smith Street. To taste the best of both traditional and modern British cuisine, head to the iconic Whistler Restaurant at Tate Britain on Millbank.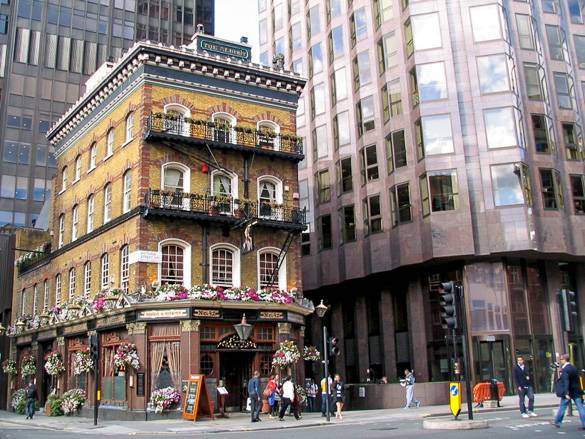 The historical pub The Albert in Westminster, London
The Albert is a great traditional pub on Victoria Street that was built in 1862. Named after Queen Victoria's husband, this is the place to try a British ale. The Speaker on Great Peter Street is another classic: decorated with dark wooden furniture, this pub has a truly authentic English feel. Morpeth Arms on Millbank dates back to 1845, and has a cellar that's supposedly haunted! It's also simply a great place for lunch. St Stephen's Tavern on Bridge Street is the pub to go for delectable fish & chips. It's right next to the Big Ben and very popular among politicians.
Check out our video tour of Westminster for more great pubs in the area!
Live Like a Local in Westminster
To truly get to feel like a local, stay in an apartment in this fantastic neighborhood of London! If you're visiting the city for a shorter period, these Westminster serviced apartments provide a great base from which to explore the city. Plus, these apartments come with fully equipped kitchens so you can try your hand at cooking your own English breakfast!
If you're coming to London for a longer period, for example your studies or work, we have Westminster furnished apartments available, where you can truly feel at home. If you're planning on moving or relocating to London for business, also have a look at our London corporate housing and relocation services!
What to See & Do in Westminster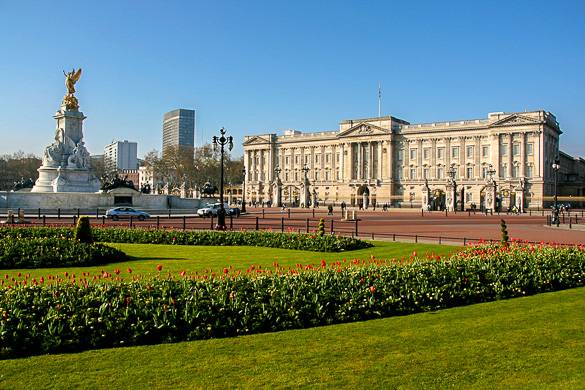 The Victoria Memorial and Buckingham Palace in Westminster, London
You're never short on things to see or do when you're living in Westminster! There are almost too many landmarks in the area to visit, but there are some you simply cannot miss. You can see the world-famous
Houses of Parliament
and
Big Ben
from many locations in the neighborhood, but be sure to also visit them up close!
Westminster Abbey
across the square is absolutely beautiful, both from the inside and out. Check out
Visit Westminster Abbey in London
for practical visitor's tips. From Westminster Abbey, it's just a short walk to
Buckingham Palace
, where you can see the famous
Changing of the Guard
. Climb the steps of the
Victoria Memorial
to truly appreciate the palace in all its grandeur. On the other end of
St James's Park
you'll find another grand building and beautiful square: the
Horse Guard Parade
.
Don't forget to walk through St James's Park itself, where you can spot the flock of pelicans! The neighboring Green Park is also delightful. If you have time, try visiting some of the serene gardens in the neighborhood, like Victoria Tower Gardens, Pimlico Gardens, Milbank Gardens, Riverside Walk Gardens, and Saint John's Gardens.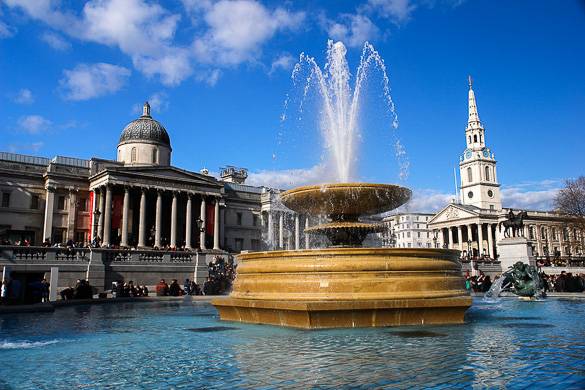 The National Gallery on Trafalgar Square in Westminster, London
When it comes to culture Westminster also has plenty to offer. On
Trafalgar Square
you'll find the famous
National Gallery
, where you can admire paintings such as Sunflowers by Vincent van Gogh –for free! On the southern side of Westminster, you'll find
Tate Britain
, where among other things you can admire many works by the painter J. M. W. Turner. Lastly, in the cellar of the Westminster Abbey you'll find a lovely little museum called the
Westminster Abbey Museum
.
These are just some ideas for activities, but of course there's much more to see and do in Westminster! What's your favorite landmark in London?