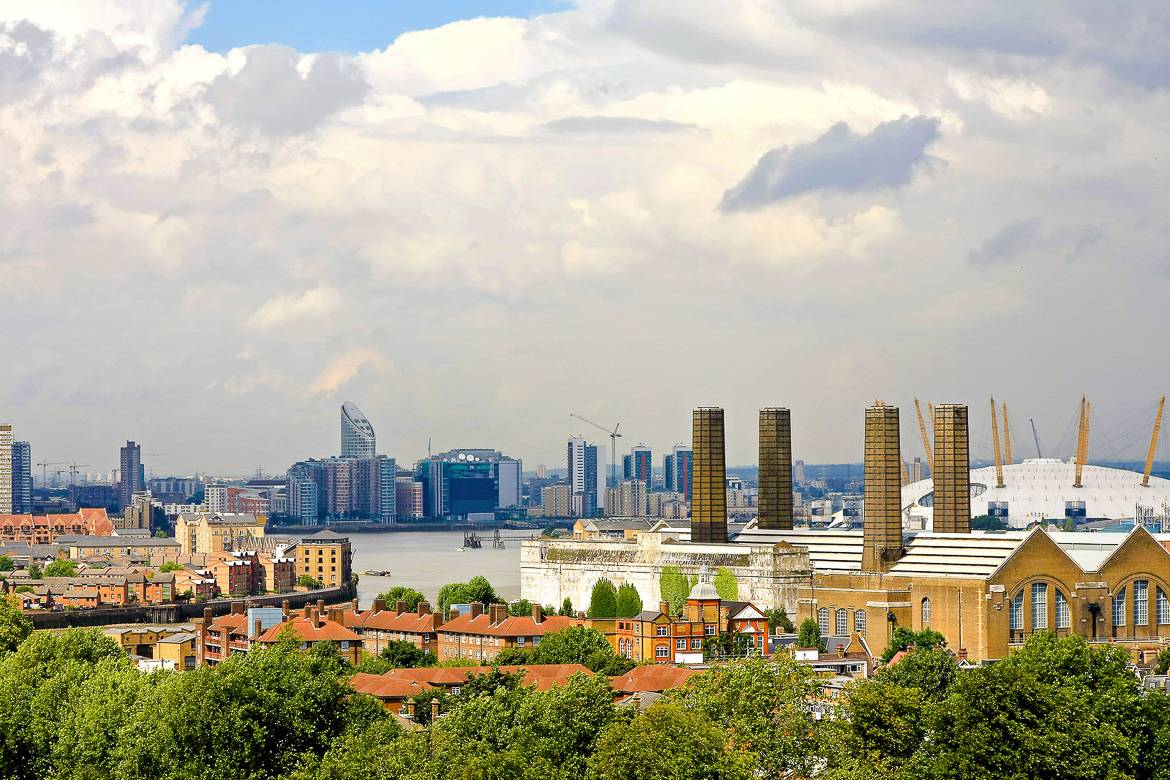 The Queen Elizabeth Olympic Park is a fixture of the borough of Hackney.
Hackney is one of the most exciting areas in London. The borough has a thriving art scene, many beautiful parks, and if you're looking for some of the best cafes, pubs, and clubs in the city, you've come to the right place! Hackney is one of the largest boroughs of Inner London and can be found just northeast of the City. The area encompasses many famous neighborhoods and areas of London, including Shoreditch, Hoxton, and parts of the Regent's Canal. It also borders the Queen Elizabeth Olympic Park, the site of the 2012 Summer Olympics. The area flawlessly combines the old with the new in a way that's sure to take you by surprise!
Welcome to Hackney
Hackney is roughly bordered by City Road and the City in the south, Southgate Road and Islington to the west, Amhurst Park and Harringay to the north, and the River Lea and Stratford to the east. It's served solely by the London Underground along its southern and northern borders, but is easily reachable via the London Overground, which has several stops in the borough. The southern neighborhoods of Hackney are internationally renowned for their nightlife and many galleries and creative shops. Meanwhile, the center and north of the borough are growing areas full of attractive and affordable urban accommodations. The area's fantastic markets, restaurants, and pubs also attract their share of celebrities, including Russell Brand, who is often spotted in Hoxton cafés. We'll tour some of the top spots in the neighborhood and show you what it's like to live in Hackney like a local!
Go shopping in Hackney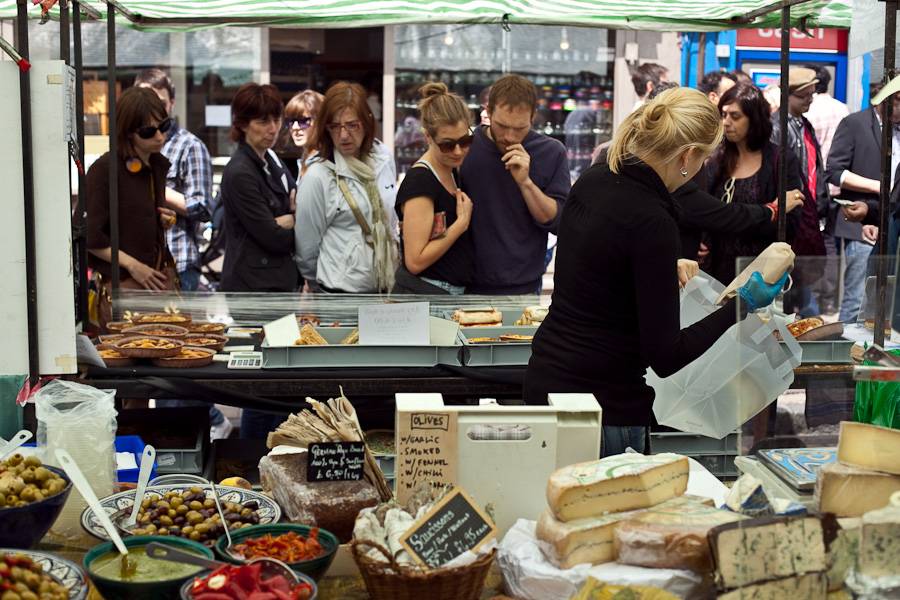 Browse gastronomic delights at the popular Broadway Market in Hackney, London. (Photo credit: Peter Jozwiak)
Hackney is best known for its open-air markets and countless independent shops selling everything from high fashion to antiques.
Don't miss Broadway Market, one of the most popular in Hackney. Every Saturday, the eponymous street is turned into an open-air shopping center lined with vendors selling everything from handcrafted foodstuffs to vintage clothing.
The Ridley Road Market is a less chaotic alternative to Broadway Market and offers plenty of fresh food for top prices. It's open daily on weekday mornings and from 9 to 5 on Fridays and Saturdays.
Another popular market is the Columbia Road Flower Market, the city's premier flower market. Every Sunday, people flock to this colorful vender in the early morning to browse for fresh-cut flowers and deliight in the floral scents that fill the narrow street.
Other notable Hackney markets include Netil Market, Roman Road Market and the Street Feast in Dalston.
Broadway Market also offers an array of vintage shops and two prominent bookstores. Artwords is a quaint bookshop specializing in an impressive selection of books and magazines on art, graphic design, and photography, and Broadway Bookshop is a smaller bookstore with an emphasis on contemporary literature and an impressive selection of travel guides.
The Burberry Factory Shop is a bargain-hunter's dream on Chatham Place; it offers great discounts on Burberry clothing.
For more high fashion, head to the shopping mall Westfield Stratford City. Though it's technically just outside of Hackney, this mall has an unbeatable selection of high-end fashion stores such as Prada, Mulberry, and Hugo Boss, plus chain stores such as Primark, The Body Shop, H&M, and many more.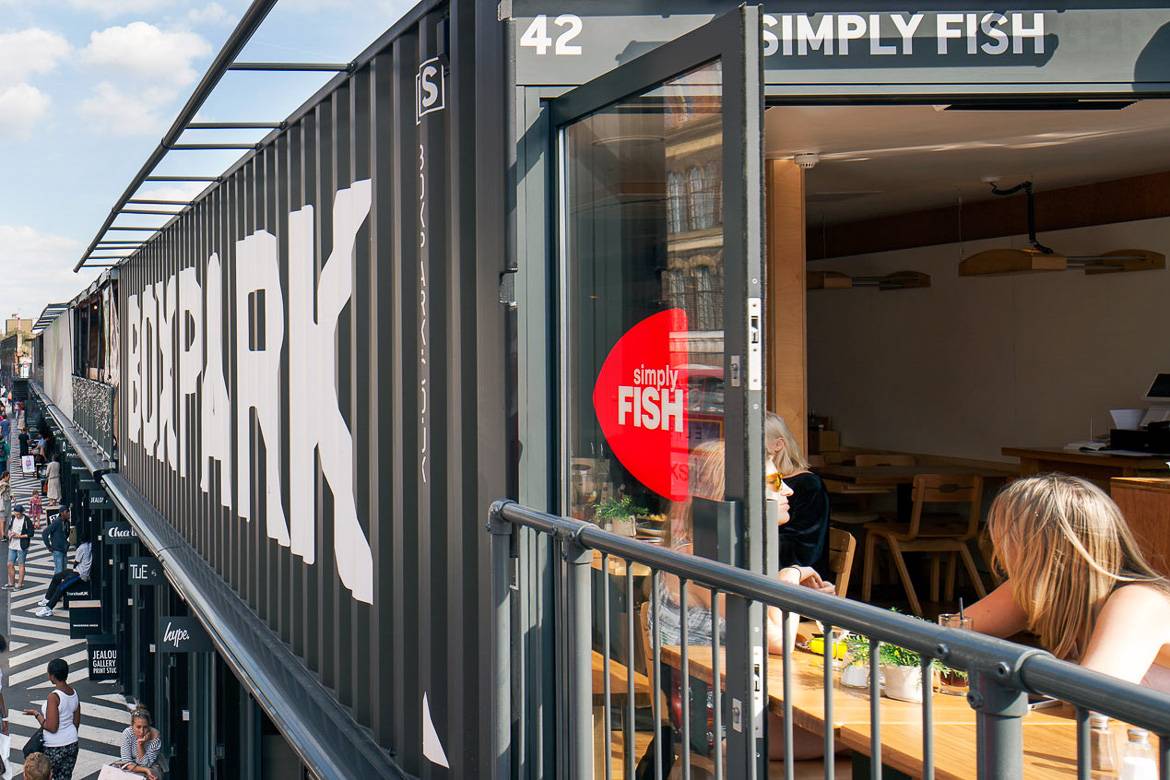 Boxpark's unique business model means you'll find something different every time you visit!
Lastly, Boxpark in Hackney offers a fun collection of rotating pop up stores, so you're sure to have a different retail experience to discover every time you visit!
Hackney cafés, restaurants & bars
Foodies can delight in Hackney's huge variety of cafés, pubs, and restaurants. Hoxton and Shoreditch, in particular, are famous for quirky coffee shops and exclusive clubs.
If you're in dire need of a proper cup of coffee, head to Climpson & Sons at Broadway Market. Try to avoid going on a Saturday, as the café's popularity often attracts weekend lines that spill out of the door!
Tina, We Salute You on King Henry's Walk is a unique neighborhood café with coffee as memorable as its name.
Railroad on Morning Lane is notable for its brunch and delicious sandwiches.
Although it goes beyond a typical café, the E5 Bakehouse also earns a mention. This bakery on Mentmore Terrace is well-hidden under a railroad viaduct, but it's worth the search for their delicious fresh bread. A tiny café inside the bakery provides seating space, but you can also take your bread to go and enjoy it at home!
There are too many great cafés in the area to list, but other popular coffee shops include Mess Café, The Shoreditch Station, The Bridge, and The Bagel Factory on Brick Lane.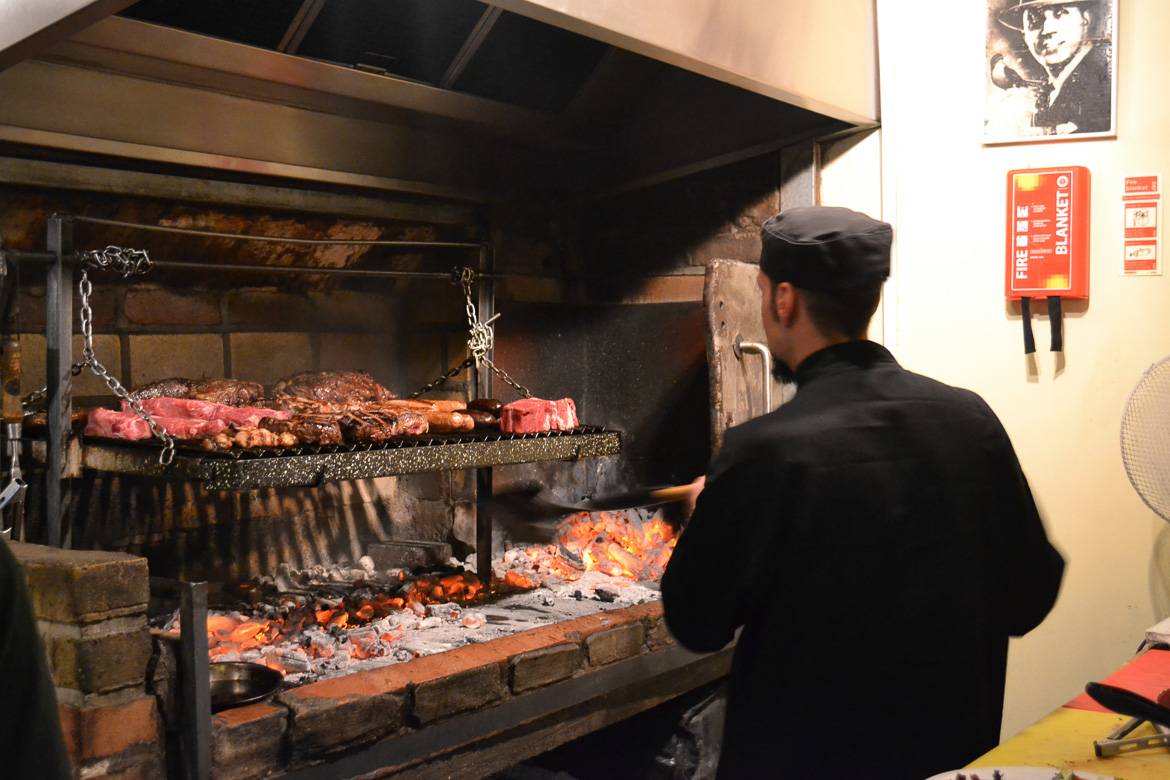 The Argentinian restaurant Buen Ayre in Hackney serves mouthwatering steaks.
The Breakfast Club on Rufus Street is something of an institution in Hoxton; rising to fame for their delicious English breakfast!
For lunch, Long White Cloud on Hackney Road has an extensive menu that's sure to satisfy any tastes.
And for dinner, you can't go wrong with Buen Ayre at Broadway Market. This Argentinian steakhouse is known for their service and their specialty steaks.
The Vietnamese restaurant Green Papaya on Mare Street is a low-budget alternative and welcomes specialty diets with their vegetarian and vegan dishes.
Mangal II on Stoke Newtington Road serves dinner quickly and for cheap, and grills some of the best kebabs in town.
Other Hackney restaurant favorites include The Prince Arthur, Fish House, Stingray Globe, and Pizza East.
For a drink, The Clapton Heart on Lower Clapton Road has a fun, laid-back atmosphere and numerous local and international beers on tap.
The Prince George on Parkholme Road is a very traditional pub that has a lovely outdoor beer garden.
For a non-traditional experience, the trendy bar Bistrotheque on Wadeson Street serves inventive cocktails and an extensive food menu.
To dance the night away, visit Visions Video Bar on Kingsland Road.
Lastly, other favorites for Hackney nightlife include Dream Bags Jaguar Shoes and the Hoxton Square Bar and Kitchen.
Live like a local in Hackney
Can't wait to start exploring the area's cafés and bars? Start planning with a look at our vacation rental apartments in Hackney! You'll gain an authentic experience of living like a local in Hackney from a vacation apartment, and you can enjoy stocking up on fresh food from the local markets and preparing your own dishes back home in your apartment's kitchen. If you're thinking about coming to London for a longer period of time, our Hackney furnished apartments can be rented for a month or longer.
What to see & do in Hackney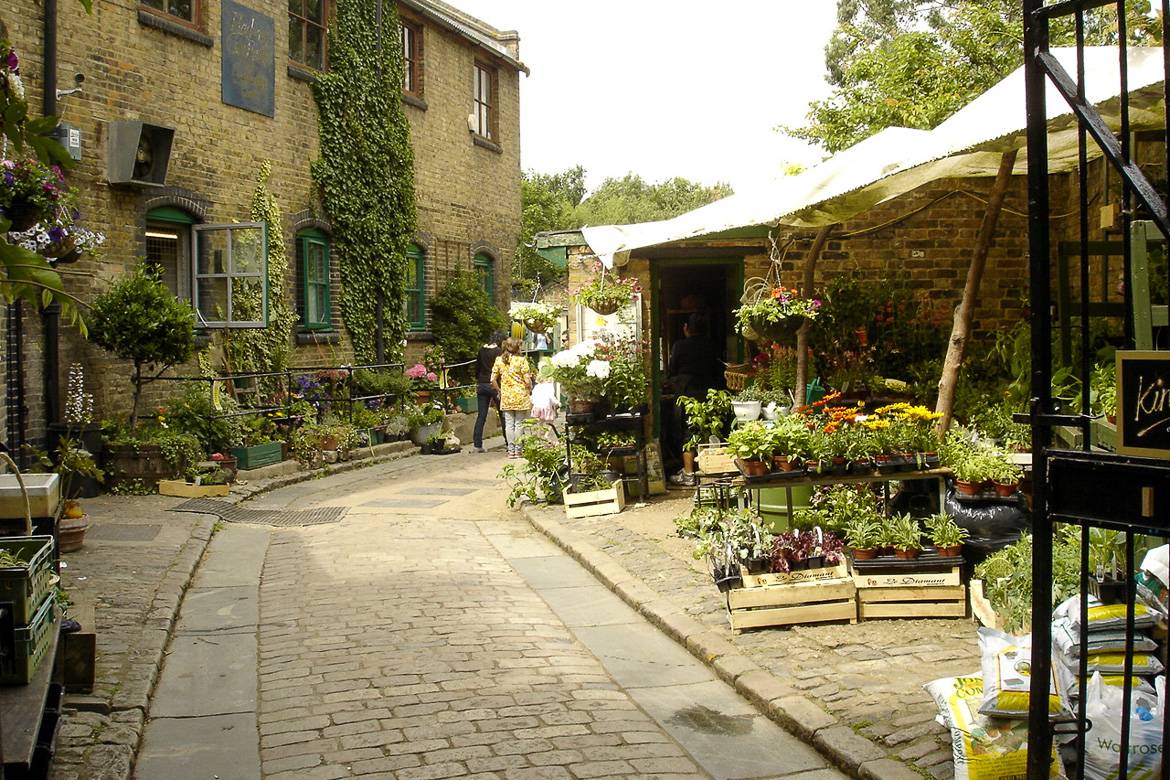 Escape the city temporarily at Hackney City Farm
Hackney is one of the greenest areas in London thanks to its spacious parks. In the summer, many inhabitants of Hoxton and Shoreditch flock to London Fields to stretch out on the lush lawns and enjoy the sunshine or take a dip in the Olympic-size pool. Hackney City Farm, a functioning farm with livestock and lessons about agriculture, is a great family-friendly natural destination. Check out how to visit London with the kids for more family-friendly activities! Lastly, we can't go without mentioning Victoria Park on the eastern border of Hackney, one of the biggest parks in the area.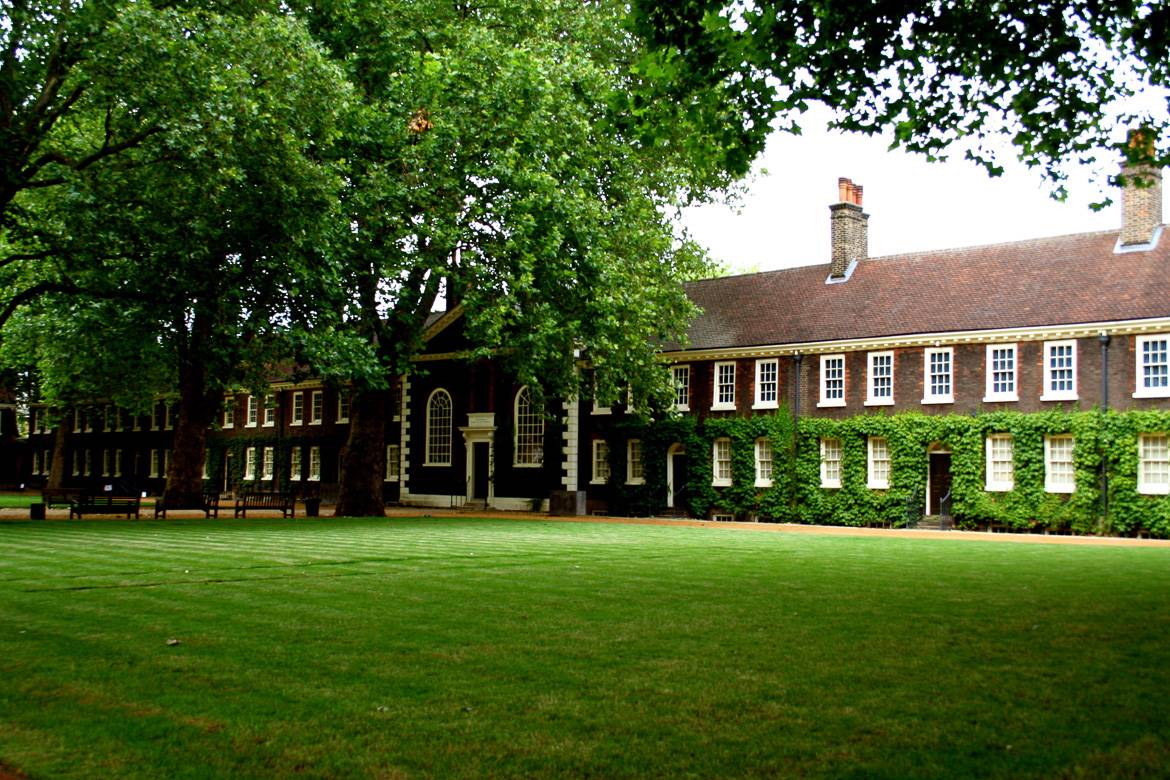 The beautiful Geffrye Museum in Hackney
Hackney also takes its place as one of the cultural seats of London. There are countless galleries to be explored, as the area is often referenced as one of the largest concentrations of artists in the country.
For an educational experience, visit one of several museums in the area. The Geffrye Museum offers an exclusive look into the history of domestic interior design in England. Sutton House, a beautiful Tudor mansion, is the oldest domestic building in Hackney. For fans of modern art, Rivington Place is a gorgeous modern visual arts center. There are also the borough's self-named museums: Hackney Archives and the Hackney Museum.
Summer in Hackney ushers in some great outdoor events. The two-day music festival Lovebox is held in Victoria Park every year, and other Hackney mainstays are held more intermittently, including the HotTub Cinema festival, Canalival, and Hackney Wicked.
Visit the Queen Elizabeth Olympic Park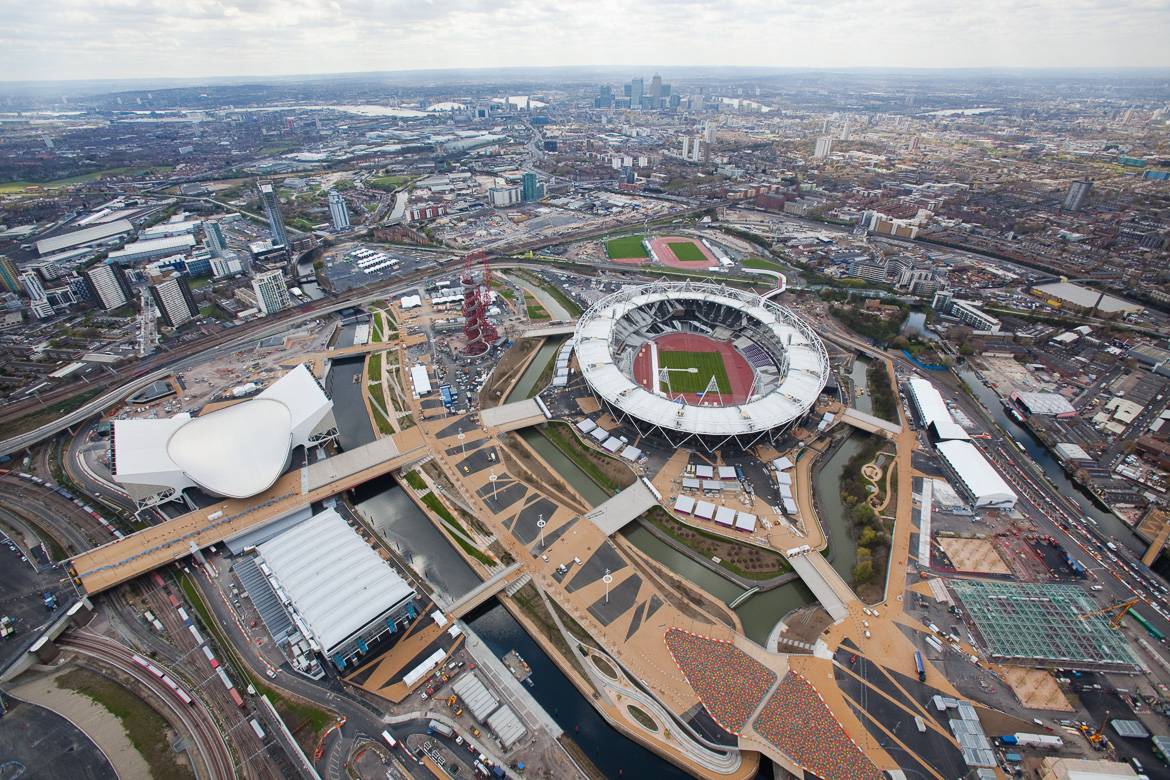 Relive some of your favorite moments of the Olympic Games at The Queen Elizabeth Olympic Park
One of the area's newest editions is the Queen Elizabeth Olympic Park. This park on the eastern border of Hackney was the site of the 2012 Summer Olympic Games. The space has since opened to the public for sports fans around the world to experience! Visitors not only have the chance to visit Olympic facilities like the Stadium, but also to play inside: beginning in April 2014, the Aquatics Center and Lee Valley Velo Park have opened for athletes. Visitors can also climb the tallest sculpture in the UK, the ArcelorMittal Orbit, which offers an amazing view of Hackney and London!