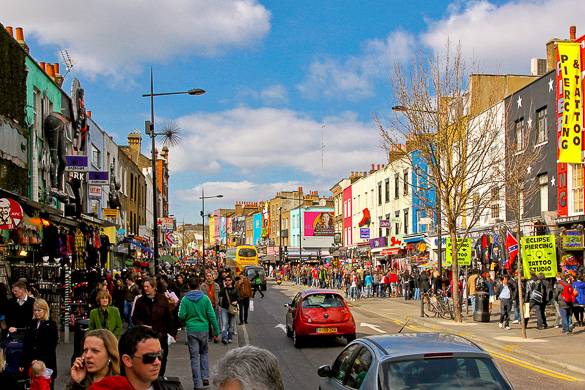 The colorful Camden Markets in the Borough of Camden, London
London has a wide array of fantastic neighborhoods to stay in during a holiday or longer visit to the capital of England. In this article, we'll highlight an area that's often overlooked when searching for the perfect accommodation in London: the Borough of Camden. Located just north of the City of London, a bohemian Camden is more affordable than the inner city neighborhoods, while still very central and nearby many London landmarks. The alternative vibe and vibrant culture of Camden make it a great place to stay for both holiday-goers and travelers looking for long-term accommodation.
Welcome to Camden
The London Borough of Camden is located in the northern part of the city, and neighbors the City of London to the south, the City of Westminster and Brent to the west, Barnet and Haringey to the north, and Islington to the east. Camden Town, or Camden, is the central neighborhood of the Borough of Camden. Camden Town is well known for its famous Camden Markets, and also for its many pubs and live music venues. The community offers a very diverse culture, which expresses itself in colorful restaurants serving food from all over the world, unique shops you won't find anywhere else in London, and a music scene featuring just about any style you can think of. Welcome to Camden!
Go Shopping in Camden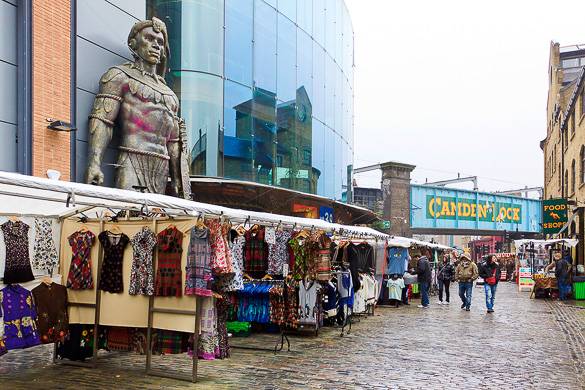 Camden Lock Market in London
Camden is probably best known for its famous street markets. The Camden Markets are often referred to simply as "Camden Market" or "Camden Lock", as the markets are located near the Hampstead Road Lock of the Regent's Canal. The Camden Market complex is made up out of six different sections, each with its own focus. The markets are most crowded during the weekend when all the shops are opened, and a little more peaceful during the week. The following are our favorite markets:
Camden Lock Market, original market of the Camden Markets, is located next to Regent's Canal and Camden High Street. Its main focus is crafts, as it was when the market first started in the 1970s. Over the years it has branched out and now sells items such as books, vintage clothing, jewelry, even fast food! For the best jewelry, check out Roger Stone. Tribu is another great shop selling tribal items.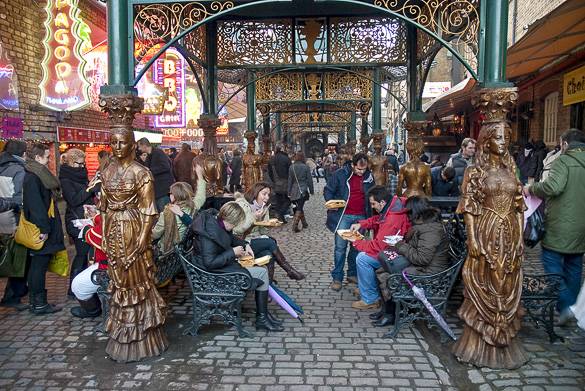 The Stables Market in Camden, London
The Stables Market is the go-to market for alternative fashion, and is located northwest of the Camden Lock Market. Many of the Stables Market shops are housed in former industrial buildings, and they form a fitting setting for the vintage clothing shops and antiques you'll find all around. For something different, pay a visit to Cyberdog: a gallery featuring recycled art objects.
Camden Lock Village is located east of Chalk Farm Road along the Regent's Canal towpath. Camden Lock Village was recently renovated, and now offers various independent shops selling products ranging from cool accessories to musical instruments. There's even a shop with a real glass engraver!
 The Iverness Street Market between Camden High Street and Arlington Road used to be focused on selling fresh produce. In recent years, however, the stalls selling fruits and vegetables have all but disappeared, and new stalls selling clothing and souvenirs have popped up in the street. Iverness is now most famous for the many excellent bars and restaurants lining the street.
Camden cafés, restaurants & pubs
If it weren't for the Camden Market, Camden's vibrant pubs and bars would surely be what the area is best known for. With a thriving local music scene, Camden's small pubs often showcase up-and-coming bands. The great cultural diversity of Camden is also present in its cafes and restaurants, which are often fresh and original. The following are some of our favorites:
InSpiral is a great café/lounge with a lovely view of the Regent's Canal. Besides solid coffee, InSpiral also offers fresh vegetarian and vegan food, and in the evenings there's often live music or a DJ. Camden Coffee House is a cozy café with an excellent selection of coffees and teas. Terra Nera is an original coffee house right next to the Stables Market that serves a range of specialty coffees and has amazing cakes. Also right opposite the Stables Market is Inhabition, a very popular coffee shop among the locals. Besides excellent coffee Inhabition also makes a mean milkshake.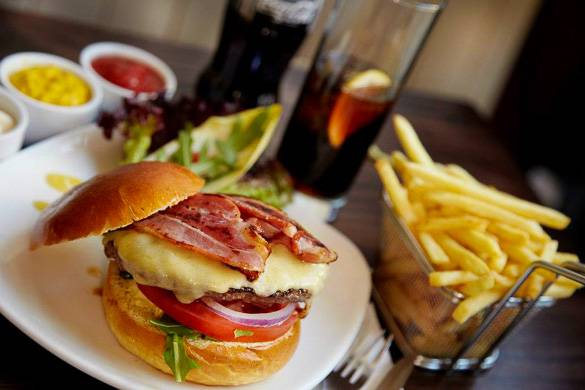 Haché in Camden is one of the best places to get a delicious burger in London

Haché is the go-to place in Camden when it comes to burgers. Because it's so popular it can get quite crowded at dinnertime, so consider stopping in for lunch instead. Great beers, great French fries and even better mussels: Belgo Noord combines the best of Belgian cuisine. Grand Union Camden is a bar and grill with a great selection of cocktails and decent bar food such as burgers and pizzas. The South African Shaka Zulu is at once a fashionable restaurant, bar and nightclub. The exotic food and equally exotic furnishings will almost make you forget you're in the middle of London. York and Albany was co-founded by chef Gordon Ramsay, and definitely lives up to the name: the food is top notch.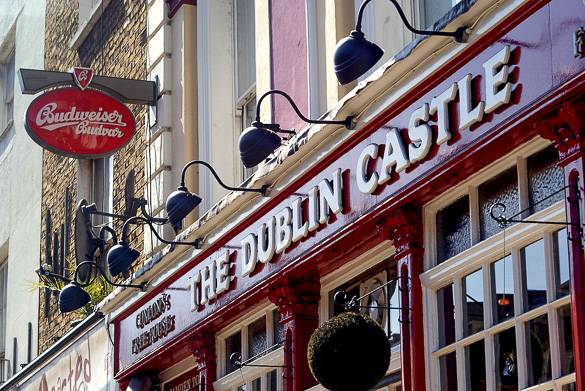 The Dublin Castle is one of the many pubs in Camden where you can enjoy live music
The
Dublin Castle
is one of the many pubs in Camden that also serve as a music venue. The Dublin Castle features live music almost every evening, and is a great place to check out local talent.
Lockside Lounge
is another lovely bar with a great outdoor deck that overlooks Regent's Canal.
Cafe Chula
is a great Mexican bar with equally delicious food and cocktails. As the place's not very big, do make reservations if you plan to come for dinner in the weekend.
The World's End
is a typical Camden pub, complete with grunge and death metal music. The pub is very spacious, and even features an in-venue food stall. Two other nice pubs in the area are
The Bucks Head
and
Bar Vinyl
.
Live Like a Local in Camden
When you're coming to London on a holiday, Camden is a great place to stay during your visit. We have many vacation rentals available in Camden, so have a look to see what it's like to stay in this offbeat part of town!
If you really want to experience Camden like a local, consider staying in a furnished apartment in Camden. These fully furnished apartments can be rented for a longer period, so you'll be able to visit as many different live music pubs and Camden Market shops as you like!
What to See & Do in Camden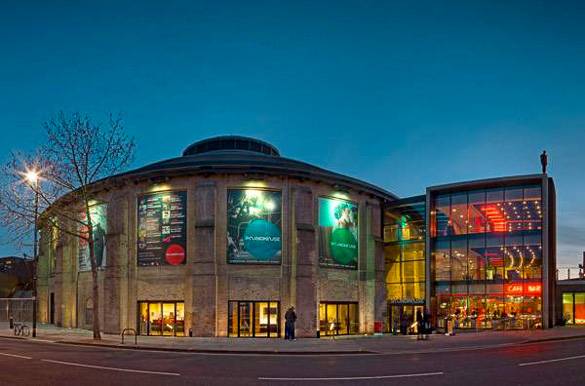 The legendary music venue Roundhouse in Camden, London
Camden truly is an exciting area to explore, there's so much to see and do! Besides the many live music pubs, there are a couple of venues that simply cannot be missed on a trip to Camden. The music venue
Roundhouse
has become an institution over the years, and has hosted such acts as Jimi Hendrix and Pink Floyd. Roundhouse was recently refurbished, and regularly hosts a variety of acts ranging from the Foo Fighters to Paul Weller.
Barfly
is another institution that has provided a stage for upcoming talent for many years now. Coldplay and Franz Ferdinand are among the bands that played some of their first gigs here. Some other great music venues in Camden include
Koko
,
The Jazz Café
and
Electric Ballroom
.
For an entirely different cultural experience, visit one of Camden's great museums. The Charles Dickens Museum is a must-see for fans of Dickens' novels. The museum is located in a Georgian house that was Dickens' home for two years, and also the place where he wrote The Pickwick Papers and Oliver Twist. Another fascinating museum is the Grant Museum of Zoology, which houses over 67,000 specimens. Other museums in Camden include the Camden Art Center, Camden Catacombs, Freud Museum, Jewish Museum and Sir John Soane's Museum.
Camden also has several parks that are lovely to visit on a sunny day. Regent's Park features sprawling lawns, beautiful gardens and even a boating lake! It's also where the London Zoo, the oldest scientific zoo in the world, is located. Primrose Hill to the north of Regent's Park offers an amazing view of the City of London's skyline. Lastly, Regent's Canal is a great place for a picnic by the water. See what it's like to stroll through the parks and streets of London in our London video tours.
We hope you've enjoyed this introduction to Camden in London! Have you ever been to the Camden Markets?