Considering its role as an intellectual epicenter, it should come as no surprise that New York is full of world-famous museums. Whether you're interested in art, history, or culture, you'll find a satisfying collection somewhere. Why not start at the most prominent stretch of galleries in New York City; the Museum Mile?
The fabled Museum Mile is actually a few blocks longer than the name suggests. It runs from East 82nd to East 105th Streets along 5th Avenue in the Upper East Side (take a closer look at the Upper East Side) and Spanish Harlem. The strip was rebranded with its current name in the 1970s to emphasize the cultural significance of its nine museums. The Museum Mile still is home to those nine institutions today (a 10th, the Museum for African Art, opened several streets north of the East 105th Street boundary in 2012), and is also popular for shopping and dining. Public transportation including bus lines and the 4, 5, and 6 subway trains will get you to the Museum Mile. There may be less than a dozen museums on the 5th Avenue stretch, but don't let that fool you; it will take you over a week to cover them all. Thankfully, our New York vacation rentals are there for all the time you need in NYC.
El Museo del Barrio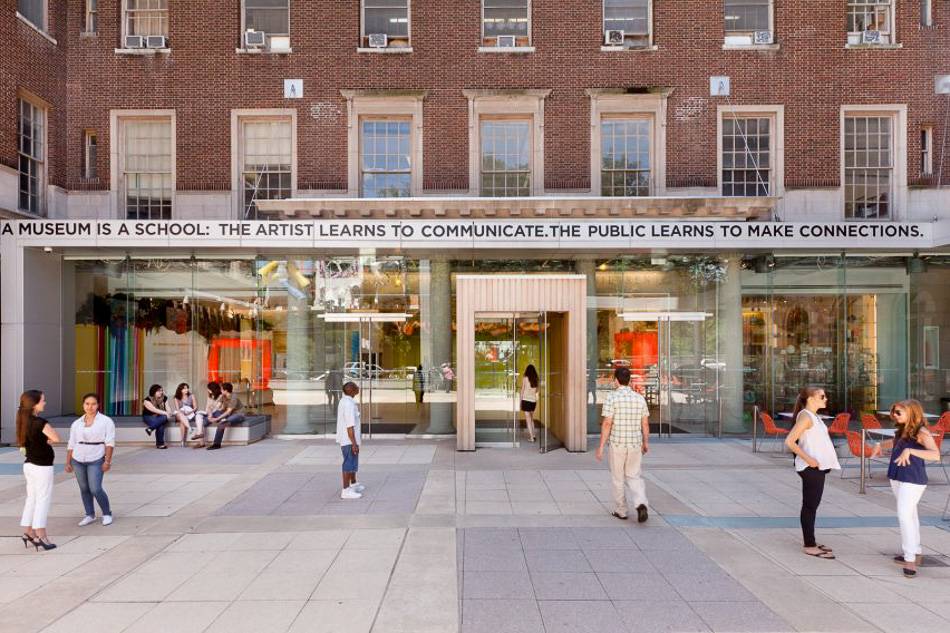 El Museo del Barrio welcomes visitors with centuries' worth of Hispanic art. (Photo credit: Luis Camnitzer)
With 6,500 artifacts in its permanent collection, El Museo del Barrio has made itself a prominent name that grew from the very community that championed its opening. In celebration of Puerto Rican, Caribbean, and Latin American art, El Museo houses everything from pan-Caribbean artifacts to contemporary Hispanic works. The gallery is notable for its compendium of Puerto Rican printmaking inspired in part by Mexican and Chicano prints (another exhibit at the museum). Don't miss the extensive Taíno collection of indigenous Caribbean ceramics and stonework and the Latin American folk art collection.
El Museo is open Wednesdays thru Saturdays from 11:00 a.m. to 6:00 p.m. with a suggested donation of $9 donation for adults and $5 for students and seniors. Free admission is offered on the 3rd Saturday of every month, as well as for members, children under the age of 12, and seniors on Wednesdays. The museum at East 104th Street and 5th Avenue is easily accessed by the 2, 3, or 6 subway lines.
Museum of the City of New York
The Museum of the City of New York (MCNY) has aimed to educate visitors about NYC's diverse and fascinating history since 1923. Collections include the decorative arts of the lavish Gilded Age to photographs detailing the city's social activism. 750,000 items are stored within the museum walls. Notable among them are handwritten documents by the acclaimed playwright Eugene O'Neill and pieces by Jacob Riis, whose startling photos captured the deprived living conditions of New York's poorest residents at the turn of the 20th century. As of June 2014, current exhibitions include In a World of Their Own, pictures of Brooklyn's Coney Island between 1961 and 1963, Palaces for the People, a display chronicling the story of structural tile architecture throughout New York, and City as Canvas, showcasing graffiti artists' works donated by artist Martin Wong.
The Museum of the City of New York is open daily from 10:00 a.m. to 6:00 p.m., with suggested admission prices at $18 for adults, $12 for seniors and students, and free for members and children under 19. Some workers are eligible for free admission (a list is available on MCNY's website). The museum at East 103rd Street and 5th Avenue can be accessed via the 2, 3, or 6 subway trains. As a bonus, admission to MCNY earns you free entrance to El Museo del Barrio, and vice versa!
Prices updated June 2019.
The Jewish Museum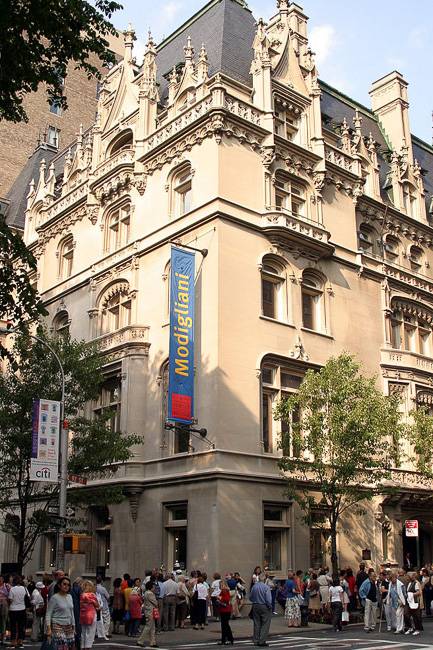 The Jewish Museum celebrates the contributions of Jewish people worldwide
Considering New York's vibrant Jewish community, it's fitting that the United States's principal museum devoted to Jewish culture is in Manhattan.
The Jewish Museum
's mission is to explore the diverse traditions and history of Jewish identity from its origins to its contemporary expansion worldwide. The 800 pieces in the gallery's permanent collection communicate the Jewish experience through customs, relationships with other societies, and global events. Sometimes the experience is one of adversity, but always with the hope of a better future. As of June 2014, current exhibits consist of
Mel Bochner: Strong Language
, which challenges how we perceive words with eye-popping contrasting designs, and the famed photographer Diane Arbus's study of human oddities like her "Jewish giant," entitled
Masterpiece & Curiosities
.
The Jewish Museum is open Thursday through Tuesday from 11:00 a.m. to 5:45 p.m. with extended hours on Thursdays until 8:00 p.m. The museum is closed on Wednesdays, select national holidays, and major Jewish holidays. Admission is $18 for adults, $12 for seniors, $8 for students, and free for members or those under 18. Saturdays are free and Thursdays are pay-what-you-wish during the evening hours. The museum at East 92nd Street and 5th Avenue is accessible via the 4, 5, and 6 trains and buses.
Prices updated June 2019.
Cooper-Hewitt National Museum
If you're interested in design, you've come to the right place. Cooper-Hewitt is the only museum in the United States that is entirely dedicated to decorative arts and design. You'll find all kinds of trinkets inside, from furniture to pottery and shopping bags to lace. At one time, the gallery even displayed a chair used by President Abraham Lincoln!
The Cooper-Hewitt National Museum is at East 91st Street and 5th Avenue and is accessible via the 4, 5, and 6 subway lines. Our New York furnished apartments will provide you with accommodations near the museum.
Solomon R. Guggenheim Museum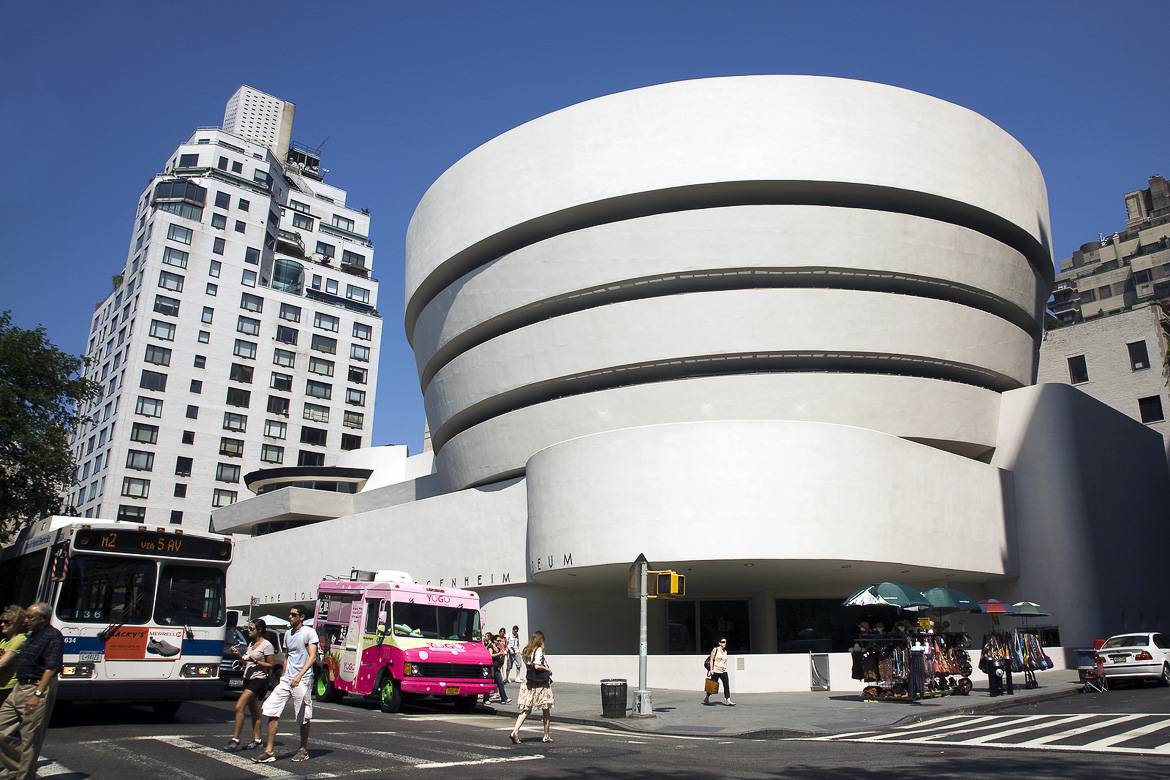 Don't judge a museum by its façade! The Guggenheim's spectacular collection manages to rival its awe-inspiring exterior
Perhaps best-known for its iconic façade designed by Frank Lloyd Wright, the Guggenheim Museum stuns visitors with the array of exhibits housed within its curved walls. The museum holds an illustrious collection of 20th-century art, from expressionist and surrealist paintings to avant-garde sculpture. Besides Wright, the gallery is indebted to two individuals: its founder and namesake, Solomon R. Guggenheim, and art dealer Justin K. Thannhauser. The latter's donated collection houses masterpieces by all the legends: Cézanne, Van Gogh, Manet, Monet, Picasso, Pissarro, and Renoir. Ever on the cutting edge, the Guggenheim welcomes performance artists and looks to the future with a rotating agenda of current and upcoming exhibits.
The museum is open Fridays thru Wednesdays (closed on Thursdays) between 10:00 a.m. and 5:45 p.m. (7:45 p.m. on Saturdays). Admission is $25 for adults and $18 for seniors and students. Members and children under 12 are free, and Saturday evenings follow a pay-what-you-wish policy. The Guggenheim is at East 89th Street and 5th Avenue. Any museum is best toured with a friend! Perhaps a future New York roommate would be the perfect companion?
Prices updated June 2019.
Metropolitan Museum of Art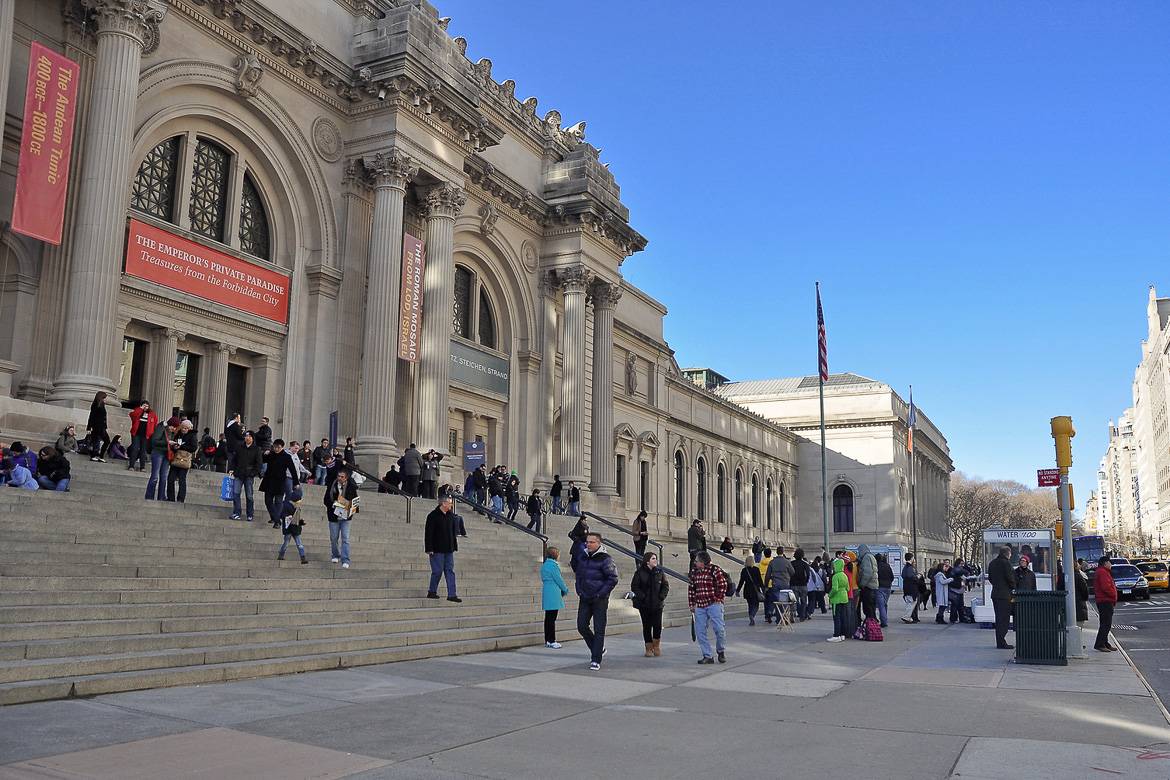 With over two million pieces of art in its collection, the Met deserves its reputation as a leading art museum
An art gallery even for non-art aficionados, The Metropolitan Museum of Art (known colloquially as "The Met") has something for everyone to enjoy. Thousands of years' worth of art is housed within 17 curatorial departments, from Ancient Near Eastern Art to Modern and Contemporary. Are you a music lover? The musical instruments exhibit chronicles their evolution. Does fashion fascinate you? The Costume Institute's Anna Wintour Costume Center tracks changes in styles and silhouettes over time. If you're looking for famous works, The Met has them. See Degas's The Dance Class or Picasso's 1911. The Egyptian, Greek, and Roman art halls also stand out.
The museum is open daily on a seasonal schedule: 10:00 a.m. to 5:15 p.m. from March thru October, and 10:00 a.m. to 4:45 p.m. from November thru February. Adults pay $25, seniors $17, students $12, and members and children under 12 are free. At East 82nd Street and 5th Avenue, The Met is not far from 4, 5, and 6 subway stations.
The Met has an additional branch of medieval art collections at the Cloisters, a museum in Fort Tyron Park. The museum is also a straight shot across Central Park from another beloved institution: the Museum of Natural History. Incorporate both into your itinerary if you can! If you want to know more, check out our handy guide to Central Park.
Neue Galerie
The Neue Galerie specializes in German and Austrian art and lives up to its name. As it was opened in 2001, the museum is a relative newcomer to the Mile. That's not to say The Neue Galerie lacks prestige. The second floor, devoted to Austrian works, houses works by Klimt (after an intense bidding war) and Kokoschka. The third floor, meanwhile, hosts German pieces by Klee and Dix. There are also collections of decorative art; early 20th-century examples of German and Austrian jewelry, furniture, and silverware, for example.
The Neue Galerie is open Thursday thru Monday (closed on Tuesdays and Wednesdays) and charges $22 for general admission, $16 for seniors, and $12 for students. First Fridays is a special program during which the museum is free and open to the public on the first Friday of every month. Keep in mind that children under the age of 12 are not permitted in the museum. The Neue Galerie is at 86th Street and 5th Avenue.
Prices updated June 2019.
Museum Mile Festival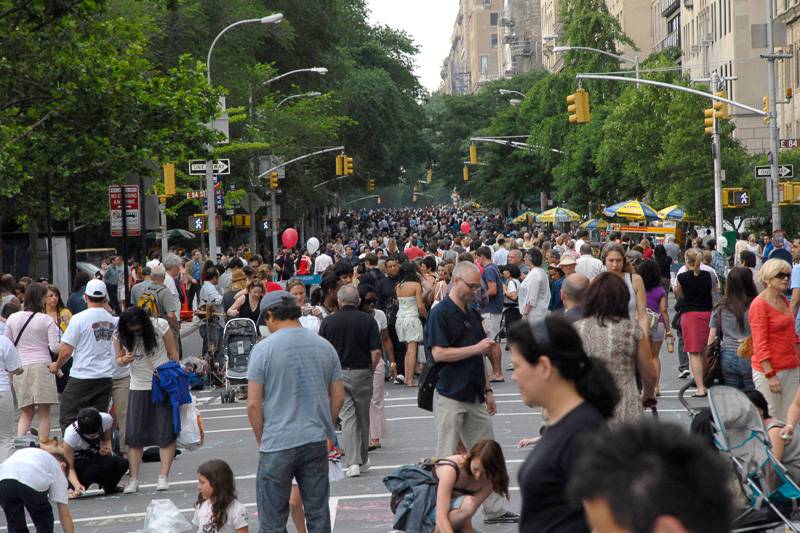 Guests flock to the Museum Mile Festival for activities, pedestrian-friendly streets, and free entry to these famous museums
In June 1978, institutions along the Museum Mile decided to open their doors to the public for the evening, free of charge. The successful turnout proved to be the beginning of an annual festival devoted to fostering a love of art and culture. During the Museum Mile Festival, New Yorkers and tourists roam gallery halls together. The festival recently celebrated its 36th anniversary and remains a beloved free event. If you're in Manhattan during the second week of June, participation is a must! There are many more free activities in New York City; check out the top 10 free things to do & see in New York!