There's never a bad time for ice cream! Thankfully, there are plenty of choices around New York to satisfy your craving for something cold, creamy, and delicious.
Here's a list of our top 10 favorite New York ice cream shops (in no particular order)!
Melt Bakery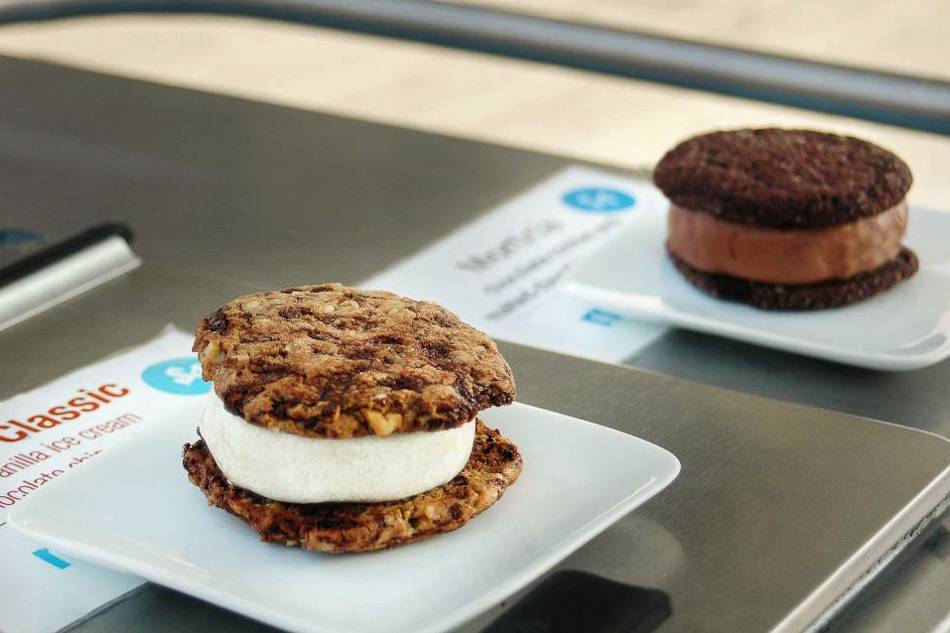 Melt Bakery specializes in the aptly-named Creamwich, which combines ice cream filling with a cookie "bun"
Down in the historic Lower East Side, you'll find a sustainable bakery specializing in one unique treat: the Creamwich. For the uninitiated, creamwiches combine two cookie buns with an ice cream patty.
Co-owners Julian Plyter and Kareem Hamady began Melt Bakery at a street fair in 2010 and opened their Orchard Street store two years later. Regular-sized creamwiches are $5, while mini-sized treats cost $3. The inside of the store is quite small and there's no seating, so think of the establishment as a take-out spot. The sign is easy to miss, so pay attention as you pass the shops on Orchard Street! The Melt Bakery bakers use local ingredients and rotate their menu seasonally; in other words, there's always a new flavor for you to try! Why not spring for the Classic, a delicious combination of chocolate chip-walnut cookies and vanilla ice cream? Or if you love red velvet, the Lovelet should hit the spot with melt-in-your-mouth red velvet cookies and a cream cheese filling.
The bakery at 132 Orchard Street is open seven days a week starting at noon. Melt Bakery is easily accessed via subway; Delancey-Essex Street Station is only a few blocks away and is served by the F and J lines. While you're there, take a spin around the Lower East Side with our handy guide.
2. Coolhaus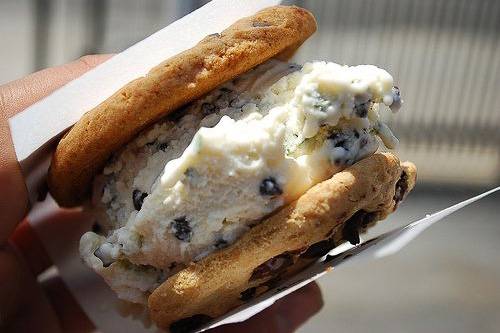 Coolhaus' sculpted ice cream sandwiches are inspired by architecture and design
Are you a Creamwich fanatic? After you've visited Melt Bakery, stop at a Coolhaus truck. Co-creators Natasha Case and Freya Estreller formed the ice cream sandwich brand in 2008, inspired by a connection between architectural design and food. The sandwich's popularity led to an expanded fleet of 11 trucks across the country (including 3 in New York) and deliveries to certain retailers.
Given their mobile business model, locations change daily; check the Coolhaus Twitter feed for updates. Prices average about $6 per snack, and patrons can customize their combination of cookies and ice cream. Coolhaus also emphasizes sustainability, organic ingredients, and handmade quality! Seasonal specialties make Coolhaus a must–summer is filled with citrus flavors, while autumn is marked by pumpkin and deep spices–and regular menu staples are just as enticing.
3. Chinatown Ice Cream Factory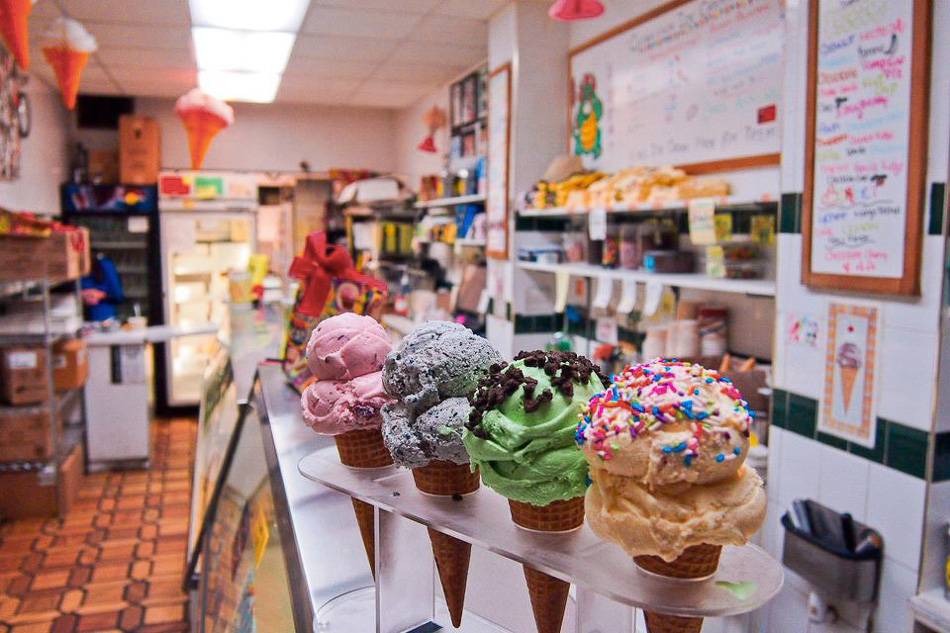 Chinatown Ice Cream Factory delights guests with its unique flavors and cultural pride
Looking for an atypical ice cream experience? Chinatown Ice Cream Factory, run by the Seid family for over 30 years, combines America's love of ice cream with a Chinese twist. "Regular" flavors include Chinese egg custard, green tea, and pineapple, while "exotic" flavors include chocolate chip, pistachio, and rocky road. That's not your usual menu! Chinatown Ice Cream Factory is constantly producing new flavors and their ice cream cakes are great for parties or takeout. One scoop is about $4, but with all of the unique flavors, you may want to spend extra for a bigger cone.
Located in the heart of Chinatown at 65 Bayard Street, this shop is open seven days a week from 11:00 a.m. to 10:00 p.m. Chinatown Ice Cream Factory can be accessed via Canal Street Station. Be mindful that lines may be long depending on the day, that the inside is small, and Chinatown Ice Cream Factory is cash-only. Chinatown is a wonderful and culturally rich neighborhood! Our video guide of Chinatown will help you learn where to start.
4. Sundaes and Cones
Sundaes and Cones is another specialty spot in the East Village. It offers a wide variety of choices, from classics like strawberry, to exotic like pink grapefruit, to downright odd. There's even a corn flavor, which does in fact taste like the vegetable. One scoop costs $4.50, but if you're worried about picking the right flavor, never fear! The friendly staff will let you try multiple samples before you buy.
Take the 4 or 6 train to Astor Place and walk the few blocks to reach Sundaes and Cones. It's open daily from 11:00 a.m. to 11:00 p.m., with hours extended til midnight on Fridays and Saturdays. There is limited seating and a $5 minimum for credit cards. Why not eat your ice cream while touring the East Village? Plan your route with our guide to the East Village.
5. Brooklyn Ice Cream Factory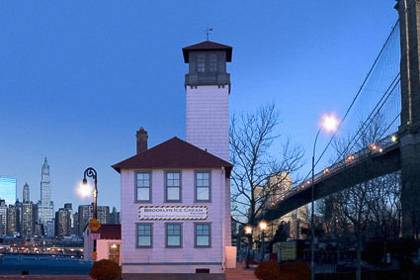 Brooklyn Ice Cream Factory has spectacular treats and Manhattan views
Manhattan doesn't have a monopoly on the best ice cream! Brooklyn–increasingly the hippest borough of New York–has plenty of options for your sweet tooth. The first, Brooklyn Ice Cream Factory, is worth the hike from Manhattan for two reasons. One is its unparalleled view at the original location in DUMBO (there's a second location in Greenpoint). The second is (naturally) the ice cream! Although Brooklyn Ice Cream Factory's menu is not as extensive as others of its kind, it makes up for it in quality. Scoops range from $4 to $7 in price, sundaes, milkshakes, and banana splits are a little extra, and like Chinatown Ice Cream, it's cash-only. Indoor seating is limited, but who needs a seat with panoramas of Manhattan outside?
Take the A or C trains to High Street or the F train to York Street for the DUMBO location (open daily from noon to 10:00 p.m.), and the G train to Greenpoint Avenue for the Greenpoint location (open Wednesdays thru Sundays from 1:00 p.m. to 9:00 p.m.). You can even walk from Lower Manhattan across the Brooklyn Bridge to the DUMBO location; the scenery is truly remarkable! As for what to order, the vanilla chocolate chunk and the chocolate chocolate chunk flavors are highly recommended.
6. Ample Hills Creamery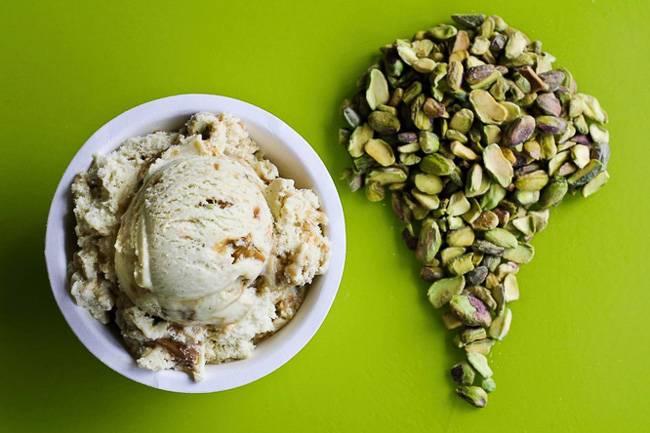 Ample Hills Creamery doesn't shy away from experimentation in its ice cream flavors!
Continue your Brooklyn expedition in Prospect Heights, where Ample Hills Creamery serves tasty treats. A regularly rotating menu of 16 flavors every day adds an element of surprise, even for regular patrons! Lines can be long, but the bright décor and the promise of delicious ice cream should speed up the wait. Single scoops are $4.35, doubles $5.75, and pints $8.25.
The shop is open daily from noon til 11:00 p.m. (hours extend to midnight on Fridays and Saturdays), but get there as early as you can. Supplies are limited, and the most popular flavors tend to sell out by late afternoon. The original 623 Vanderbilt Avenue location is easily accessed by multiple subway lines, including the A, B, Q, and 4. Many consider the salted crack caramel to be Ample Hills's finest, but don't just take their word for it; try it out yourself!
7. Van Leeuwen Artisan Ice Cream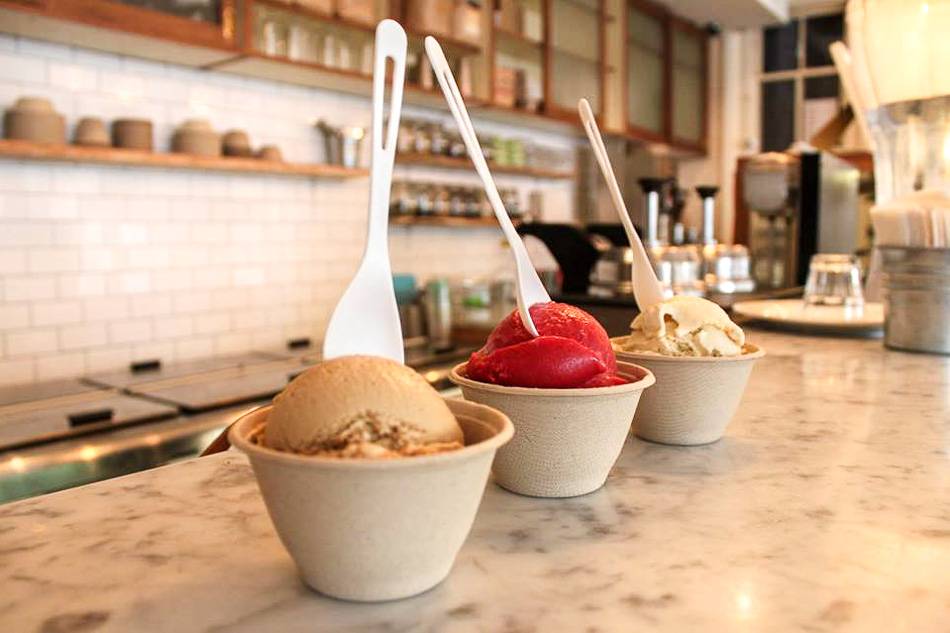 Van Leeuwen Artisan Ice Cream makes frozen treats with an environmentally conscious mindset
With several stores and trucks across New York, Van Leeuwen Artisan Ice Cream is a household name. Van Leeuwen began in 2008 using all-natural ingredients and an eco-friendly mission, and has only grown since. It comes as no surprise that plant-inspired flavors dominate the menu: earl grey tea, mint chip, hazelnut, and palm sugar are standard fare alongside the typical vanilla and chocolate.
Trucks can usually be found in the West Village, Soho, and Williamsburg, while permanent storefronts call the East Village, Greenpoint, and Boerum Hill home. You'll find an equal balance of Van Leeuwen in Manhattan and Brooklyn. Both regular and large sizes can accommodate two scoops, so feel free to select two different flavors to get the most for your money. The East Village location is also the roomiest, with plenty of tables for reading, snacking, and socializing.
An added bonus, Van Leeuwen produces vegan flavors and its trucks are available for wedding rentals!
8. Big Gay Ice Cream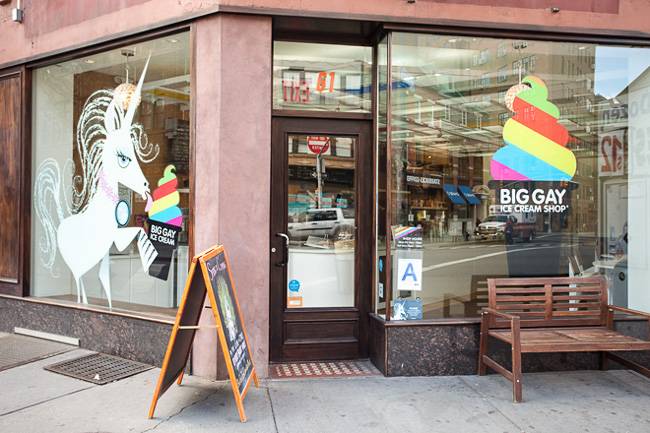 Big Gay Ice Cream is known for its tongue-in-cheek spirit and delicious ice cream
Between its cheeky name and its flamboyant treats, Big Gay Ice Cream delights guests with its flair. Come taste irresistible flavors like 'Salty Pimp' (vanilla ice cream, dulce de leche, sea salt, and chocolate dip) and 'Bea Arthur' (vanilla ice cream, dulce de leche, and crushed vanilla wafers).
Hours run from noon til 10:00 p.m. daily, with extended hours on Thursdays, Fridays, and Saturdays. There are two shops: one in the West Village, the other in the East Village. Cones cost between $5 and $7, and are protected by handy plastic covers to catch melting ice cream.
Take the 4 train to Astor Place or the F train to 2nd Avenue for the East Village shop. The 1 train to Christopher Street or the A train to West 4th Street will take you to the West Village shop. While you're there, be sure to pick up a Big Gay T-shirt to commemorate your visit!
Want to sample New York's best ice cream year-round? Take a look into our roommate shares in New York or furnished rentals! For shorter stays, a New York vacation rental has you covered.
9. L'Arte del Gelato
The brainchild of Sicilian immigrants, L'Arte del Gelato brings a taste of Italy to New York with its authentic ingredients and craftsmanship. Visitors have their choice of gelati alla crema (rice pudding, butterscotch, and licorice are a few flavors), gelati alla frutta (such as banana and chocolate with orange), or sorbetto (mixed berries, kiwi, and grape, among other flavors).
L'Arte's flagship is in Chelsea Market and is open from 11:00 a.m. til 10:00 p.m. daily (til 9:00 p.m. on Sundays). Seasonal locations at Lincoln Center and the High Line operate during warmer months. A small two-flavor gelato will set you back $4.50, but the quality and vibrant Chelsea location are worth it.
Take the A, C, or E trains to 14th Street Station and enjoy your gelato. Buon appetito!
10. OddFellows Ice Cream Company
For a distinctive menu and a touch of old-fashioned Americana, look no further than OddFellows Ice Cream Company. It's possibly the only place where you'll find beet-pistachio-honey goat cheese and ice cream flavors like PB&J on toast and miso butterscotch cherry. If you're feeling a bit adventurous, why not try the sorbet? Cinnamon blackberry and pink lemonade are just two of the rotating flavors (eight to ten ice creams and two to four sorbets are offered each day). OddFellows charges approximately $7 for two scoops in a handmade waffle cone.
Open from 1:00 p.m. to 11:00 p.m. on weekdays, with alternate hours on weekends, this Williamsburg eatery satisfies your sweet tooth late into the evening.
Bonus creamery for vegans
Vegans rejoice! Alchemy Creamery in Williamsburg specializes in serving delicious and dairy-free confections. In addition, customers love Williamsburg Creamery for its popcorn and wine-infused flavors.
What are your favorite New York ice cream shops?