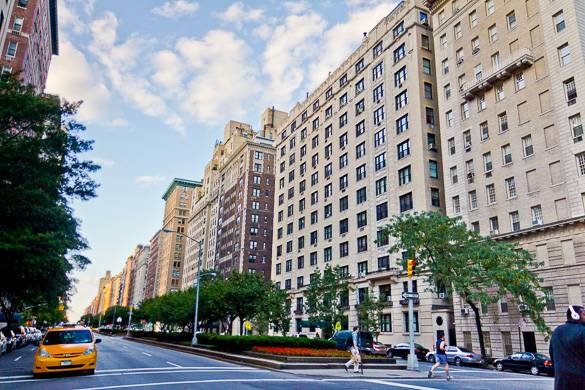 Park Avenue in the Upper East Side of Manhattan. Photo: Asim Bharwani
Of all the beautiful neighborhoods in Manhattan, there are probably none that better captures the spirit of the chic and stylish New York City lifestyle as the Upper East Side. This neighborhood is famous for its classic brownstone buildings, tree-lined streets, world-class museums and restaurants, and of course its affluent inhabitants. Movies such as
Breakfast at Tiffany's
and TV series such as
Sex and the City
have cemented the Upper East Side as an international iconic symbol of luxurious living.
The largely residential neighborhood is one of the most sought after areas to live in New York. In this article we'll show you what it's like to stay in the amazing Upper East Side!
Welcome to Manhattan's Upper East Side
The Upper East Side is a Manhattan neighborhood that's lodged between Central Park to the west and the East River to the east, 96th Street in the north and 59th Street in the south. Its great popularity has much to do with the ideal location of the neighborhood on the island of Manhattan: it's right beside the most famous park in New York and close to many of the city's most beautiful landmarks, including the Midtown Manhattan skyscrapers. The gorgeous houses and apartment buildings of the Upper East Side have been inhabited by the likes of Woody Allen, Michael Bloomberg and Madonna. The neighborhood is simply brimming with celebrated restaurants and high-end stores that all cater to its residents. It's an ideal neighborhood to stay during a visit to the city, as it's also well serviced by the metro: the 4,5 & 6 lines run along Lexington Avenue. This makes it easy to commute to school or work, as well as to explore other interesting areas in the city!
Go Shopping in the Upper East Side of Manhattan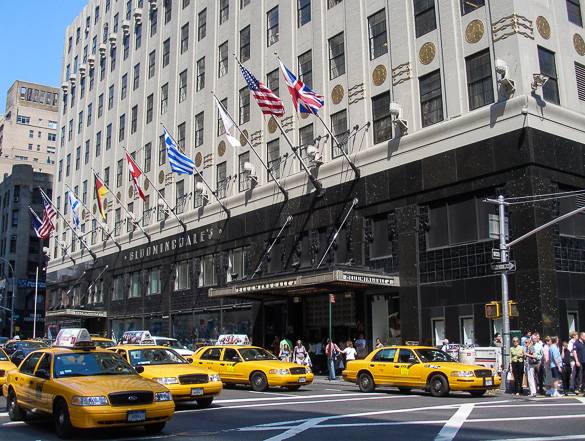 The famous Bloomingdales in Manhattan's Upper East Side
While arguably the most famous shopping spot of New York can be found on 5th Avenue just south of 59th Street, the Upper East Side offers an amazing array of luxury shops and department stores. The main shopping streets of the neighborhoods include Madison Avenue, Lexington Avenue, 59th Street, 72nd Street and 86th Street, but you'll also find great shops along Park Avenue, York Avenue, Third Avenue, Second Avenue and First Avenue.
For the neighborhood's best department stores, there are three options: Bloomingdales is a New York institution that takes up a whole block on Lexington between 59th & 60th, Barneys is another famous department store that you'll find amidst an array of other great shops on 61st & Madison. Anthropologie is a spacious store with an amazing selection of designer brands based in the city on 71st & 3rd.
Most of the luxury stores in the neighborhood can be found on Madison Avenue. Just between 59th and 69th you'll find names such as Calvin Klein, DKNY, Hermès, Jimmy Choo, Chanel, Giorgio Armani, Michael Kors, Dolce & Gabbana, and many more.
Two great bookstores in the area are Shakespeare & Co.  on 69th & Lexington and Barnes & Noble on 86th & Lexington. You'll also find many boutique shops around here.
Check out our Top 5 Shopping Spots in New York for more information about shopping in Manhattan!
Upper East Side Cafes, Restaurants and Bars
Well known for its award-winning restaurants, the Upper East Side also boasts some amazing cafes and bars. Plus, there are several delicious budget-friendly options when it comes to dining.
Located in the Neue Gallery on 86th & 5th, the Austrian Café Sabarsky serves a mean apple strudel. If you prefer French food, head over to Le Moulin à Café on 76th & York for an amazing brunch. To round off the European tour of the Upper East, head to the Italian Caffe Buon Gusto on 77th & 2nd serving lunch. If you're looking for some proper coffee, Caffe Noi on 76th & 2nd and Joe on 74th & Lexington are both great spots. Lastly, Bagel Bobs on York on 86th & York offers delicious and cheap bagels.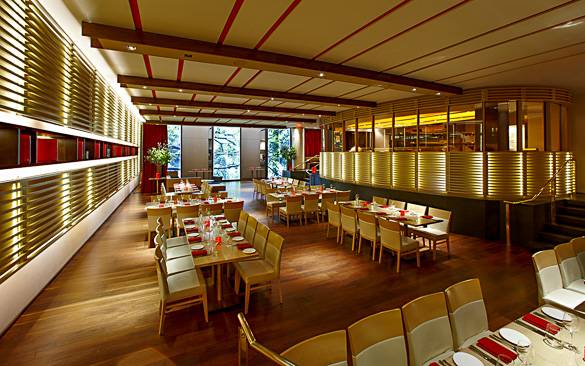 The restaurant Rouge Tomate in the Upper East Side, Manhattan
For the crème de la crème of dining in the Upper East Side, make a reservation at the restaurant
Daniel
on 65th & Park. If you're a fan of seafood,
Luke's Lobster
on 81st & 2nd is the place for you.
Rouge Tomate
 on 60th & Madison is an excellent restaurant serving new American cuisine. For delectable Italian, head to
Uva
on 77th & 2nd. Other nice restaurants in the area include
Serendipity III, EJ's Luncheonette
and
Aureole
.
For dining on a budget, the delicious burgers at Shake Shack on 86th & Lexington and at JG Melon on 74th & 3rd are always great options. For real New York City bagels at a great price, head to the famous H&H Bagels. Other great cheap eats include Roma's Pizza, Mamagyro, Dos Toros Taqueria, and Gotham Pizza.
The Auction House on 89th & 2nd and Jbird on 75th & 1st are two great lounges which offer delicious cocktails. The Stumble Inn on 75th & 2nd is a fun traditional sports bar with some great drink specials. Merrion Square on 95th & 2nd is another great dive bar with an extensive beer selection. For a traditional Scottish pub, head to the Caledonia Scottish Pub on 83rd & 2nd.
Live Like a Local in the Upper East Side of Manhattan
Do you want to feel what it's like to live in one of the most popular residential neighborhoods in New York? Stay in an Upper East Side vacation rental apartment during your visit to the city! These apartments provide great accommodation during your holiday, and are also a perfect base to explore the rest of the city from.
If you're considering staying in New York City for a longer period, have a look at our furnished apartments in the Upper East Side. These apartments provide the perfect home away from home, and will allow you to truly experience what it's like to live in the Upper East Side like a local. Alternatively, you can also choose to rent a furnished room in the Upper East Side, which is a great option for interns and students and makes it easy for you to meet new people!
What to See & Do in Manhattan's Upper East Side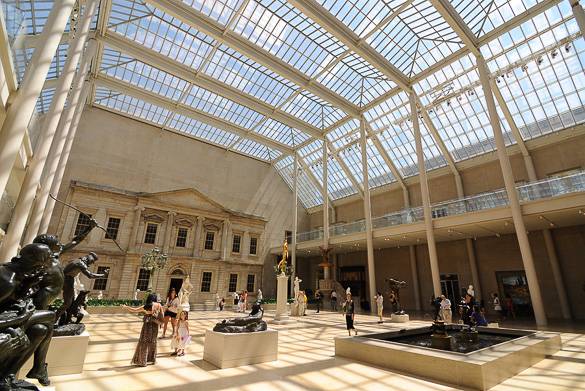 The beautiful Sculpture Court of the Metropolitan Museum of Art in Manhattan
When it comes to culture you'll never be short on things to see in the Upper East Side, as this neighborhood is home to the
Museum Mile
! This so-called mile consists of several museums that front Central Park on 5th Avenue. The most famous of these are the
Metropolitan Museum of Art
and the
Solomon R. Guggenheim Museum
, but you'll also find some amazing smaller museums and galleries such as the
Jewish Museum, Cooper-Hewitt National Museum of Design
and the
Museum of the City of New York
.
Of course the most famous attractions of the neighborhood is Central Park! Have a look at Central Park through the seasons for park activities. Two other nice parks in the neighborhood are the Carl Schurz Park and the East River Esplanade.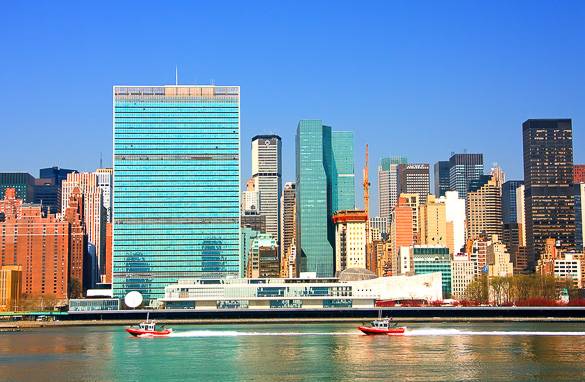 The United Nations Headquarters in Manhattan, New York City
The Upper East Side also houses many diplomatic missions, such as the Consult-General of France, Italy and India. This has to do with the neighborhood's proximity to the
United Nations Headquarters
, which is located between 42nd and 48th Street along 1st Avenue. You can even visit the United Nations building, which is an amazing opportunity.
When it comes to landmarks, Gracie Mansion is the only remaining East River villa and also the official residence of the Mayor of New York. The Roosevelt Island Tram is also definitely something to see: this amazing aerial tramway carries passengers from the Upper East Side to Roosevelt Island for the price of just one metro ticket!
Discover Roosevelt Island
The Franklin D. Roosevelt Four Freedoms Park on Roosevelt Island in New York City
Take the aerial tramway to Roosevelt Island for a great day trip from the Upper East Side. Roosevelt Island is just two miles (3.2 kilometers) long, so it's really easy to explore in just a couple of hours.
The Franklin D. Roosevelt Four Freedoms Park
on the south end of the island is an absolutely beautiful spot. The views of the East River and the Midtown Manhattan skyscrapers are truly spectacular! Other highlights of the island include
Lighthouse Park, Chapel of the Good Shepherd
and
Main Street
. Be sure to bring a camera or decent camera phone, as you'll want to capture the view of the Manhattan skyline from the island!
We hope you've enjoyed this introduction to the Upper East Side!
What's your favorite movie that's set in New York?