Most people travel to escape the daily grind or to open their eyes to different cultures, geology, and scenic views that will be remembered forever. According to search engine reports, searches involving the phrase "best things to do in ___" skyrocket during peak holiday seasons. With London at the forefront of the world's best travel destinations, is it any wonder people want to know what's happening in the Smoke City? Through a careful selection process, we've narrowed down the list of London's best events to a truly exceptional top 10. These events are internationally renowned, frequently attended by A-List celebrities, and often free or low-cost. If you're heading to London this season, mark your calendars for these great events, and don't forget to brush up on your London etiquette!
London Marathon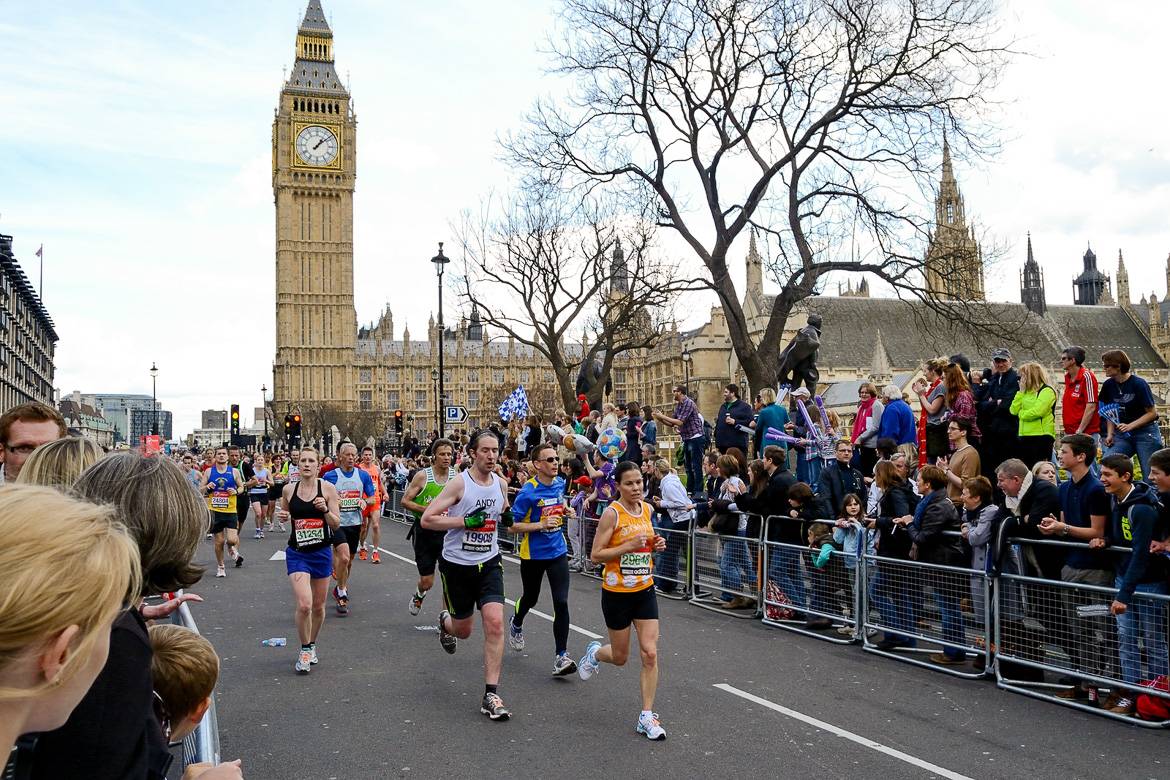 Runners cover the final stretch of the London Marathon
Founded by past Olympic champions, the London Marathon is a long-distance running event spanning over 26 miles (42+ kilometers). The majority of the route is on level ground along the Thames River. The course begins at three different points: the "red start" in southern Greenwich Park, the "green start" in St. John's Park, and the "blue start" on Shooter's Hill Road. All three routes converge in Woolwich and the finish line is on Birdcage Walk in Westminster. The London Marathon is one of the top six world marathons that form the World Marathon Majors (for which there is a $1 million prize). As such, it regularly attracts world-famous athletes and Olympic champions. The event is free to watch and is usually held on a Sunday in April.
Chelsea Flower Show
Formerly known as the Great Spring Show, the Royal Horticultural Society's (RHS) Chelsea Flower Show is the most famous flower show in the United Kingdom, if not the world. Each year over 157,000 visitors flock to see the paragons of the plant kingdom, and tickets (which cost adults £34 or about $58) sell out quickly. Admirers of the flower show include stars like Queen Elizabeth, Kirstie Allsopp, Twiggy, Benedict Cumberbatch, and Jerry Hall. The blooms are on exhibit for several days in May, from 8:00 a.m. to 8:00 p.m. Tuesday thru Friday and 8:00 a.m. to 5:30 p.m. on Saturdays. The neighborhood of Chelsea is also worth a visit, and you can see it virtually via our video tour!
Trooping the Colour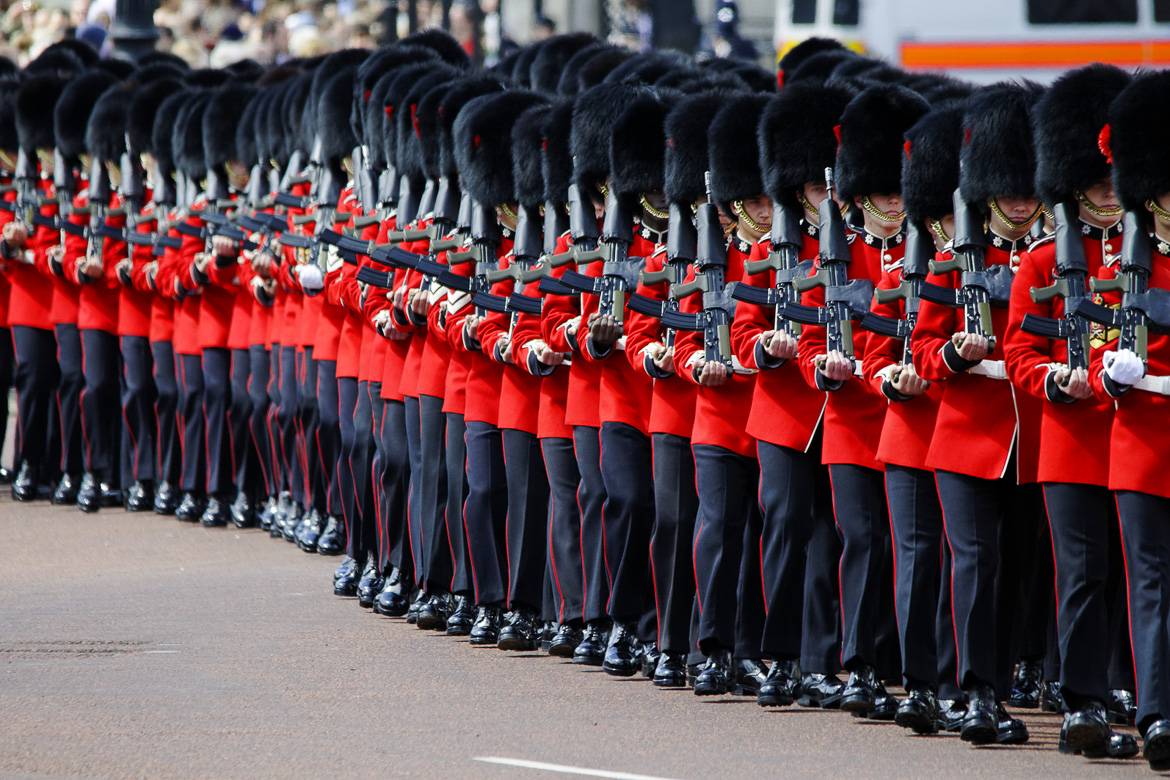 London soldiers get ready for the Trooping the Colour ceremony
Everyone likes a great birthday party, including Her Royal Highness the Queen! Every year since 1748, the royal monarchs' birthdays have been celebrated with a June military parade near Buckingham Palace, regardless of the reigning king or queen's actual birthdate. In recent years, the colorful ceremony has been broadcast live by the BBC and received extensive coverage. Highlights include the 41-gun salute followed by a Royal Air Force flyover. Attendance is free, but you have to arrive early if you want any chance of glimpsing the Queen. This is a great activity for kids, especially those who love the changing of the guard. In fact, London has a lot to offer if you're bringing the kids!
Wimbledon Tennis Match
Wimbledon is the oldest and most prestigious tennis tournament in the world. Held annually at the All England Club since 1877, it's one of four Grand Slam tennis Majors and the only one still played on grass. The tournament takes place over two weeks in late June and early July and is often played by Olympic medalists for a £25 million prize ($34.5 million). The court features a retractable roof so games can be rain or shine, and the event is covered by all major sports channels. Recent victors include Novak Djokovic, Jack Sock, and Petra Kvitova. Tickets start at £38 and go up to £148, though grounds admission prices are as reasonable as £15. Get there early with a cup of joe from one of London's top 10 coffee shops!
The Proms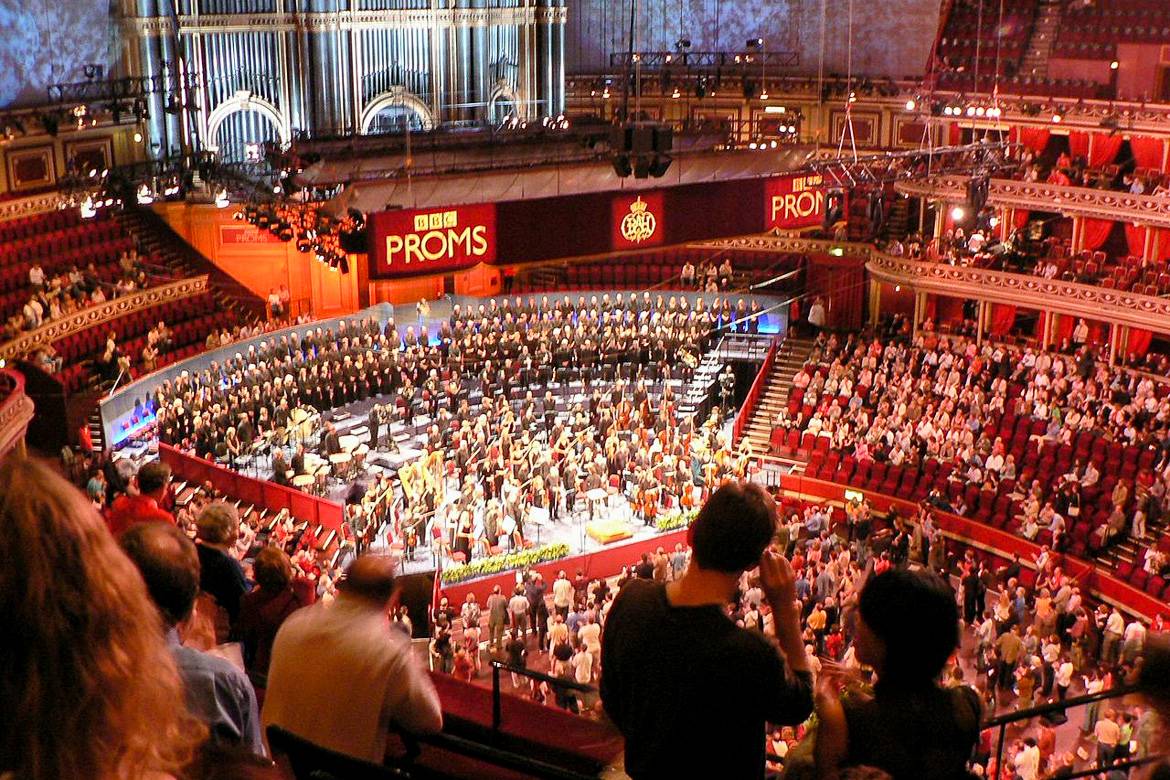 The BBC Proms is one of the biggest classical music events in the world
Short for "Promenade Concert," the BBC Proms is an eight-week-long season of daily classical music concerts. It has been described as "the world's largest and most dramatic music festival," and is one of the most popular summer evening activities for Londoners and visitors alike. Tickets cost between £7.50 and £95 apiece, though most tickets average about £30. The Proms are held in the stunning Royal Albert Hall, which was designed by Queen Victoria's husband Prince Albert to promote the arts and sciences. Musicians travel from all over the world for a chance to perform in the V&A (a nickname for the Royal Albert Hall), and each performance is as unique as it is awe-inspiring.
Notting Hill Carnival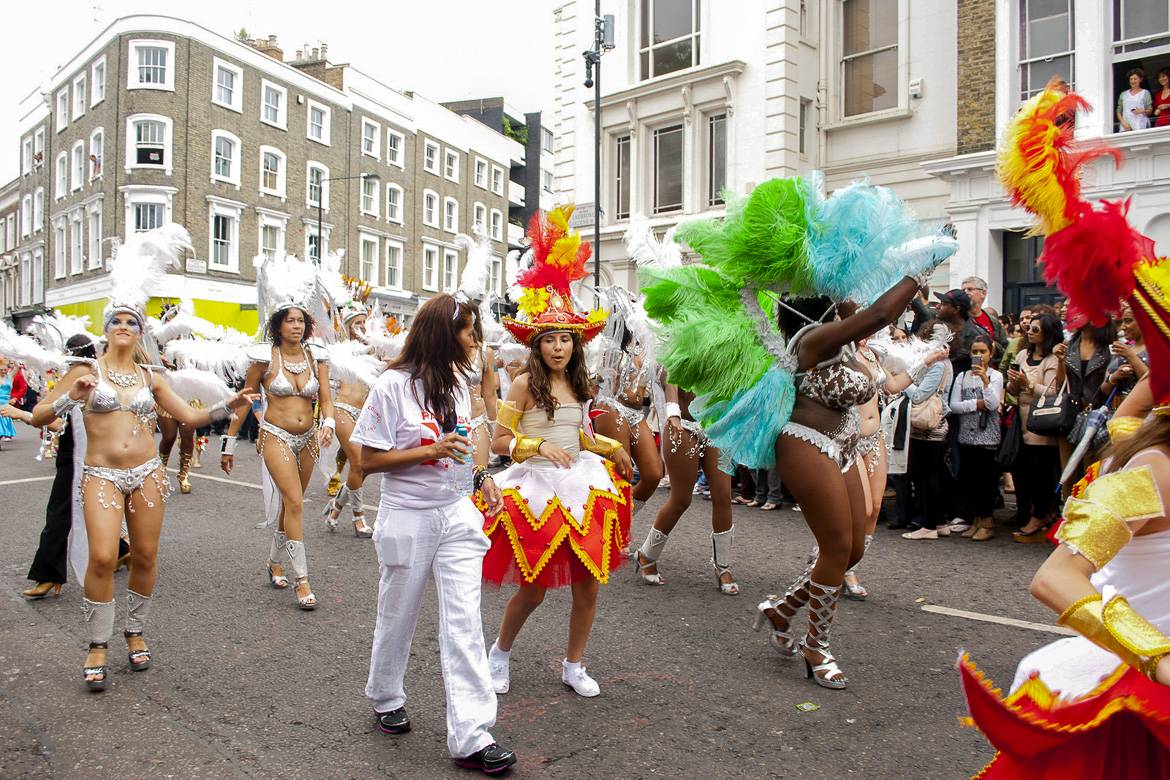 Dancers in colorful costumes liven up Notting Hill
If you stroll down the streets of Notting Hill on a sunny August afternoon, you might run into the Notting Hill Carnival. Started in the 1960s as a way to promote cultural unity and improve race relations, it has since evolved into a colorful festival that showcases Caribbean and West Indian culture. Admission is free but bringing cash is recommended: the streets will be jam-packed with vendors and spectators browsing the beautiful wares and spicy foods. Keep yourself grounded by downloading the Notting Hill Carnival app that has maps featuring restrooms, food, and transport links. Find out more about Notting Hill here!
London Film Festival
Since 1953, the British Film Institute (BFI) London Film Festival has hands-down been the largest public film event in the UK, screening more than 300 films from almost 50 countries. It takes place over a week and a half in the fall (usually sometime in October). As a showcase for the best of world cinema, it hosts many high-profile contenders. Celebrity sightings are a common occurrence, with stars like Helena Bonham Carter, Tim Burton, and Sarah Gadon making recent appearances. Ticket prices range between £9 and £32 depending on the screening's location and time.
Bonfire Night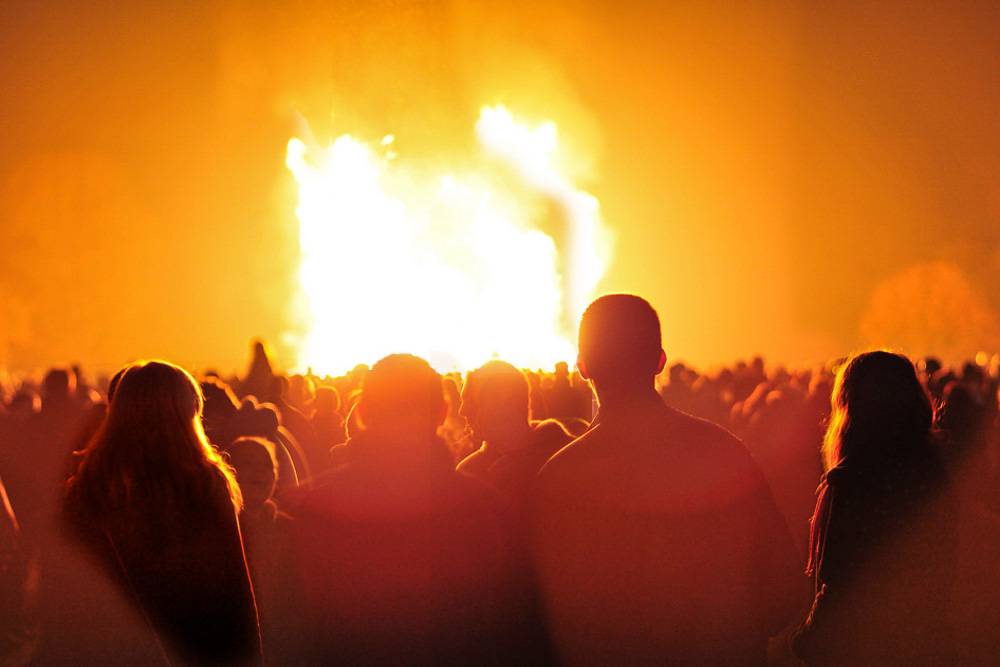 Take to the streets on November 5th to celebrate bonfire night
Remember, remember, the fifth of November. The gunpowder, treason and plot. I know of no reason why gunpowder treason should ever be forgot. Fortunately, it's nigh impossible to forget this gorgeous event when all of London lights up with multicolored fireworks and bonfires. Historically speaking, this event is meant to celebrate the survival of King James I after Guy Fawkes unsuccessfully attempted to bomb Parliament's House of Lords. Straw effigies of Guy Fawkes are sometimes burned at the stake in these bonfires, though fireworks are also a popular method of celebration. Since these bonfires happen all over the country, it's fairly easy to find them anywhere on the night of November 5.
Oxford and Cambridge Boat Race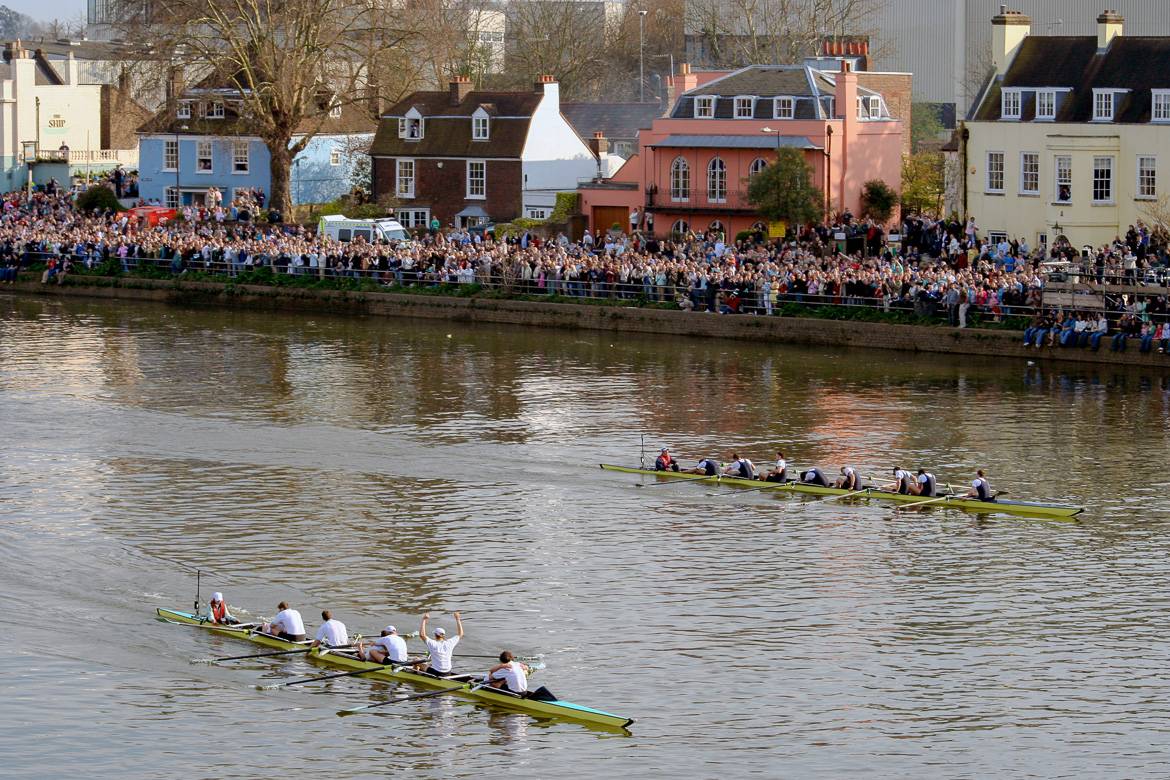 Oxford and Cambridge compete in their annual boat race
Once a year, every year since 1856, the city of London has held its collective breath in anticipation of the Oxford and Cambridge Boat Race (also known as The Boat Race, the BNY Mellon Boat Race, the University Boat Race, and the Oxbridge Boat Race). The course covers a 4.2-mile (6.8 km) stretch between Putney and Mortlake on the River Thames. It's a historically close race, with Cambridge taking a three-win lead of 81 victories over Oxford's 78. It's watched live by about 250,000 spectators, in addition to an estimated 15 million on television. You can watch it yourself from one of these London apartments overlooking the Thames.
Holiday season festivities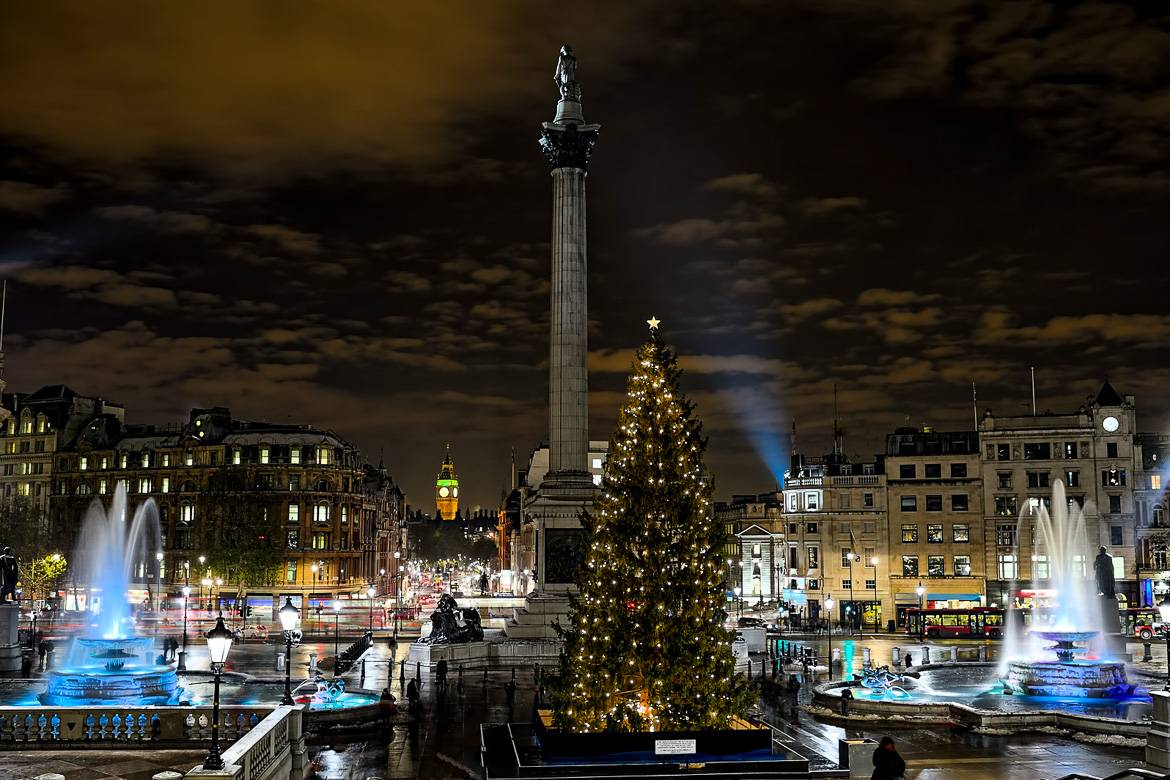 A giant Christmas tree lights up Trafalgar Square
There is no time quite like Christmastime in London! The city glows with multicolored fairy lights as thousands of Londoners take to the streets to sing carols and traditional hymns. In Trafalgar Square, a giant Christmas tree donated by the city of Oslo, Norway stands proudly from the beginning of December thru January 6th. The tree is symbolic of Norway's gratitude for British support during the Second World War. Various choral groups also converge around the tree to fill the air with song and lift everyone's winter spirits. Of course, the day after Christmas is Boxing Day, a day originally devoted to servants and tradesmen that now exists as a major sales holiday when almost every store offers a deep discount. Retailers open at 5:00 a.m. or earlier to offer doorbuster deals. Be careful while you shop; sometimes the police must be called to contain the crowds.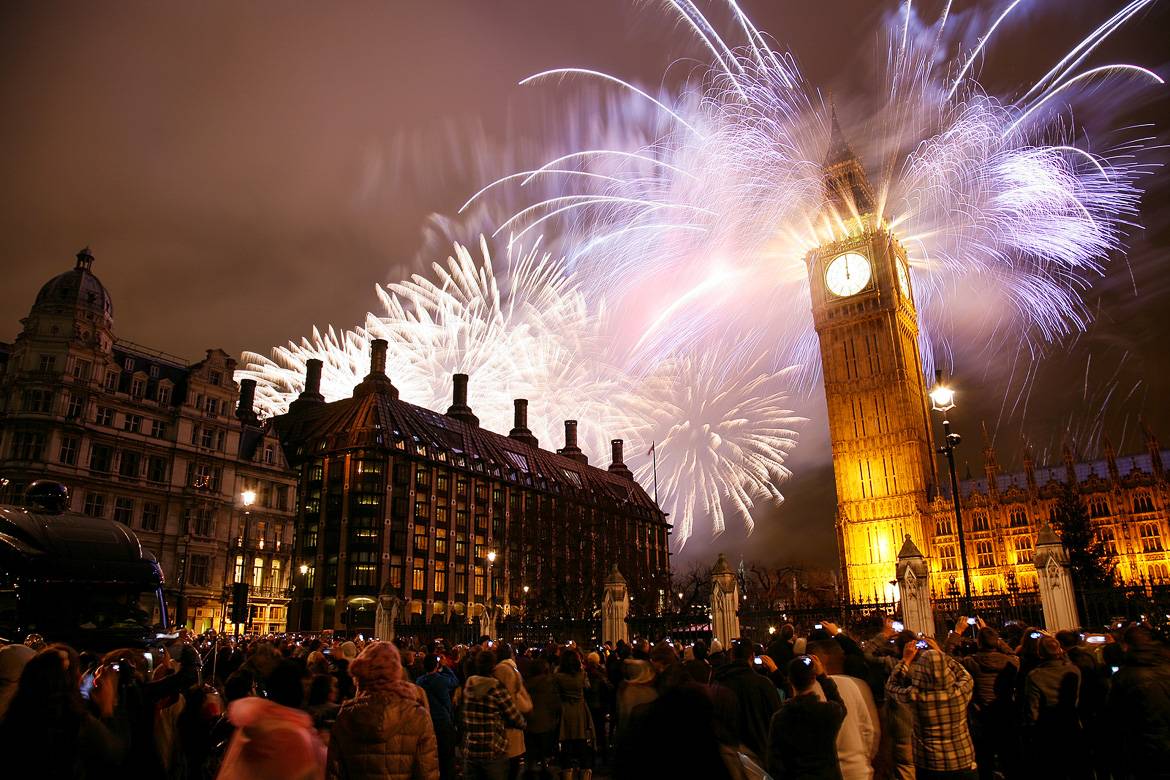 Elizabeth Tower and Big Ben wish you a happy new year!
One week later, everyone is celebrating again with New Year's Eve fireworks. If you're looking for a spot from which to view the fireworks, consider the Westminster Bridge, the Victoria Embankment, or any nearby rooftop. Better yet, ask your booking agent to place you in a great London vacation rental or furnished apartment with a view of the festivities.
What are your favorite events in London? Let us know in the comments below!