As a representative of the entire UK, London is famous for its bustling pub culture. In recent years, however, the city's coffee culture has caught up to second place! The specialty coffee craze that has swept the globe has finally taken a firm hold in London. Expert baristas from Australia and New Zealand have persuaded tea and pint-lovers alike to give their freshly roasted coffee beans a try, and their efforts can be seen across the city: Coffee shops serving single-origin coffee made with high-quality beans from all over the world have appeared in almost every neighborhood of London.
We've selected 10 of our favorite coffee shops in London with a focus on cafes that offer something a step above your run-of-the-mill coffee place. From coffee shops that also sell bike parts to cafes that serve coffee-based cocktails at night, we're confident this list has something to surprise you!
1. Kaffeine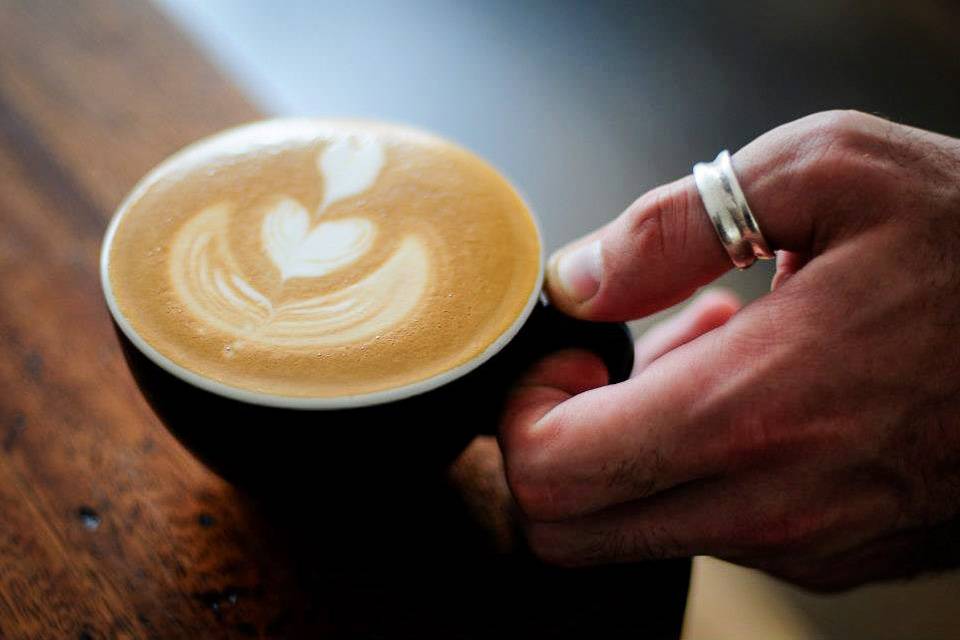 A perfectly brewed cappuccino at Kaffeine
Inspired by the coffee culture in Australia and New Zealand, Kaffeine brews some of the best coffee in town. The experienced baristas use quality Square Mile beans, which you can really appreciate when you order an espresso. Besides coffee, Kaffeine also serves delicious, locally sourced food. The banana bread is highly recommend! The small café can get quite crowded during lunchtime, so it's best to visit during off-hours. You'll find Kaffeine on Great Tichfield Street in Fitzrovia, just a couple of blocks north of Oxford Circus.
2. Monmouth Coffee
Monmouth Coffee was years ahead of its time when it started roasting and selling coffee at Monmouth Street in Covent Garden in 1978. Fast-forward 30 years and the shop now has three successful locations in the city! The original Monmouth location remains a classic, and although you might have to wait for a table, the cappuccino and latte macchiato are definitely worth the line. The beans come from single farms in countries all over the world and are specially selected for Monmouth. You can also buy freshly roasted beans in the shop, which make for a great souvenir to take home. See our video tour of Covent Garden and the West End to learn more about the area, or visit the other Monmouth locations on Park Street and Spa Road.
3. Flat White
As one of the first Antipodean coffee shops in the city, Flat White brings the hospitality and quality coffee of Australia and New Zealand to London. Unsurprisingly, the signature drink of the café is the flat white, and it's brewed to perfection. The iced coffee is also delicious for a sunny day. Take it outside, walk around the neighborhood, and have a pleasant time people-watching. You'll find Flat White on Berwick Street in the middle of Soho.
4. Look Mum No Hands!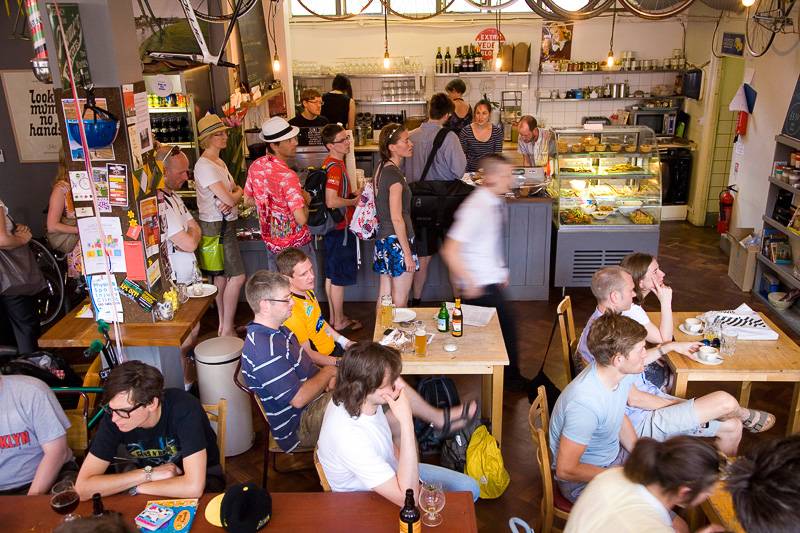 Look Mum No Hands! is a combination coffee and bike shop!
Look Mum No Hands! is an ode to both cycling and coffee as a combination café/bike shop! The spacious café on Old Street in Barbican is decorated with bikes and bike parts and offers plenty of seating both inside and outside. The big projector screen shows nearly every cycling race on TV, but the coffee shop is also just a great place to hang with friends. It's clear that the baristas know their coffee; try the Americano and iced latte for proof! A second location of Look Mum No Hands! recently opened on Mare Street.
5. Prufrock Coffee
Prufrock Coffee on Leather Lane in Farringdon is much more than just another coffee shop. The spacious café is spread across two floors and organizes coffee tastings, barista trainings, and special events! The café was founded by World Barista Champion Gwilym Davies, so you can be sure the coffee is absolutely top-notch. The shop experiments with different brewing techniques such as aero-press coffee and Japanese pour-over filters, so you can choose exactly the preparation you like. The café also serves delicious dishes with great flavor combinations for breakfast and lunch. If you're looking for more traditional British food, be sure to also check out our top 5 fish & chips shops in London!
6. Workshop Coffee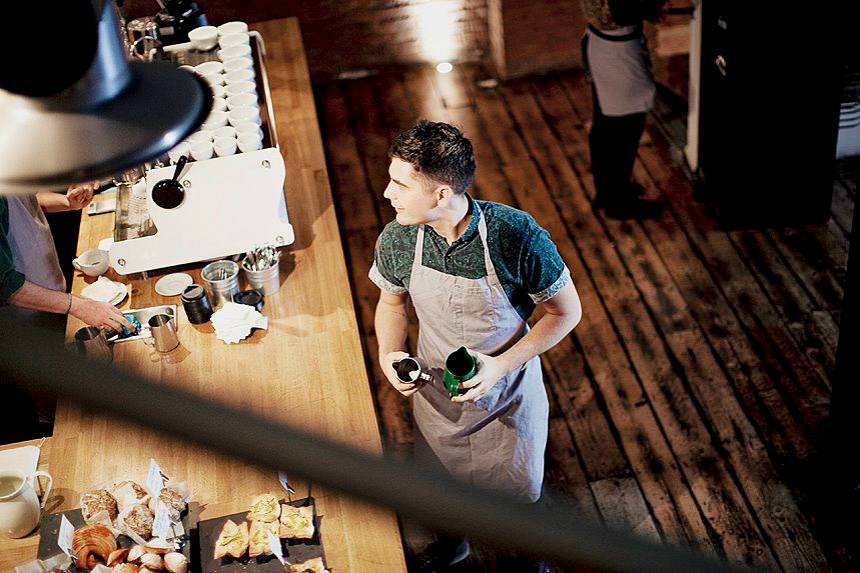 London's Workshop Coffee serves delicious food to accompany your drink of choice
Workshop Coffee on Clerkenwell Road (also in Farringdon) is a fantastic neighborhood café. Coffee is roasted on-site, and you'll definitely taste it in the perfectly brewed flat whites and espressos. Besides coffee, the café is also known for brunch. Corn fritters, toast, halloumi and scrambled eggs, and more are on the menu for a great start to your day. Workshop has a second, smaller location on Wigmore Street in Marylebone, and a third location is set to open soon on the ground floor of Amazon's headquarters in Holborn.
7. The Shoreditch Grind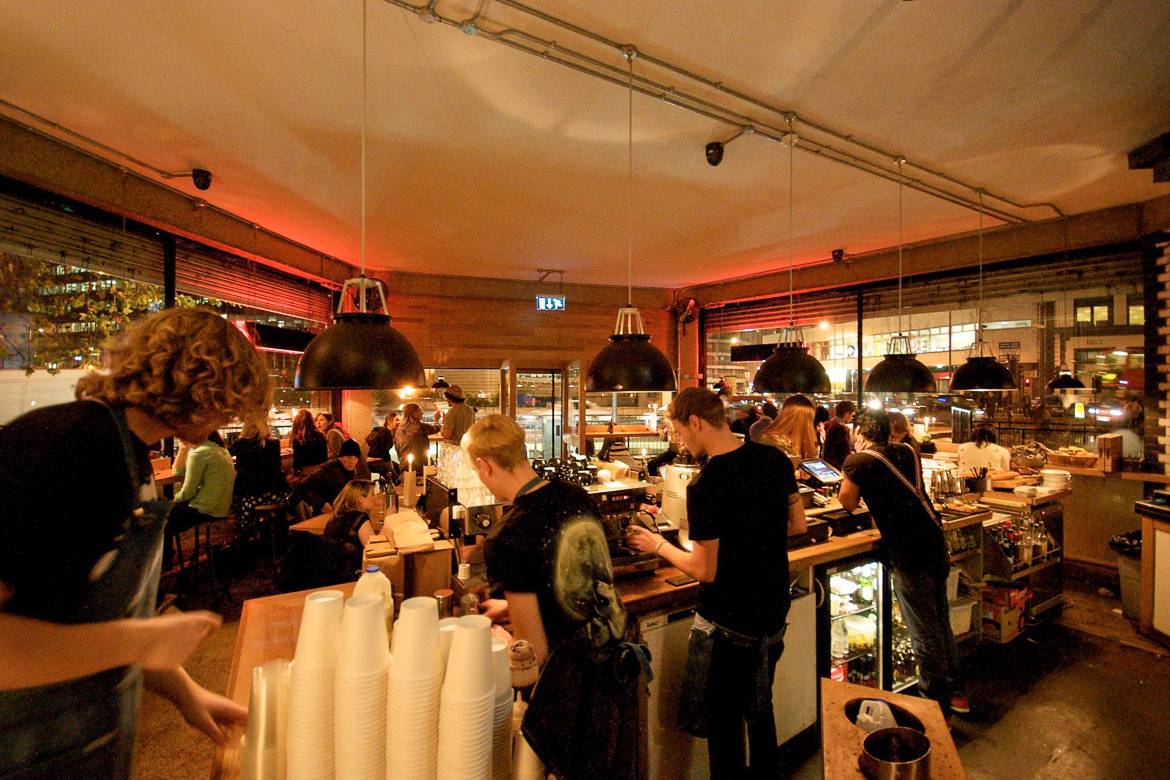 The Shoreditch Grind is known for a cozy atmosphere
The Shoreditch Grind is a charming café on busy Old Street in Barbican, Shoreditch. The small café has a beautiful dark wooden interior with an exposed-brick wall. The coffees are top-notch and the hot chocolate is also delectable. Seating is limited, so try to avoid rush hours. At night the café turns into a cocktail bar that serves a small range of seasonal and coffee-based cocktails, such as espresso martinis! East London is absolutely bustling when it comes to nightlife. For more information about the area, check out how to live like a local in Hackney.
8. Nude Espresso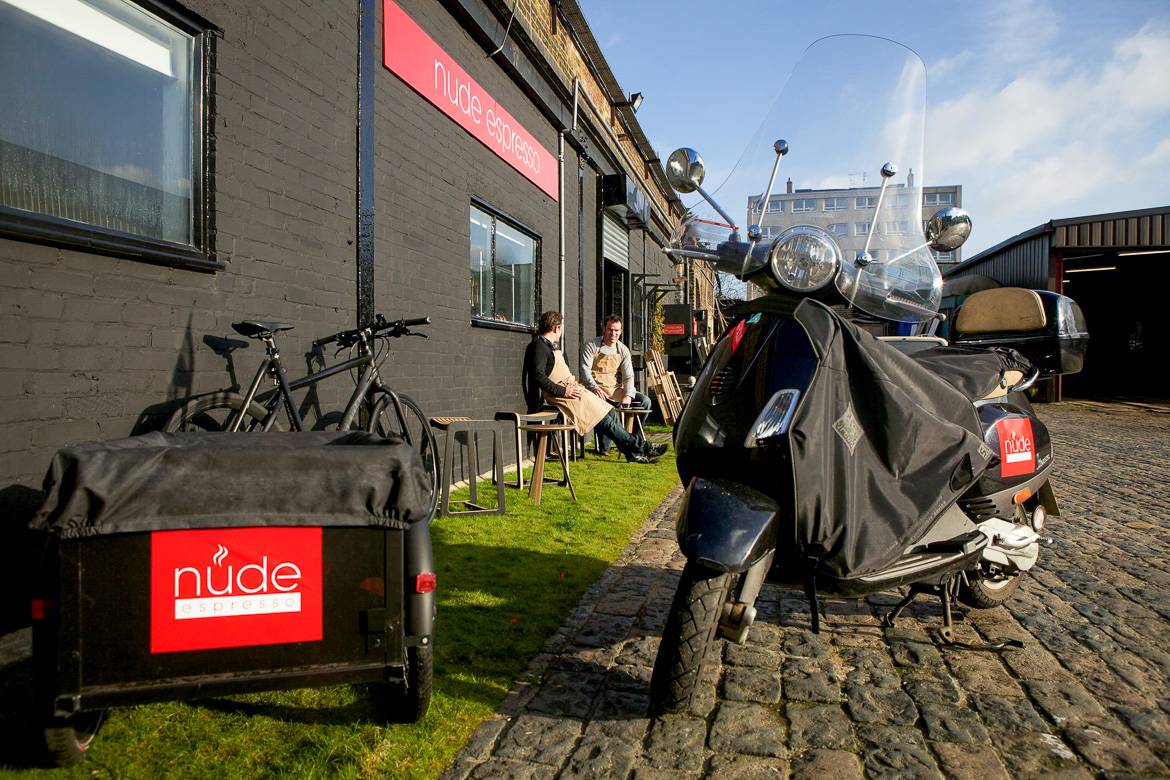 Enjoy a cup of coffee outside in the sun at Nude Espresso
Nude Espresso's original café is located on the corner of Brick Lane and Hanbury Street in Shoreditch. Their coffee beans are hand-picked and come from all around the world, which results in wonderfully rich flavored coffees. Both the latte and flat white are amazing! Also on Brick Lane is the Nude Espresso Roastery. Nude Espresso's beans are roasted on the premises, and the warehouse also boasts a small, well-hidden café. You can get some of the freshest coffee in the city here! Nude Espresso has another location in Soho Square where you can buy freshly roasted beans that are great if you're staying in a London vacation rental apartment. You'll be able to make your own cup of Nude Espresso coffee every morning!
9. The Attendant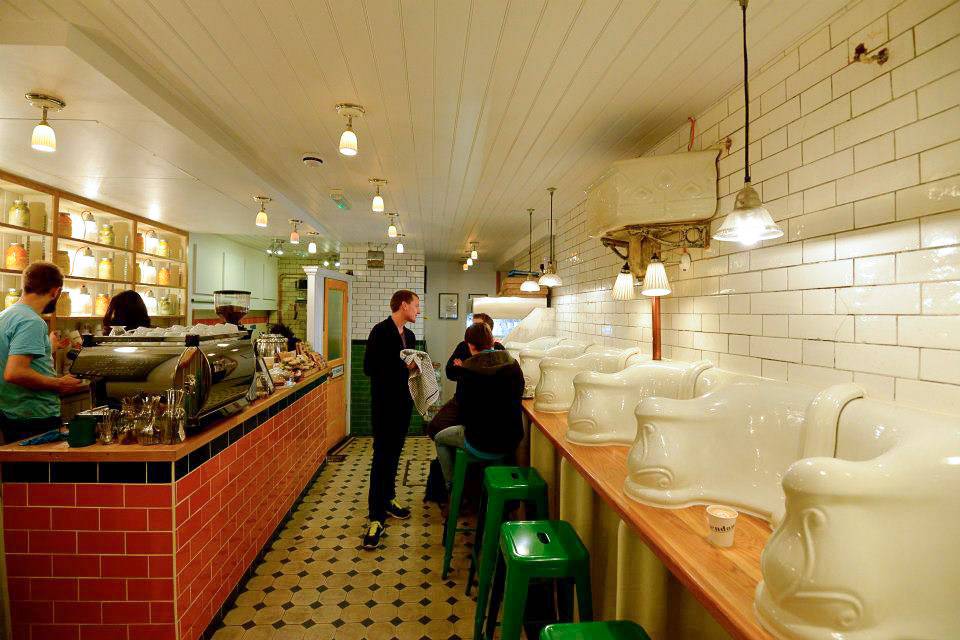 The Attendant has an interior unlike any other
This cute coffee shop on Foley Street in Fitzrovia used to be a Victorian toilet, but don't let that put you off! The Attendant has been lovingly restored and turned into a café, keeping the original floor tiles and even the porcelain urinals, reimagined as a decorative bar. The café uses globally sourced coffee beans and milk that comes from a small Jersey cow farm in Somerset. Combine them with a delicious milk coffee such as a cappuccino or latte, and drink your coffee at the bar among the Victorian porcelain to enjoy the unique surroundings.
10. FreeState Coffee
FreeState Coffee on Southampton Row in Bloomsbury offers a wide variety of coffees from around the globe. The café has a lovely wooden interior and is a great place to escape the hustle and bustle of the city. The coffee shop brews single-origin drip coffees and the espresso with steamed milk and iced latte are both delicious. Lastly, the café serves some delectable sweet pastries to accompany your coffee.
We hope you've enjoyed this list of our favorite coffee shops in London! There are many more great cafes in the city that we didn't get to list here; what's your favorite?