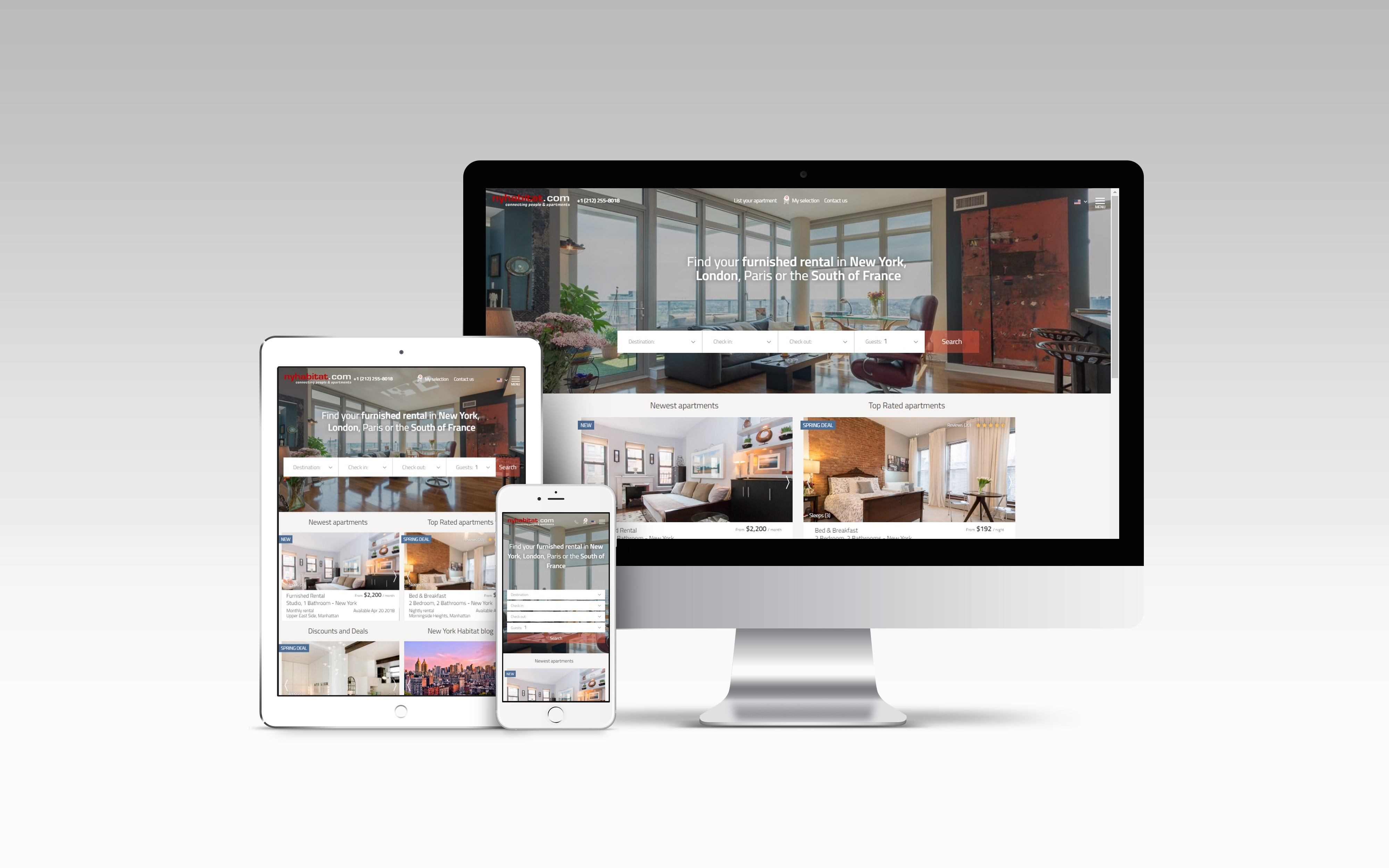 New York Habitat has redesigned its website for better functionality. Find out below how to easily navigate through our new site and find accommodations to fit your needs, or submit a request and let our agents assist you with your housing search.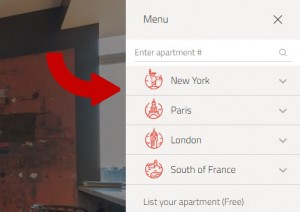 You can go to our webpage and click on the MENU icon in the top right corner to select a particular location.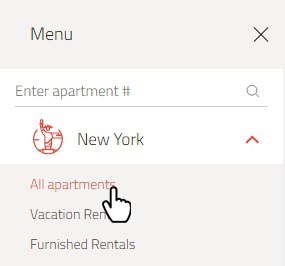 Select "all apartments" to see all of our offerings in a particular destination, such as New York, or you can do a more specific search using our Search Bar option.
1. Do a search using the "SEARCH BAR"  on the homepage
Our new search bar is very simple. If you have specific information about your stay you can just enter it to the search bar and then hit "search":
Start by selecting a destination: New York/London/Paris/South of France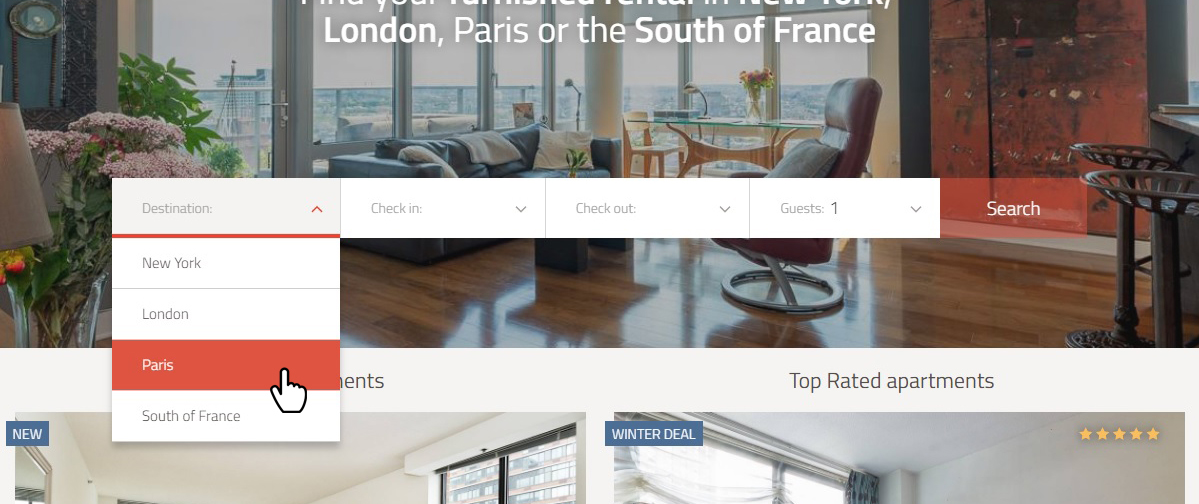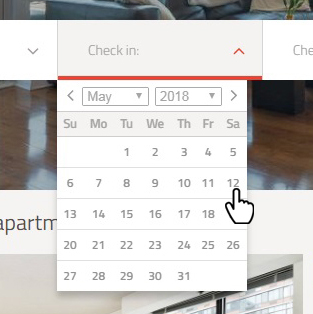 Select a check in date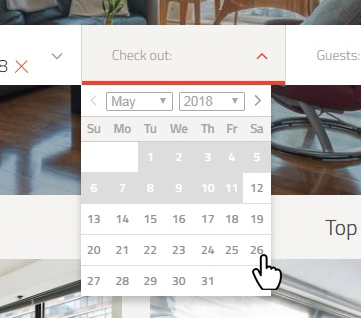 Select a check out date
If you are uncertain about the exact dates you need, you can make an estimate. Be sure to select dates that reflect the approximate length of your stay. The main dividing line between our rentals is whether you are looking for accommodations for under 1 month or 1 month and over.
Stays under 1 month would direct you to our Vacation Rentals or Bed & Breakfast options that are available by the night or week.
Vacation Rentals are full private apartments for stays of under 1 month.
Bed & Breakfast accommodations are guest rooms in shared apartments for stays of under 1 month.
A search for stays of 1 month or over would direct you to our Furnished Rentals or Apartment Share options.
Furnished Rentals are full private apartments for stays of 1 month or more
Apartment Shares are rentals of a room in a shared apartment with one or more roommates for stays of 1 month or more.
Once you put in your dates, you will see under the "check-in" and "check-out" tabs that options will appear. You can select if you are looking for an entire private apartment or a shared accommodation, such as bed & breakfast or a shared apartment. Select the dot that best matches which you are looking for.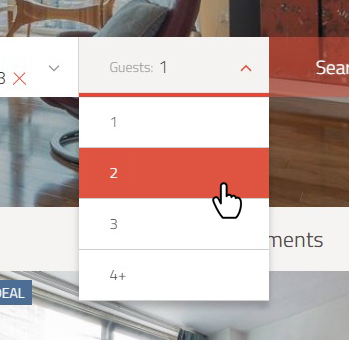 Select the number of guests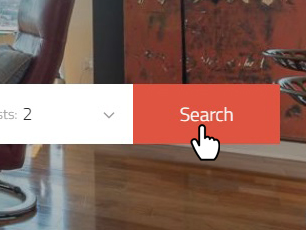 Hit the "Search" button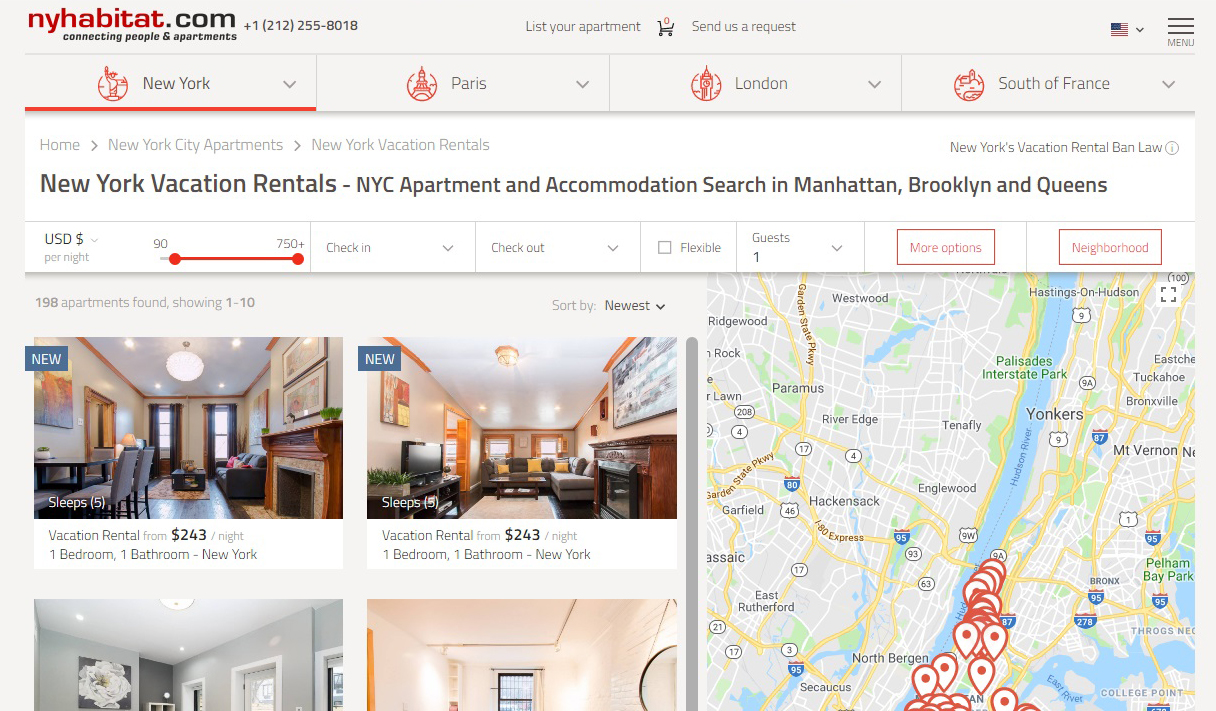 2.SEARCH RESULTS:
Once you have launched a search, a list of matching accommodation options will show up:
3.FILTERS:
You can narrow down this list by selecting more filters.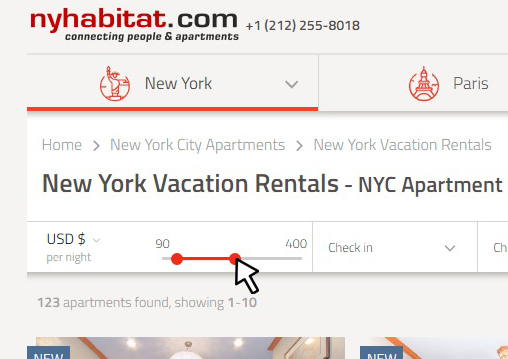 Adjust the price range bar: select your currency and you can slide the price bar with your cursor to set minimum or maximum price range.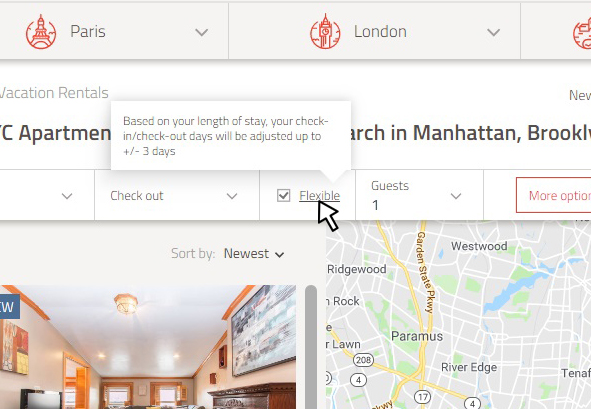 Flexible dates: If your dates are flexible and you'd like to see all the options around your dates, you can check the "flexible" box to the right of the check-in and check-out dates. This will give you options that are +/- a few days from the dates you entered.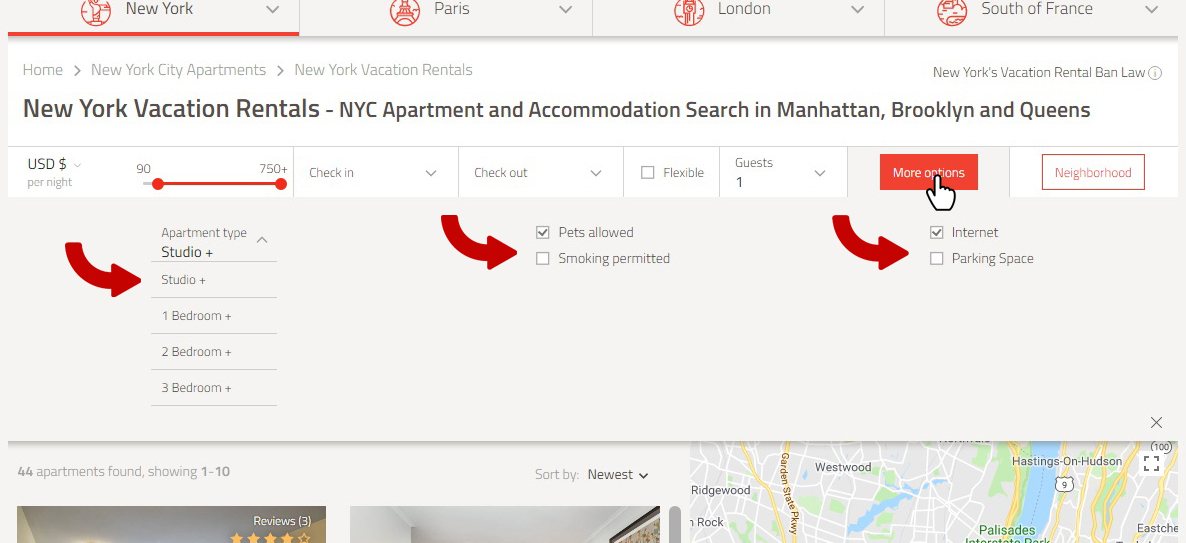 More options: On the right you can also click on the "More Options" box to filter based on more options such as apartment type/size, smoking permitted, pets allowed, etc.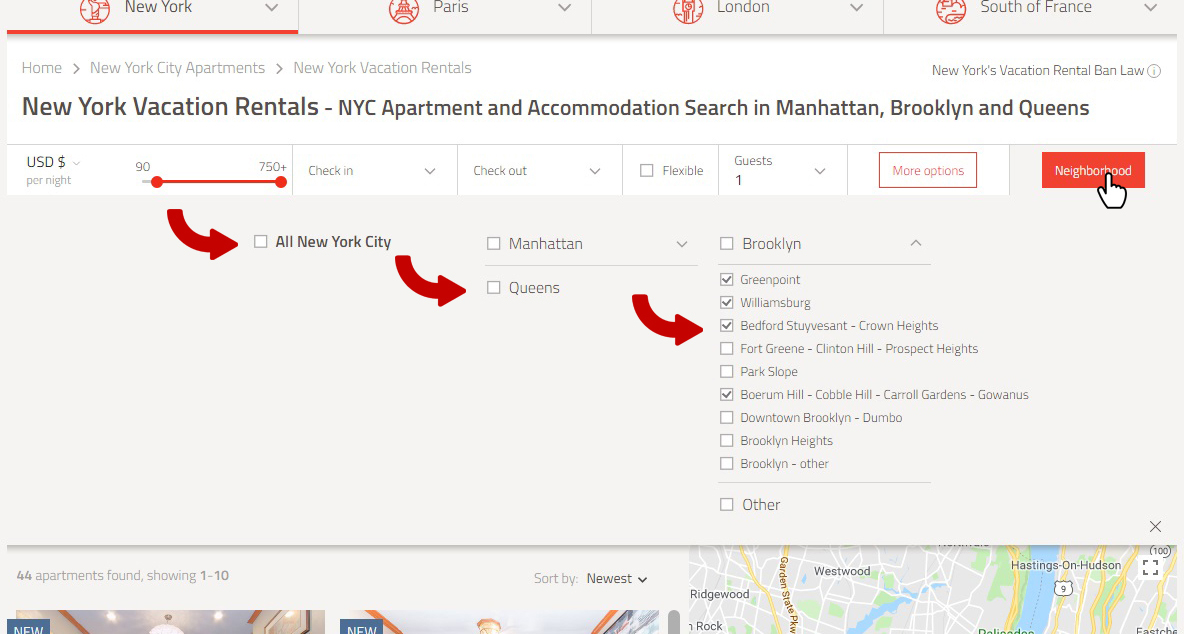 Neighborhoods: You can also click on the "Neighborhood" box to select from New York/Brooklyn/Queens/Other. Use the dropdown menu next to these four main area options to further select more specific neighborhoods within each of them.
4. SORT BY: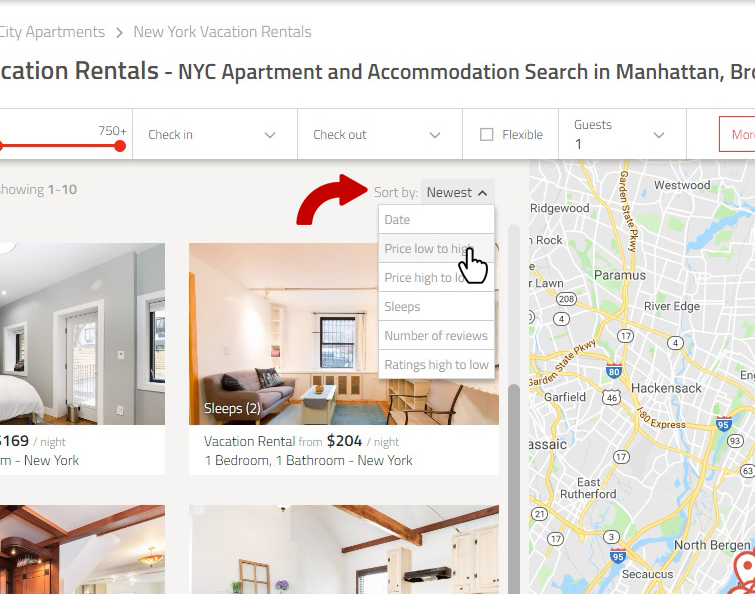 Just above the pictures of the apartment options you will see a "sort by" tab. Click the down arrow and select whether you would like the results sorted by low to high price, high to low price, newest options, those with the most reviews, etc.
5. MAP PIN HIGHLIGHT: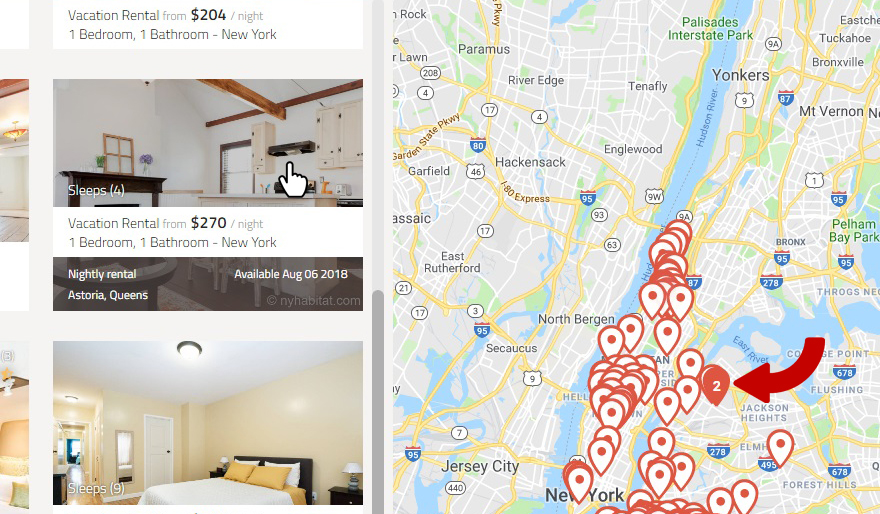 Hover over the apartment picture with your mouse. The map to the right will highlight where this apartment is by turning the pin for its location red.
6. BASIC INFORMATION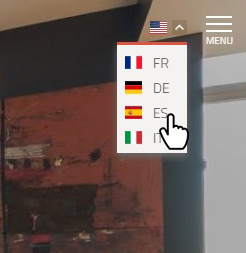 Our website is still available in 5 languages that you may change at any time on the top right corner of any page.
If you ever feel lost, click on our MENU icon (on the top right corner of the screen) for details and help, or to head back to the main page sections.
Apartment ID Search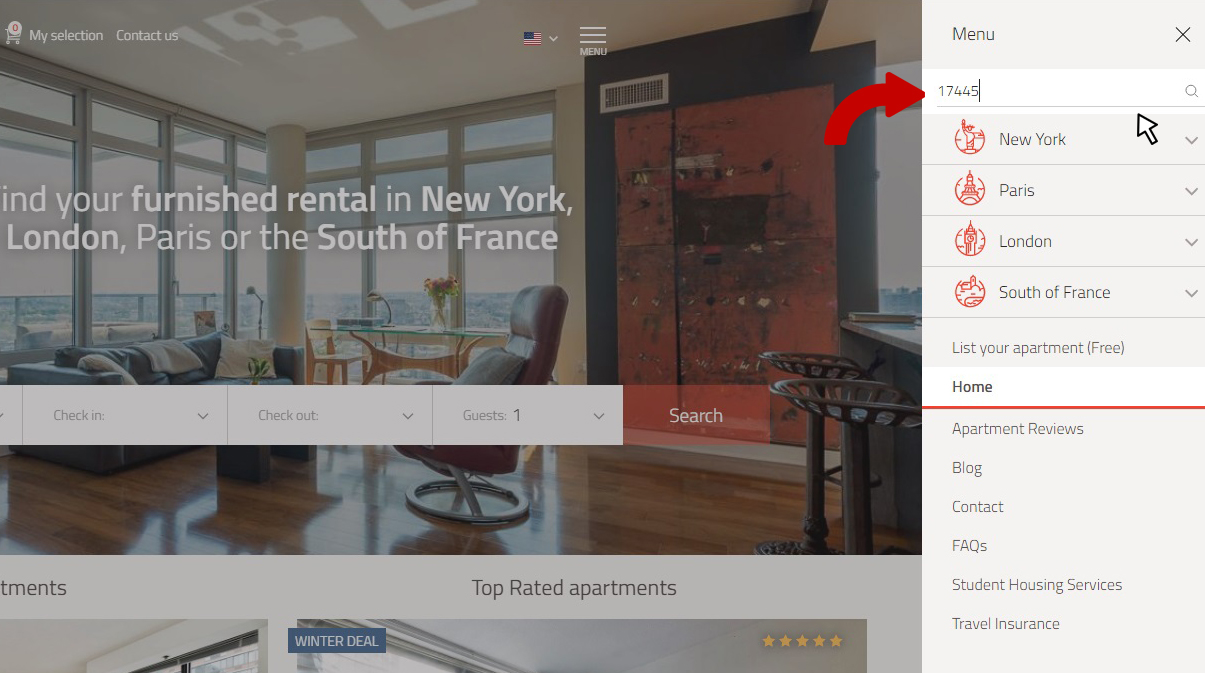 When you click on the Menu tab, you can also search for an apartment by its ID number. Just type in the ID# where it says "enter apartment ID," and press enter or click search.
You can find an apartment's ID # located at the top of each apartment page (ex. NY-####). This is a good way to retrieve an apartment you were interested in that you may not find again when running another search.
Also, when speaking with one of our agents, you can refer to apartments that interest you by their ID#.
Reviews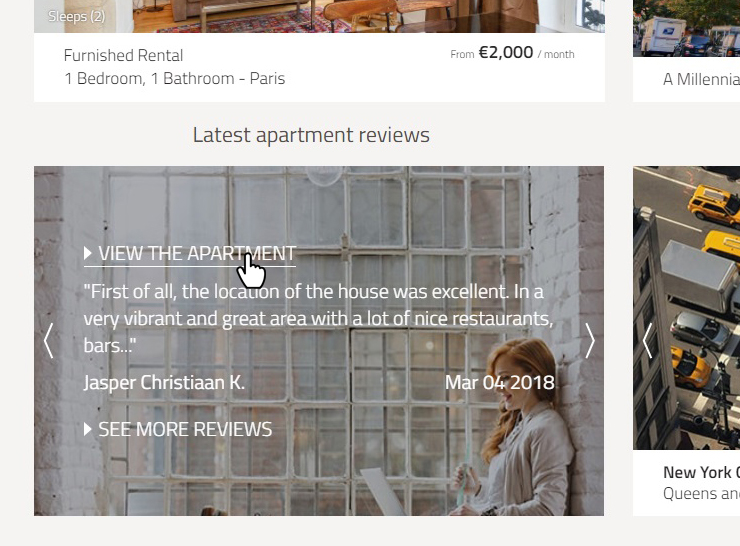 We are proud to share our past customers' experience in their own words with you. You can find reviews in the bottom left block of the homepage titled "Latest Apartment Reviews"
You can click the left or right arrow to scroll through the latest reviews.
When you see a review you like, click on "VIEW THE APARTMENT" if you want to see more about that particular apartment.