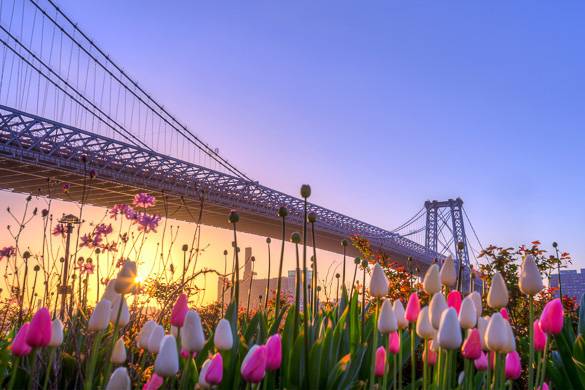 Come see everything that's blooming in NYC this spring!
After what seemed like an endless winter, spring is finally "springing" up all over New York City and that buzzing energy of the city that never sleeps is starting to come to life again. No wonder people love to flock to the Big Apple in spring: cafés are starting to set up their outdoor seating, farmer's markets are opening, flowers are popping up in the parks and the weather is perfect for enjoying all that NYC has to offer!
Central Park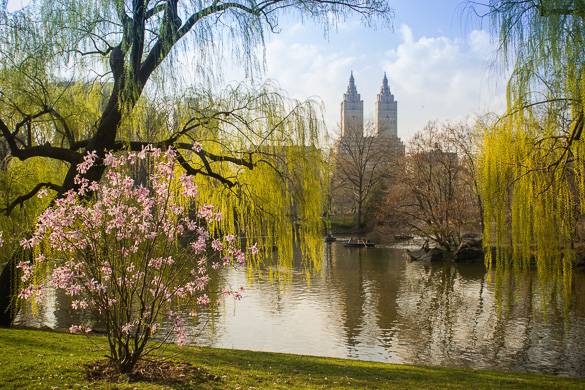 The parks in NYC are springing to life! (Photo Credit: Gail Cox http://www.flickr.com/sasquahtch, gailcox.com)
One of the best things about springtime in New York City is getting out and enjoying the lovely weather in one of the city's beautiful parks. Central Park is NYC's most famous park, and it's breathtaking in every season, but there's something about strolling through paths of flowers blooming and birds chirping, inhaling the intoxicating floral scents, that makes the frenzied pace of this urban metropolis seem like it's a million miles away. It's no wonder New Yorkers love to spend their free time hanging out here. If you're a nature lover, what could be better than living close to one of NYC's coveted green spaces? Luckily, New York Habitat has an array of apartment options that will allow you to be within walking distance of the city's parks.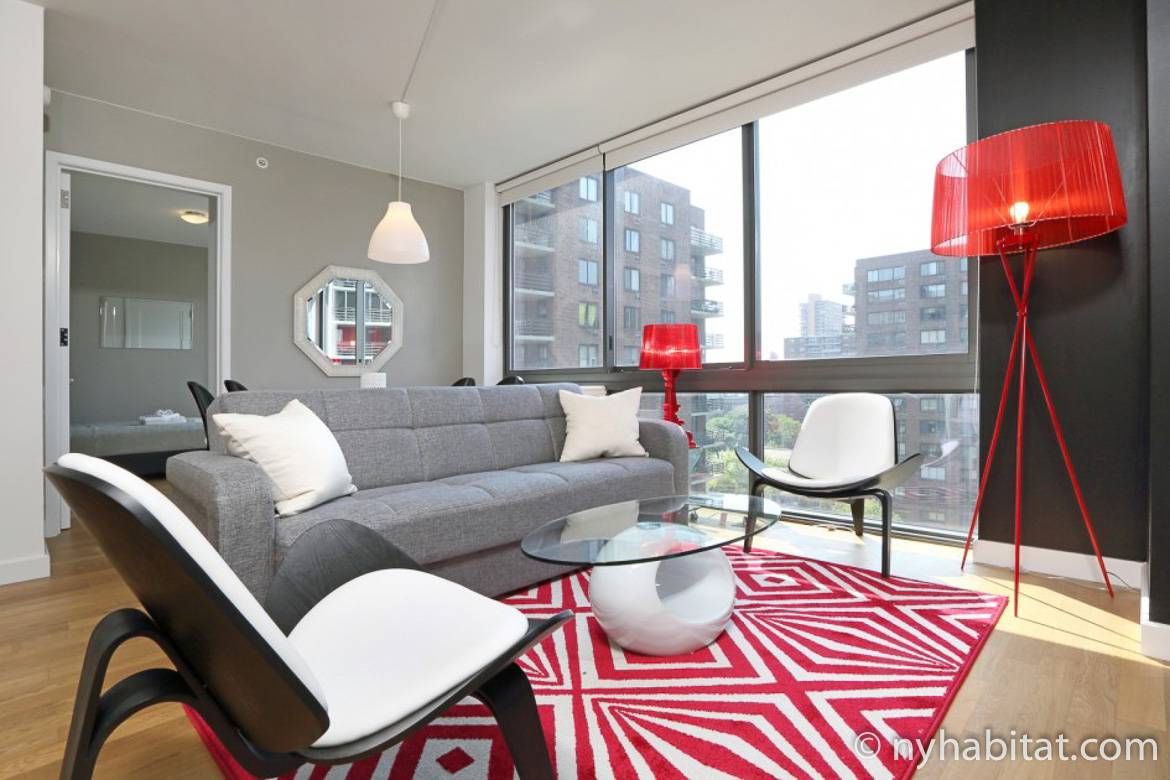 Make this furnished rental with city views near Central Park your home
Make this luxurious 2-bedroom/ 2 bath furnished apartment your home in NYC and live near Central Park! Relax on the couch watching the flat screen TV in the living room, where you'll also enjoy city views from the floor-to-ceiling windows that add natural sunlight to the space. Multiple bedrooms and bathrooms make this furnished rental perfect for a family or group that wants privacy and the convenience of two separate bathrooms. A laundry washer/dryer is located in the unit, making laundry tasks easy. This building features luxury amenities including a refreshing pool, a fitness center to get your workout in, and a rooftop terrace to enjoy spring days lounging with a view of the skyline. Located on the Upper West Side, you will have proximity to both Central Park and Riverside Park, and plenty of restaurant options for dining al fresco in the fresh spring air. There's a convenient Whole Foods Market on the block, so throw together a picnic and head to the building rooftop or to the park and make the most of spring in NYC!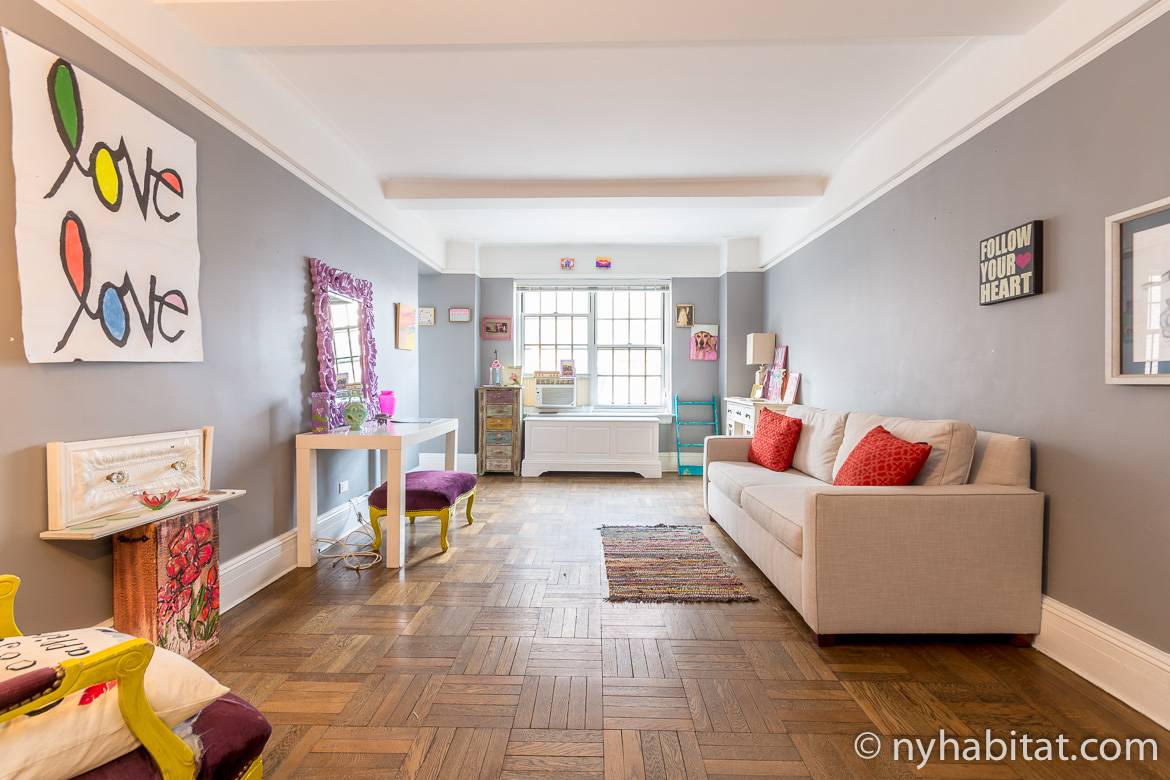 An apartment share is a budget-friendly way to live near Central Park
We have plenty of housing options on the Upper West Side that make Central Park your backyard, including full private apartments and rooms for rent. Living near Central Park doesn't come cheap, so if you want to be close to nature for a fraction of the cost, why not rent a bedroom in a swanky Upper West Side apartment share? This spacious 2-bedroom/2 bath apartment with a room for rent has plenty of space to share! The shared living room is stylishly decorated as a grand and inviting space, and the shared kitchen is massive for a New York City apartment. The private bedroom for rent is serene and cozy, with a double size bed flanked by bookcases, a flat-screen TV and a desk and chair for work or study. You'll also have the perk of a private bath off the bedroom, all to yourself! Take advantage of the rooftop with seating to enjoy the fresh air and NYC views.
Flowers Everywhere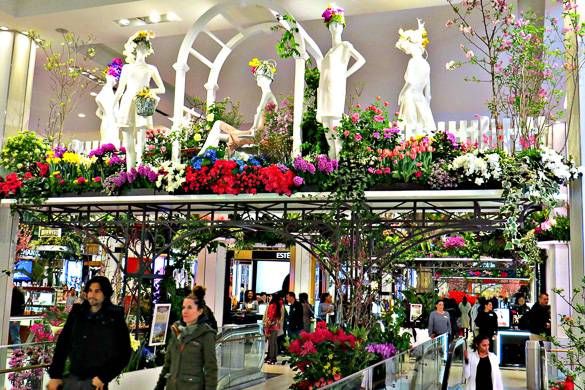 Even in NYC, you can find spring flowers everywhere! (Photo Credit: John Wisniewski)
Spring is all about renewal and nature springing back to life after a dormant winter, so naturally the first sign of spring is flowers popping up everywhere! If you don't have the privilege of living close to one of the city's parks, you can still immerse yourself in flowers, whether it's a stroll through the Flower District where fresh blooms from wholesalers line the street, or plants for sale at the neighborhood farmer's market. You can also visit the world-famous Macy's Flower Show for free to see the flagship store dripping in fresh flowers.
The High Line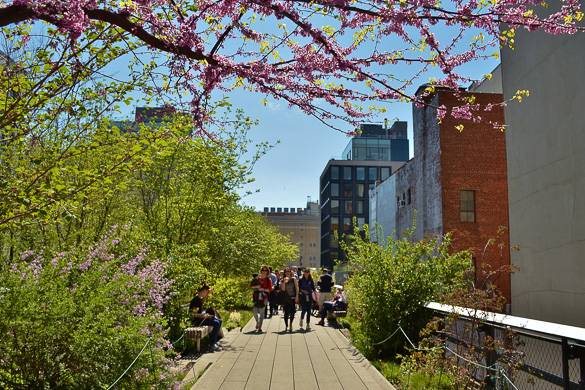 The High Line, an elevated park built on abandoned railroad (photo Credit gigi_nyc https://www.flickr.com/photos/76807015@N03/)
A unique park that exemplifies rebirth is the High Line, an elevated park built on abandoned railroad tracks running from Gansevoort Street in the Meatpacking District, through Chelsea and up to 34th Street in Midtown West. As you walk along the transformed route, you'll find trees, grasses and flowers brightening your way. The park also has benches on which to sit and view the street life below, art installations and lounge chairs where you can catch a Hudson River view.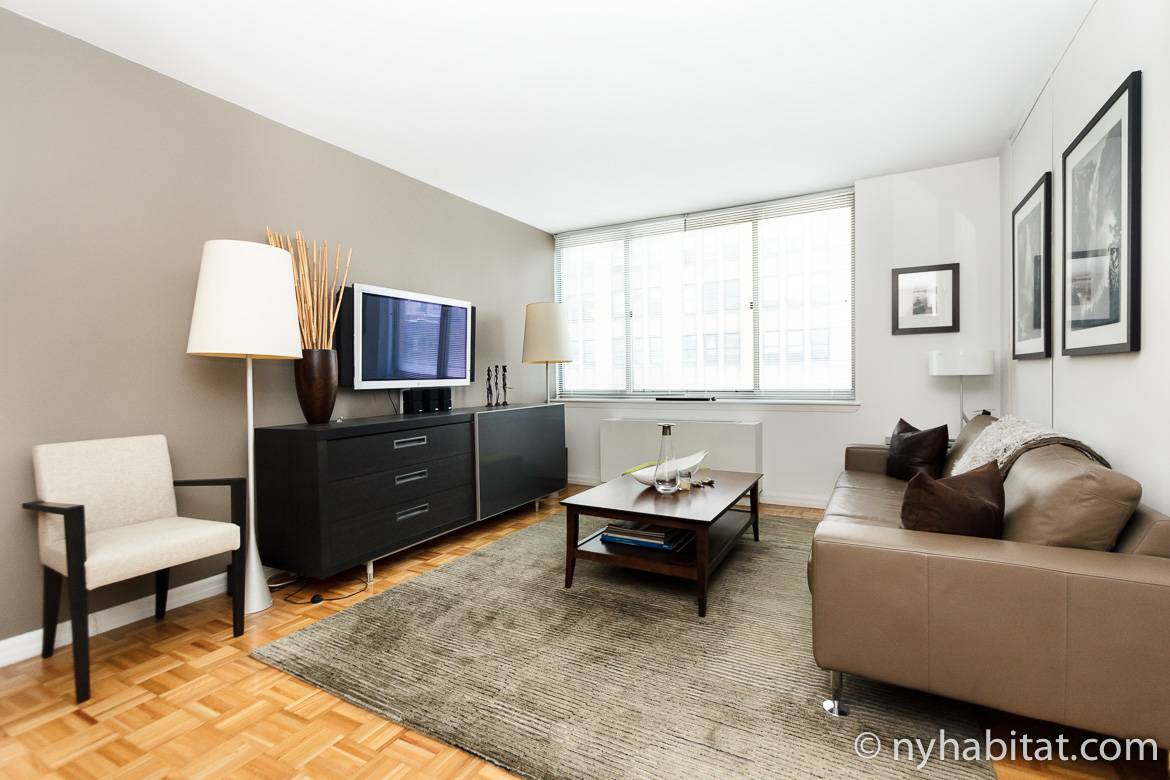 Live like a local with the help of a roommate in a Chelsea apartment share
Chelsea, the neighborhood through which most of the High Line runs, is one of the city's most popular neighborhoods, filled with art galleries, boutiques and outdoor cafés — a perfect place to stroll through on a lovely spring day! New York Habitat has options for every budget in this highly desired neighborhood, from furnished apartments to expansive lofts, and budget-friendly roommate share accommodations. This roommate share apartment in the heart of Chelsea gives budget-conscious renters the chance to live in this hip and exciting neighborhood for a fraction of the cost of a private apartment. This 2-bedroom apartment is decorated in sophistication with parquet floors and wood furnishings, creating a warm, homey ambiance. The shared living room and galley kitchen offer space to relax or prepare a meal in the comfort of home. At the end of the day, retreat to the serenity of your private room with double-size bed and cozy armchair to curl up in and read a book. There's a flat-screen TV for entertainment and closets to store your belongings. The shared bathroom, located between the two bedrooms, offers both a tub and shower. The building has the convenience of laundry facilities and a fitness center on-site. There's also a rooftop terrace with sun chairs and tables offering views of the iconic Empire State Building!
Washington Square Park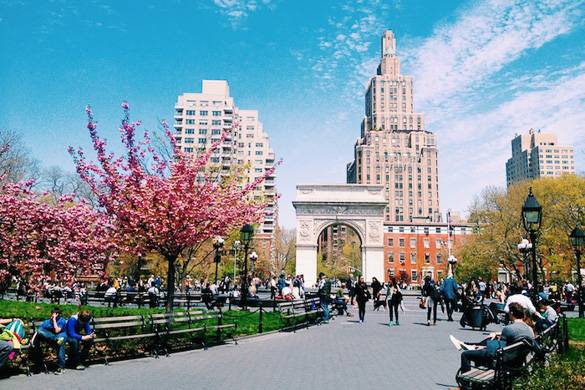 Spend a spring day in beautiful Washington Square Park in Greenwich Village (Photo Credit: http://www.cestchristine.com)
Not too far from Chelsea you'll find Greenwich Village, another neighborhood in high demand. The center point of the East and West Village is 5th Avenue, where you'll find the recognizable arch of Washington Square Park, the backdrop for several movies. The park is a gathering place in all seasons for playing chess with locals, catching the spray of water from the center fountain, watching dogs play, or just enjoying the street musicians in the open air. It will likely become your favorite spot to chill out as well if you make your home in Greenwich Village. Much of the campus of NYU surrounds the park, so this area is popular among students and academics. Luckily, we have a variety of housing options nearby for anyone looking to settle into the area.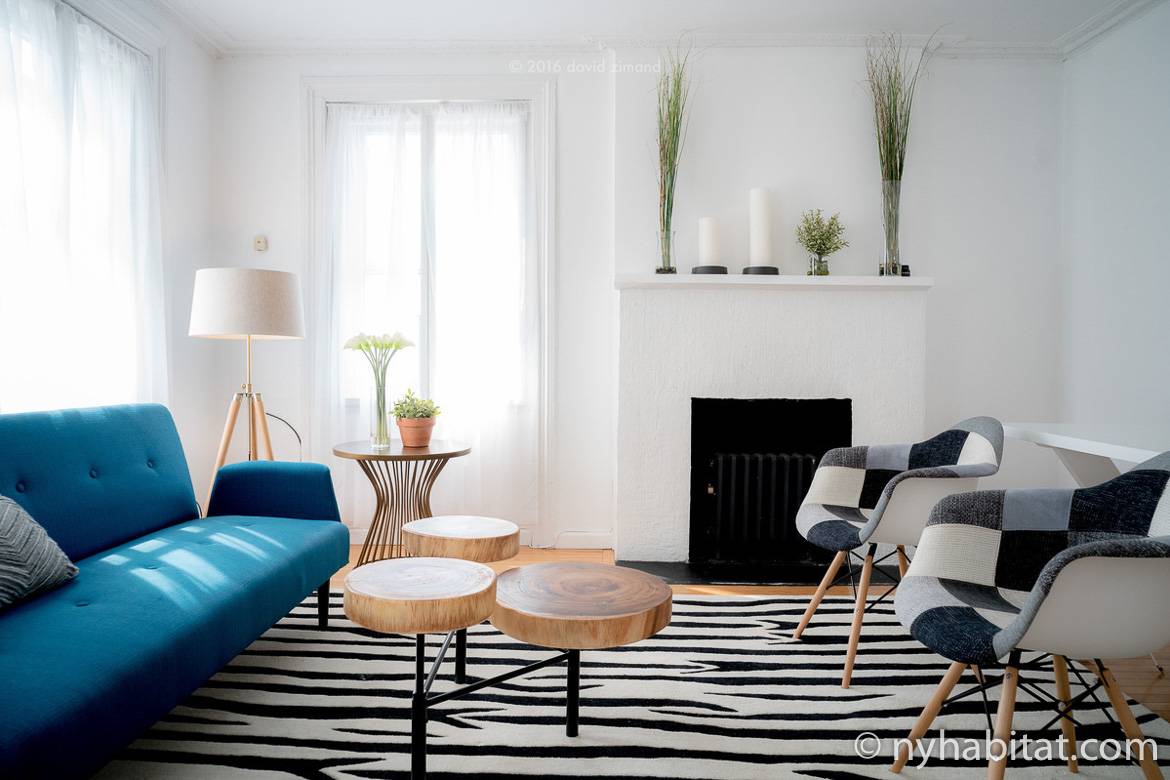 This Greenwich Village furnished apartment is full of charming details
Call this 1-bedroom furnished apartment in Greenwich Village home and you'll have all the perks of living in the Village at your doorstep: eclectic eateries, funky shops and of course, Washington Square Park! This quaint furnished apartment has charming Village touches including a decorative fireplace and hardwood floors. The white decor makes the space bright while the colorful sofa and area rug add a pop of color and some fun.
Outdoor Dining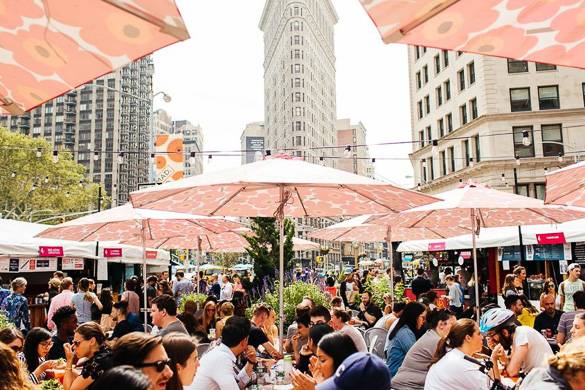 Sample local food outdoors at a picnic table at Madison Square Eats (Photo Credit: https://www.urbanspacenyc.com)
It wouldn't be spring in NYC without a New Yorker's favorite pastime: eating outdoors! While restaurants open up their outdoor dining spaces to the delight of locals and tourists, you'll also find outdoor food events like Madison Square Eats, where picnic tables and food stalls combine in the heart of the Flatiron District to offer up all of the flavors of New York City's diverse cuisines.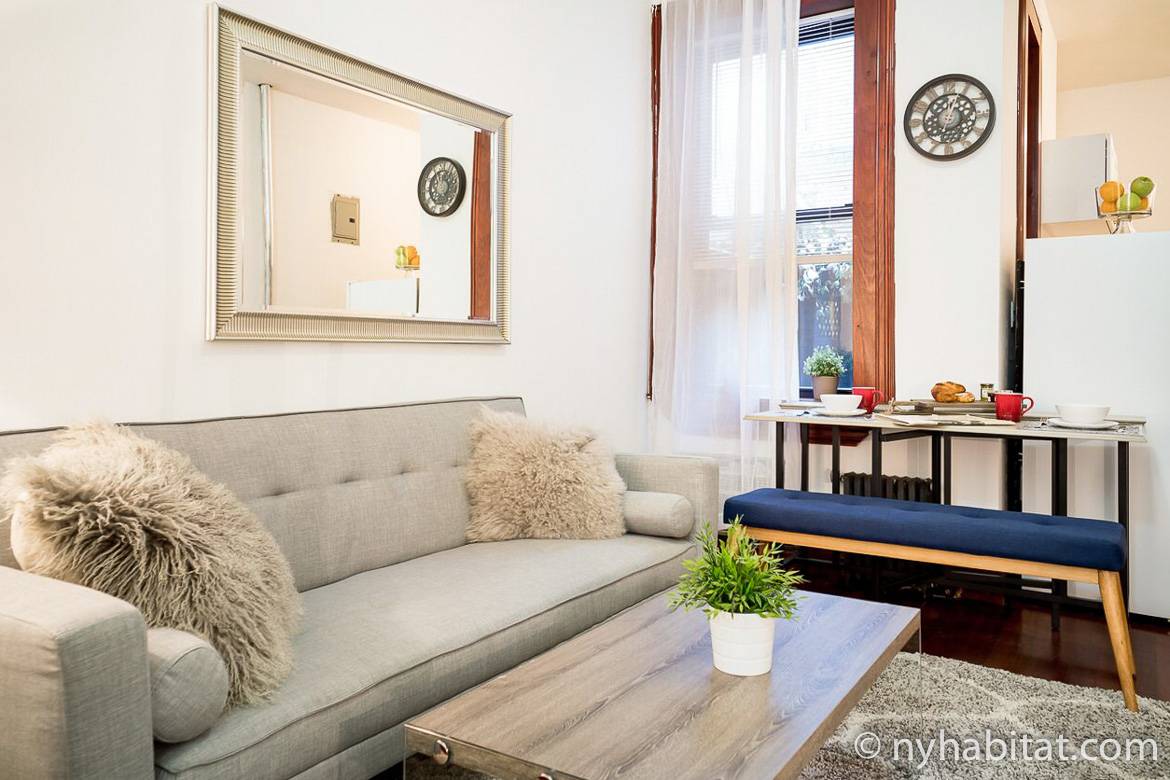 Make Chelsea your home this spring in NYC!
One of the best things about spring in NYC is the chance to enjoy the outdoors. If you rent an apartment like this charming Chelsea 1-bedroom with exposed brick walls and an outdoor area, you can appreciate the beauty of the city's urban green spaces right from the comfort of your own garden oasis.
Head to our website and browse through our housing options in all five boroughs of NYC. No matter your budget, our agents will help you find the spot that's right for you, so you can immerse yourself in springtime and get the most out of your stay in New York City!