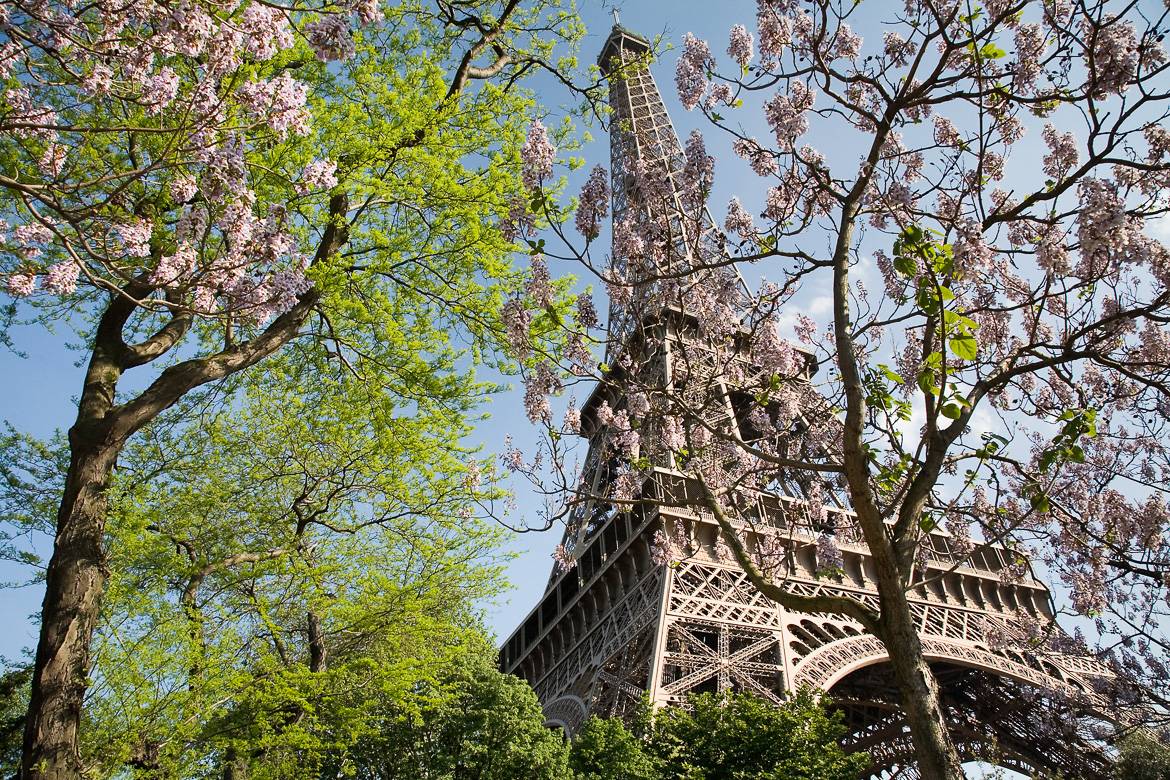 Springtime in Paris is the perfect time to rent a furnished apartment!
It's springtime in Paris! The spring season is the best time of year to visit this glamorous city and take advantage of perfect temperatures, lower prices and minimal crowds. Stroll through the beautiful parks as they blossom into life, sit outside at a Parisian café and people watch, or head to all your must-see sights without all the throngs of tourists in summertime. Whether it's your first time visiting Paris or you're a seasoned regular, we've found some inspiring springtime activities and not-to-miss places for your itinerary and we've matched them with amazing furnished Parisian apartments so you can live like a local at home in Paris!
Musée Jacquemart-André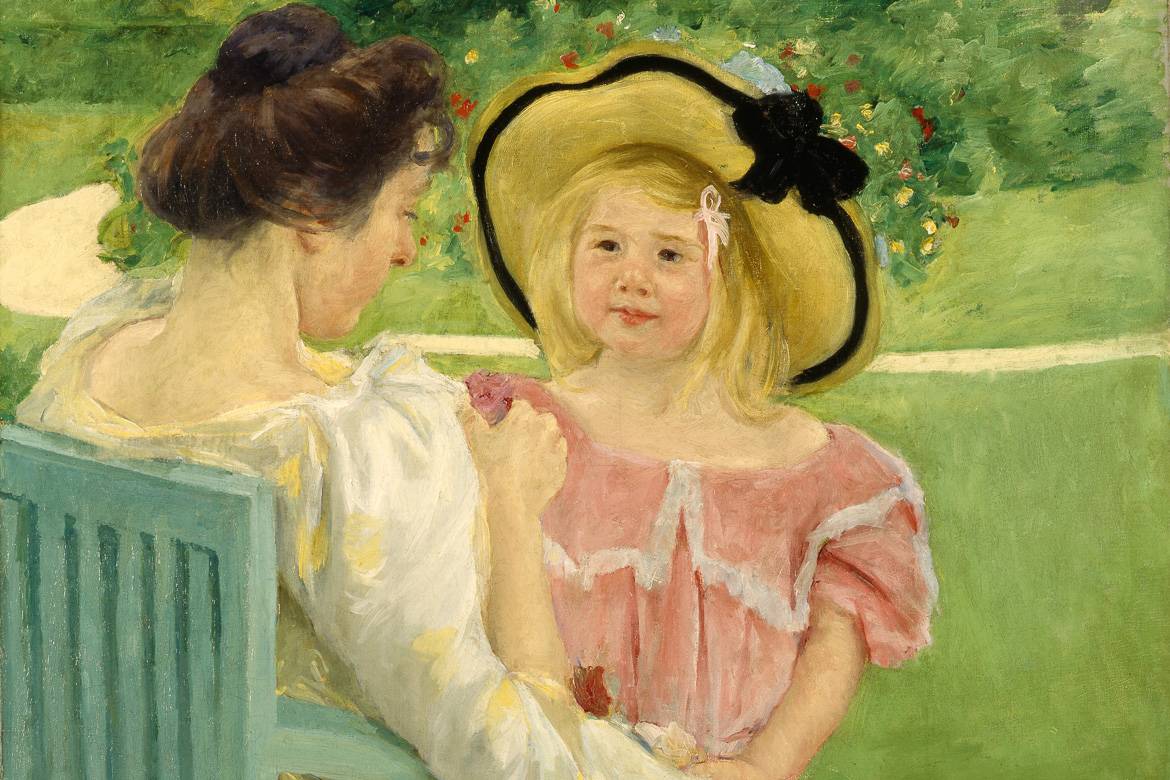 Surround yourself with art in the museums of Paris
Kick off spring with a trip to one of Paris' many museums featuring beautiful, brightly-colored paintings of gardens and flowers to get you in the spring mood. The Museé Jacquemart-André will be featuring an entire exhibit called Mary Cassatt: An American Impressionist in Paris starting March 9th. Cassatt is known for her beautiful, pastel-colored paintings of mothers and children, often in lovely garden settings.
Spend even more time immersing yourself in art in Paris with La Nuit des Musées, a special after-hours celebration of Paris's museums. On May 19th, you will be able to get into many of the city's top museums, including the world-famous Louvre, for free!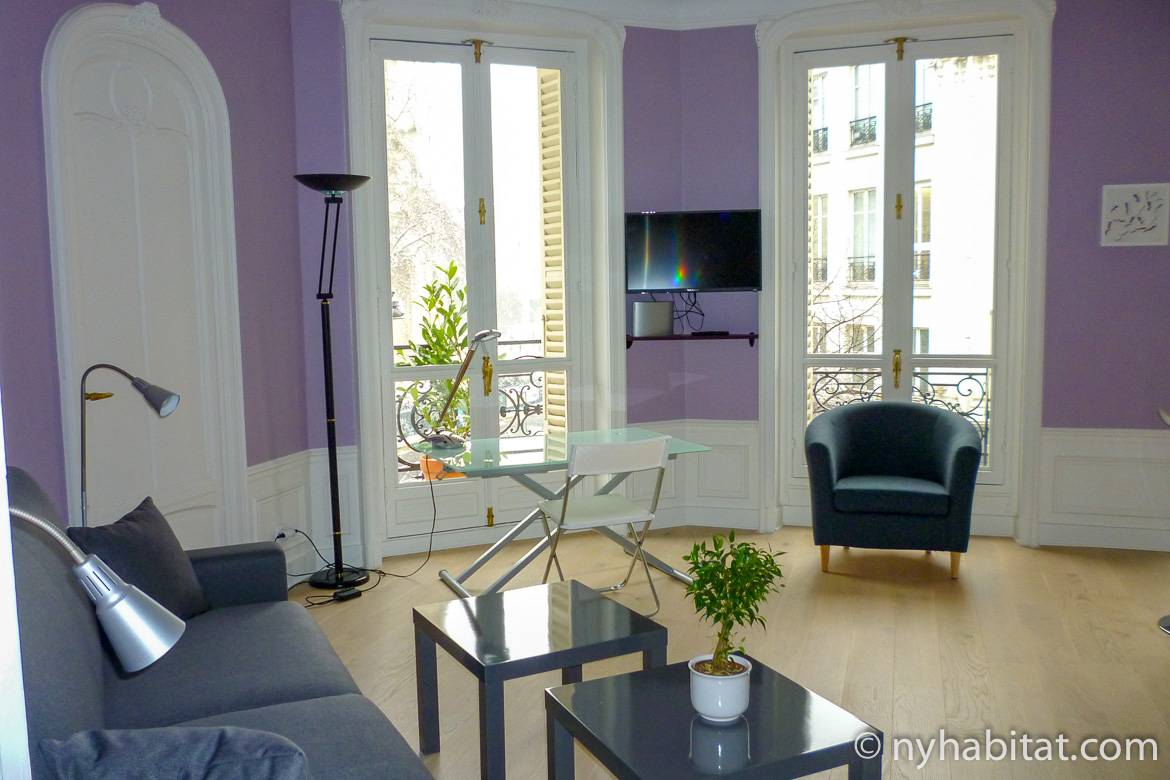 Enjoy a springtime view of Paris from this studio apartment
If you've come to Paris to enjoy the arts, you'll love this artsy and airy furnished studio apartment, close to Musée Picasso and Centre Pompidou. The cool lavender accents will complement the fair spring weather in Paris, while the large windows and natural light will make your home away from home feel like its own art gallery. This apartment is filled with charm and classic character like crown molding, wood floors, French doors, and arched doorways. Spring sunlight floods in through the French doors that open onto a balcony overlooking the street of beautiful Haussmannian buildings and the square de la Tour Saint-Jacques. Explore the local markets and try out your culinary skills preparing French cuisine. The sofa opens to a double sofa bed and conveniently tucks away for added space during the day. There's also a desk positioned with a view in case you need inspiration to get some work done.
You can't go to Paris without shopping, and luckily there are plenty of stores along Rue de Rivoli to find all the latest French fashions. There are also plenty of theaters in the area so you can catch the excitement of the performing arts of Paris just a stroll away from the apartment.
Foire du Trône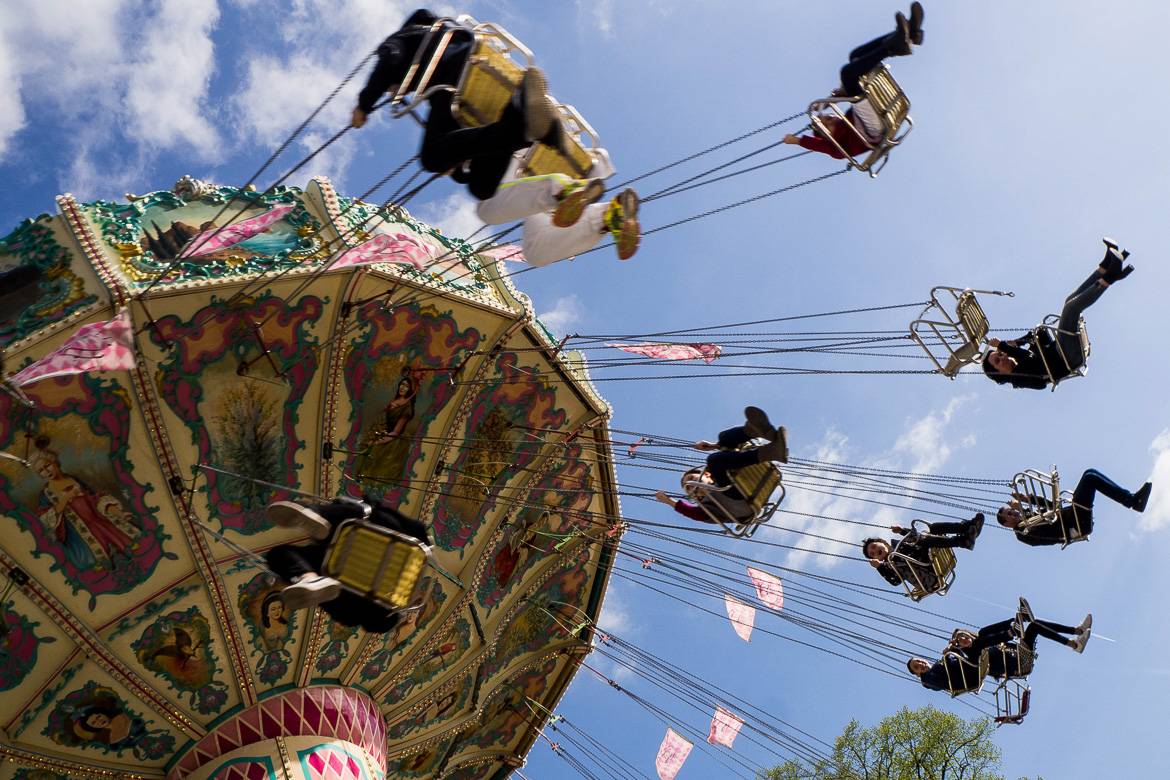 The kids will enjoy the thrill of a funfair in Paris (Photo Credit: Sylvie Rozenfeld (https://www.flickr.com/photos/126060664@N06/33938435445/))
Speaking of excitement, you won't want to miss the Foire du Trône, the oldest traditional funfair in France, to celebrate the return of warmer weather. The fair is a must for families visiting Paris. Local children look forward to the attractions (more than 350), as well as the dozens of stalls selling fair food and sweet treats. Foire du Trône begins March 30th and runs through May 27th.
Villette Sonique at Parc de la Villette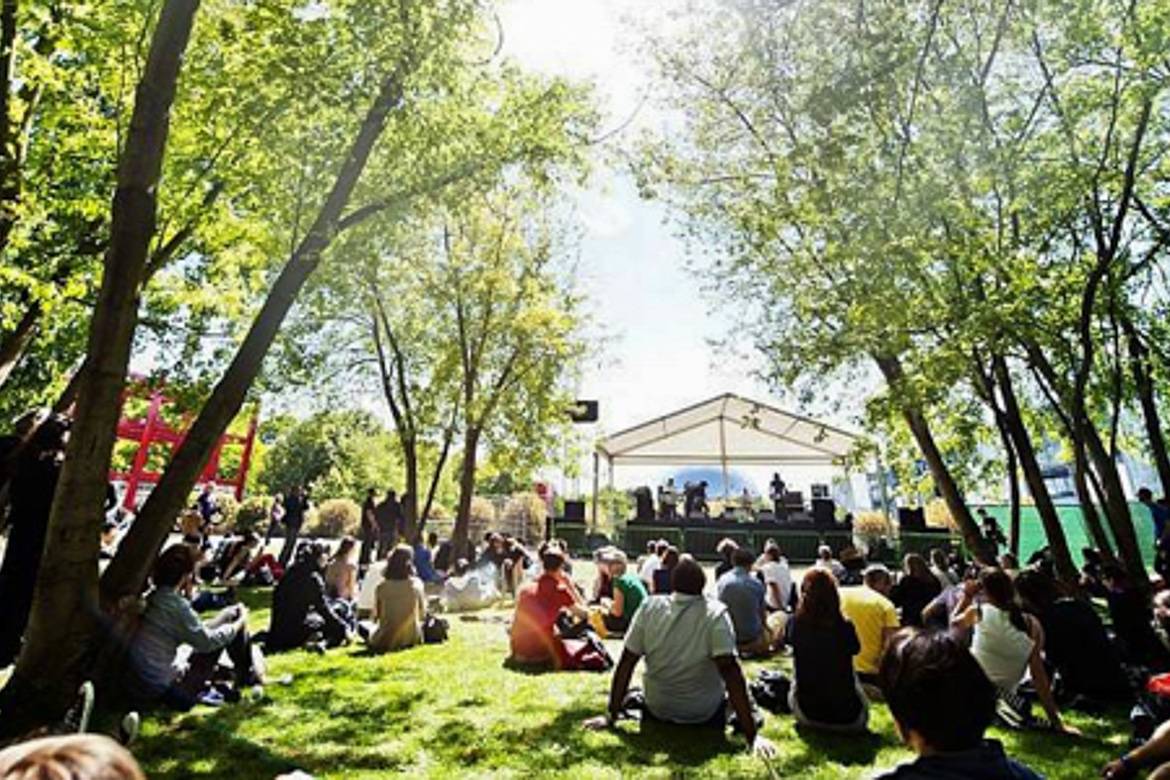 Spring is the perfect time to enjoy music outdoors (Photo Credit: Phillippe Levy)
From young children to the elderly, everyone enjoys a day in the park when the weather is perfect. In late May, Paris's Parc de la Villette will open up to the music lovers of the city. Come to this free open-air music festival to enjoy musical acts from all over in a natural setting. Villette Sonique runs from May 23rd-27th, but the park is perfect to stroll through and admire the numerous sculptures and installments anytime in the spring. Pack a French-style picnic and make a day of it!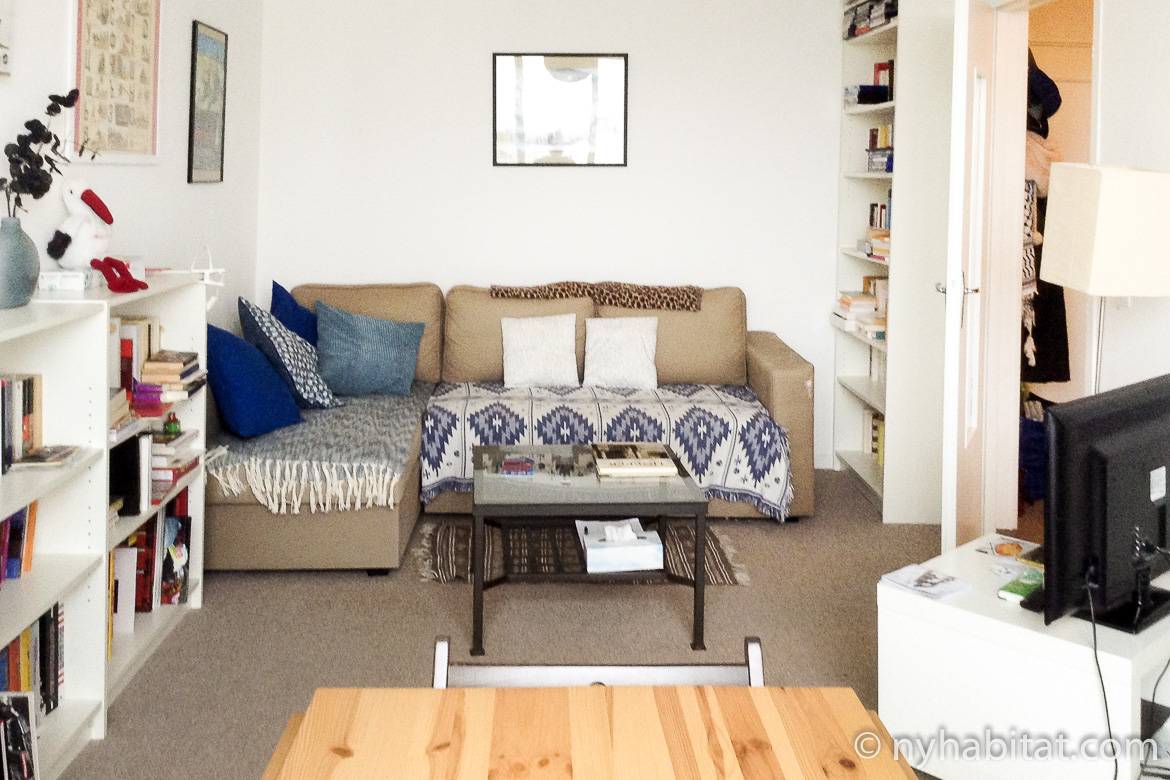 Grab a book and get cozy in this furnished apartment
This cool, earthy furnished 1-bedroom apartment is a relaxing place to come home to after a day exploring Paris's parks. The décor is mellow enough to bring you closer to nature, with wood furniture and stone accents in the bathroom, while the apartment's proximity to Parc de la Villette ensures that you'll have plenty of chances to surround yourself in nature and Paris's spring beauty. Small touches like throw pillows and books provide a comforting sense of home. Curl up on the cozy sofa and lose yourself in a book from one of the many bookshelves lining the walls. A fully-equipped kitchen lets you try out some local ingredients to prepare a home cooked meal. All the comforts of home can be found here including a convenient washing machine right in the apartment. Sink into the double-sized bed after a day exploring the nearby parks. There's also a desk and chair for those coming for work or study. If you're into learning or bringing the kids to Paris, head to City of Science and Industry, a science and technology center with interactive displays. For some leisure time, Omnimax theater is nearby, where you can catch the latest 3D films.
Versailles Fountain Show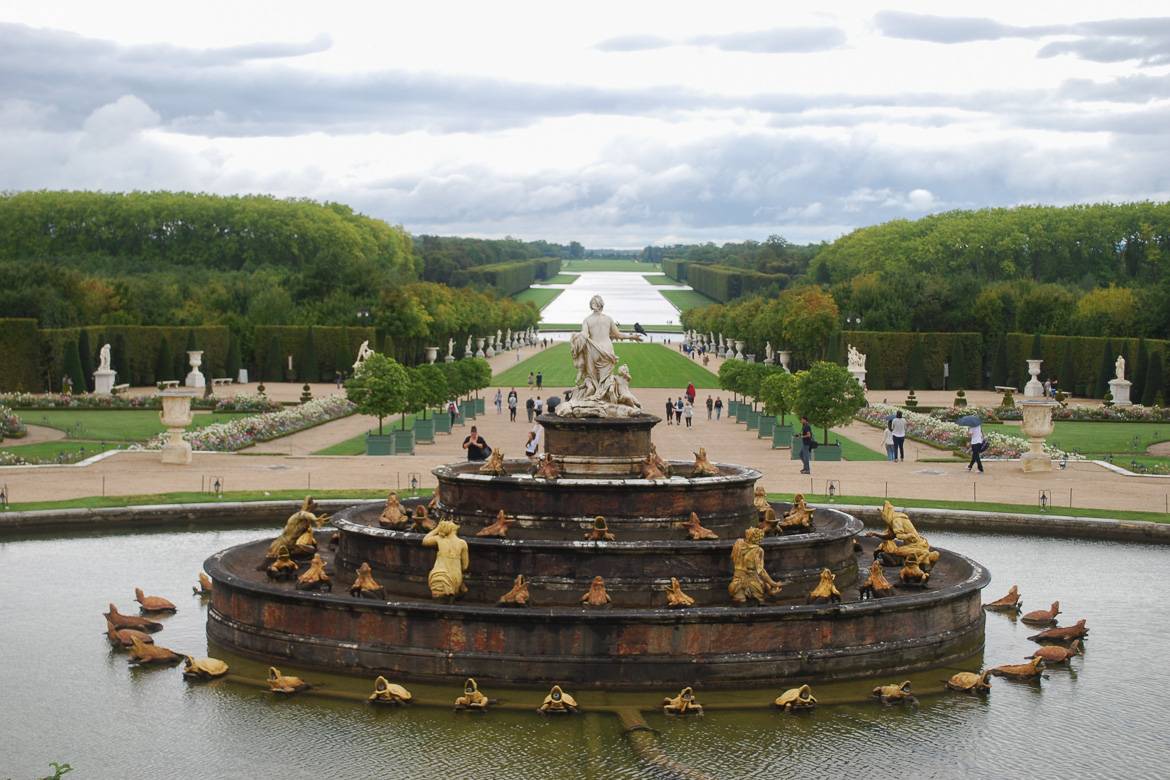 Fountains and music mix at Versailles this spring
Nature lovers will enjoy a stroll through the beautiful and world-famous gardens of Versailles this spring with an extra bonus: beginning March 27th, you can enjoy a show as Versailles' beautiful fountains are synched with music every 10-15 minutes. Come back at night to see the fountains lit up with various colors for the evening shows, and get your fill of the beautiful gardens and magical architecture.
Parc Floral de Paris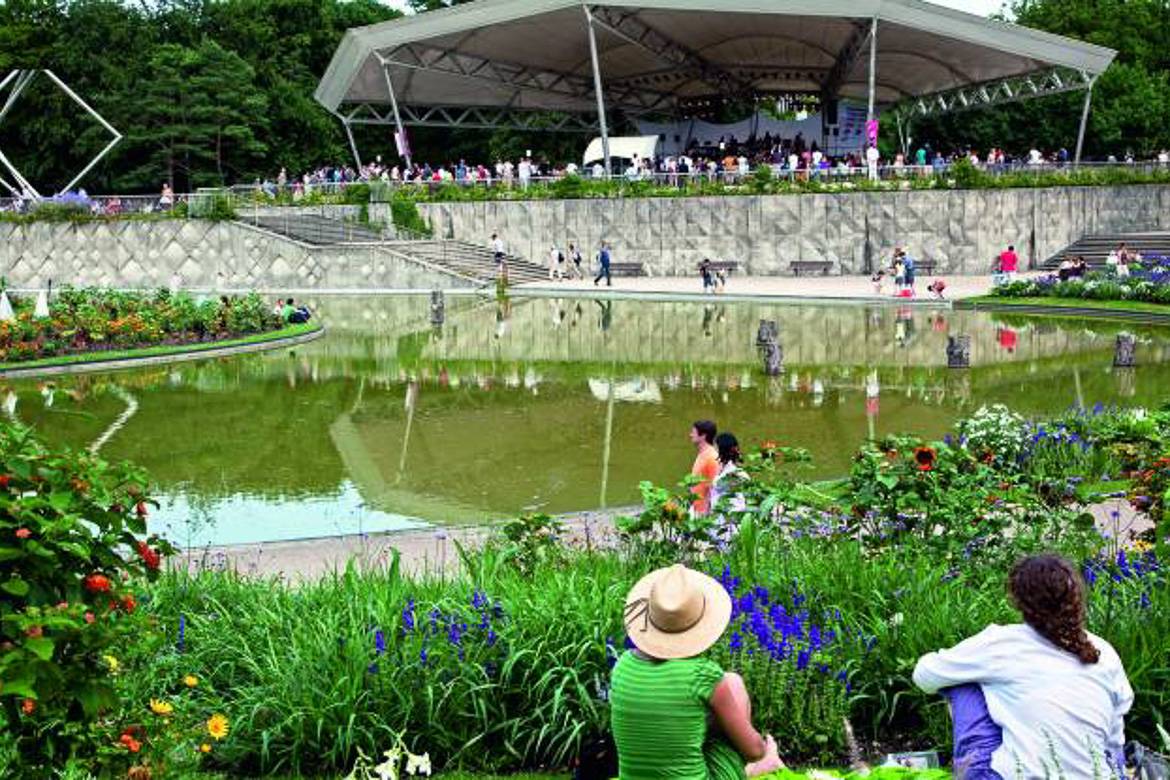 Explore some of the beautiful parks of Paris this spring (Photo Credit: ParisInfo.com)
A contrast to the impeccably-tailored Versailles gardens and another "can't miss" spot to soak in the outdoors this spring is the Parc Floral de Paris, where you can enjoy gardens in their more natural state. The Parc Floral de Paris is great for families, with numerous activities for children and 28 hectares of land to stroll around in the sunshine and enjoy the beautiful flowers and botanicals.
If you'd like to see more gardens, you can visit the Jardin des Serres d'Auteuil or Jardin des Tuileries, which are in full bloom in Paris every spring.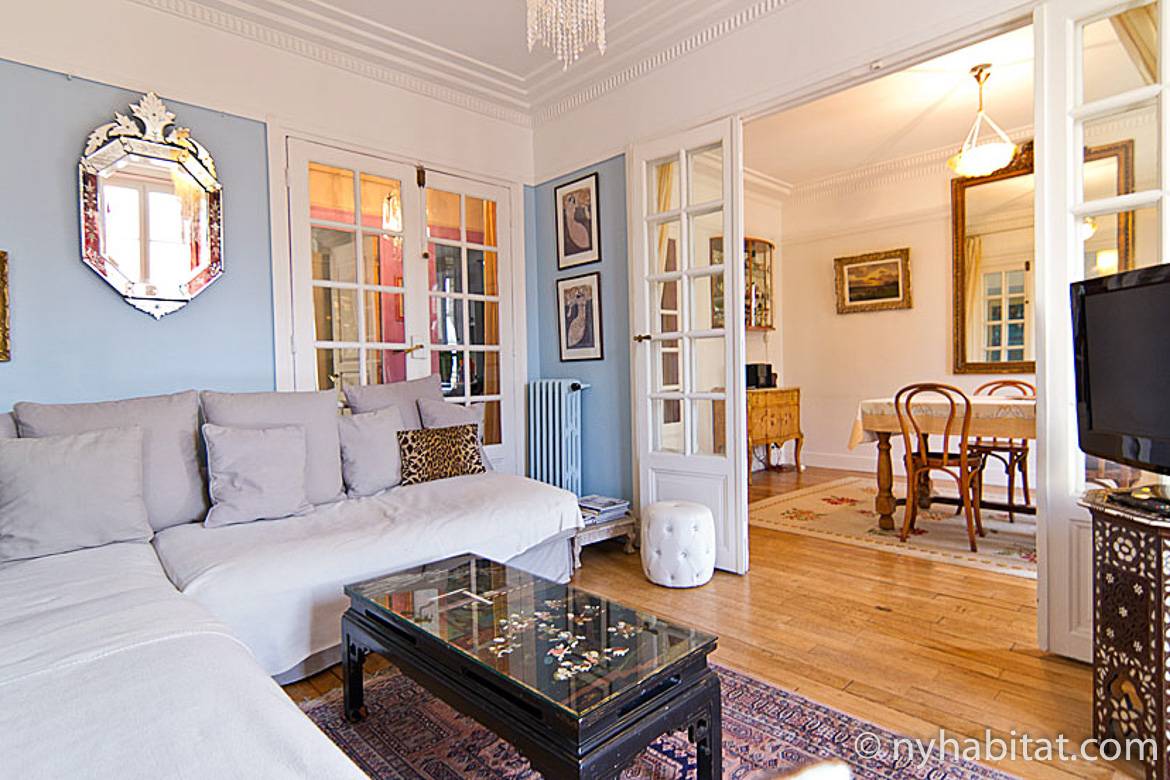 This spacious furnished apartment is full of Parisian style
Beautiful spring pastels surround you in this 3-bedroom/2 bath furnished Parisian apartment convenient to parks, cafés and landmarks such as Place de la Bastille with its majestic opera house. This chic apartment features hardwood floors and French windows and is decorated with chandeliers and antiques, all within a 19th-century building, transporting you back in time. A sectional sofa surrounds an antique coffee table and area rug, providing a place to gather together and plan your days of sightseeing. Flamingo pink walls and bright bathroom tiling juxtapose gorgeous chandeliers and period pieces, making this apartment an enlivening feast for the eyes. The modern kitchen pops with a bright green tile backsplash and is equipped with everything you need to feel at home, including dishwasher and washing machine, perfect for cleaning up after a family. Gather for a meal at the dining table beside the gilded mirror. Three bedrooms with full-size beds and large windows provide plenty of room for everyone. Plus, you'll have the convenience of two full bathrooms, one with a soaking tub and the other with a shower.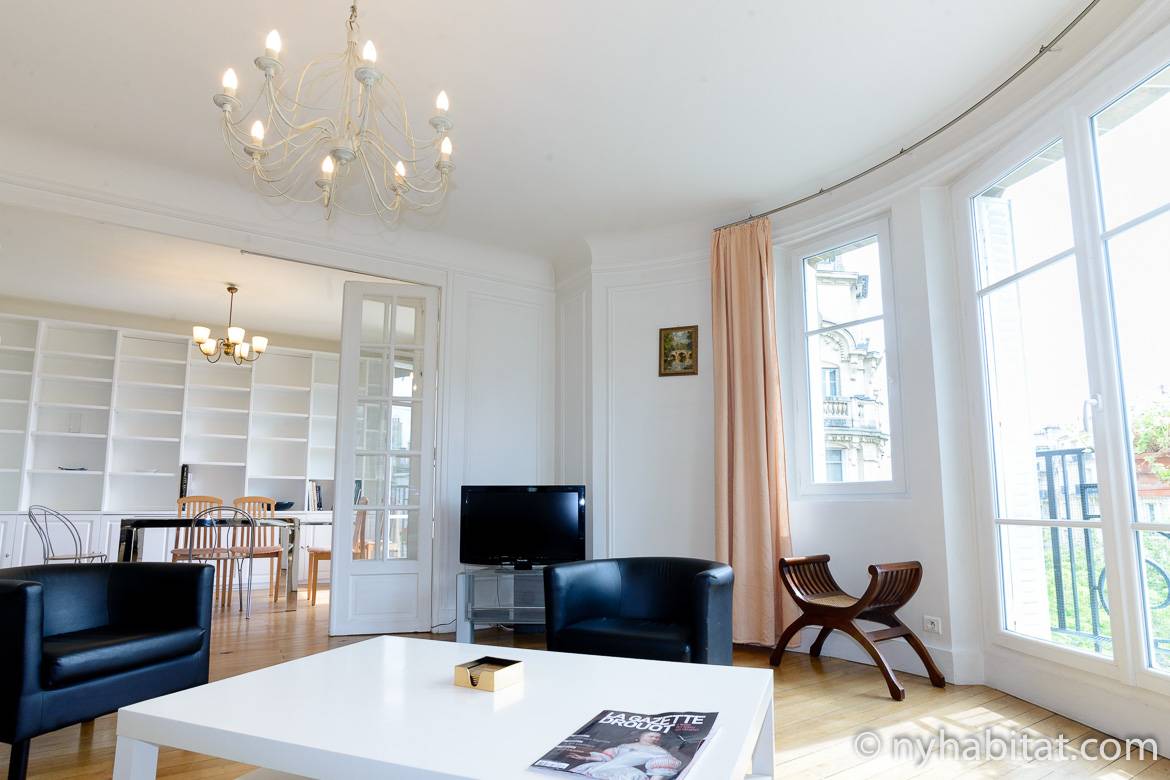 This 3-bedroom Paris apartment has views all around
Another spacious apartment perfect for a group is this gorgeous 3-bedroom apartment with 2.5 baths that is walking distance to the Eiffel Tower! This furnished rental features lots of windows for fresh air and ornate details like chandeliers to bring the luxury of Versailles home. The light wood floors, molding and French doors give this apartment a special Parisian flair. The living room provides sweeping city views so you can admire the architectural beauty of Paris right from home. A fully-equipped kitchen allows you to prepare some meals at home and save on dining expenses while enjoying the view. Step out onto the private balcony and enjoy the fresh spring air. Each bedroom has generous windows and a desk, bedroom one provides a queen bed and en-suite bathroom, while bedroom two has a double bed, and bedroom three offers a bunkbed, perfect for the kids.
Head out from this centrally-located apartment and see Paris's most iconic sights including the Pont de l'Alma, Palais de Chaillot and the Eiffel Tower.
Coffee and ice cream around Paris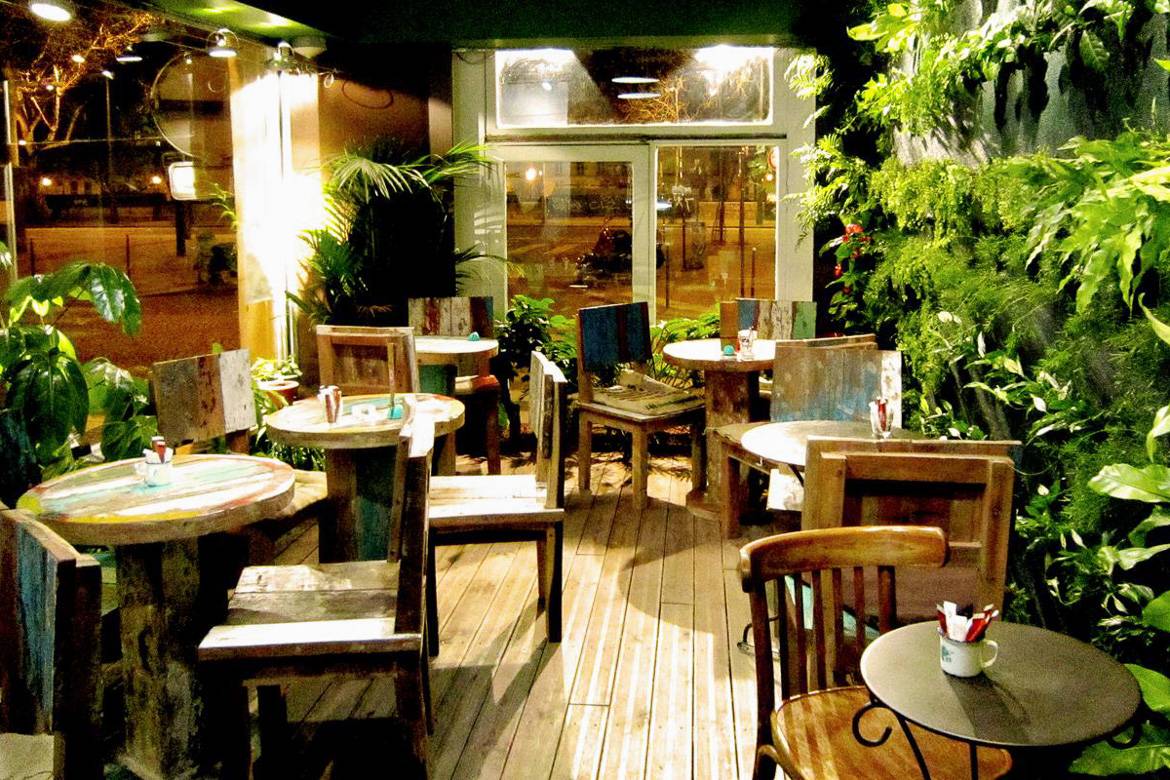 Surround yourself in nature at La Caféothèque
While you're out and about, stop for a coffee at La Caféothèque. Surrounding yourself with its living green wall and plants will certainly put you in a springtime mood! In the heart of the city, you can visit this café for a pick-me-up before shopping, sightseeing, or just walking around the city.
The start of spring also means the beginning of ice cream season! Shops like Martine Lambert and Berthillon Glacier will satisfy your sweet tooth, and their proximity to the Seine and the Eiffel Tower will make your experience feel oh-so-French.
You can't beat an apartment with a view in Paris! (Photo Credit: Anna Spysz (annaspysz.com))
Whether you're heading to the City of Lights for work or leisure, there's always a good excuse to head to Paris in the springtime! Enhance your stay with one of our apartments with a truly French flair and experience what it's like to really live in Paris. Browse our truly unique Paris rentals on our website and find one that speaks to you, or let our agents guide your search. Once you secure the perfect apartment, get out there and breathe some Parisian spring air, meet the locals and explore this fabulous city before the summer crowds descend upon it!