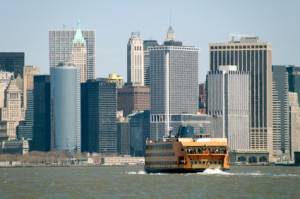 New York is made up of 5 boroughs, Manhattan, Brooklyn, Queens, The Bronx and Staten Island.
All of the boroughs are connected by subway with the exception of Staten Island.
To make up for the lack of subway service the city has run the Staten Island ferry for people who live in Staten Island since the 1898 though service has been offered since the 1700's. Beginning in 1997 the fare for the ride was eliminated. Therefore, when you come to New York an inexpensive site seeing trip is to take a ride on the Staten Island ferry.
New York Habitat offers a variety of short and long term furnished accommodations in the Financial District within walking distance of the ferry and there are easy subway connections to the R,M,1,4,5 trains at downtown stations.
Taking a ride on the ferry gives a spectacular view of New York Harbor. From the boat you can see the George Washington, Brooklyn, Manhattan and Verrenzano Bridges, the Statue of Liberty, New Jersey, Brooklyn and the open Atlantic Ocean. The ride is 25 minutes in each direction but consider getting off the boat in Saint George and spending the afternoon exploring Staten Island.
On Staten Island there are many parks to explore including Gateway National Recreation Area and small neighborhoods including St. George and Tottenville, which offer the feel of real New York life.  If you are in the mood to take in a baseball game consider stopping by the Staten Island Yankee's ballpark which is just a short walk from the ferry and much less expensive then its major league brother whose stadium is in the Bronx.
For the return trip to Manhattan choose a time when the sun is setting and enjoy the bright oranges and reds of the sun as it sets over the Statue of Liberty and the harbor.
Public domain image courtesy of NASA.