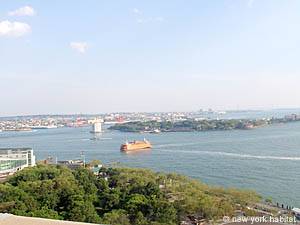 New York Harbor, with view of Govenors Island
You would think that a small, preserved colonial-era island, 800 yards off Manhattan's southern shore would be a world-renowned tourist attraction. One would think that the
New York
site that famously hosted the 1988 summit with President Reagan and USSR leader Gorbachev would have a more recognizable name. And one would surely be forgiven for doubting that an island complete with a preserved castle, fort, pre Civil War fortifications and homes even existed so close to New York's shore
. Governors Island does, indeed, exist and it boasts the most dramatic southern Manhattan views in the entire city.
New York Habitat has known about Govenors Island for quite some time and we have several
accommodations in New York
a short ferry ride away.
Designated as a national monument, Governors Island has flown under the public radar for much of its recent history. In reality, the island in New York Harbor has played an important role in just about every American military engagement since the Revolutionary War. The island's two most important landmarks are Fort Jay and Castle Williams, both fortifications dating back to the early 19th century. The island is home to dozens of historically marked and preserved buildings and former private estates. Today Governors Island has a park-like atmosphere, an oasis from the cars and noise inescapable even in the center of Manhattan's most serene parks. Governors Island is open only during the summer and now features a long lineup of outdoor concerts. New York's southern skyline is inescapable on the island. Financial District skyscrapers cast their looming shadows on the island from what seems like a world away. The views from the island are spectacular–a landscape that includes southern Manhattan, Brooklyn and the Statue of Liberty. Visitors can reach the island on the Governors Island Ferry, departing from the Battery Maritime Building adjacent to the Staten Island Ferry in Lower Manhattan.
Unfortunately, visitors cannot stay on Governors Island proper, an accommodation in Manhattan is as close as you can get.  Consider for example apartment rentals in the Financial District. This 1-bedroom rental in Battery Park (NY-14403) puts you close to many southern Manhattan historical streets, buildings and monuments. This studio furnished apartment on Wall Street (NY-14606) offers a contemporary style and convenience to southern Manhattan attractions.
If you have missed the past tow entries in the top 5 views of Manhattan, New York; take a look at:
#5: Liberty State Park, Jersey City New Jersey
What other New York Harbor/East River Islands are worth a visit? Comment Below.