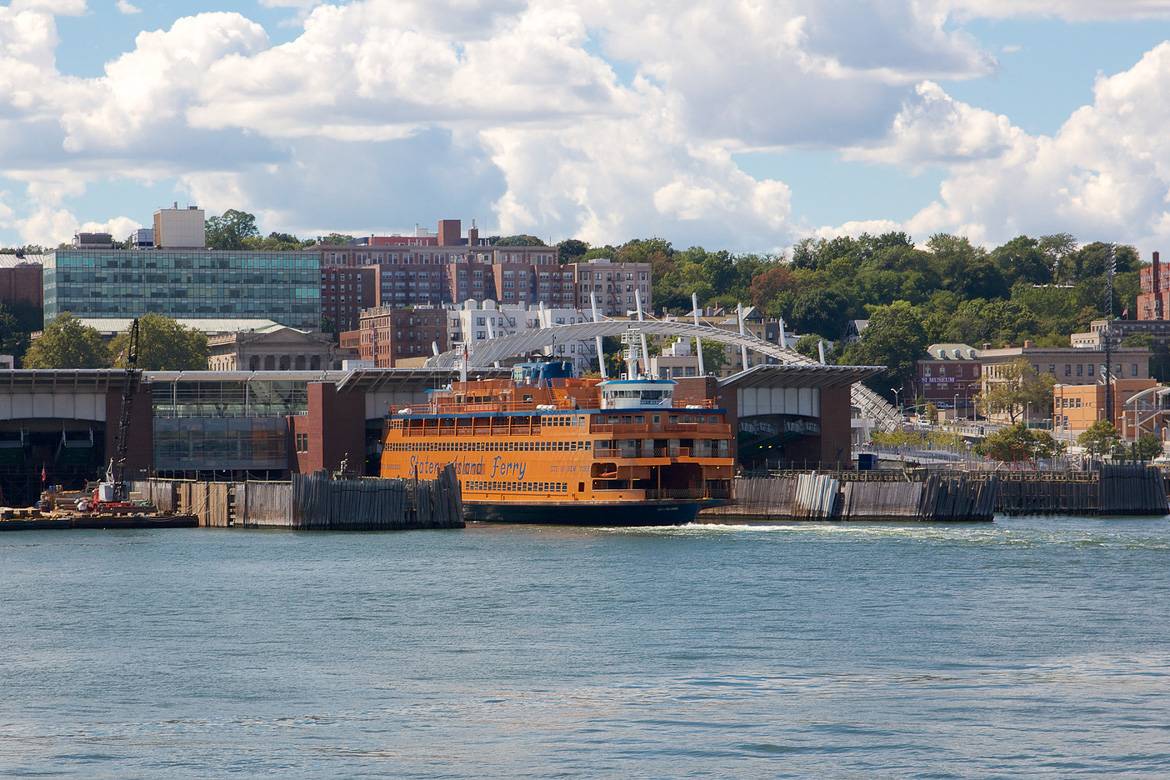 The Staten Island Ferry in the harbor
Welcome to the third installment of our new series, 'New York Boroughs!' In the first article we introduced the Bronx, and the second offered insight into Queens. Now it's time to talk about an often-overlooked NYC borough: Staten Island. Sure, this borough might not be as conventionally urban as the others (the south shore is right next to New Jersey), but locals know its unique environment is what makes it special. The gems of Staten Island (beaches, a botanical garden, a waterside museum, and more) remain unknown to most tourists and even most New Yorkers, and that's the way Staten Islanders like it.
Welcome to Staten Island
Staten Island is the least populous of the five boroughs, but the third-largest at 59 square miles (153 square km). This makes it feel more suburban than the others. From the north shore, islanders can access Brooklyn, Manhattan, and Queens, while New Jersey is reachable from the south shore. Locals consider the two sides to be very different, and individuals take pride in their side while occasionally scoffing at the other. But both sides offer attractive features: the parks of the south are some of the best in the city, and the northern urban setting is definitively more city-like (and closer to Manhattan).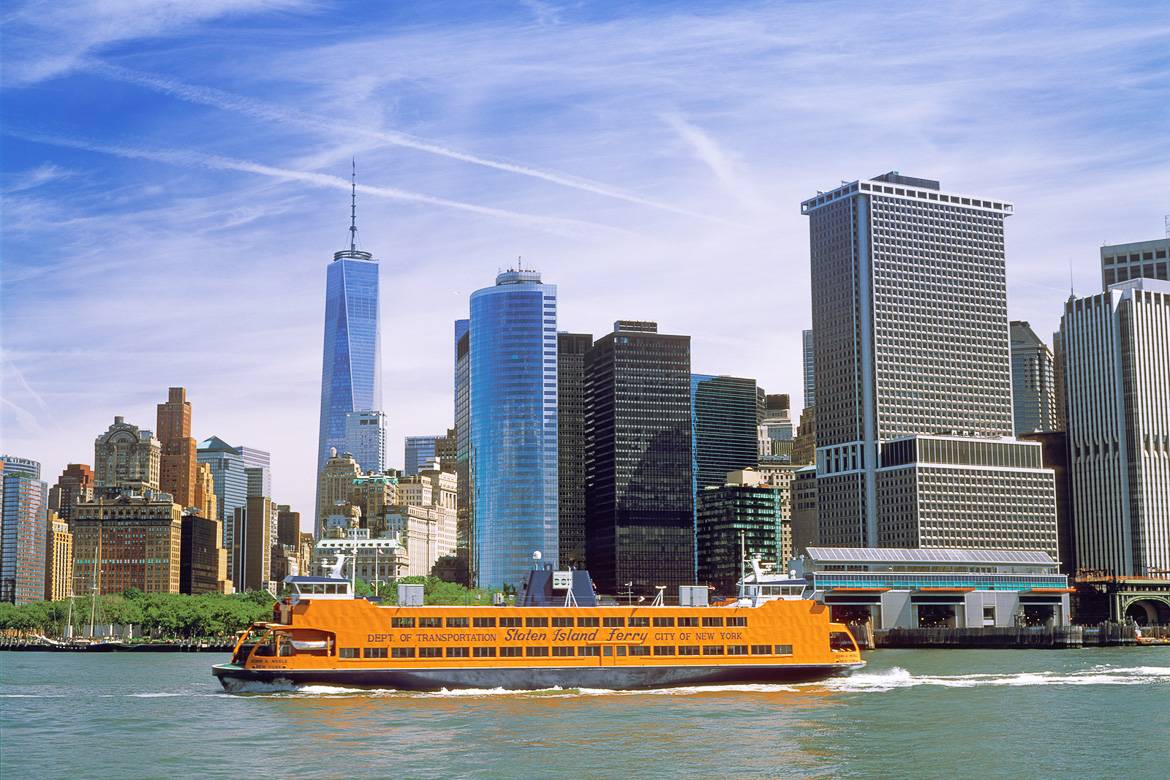 The Staten Island Ferry traveling in the New York Harbor
Staten Island is the only borough that is not connected to the rest of the city via the subway system, a fact that has perhaps contributed to its nickname of "the forgotten borough." Though you'll often hear people complain about the lack of trains, there are alternate modes of transportation in the borough, and most of them are free! There is a ferry that travels to Manhattan free of charge, and the train that stretches across the island is also free. You may have heard about the Staten Island Ferry; it's famous for being a large boat that passes the Statue of Liberty, so tourists can get stunning views of the statue for free. It's also the main method of transportation for commuters going to and from work. The ferry travels from the north shore of Staten Island to lower Manhattan next to Battery Park. So the next time you're exploring lower Manhattan, consider visiting Staten Island! The only train stations with a fee are St. George (the location of the ferry) and the stop directly before it: Tompkinsville. Driving is the preferred mode of transportation around Staten Island and most residents have cars. With a car, islanders can easily reach the rest of the city and New Jersey by using four bridges: The Verrazano-Narrows Bridge, The Outerbridge Crossing, The Bayonne Bridge, and the Goethals Bridge. If you're interested in the bridges' architecture, read our blog on the top 5 bridges of New York.
Staten Island has always had fewer residents than the rest of New York City. In fact, in the 18th and 19th centuries, New Yorkers from other boroughs had summer homes here and used South Beach (in the north shore) as a vacation getaway. It wasn't until the construction of the Verrazano Bridge in the 1960s that the south shore started to develop into a popular residential area.
Things to do and see in Staten Island
There is a lot to do on Staten Island once you arrive. On the north shore of Staten Island, not far from the ferry terminal, are a few museums. The oldest cultural institution is the Staten Island Museum, the only general-interest museum in New York City. The old brick building is split into three main exhibits featuring fine art, the natural sciences, and a library of historical archives spanning ancient history to the present day.
The Alice Austen Museum, a beautiful stone house on the water that overlooks the Manhattan skyline, is another must-see institution. This house was formerly inhabited by Miss Alice Austen, a famous photographer of the late 18th and early 19th centuries. Her work is now displayed in the house thanks to the Friends of Alice Austen volunteer group. It also offers temporary photography and art exhibits that showcase the work of talented locals.
Other museums include the Garibaldi-Meucci Museum, the Jacques Marchais Museum of Tibetan Art, and the Staten Island Children's Museum. As if the museums aren't enough of a reason to head to Staten Island, there will soon be more attractions, including an observation wheel and mall outlet right near the ferry! The observation wheel is set to be the tallest in the world at 60 stories high, and the only one in New York City.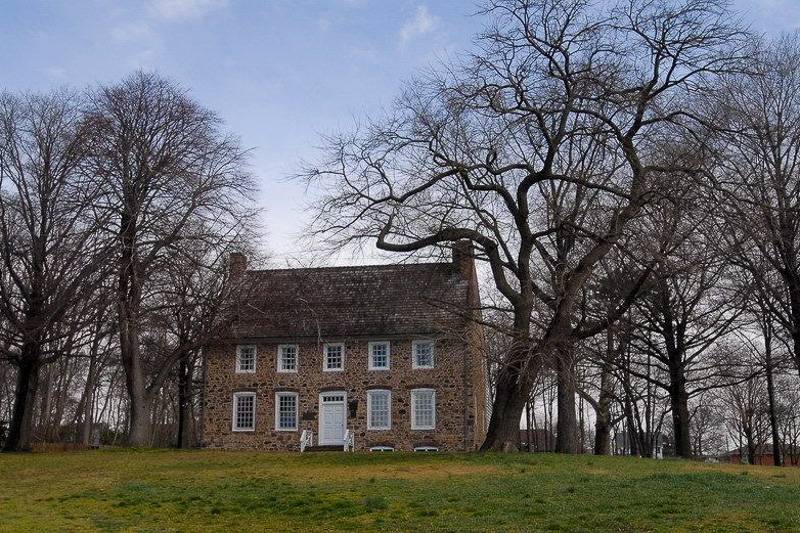 The Conference House in Staten Island
Parks are all over Staten Island. Some are sprawling fields of grass, some have playground equipment, and others are attached to beaches. The Conference House Park is located at the southernmost point of New York State. The historic Conference House is surrounded by a large field and borders the beach towards New Jersey. Visit the Conference House website for a full list of events, like tours of the house and educational programs that celebrate the history of Staten Island.
The Greenbelt Nature Center is a favorite among joggers and hikers. You can walk along the dirt paths in the woods that range from easy to difficult. Clove Lakes Park is another favorite for joggers due to its large size. Located in a neighborhood called Sunnyside, this park is a natural oasis centered around its lakes and ponds. Playgrounds, sports fields, and the borough's largest living thing, a 300-year-old tulip tree, are all within the park.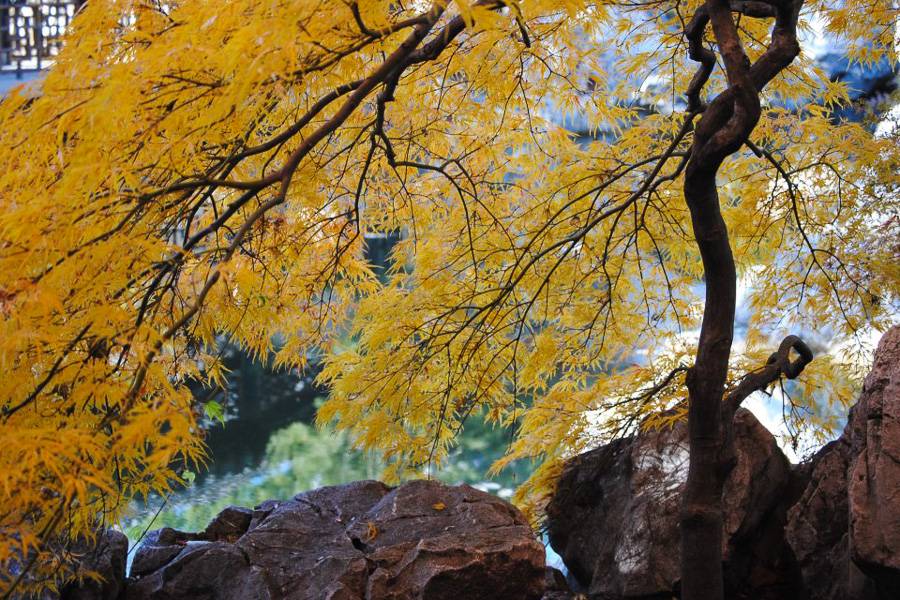 Nature in a Staten Island Park
Perhaps the most exquisite gardens are found at the Staten Island Botanical Garden in Snug Harbor. The botanical garden contains many small gardens. A favorite among locals is the New York Chinese Scholars Garden, which will cost you only $5 to view. There is also the Connie Gretz's Secret Garden. The shrubbery within has been landscaped into a maze for children of all ages to explore. The Botanical Garden also includes the White Garden, Rose Garden, Tuscan Garden, Healing Garden, and more. Additional parks worth visiting include Willowbrook Park, Silver Lake Park, and Freshkills Park.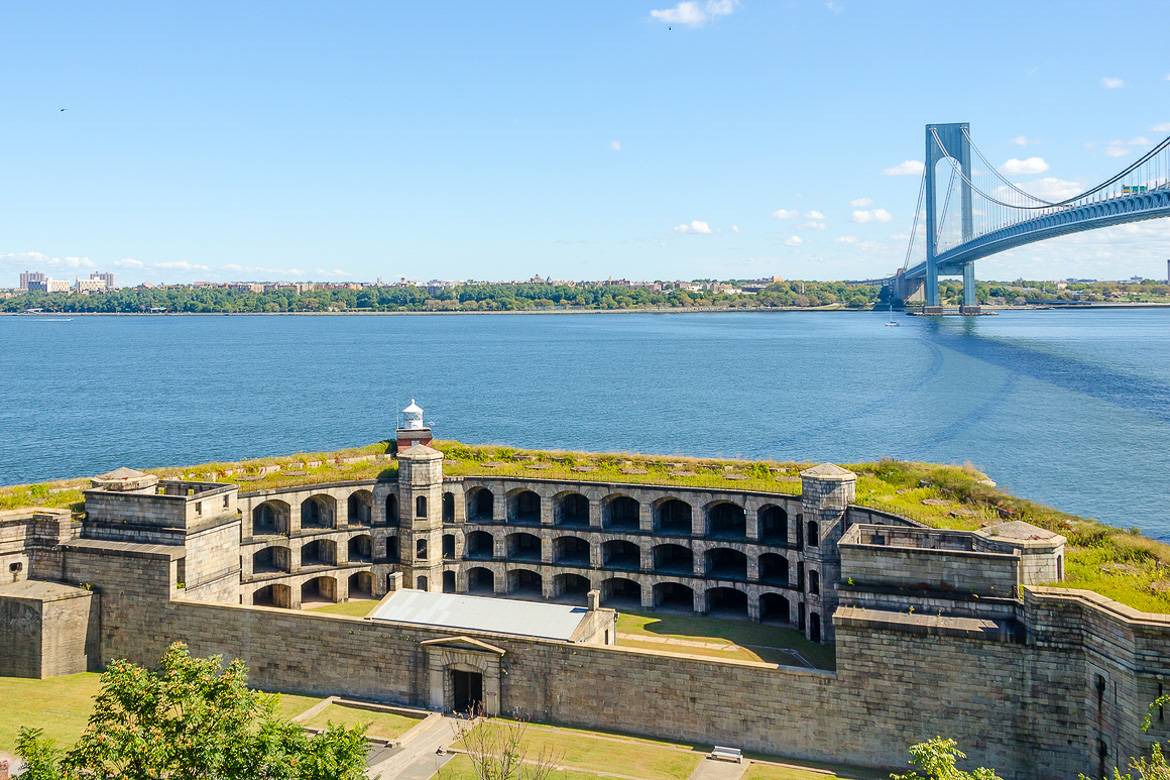 Fort Wadsworth in Staten Island
Staten Island has a celebratory history made evident by its many landmarks. Snug Harbor is one of them. The area contains a row of Greek Revival buildings (called Temple Row) that are as charming as the gardens. A favorite landmark site of children and families alike is Historic Richmond Town. It's an interactive town and museum complex that features villagers dressed in 17th-century clothes, using 17th-century tools, and having 17th-century fun. The historic town hosts events year-round. Make sure to bring your wallet: the regular admissions price is $8 per adult and $5 per child.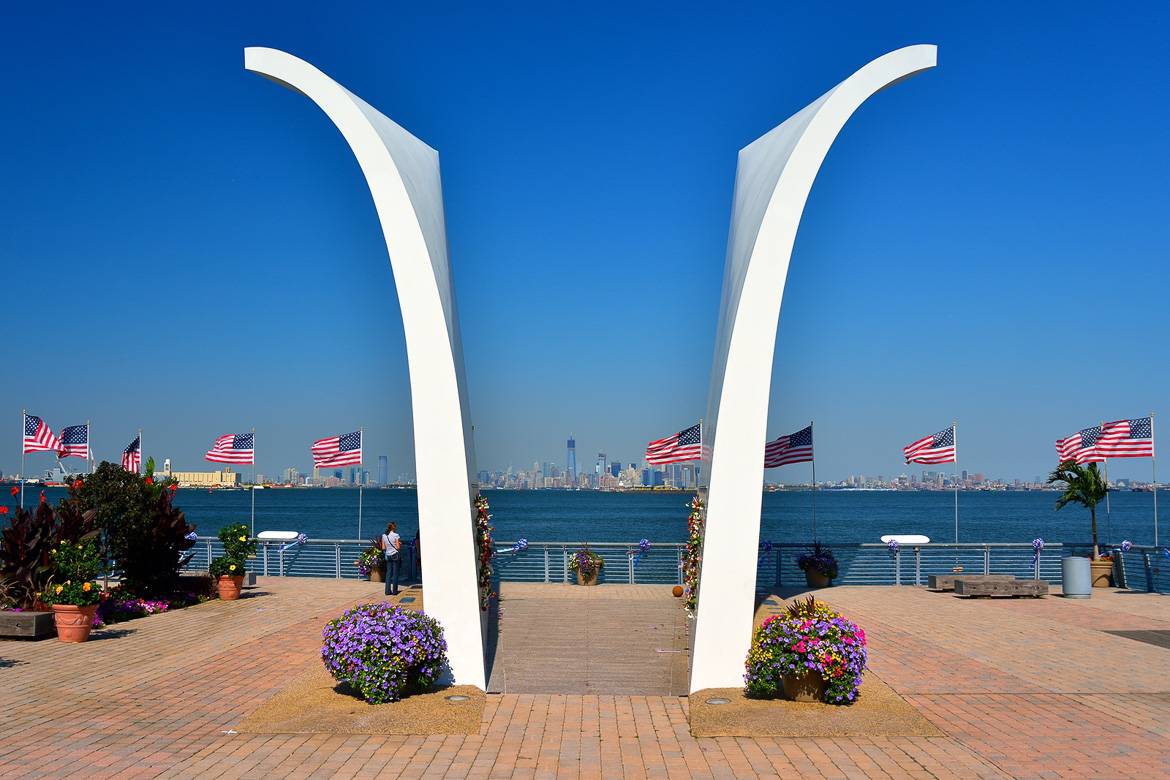 Staten Island 9/11 Memorial
Military history buffs might prefer a trip to Fort Wadsworth on the Narrows underneath the Verrazano-Narrows Bridge. Learn more about Italian culture at Casa Belvedere, located on Grymes Hill. Other landmarks include the Richmond County Courthouse, Seguine Mansion, and the Staten Island September 11 Memorial.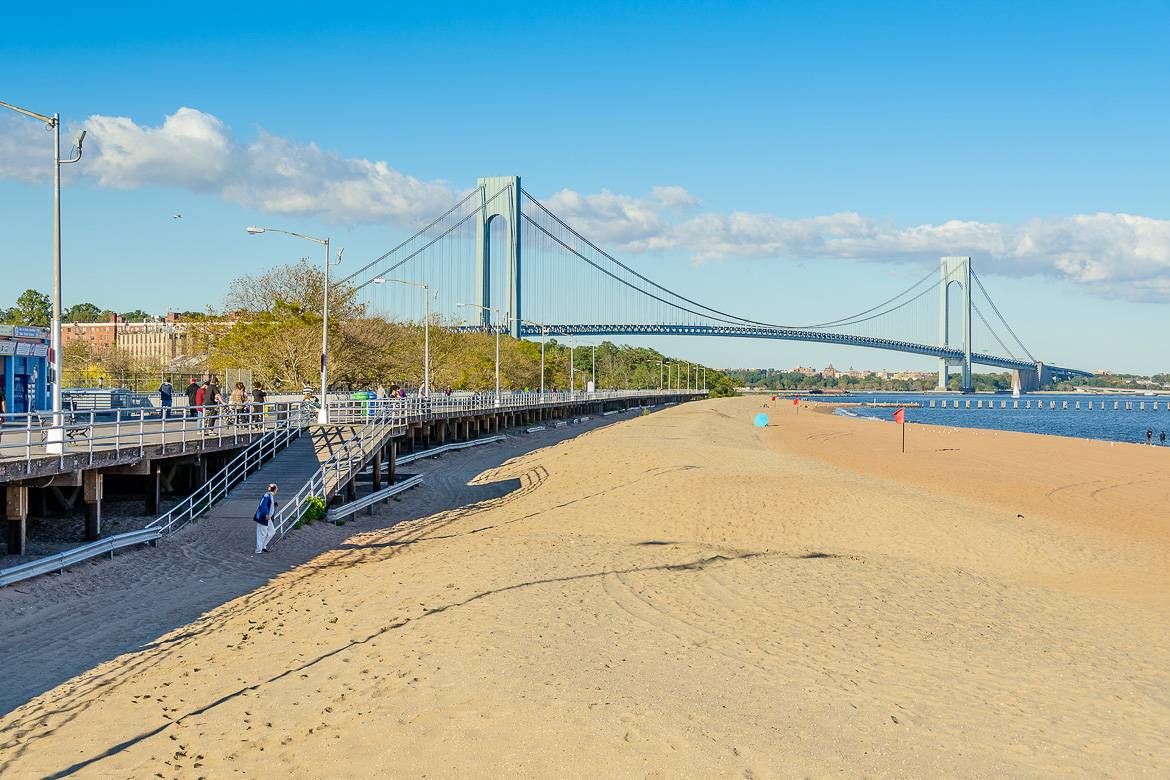 South Beach Boardwalk
One of the perks of being on an island is that there are plenty of beaches to enjoy! On sunny days, locals love to sunbathe on the sand. At night, teenagers have bonfires in secret spaces. During spring and fall days, the shore attracts lovers hand-in-hand. The north shore's South Beach includes its own boardwalk where residents ride bikes, jog, walk dogs, and hang out during sunny days. Locals can be seen fishing on the pier year-round. Midland Beach is another beach near the north shore.
On the south shore is Wolfe's Pond Park and Beach. The park offers many playgrounds, picnic tables, and a memorial to the Battle of the Bulge. A small staircase from the park leads to the beach, which is mostyl long and narrow depending on the tide. This is a favorite park and beach to locals who live closeby due to its variety and pleasant atmosphere.
Great Kills Park and Beach is perhaps the most beloved beach on the south shore. The spacious beach often has a lifeguard on duty, while the park is mostly comprised of stretches of grassy fields which lead to a harbor and marina for fancy boats. Learn more about the beaches of other boroughs by reading our blog on the top 5 beaches in and around NYC.
Shopping in Staten Island
If you ask Staten Islanders where they shop, they're likely to have the same answer: the mall! The Staten Island Mall on Richmond Avenue is two stories tall and easily accessible via bus or car. It holds approximately two hundred stores and is open from 9:00 a.m. to 10:00 p.m. Monday thru Saturday and 9:00 a.m. to 6:00 p.m. on Sundays. The main department stores of the mall are Macy's, Sears, and JC Penney. To the joy of the local children, Santa Claus sits in the center of the mall during the holiday season for photos. There is also a center food court and a Starbucks located on the bottom floor. Other popular stores include Forever 21, The Gap, Victoria's Secret, and the Apple Store. And as a fun fact, the band The New Radicals filmed the music video for their song "Get What You Give" here in 1999!
Staten Island's main shopping streets are Richmond Avenue, Forest Avenue, and Hylan Boulevard. On Richmond Avenue, you'll find a bookshop, a grocery store, convenience stores, and various other retailers. If you drive through the area of Richmond Avenue by the mall, you can essentially get all of your food, electronics, clothes, and book shopping done at once!
Forest Avenue is another popular shopping street that houses a range of shops including grocery stores, electronic shops, and clothing retailers. Hylan Boulevard contains a hub of small delis and shops as well as Hylan Plaza, a shopping center in New Dorp that houses a pharmacy, a dollar store, a grocery store, a clothing retailer, and a movie theater.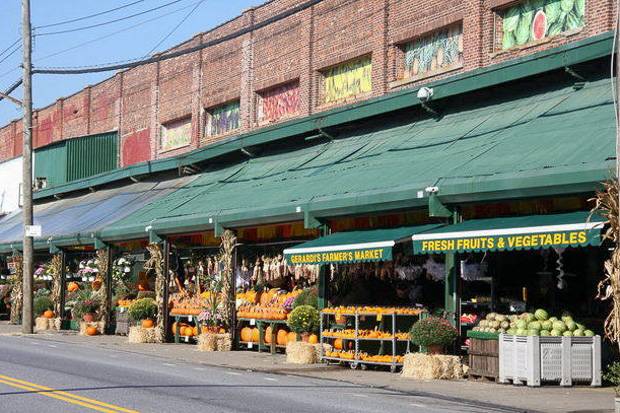 Gerardi's Farmer's Market
Do you like locally-grown food? New Yorkers do too, including Staten Islanders. That's why people flock to Gerardi's Farmer's Market. In the spring and summer months, people come to stock up on the freshest fruits and veggies in town. They also sell a wide selection of flowers.
Stay or live in Staten Island
Living in Staten Island is a great way to experience New York from a unique point of view. Its neighborhoods, which remain undiscovered by most tourists, are authentically 'New York.' Search through our listings of NYC furnished apartments for the apartment that's right for you. If you're staying for less than one month, take a look at our vacation rentals. Don't want to live alone in the big city? Opt for an apartment share if you're staying for over one month or a New York bed and breakfast if your stay will be shorter.
Coffee, restaurants, and nightlife in Staten Island
If parks, shops, and beaches don't interest you, then come to Staten Island for the food! The borough has a plethora of restaurants featuring international cuisine that come with rave reviews from customers. Killmeyer's Old Bavarian Inn is one of only a few authentic German restaurants on Staten Island, featuring a beer garden where live music is performed in the summer. Come for the food, stay for the drinks–there's a full bar!
If it's pizza you want, you'll have to come to Denino's Pizzeria Tavern. A staple in the borough since 1937, this family-owned restaurant serves thin-crust pizza and has what some people call "the most fantastic fried calamari in the universe." Joe & Pats is an alternate choice when you're hungry for pizza–it, too, is a favorite among locals.
Craving barbeque? Stop by DaddyO's BBQ and Sports Bar, serving sauced meats and comfort food. At night, there's often live music here as well! Other top-notch eateries include Bayou, serving Cajun cooking, Beso, serving Spanish food, Royal Crown Bakery, and Mexican restaurant Adobe Blues, which has a lively nightlife scene as well.
Don't have the money for a big night out? That's okay; Staten Island is ready to accommodate you too. The following restaurants serve most meals for under $8: Pho Mac Vietnamese Restaurant (the only Vietnamese restaurant in the borough), New Asha Sri Lanka Restaurant, Fresh Tortillas & Taco, a Mexican take-out place, Gennaro's Restaurant & Pizzeria, Tony's Brick Oven, and George's Coffee Shop, serving American fare. Afterward, you can indulge in all of the free activities New York has to offer!
New York City is known for its awesome food. Venture out of Staten Island to dine at all types of international restaurants. Of course, a favorite among locals is a good old American eatery. Read our list of the top 10 burger places in NYC to get an idea of where to go on a Manhattan night out.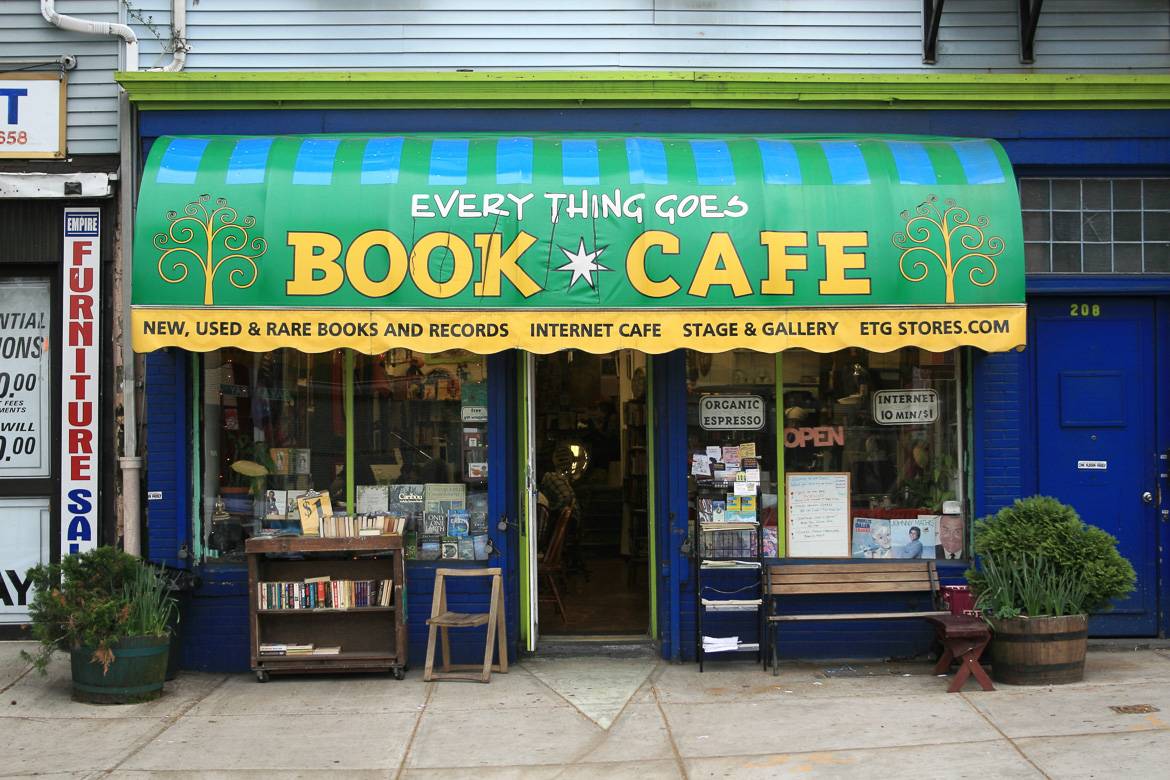 Everything Goes Book Café
Good coffee is important, so support your local coffee shop! Staten Island still has a few that serve coffee and tea at low prices and offer the special kind of environment that only comes from shopping at mom-and-pop stores. A favorite on the north shore is Everything Goes Book Café, run by the Ganas commune on Staten Island (that's right, Staten Island has a commune!). The people running this shop care about the coffee they make, and you can be sure it has all-natural ingredients. Everything Goes Book Café puts on many different performances throughout the week including open mics, poetry, and art shows.
A second option for coffee is Beans & Leaves Café, an independently run coffee shop that hosts an open-mic night. If it's your goal to try all the best coffee shops in NYC, we can help: just read our blog about our 10 favorite cafés in New York (mostly in Manhattan and Brooklyn).
You don't have to travel to Manhattan to party in New York City. Staten Island has plenty of bars! #hashtag Bar, formerly known as the Full Cup, is the chosen bar among hipsters, artists, and the alternative scene. Drinks are cheap, and local shows are performed every weekend and some weekdays. That same scene will also frequent 120 Bay Café, known to most locals by its former name, Cargo. If you like dance music, you'll probably prefer Z-TWO Restaurant & Lounge and Indiglo Restaurant and Lounge, or clubs like Eve Ultra Lounge and Above Rooftop. For a more laid-back atmosphere, head to Joe Broadway's Billiards & Sports and Dugout Pub & Grill.
That concludes our tour of Staten Island, a small town in the big city. Are you interested in visiting the Forgotten Borough?