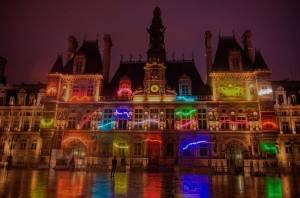 Nightfall on October 6 kicks off the hugely popular Nuit Blanche festival in Paris. For the sixth year in a row, the City of Light will keep the lights on all night long. The French festival has become so popular that many European cities, and Toronto, have followed suit. Luckily, we have plenty of Paris apartments to welcome you home no matter what time it may be.
Starting at 7 p.m. and lasting until 7 a.m., the "Sleepless Night" festival is an insomniac's dream. Introduced by Paris' intrepid mayor, Bertrand Delanoe, the city will open many of its cultural institutions way past most Parisians' bed times.
A cocktail of sights and sounds will keep weary eyes open as hundreds of live performances are set to take place. Visitors will have the pleasure of pondering Mona Lisa's smile at 3 a.m. and walking through the Hotel de Ville, in the 4th arrondissement, long after business hours. Not only will museums and government buildings stay open but libraries, movie theaters, clubs, restaurants and art galleries will burn the midnight oil.
This year's Nuit Blanche festival will run across the city center, from the Batignolles-Saint Lazare quarter all the way to Les Olympiades, along Metro line 14.
At the eastern end of the festival is a cozy two-bedroom apartment near Champs Elysees (PA-4238).  And to the west is a refined three-bedroom apartment near Grande Bibliotheque – Cite Universitaire (PA-3072) near the enormous library Francois Mitterrand.
No need to bring a watch, visitors can let the sparkle of the Eiffel Tower and the rising sun mark the passing hours as they spend time at the Nuit Blanche festival.
What do you plan to do for the Nuit Blanche? Visit a museum? Walk through a Parisian park? Have a late-night meal? Or miss out on it all and go to bed early? Please comment below.