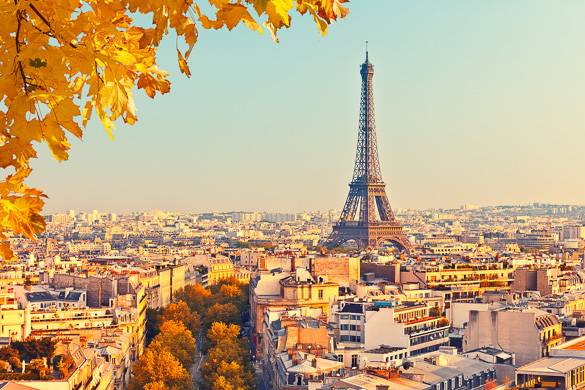 Fall is a perfect time to visit Paris without the crowds
If you dream of visiting Paris but prefer to skip the crowds of tourists and unending lines for all the top sights, consider a fall trip to the City of Light when Le Rentrée means locals return to work and school and the tourists decrease along with the airfares! This means you'll get to experience a more authentic version of Paris, and combined with one of our furnished rentals, you'll get to truly immerse yourself in local life. Read on for some of our favorite things happening this fall in Paris, then head to our website and reserve the perfect rental to match your interests and you'll be sitting at a Parisian cafe sipping a chocolat chaud in the crisp autumn air in no time!
1. Fall Foliage: Avenues, Parks & Gardens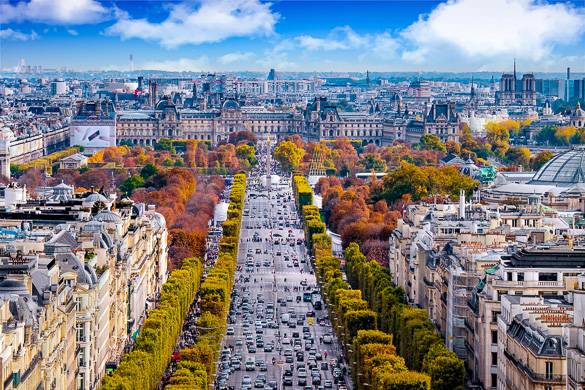 Stroll a tree-lined avenue bursting with fall colors

Fall is all about vibrant colored foliage and scenic vistas and Paris has plenty of great spots to take in both. Take a stroll along one of Paris's grand tree lined avenues or spend the day in one of the beautiful parks and gardens. The Palais-Royal Gardens Versailles and the Jardin du Luxembourg are some of the most famous gardens and with good reason, but the Places des Vosges in the Marais district, the oldest planned square in Paris is definitely worth a visit as well. Parc des Buttes-Chaumont is one of the largest parks in Paris, complete with waterfalls, bridges and grottos for that perfect photo opportunity. Parc Monceau is so impressive it even inspired Claude Monet to paint a series of paintings of the park.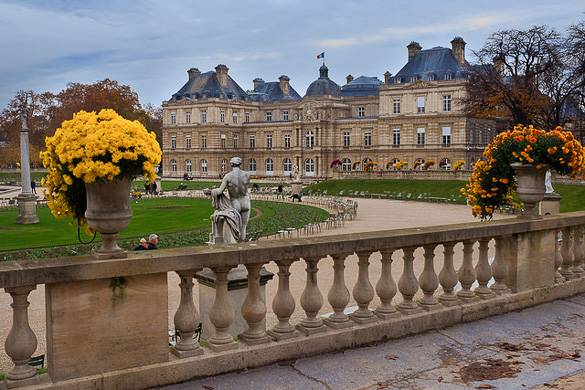 Visit one of Paris's beautiful gardens and surround yourself in fall colors (Photo Credit: Jim Nix via Flickr)
Located between the Louvre Museum and the Place de la Concorde is the Jardin des Tuileries, a favorite among locals and tourists alike. Along with the beauty of nature, here you also get a dose of art (the Musée de l'Orangerie contains Monet's famous Water Lilies) and sculpture (including works by Auguste Rodin).
2. September: Month of Festivals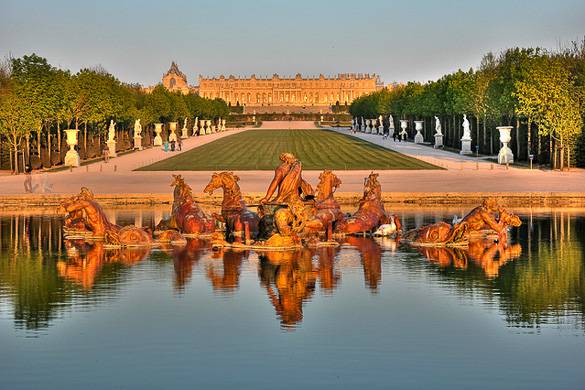 Versailles hosts one of many festivals this fall (Photo Credit Flickr: _jaime1)
September is the month for festivals in Paris so be sure to check out some of our favorites including: Musical Waters at the Chateau de Versailles (until end of October) where you can discover the gardens of Versailles in a different way — where fountains spout in synch with music; the Autumn Festival, a contemporary visual arts, music, cinema, and theatre festival; and the Bee Hive Festival at the Jardins du Luxembourg (Sept 23-24, 2017) celebrating the park's historic bee hives — don't forget to purchase honey to take home!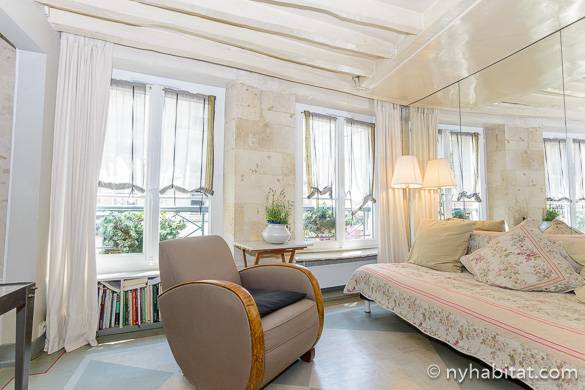 Rent a classic Parisian apartment with unique character on your fall trip to Paris
This two bedroom apartment in the Sevres Babylone area of Paris has a prime location near the iconic Eiffel Tower and Champ de Mars, and is also conveniently situated just 900 meters from Gare Montparnasse where you can catch a direct ride to the beautiful Chateau Versailles in only 20 minutes. Surround yourself in Parisian charm in this light and airy apartment with large windows looking out over the street life of Paris below and with classic features inside such as exposed wood beam ceilings. A fully equipped, open kitchen allows you to prepare your favorite French recipes in the comfort of home with plenty of room at the dining table for a family meal. Lounge in the relaxing, light-filled living room with flat screen TV and cable. Built-in bookshelves line the walls adding a personal homey touch. A dishwasher and laundry machine in the apartment add convenience, as does having your own personal parking space at the building! Two bedrooms, one with queen and the other with double bed plus a single size futon bed in the living room provide ample space for a family or group of friends. This property is available short-term as a vacation rental and by the month or longer for extended stays. If you love day-tripping and fancy an apartment close to transportation, check out our blog for inspiration on fascinating day trips and convenient apartments for quick getaways.
3. October: Art & Fashion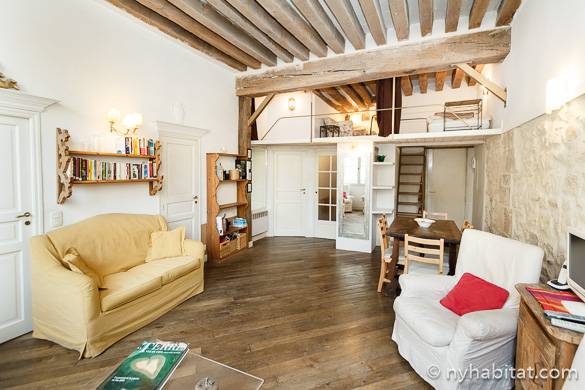 This Marais apartment is one-of-a-kind!
October is all about art and fashion…and of course, wine. Paris Fashion Week kicks off September 26th and runs through October 2, 2017 which means all the fashion-obsessed will be out strutting their stuff around town. If you're looking for an equally fashionable apartment to rent while you're in town, check out this two bedroom furnished rental in the hip Marais district that, like every fashionista, has a unique style all its own! Beautiful wood floors flow throughout the apartment while exposed wood beams on the ceiling give it classic Parisian character and white washed exposed stone walls add a touch of history and charm. The white walls, beige stone and light colored furnishings contrast nicely with the dark wood floors, a color combination any designer or design enthusiast will appreciate. In addition to the original details, the layout of the apartment is quite unique as well. Large French windows allow natural light to envelop the living room. The first bedroom has a double bed while the second bedroom has a single bed on the main floor plus an elevated mezzanine area with another single size mattress for flexibility in sleeping arrangements. Off the living room you will find another mezzanine area accessible by steps with a double sofa bed plus a single size mattress. The varied sleeping arrangements make it perfect for a family or larger group. Two bathrooms with large glass enclosed showers also mean no line for the bathroom. A fully equipped kitchen facilitates meal prep at home and the in-unit washer/dryer are an added convenience. In this prime location in the heart of the Marais, you'll be surrounded by medieval streets and a bohemian vibe quite unlike any other part of Paris.
If you love this artsy neighborhood, you'll also enjoy Nuit Blanche (White Night) on October 1st — an annual celebration of all things art and culture, in which hundreds of museums, galleries, and other spots around Paris keep their doors open through most of the night with free exhibits, multimedia installations, and performances.
Art galleries always pair well with wine, so after you browse the exhibits, head over to the Fête des Vendanges de Montmartre, an annual grape harvest festival in Montmartre, where the only functioning vineyard left in Paris is located.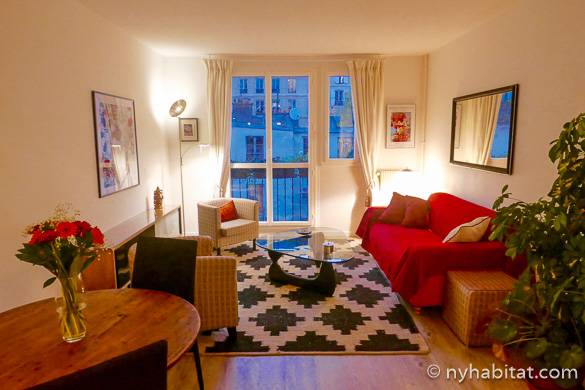 This apartment in Montmartre is close to vineyards and great restaurants
For wine lovers, you can stay close to the Vineyards of Clos-Montmartre in the breathtaking Montmartre section of Paris, in this charming 1 bedroom furnished rental with balcony. Hardwood floors, a contemporary design and tasteful decor create a warm and cozy space perfect for a fall rental. Warm autumn light fills the living room from the floor-to-ceiling windows and a balcony allows you to enjoy the fresh air with a view of the street below. The open kitchen has bar stools at the counter for a quick, casual meal and a dining table for a sit down meal. The bedroom has double bed and flat screen TV along with a desk and chair. The modern, white, full bathroom features red floor tiles for a pop of color and a deep tub for soaking after sightseeing around the city while the additional half bath adds convenience for guests. Outside you'll find some of the city's best dining and shopping, as well as landmarks such as the Sacre-Coeur Basilica. Just down the street you can dine at the world-famous Café des Deux Moulins featured in the film Amelie.
4. November: Comfort Food & Wine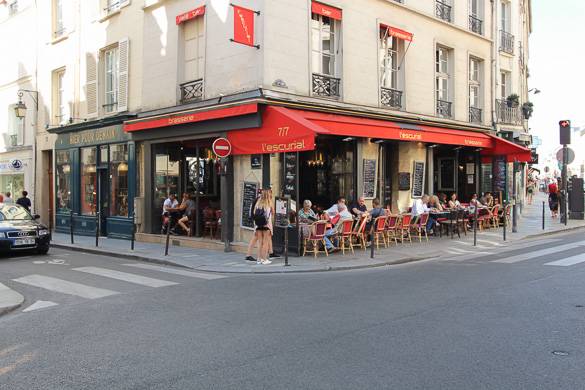 Wine pairs well with crisp fall weather in Paris (Photo Credit: Jean-Philippe Blaise)
Fall is the season of comfort food, when we hole up inside preparing for the cold of winter by soothing our souls with warm food and bold wines. From the 28th of October to November 1st you can immerse yourself in the comfort of chocolate at the Salon du Chocolat (Chocolate Trade Fair) at the Porte de Versailles- a trade event dedicated to all things cocoa! The perfect accompaniment to chocolate is wine of course, and you'll be in the right country to experience some of the best vintages around. And remember…November 17th is Beaujolais Nouveau day! From November 30th to December 4th, 2017 is the 39th Independent Winegrowers Wine Show at Paris Porte de Versailles, a perfect excuse to stock up for the winter on all of your favorite bottles.
There's nothing better than a warm, cozy place to call home when you're far from home in the fall and winter months. Find your favorite furnished rental for your fall trip to Paris on our website or have one of our agents familiar with Paris neighborhoods find you the perfect spot. Once you're snug inside one of our furnished apartment with fully equipped kitchen, all you'll need to do is pick up some delicious local ingredients to try, and you can spend those chilly nights cooking up some French comfort food right from the comfort of your apartment in Paris!
Related apartment rental posts from New York Habitat: