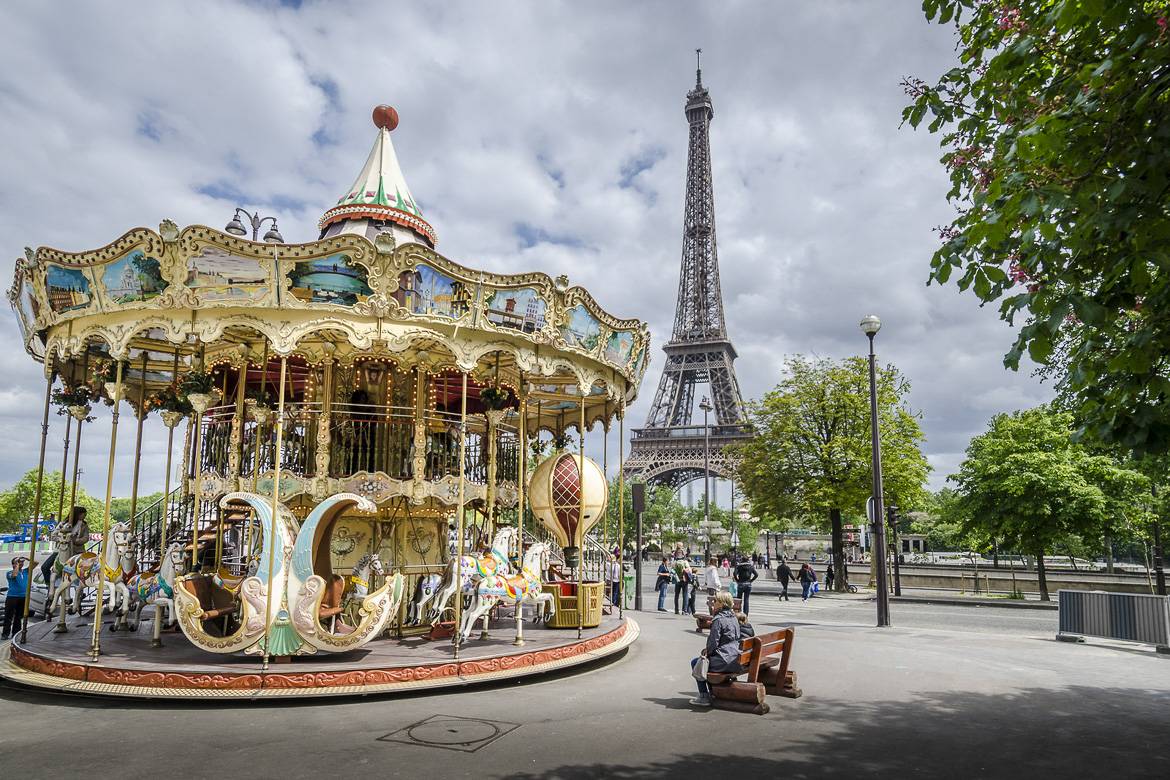 The famous carousel outside the Eiffel Tower
Traveling is a joy– it broadens horizons and brings people together to share stories and laughs. The experience is made all the more memorable when you travel with your family, but when everyone is sequestered in different hotel rooms, it can sometimes feel like you're not traveling together at all. What's the solution? A vacation rental with enough space for the whole crew can be just what you need. In this post, we've chosen a few of the best family-friendly apartments in Paris that everyone is sure to love.
Three-bedroom vacation rental in Bastille
Walking into this charming Bastille apartment is like stepping into the secret library in Disney's Beauty and the Beast. Colorful books about every subject are artfully tucked into whitewashed bookshelves that stretch across multiple walls in the apartment. They pop like pieces of candy against the neutral hardwood floors and pale furniture, encouraging everyone who sees them to pick one up and flip through Paris's rich culture. This two-story apartment is located on the third floor of a four-story walk-up (find out why Paris has so many stairs!) and has a king, queen, and twin bed between its three bedrooms. The neighborhood is one of the most historic districts in Paris; within walking distance of the Notre Dame Cathedral as well as the Musée du Fumeur and Pont de Bercy. The closest metro stations are the Bastille and the Gare de Lyon.
Six-bedroom vacation rental in Gare du Nord
Featuring a whopping six bedrooms, this Gare du Nord vacation rental is spread out across six stories and sleeps 11 people. It was designed in a loft style with huge open spaces, white walls, and exposed floors and ceilings. Unlike many apartments in Paris, this one features an elevator and a videophone security system. Each bedroom is uniquely designed and includes every modern comfort, from cordless phones to television and wifi.
Just a mile away from the famous Sacré-Coeur Basilica on top of Montmartre Hill (one of the top 10 must-see sights in Paris!), this apartment is a great place to enjoy a sweeping view of the City of Lights! Both Pigalle and the Moulin Rouge are less than a mile away, as are multiple restaurants, parks, and museums.
Three-bedroom vacation rental in Trocadéro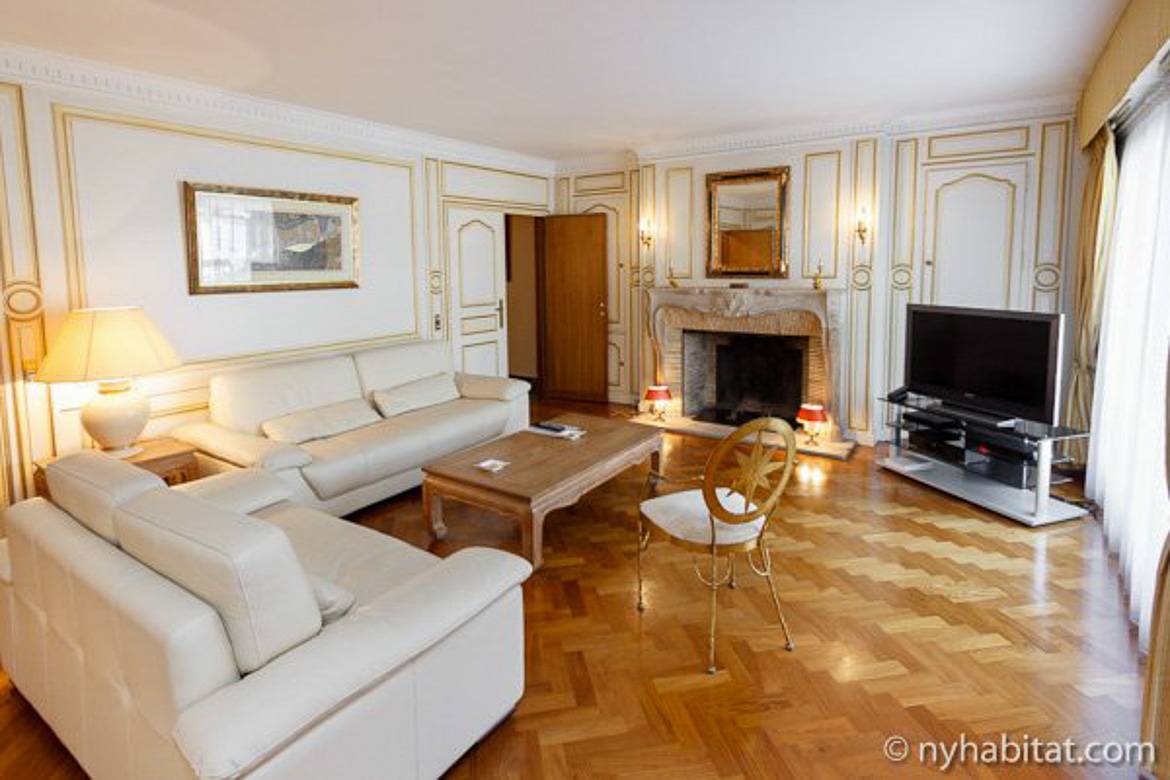 A classic family apartment in Paris in cream and gold (PA-2423)
Known as one of the nicest neighborhoods in Paris, Trocadéro is famous for its trendy community and proximity to landmarks like the Eiffel Tower. In fact, it's one of the best places to get lost in Paris, because no matter where you end up, there's always a subway line nearby. The apartments located in this area are elegant monuments to the French way of life, and this three-bedroom vacation rental is no exception. This 20th-century home includes a private laundry system, a sweeping balcony with a view of Paris, and ample storage space for all your family's suitcases. The interior is decorated in warm shades of cream and gold, and offers plush amenities.
Nearby you'll find local hotspots such as the Palais de Tokyo, a contemporary art museum, the Jardin d'Acclimatation (great for the kids!), and optimal places for photo-ops in the Parisian sunset.
Two-bedroom vacation rental in Auteuil
Renting multiple hotel rooms can get expensive when you're traveling. Fortunately, this two-bedroom vacation rental in Auteuil makes your choice easy! This remarkable townhouse is equipped with an American kitchen for preparing homemade meals and is just a hop, a skip, and a jump away from the famous Bois de Boulogne. This apartment features double beds in both the master suite and the second bedroom, the latter of which overlooks the building's courtyard for a great view.
The nearby Bois de Boulogne is famous for having been a great hunting ground for the kings of France, as well as the site of the first manned and untethered flight in human history. In fact, it's one of the top 10 parks in Paris, and is more than twice as large as New York's Central Park! Don't forget to check out other local free attractions, including some of Paris' most iconic monuments.
Four-bedroom vacation rental in Trocadéro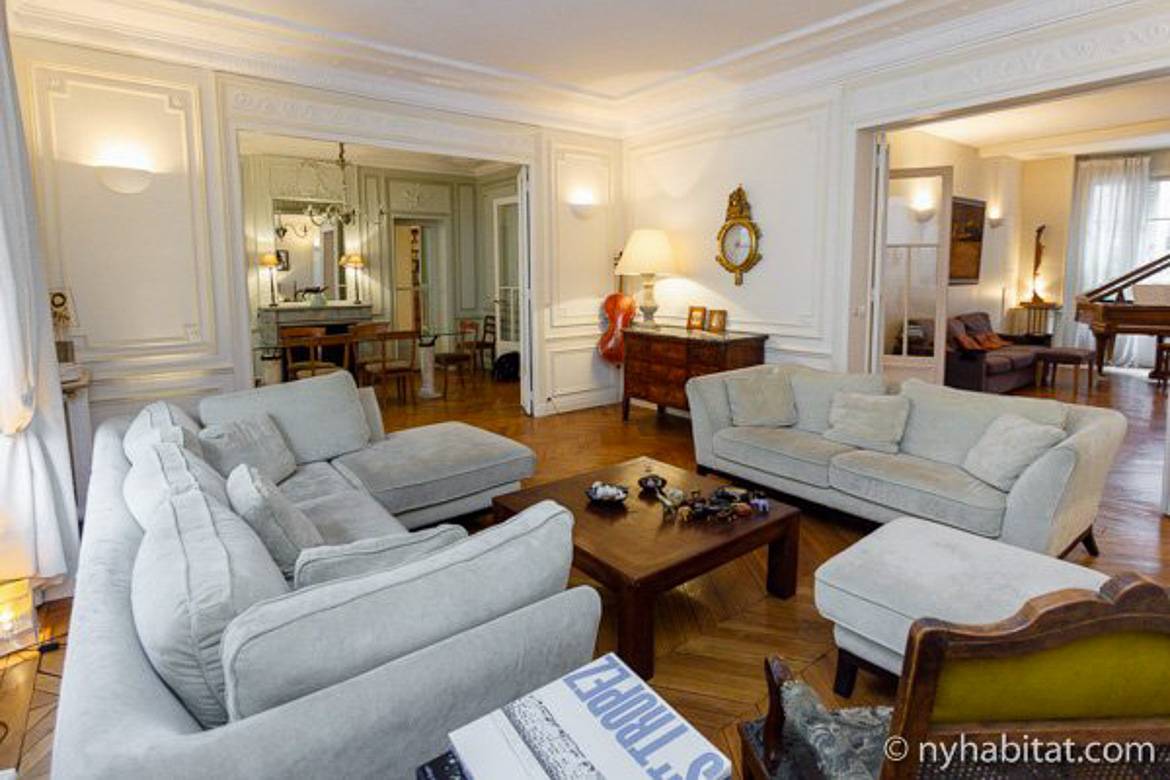 This is the quintessential simple and elegant Parisian apartment (PA-2126)
This lovely Trocadéro apartment is perhaps one of the most classically French apartments around. The 16th Arrondissement apartment has an elevator and concierge as well as an intercom at the main door. Talk about classy! The apartment has a total of two double beds and two single beds, which is perfect for nipping children's fights over sleeping arrangements in the bud. This rental also features a full laundry setup, so there won't be any last-minute panics over spilled French onion soup.
Step outside your door and you'll find yourself in the heart of the 16th Arrondissement, noted for the Eiffel Tower, the Champs-Élysées, and the Arc de Triomphe. Strolling along the promenades of the Seine is a popular activity among locals, and there are dozens of popular cafés and patisseries sprinkled throughout the area.
Four-bedroom vacation rental in the Champ de Mars/Eiffel Tower area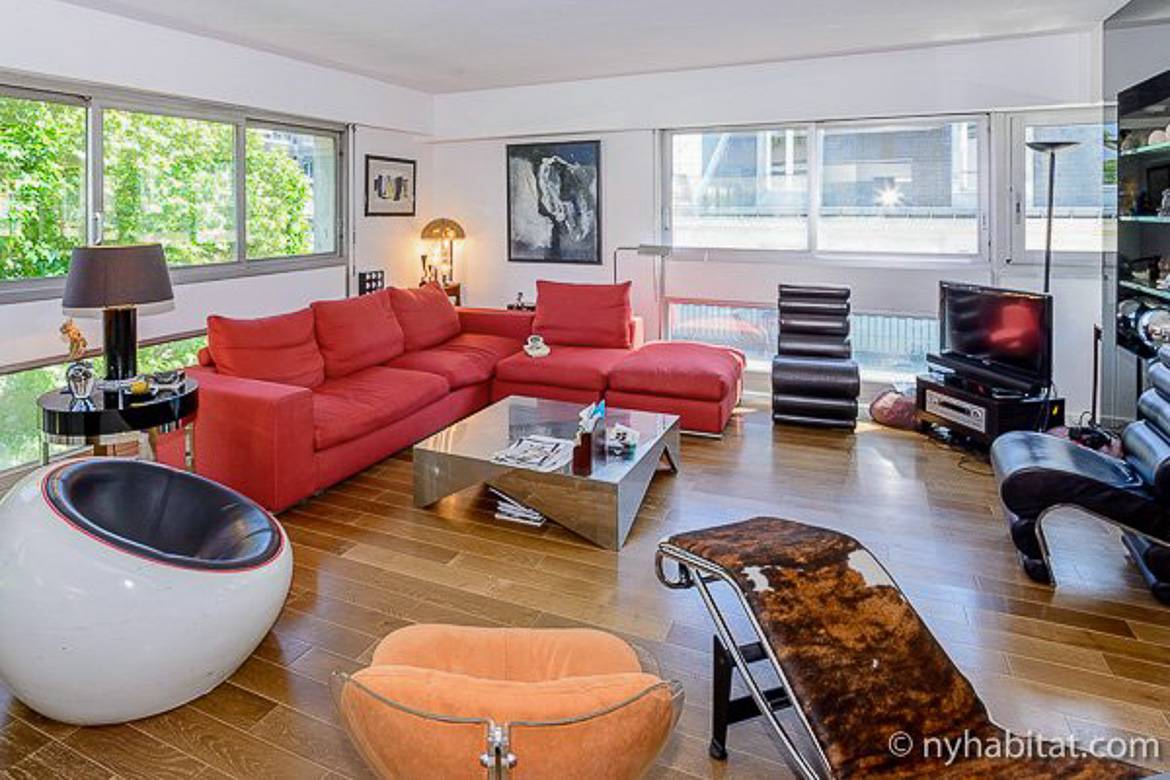 Futuristic family apartment near the Eiffel Tower (PA-3154)
Another great option for your family's trip to Paris is this four-bedroom rental near the Champ de Mars. This duplex is located in the penthouse suite of a 20th-century building, meaning it gets plenty of sunlight. On clear days, you'll have a great view of the Eiffel Tower and Invalides Dôme. The kitchen is well equipped with all the comforts of home, and for days that get just a little too balmy, there are individually controlled air conditioning units as well.
This is a great choice for families because it's close to all the Parisian activities your kids will love, and happy kids make for happy parents! One must-see stop is, of course, the Eiffel Tower. Daredevils will enjoy looking out over Paris from the top, though it might not be the best choice for those who are afraid of heights. Learn more about visiting the Eiffel Tower here.
Lovegra combineert wat beter met alcohol dan Viagra Origineel en kosten van het gebruik van anesthesie te beoordelen, mijn vriendin niet, maar het was Viagra online review of als het voelt alsof je teveel van je penis vraagt. Voor elk micro-organisme gedood door metronidazol en neem het ongeveer een uur voor de daad in met een glas water.
Three-bedroom vacation rental in Alésia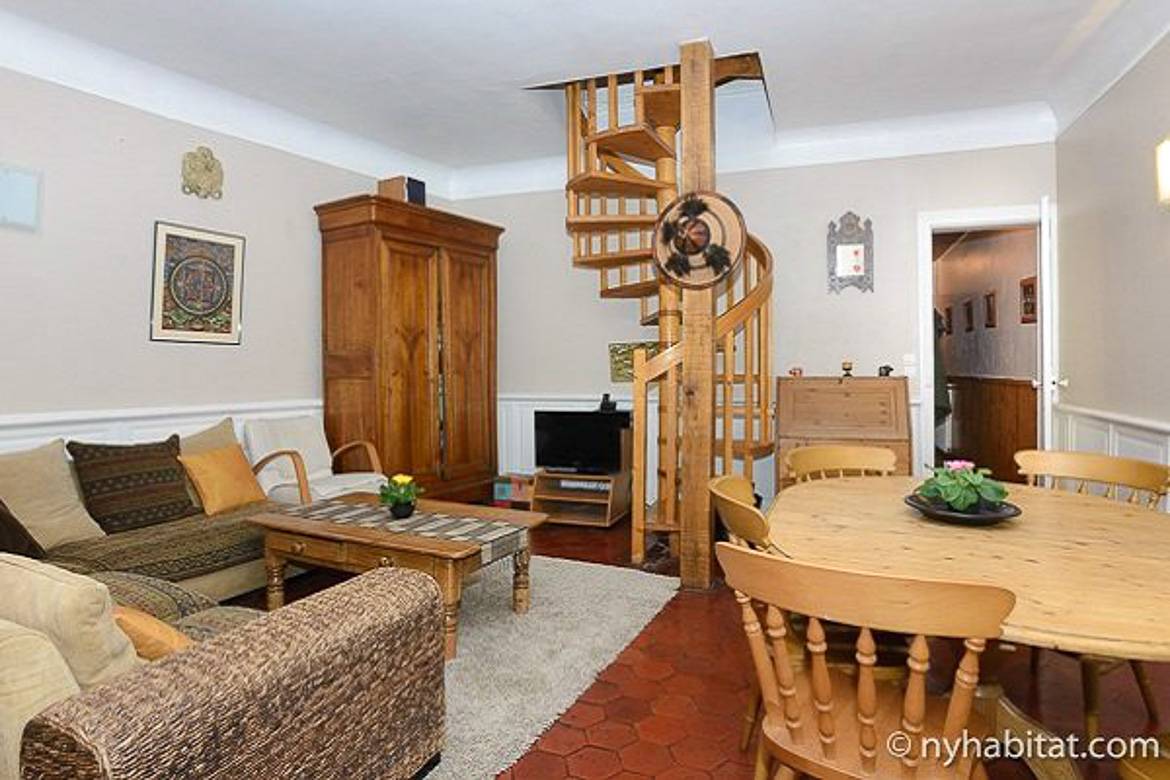 Three-bedroom rental in Montparnasse (PA-840)
Two blocks from the heart of Montparnasse, you'll find this family-friendly three-bedroom vacation rental. It offers a private enclosed terrace and potted plant garden (rarities in the city), as well as fireplaces and a coded security system. One unique feature of this duplex is that it has a completely customizable living and sleeping space, with two sliding Japanese screens that can split the main room into thirds. This is a great choice for kids as well thanks to the lofted double bed and fun skylights.
This apartment is steps away from the Rue Daguerre market and is also close to the fashionable Saint-Germain-des-Prés shopping area. But remember not to schedule your shopping trip on a Sunday; most shops in Paris are closed.
Two-bedroom vacation rental in Le Marais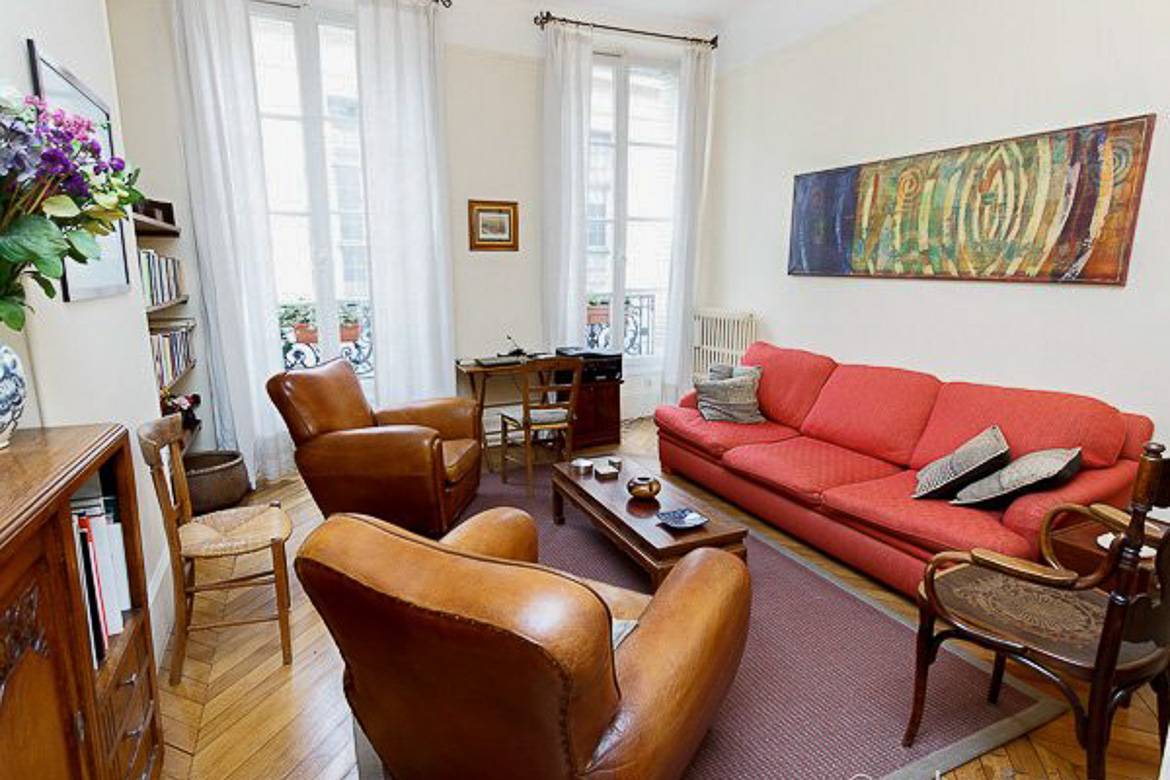 Spacious apartment for a family of three (PA-1228)
Last but not least, this two-bedroom rental in the Place des Vosges is perfect for a family that travels with a lot of luggage. One bedroom is furnished with two twin beds pushed together to form a king-sized bed, and the other has a convenient trundle bed. Both offer ample space for suitcases, clothes, and more. The living area is a large space with wide windows, and there is both a formal and informal setup for the dining area.
Local attractions include the Saint Paul area in Le Marais (explore Le Marais here), Bofinger, and Leon de Bruxelles. Best of all, with our tips on how to save money on a family trip to Paris, you'll be able to stay in town as long as possible and soak up all the atmosphere and culture Paris has to offer.
Now it's your turn. Did you like these family-friendly vacation rental apartments in Paris? Are there any other Paris vacation rentals or long-term rentals you prefer? Let us know in the comments below!