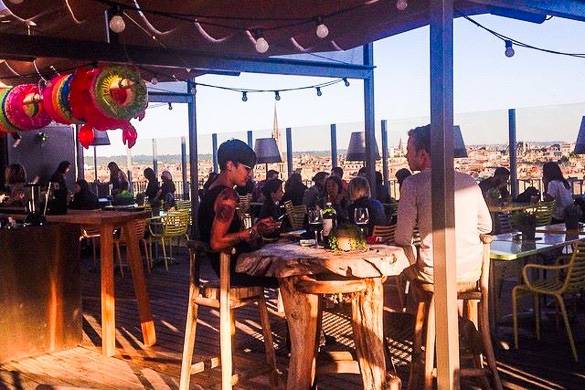 There are new and unique brunch spots popping up all over Paris, like this rooftop dining area at Mama Shelter!
A typical Parisian breakfast, essential to any trip to the city, consists of coffee and a pastry, best enjoyed slowly on a café terrace. But there's a reason why breakfast is the most important meal of the day – fresh fruit, delicious egg dishes and American favorites like pancakes and hash browns. If you're craving a hearty morning meal before exploring Paris with family, there is no shortage of brunch spots to explore. Partly American-inspired eateries, partly innovations on the classic Parisian café, the city's brunch spots offer something for everyone!
After a night out on the town, there's nothing like waking up late in your furnished rental apartment and heading out for a filling brunch in the area. We hope you enjoy our list of Paris's 5 best brunch spots, with some apartment suggestions nearby. Bon appetit!
1. La Bellevilloise Paris – 20th Arrondissement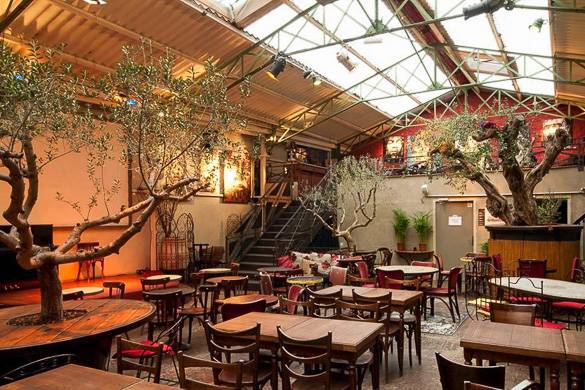 An eco-bohemian décor and live music make meals at La Bellevilloise even more appealing.
To start off our list, La Bellevilloise (the woman from Belleville in English) is a unique space that combines the performance, visual, and culinary arts under one roof, and a historic roof at that – the building was once home to Paris's very first worker's cooperative! This brunch spot, located at 19 rue Boyer near the Ménilmontant station on line 2, is no stuffy old institution though; the restaurant keeps things fresh with 1980s-themed club nights and live jazz on Sundays. Show up early to get a prime seat and you're in for a meal to remember!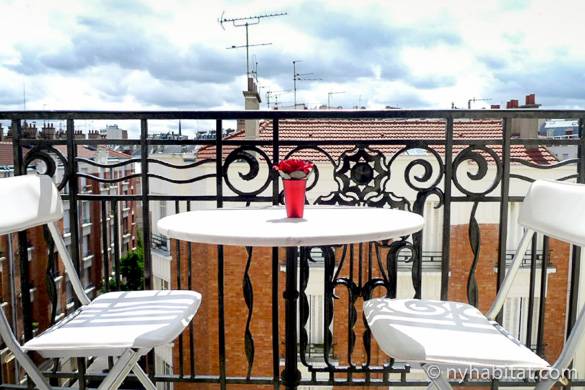 With a classically Parisian balcony like this, you can eat breakfast at home and enjoy fresh air if you don't feel like heading out for brunch.
From this one bedroom furnished rental in Ménilmontant, a neighborhood of Paris's 11th arrondissement, you can walk to trendy cafés like La Bellevilloise or just kick back and relax at home after a long day by the cable TV. If you prefer having breakfast at home, take advantage of your private balcony to enjoy the view of the surrounding rooftops along with your morning coffee. With a dishwasher and washing machine in the apartment, it's easy to clean up the dishes (and your laundry) during your stay!
2. Mama Shelter – 20th Arrondissement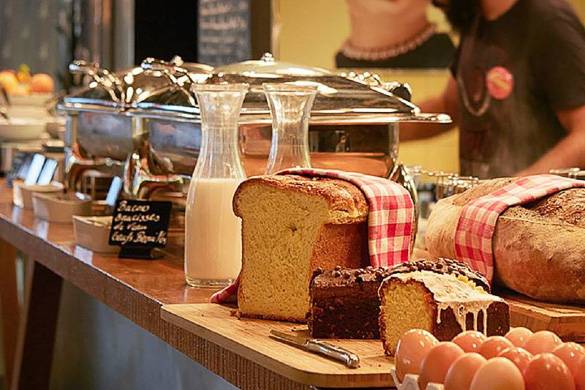 Mama Shelter is a hip hotel with a Paris outpost serving great prix-fixe brunch.
Located in a super-hip hotel with a second branch in Los Angeles, Mama Shelter is no ordinary café. This multifaceted space offers a charmingly bohemian inside dining area as well as a roof terrace, atypical in Paris, with stunning views of the Eiffel Tower. The location at 109 rue de Bagnolet (metro Gambetta, lines 3 & 3 bis) offers a high vantage point above Belleville, letting you see all of Paris unfold below you. The prix fixe, family-friendly brunch deal has everything from the expected – scrambled eggs, brioche, café au lait – to the creative, like the buffet line with pizzas, pastas, and duck Parmentier! Finish your meal off with a cheese plate showcasing the best of France's regions and you can put your brunch to an end in a traditional French style.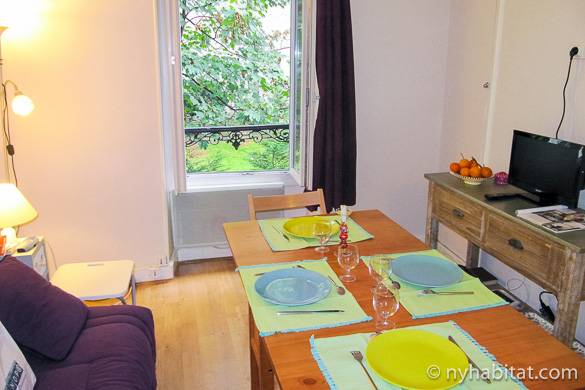 Eclectic decorative pieces and a great location on Paris's Right Bank make this studio a great rental option!
This furnished studio rental in the 11th arrondissement of Paris puts you between two of the city's trendiest areas: Oberkampf and Bastille, both popular bar districts. The area around your apartment is calm and quiet though, facing the leafy courtyard of the building and just blocks from Père Lachaise, a cemetery where Oscar Wilde is famously buried. With a double sofa bed, TV, dining table, and kitchenette, you'll have everything you need to enjoy your stay in Paris!
3. La REcyclerie – 18th Arrondissement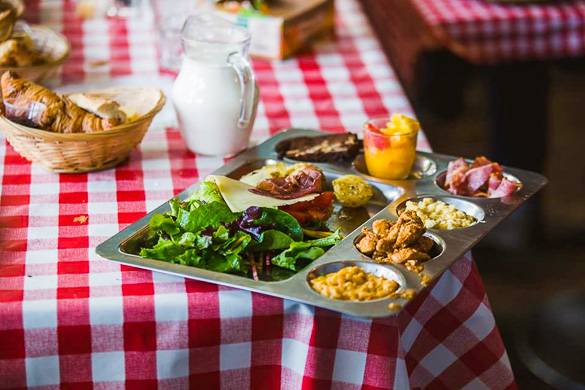 Rustic charm can be found even in Paris itself, as long as you know where to look!
A great application of modern locavore ideals, La REcyclerie (83 boulevard Ornano) combines a 1000 m2 (10,700 ft2) urban farm with a restaurant, bar and café. Just a few blocks from the line 4 metro station at Porte de Clignancourt, Paris's northernmost point, the DIY restaurant is based in a former railway station on the abandoned Petite Ceinture line. This rustic setting doesn't limit the food options though: the menu changes week to week, with globe-trotting themes keeping things fresh.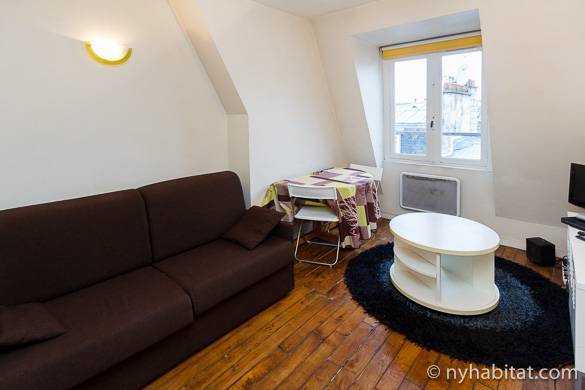 Montmartre and Pigalle are just blocks away with this comfortable alcove studio.
This fully furnished alcove studio in Paris's 18th arrondissement is just a few blocks from La REcyclerie, closer to the center of ever-popular Montmartre. The apartment has charming hardwood floors and sloped ceilings, as well as French windows with views over the surrounding rooftops, ensuring you get lots of light and fresh air. If you prefer to cook breakfast at home rather than go out, there is a convenient kitchenette with a coffee maker, microwave, and two electric burners. Whatever you decide to eat, enjoy your meal by the window at the dining table and you can appreciate living in the City of Lights!
4. Twinkie Breakfasts – 2nd Arrondissement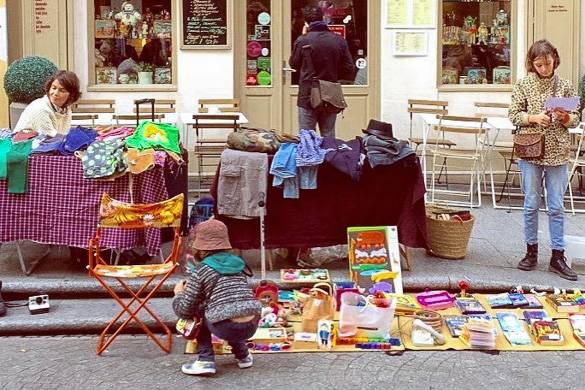 For a whimsical taste of American breakfast delicacies, head to Twinkie Breakfasts!
Great if you're studying abroad in Paris or a homesick expat, Twinkie Breakfasts, as it's name might suggest, offers American specialties. In addition to egg dishes, hard to find at most French eateries, you can order real pancakes (not crêpes) with maple syrup! Other American breakfast classics like smoked salmon and avocado also make an appearance and there are plenty of options for healthy eaters and vegetarians! Even if you can't make it for breakfast hours, they serve up brunch favorites all day long so don't hesitate to swing by at 167 rue Saint-Denis (metro Réaumur – Sébastopol, lines 3 & 4) any time before 3:30pm (on weekdays) or 4:45pm (on weekends).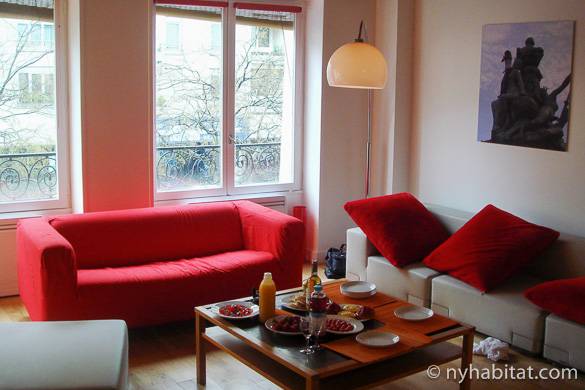 Living in a Marais apartment like this two bedroom, you can enjoy old fashioned touches like exposed ceiling beams and cobbled streets outside.
This two bedroom furnished rental in the 3rd arrondissement's Marais neighborhood is just blocks from Twinkie Breakfasts. You will be surrounded by old Paris charm, from exposed beams on the apartment ceilings to a network of cobbled pedestrian streets around the area. It's also an easy walk to some top Paris museums, great if you like to explore the city by foot.
5. Café Madam – 2nd Arrondissement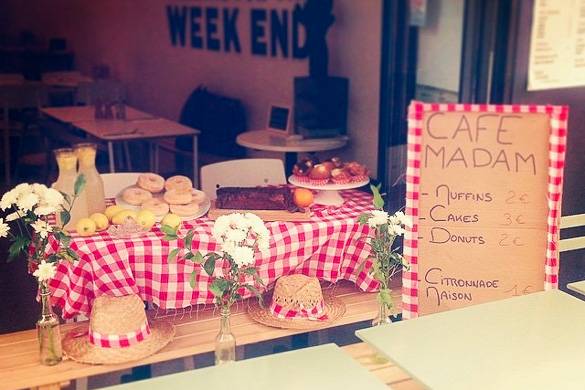 Café Madam is a great place to relax with a cool glass of iced coffee on a hot Paris morning.
Found at 150 rue Saint-Denis near the Réaumur – Sébastopol stop on the 3 and 4 metro lines, Café Madam is an old-fashioned mother-daughter operation serving up breakfast favorites from around the world. Quench your thirst with an iced latte or cool glass of orange juice while sharing a bread basket with jams and French butter or go for the eggs benedict – you won't regret it!
Staying with friends in our two bedroom furnished apartment, located right near the border of the 2nd and 3rd arrondissements, you'll be just around the corner from Twinkie Breakfasts and Café Madam so an American breakfast is great any time. The real benefit to the space (besides the location) is having three big French windows in the common area, letting in lots of light during the day and fresh air during the warm months. There's also a full kitchen in a separate room, complete with a four-burner gas stove, so the rental is a great choice for trying your hand at French cuisine.
Between the farm-to-table restaurants and the American-style diner cafés on our list, there's no shortage of options for great food and good company in Paris. There are also plenty of great neighborhoods to explore and things to see and do, so all you need to do is find the perfect furnished rental as your home base, then bon voyage!