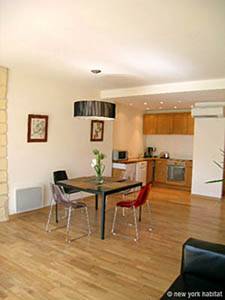 In late November, the South of France celebrates the region's grape harvest with the Côtes Du Rhône festival. Renowned vineyards offer tastings where Côtes du Rhône, Côtes du Ventoux and Coteaux du Luberon wines flow freely, and restaurants present special menus highlighting the culinary specialties of Avignon. New York Habitat's Hosted Two-Bedroom in the Center of Avignon (PR-969) is an ideal accommodation in the South of France this Fall to experience the wine celebration
This 18th century four-story townhouse has four bedrooms, each with en suite bathrooms. It is available as a Bed & Breakfast accommodation, or as a private rental, depending on the owner's availability. The first floor living room has a sofa, armchairs and a large marble table that seats 8. An intricately tiled fireplace, tall mirror over the mantle and tasteful antique furniture complete the room. Large, paned windows in the living room give a view of the courtyard and small street. Visitors will appreciate the sparkling white walls and "clean" décor throughout.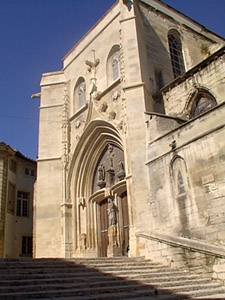 The house is located in small one-way street of Avignon near the Place de l'Horloge and the town's shops. But the best feature of the house is its privileged spot overlooking the famous Pope's Palace, which can be seen from the terrace. Built in the 14th Century, it is the largest Gothic palace in Europe, and is open to visitors. Avignon was considered the center of Christendom when the popes chose to reside there.
Another attraction in Avignon is the St. Benezet Bridge, built in 1177, originally crafted entirely of wood. At that time, Avignon became the only place between Lyon and the Mediterranean to cross the Rhone, so the city developed into a hub for travelers, merchants and manufacturers. Still standing are many of the mansions full of private art collections, most of which are public museums. Landscaped gardens, the Roman amphitheater and the house of Vincent Van Gogh provide more reasons for strolling around town.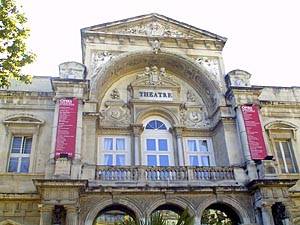 Wine lovers will be delighted with the wealth of wine estates around Avignon. The area is known for its Syrah and Grenache grapes which produce powerful reds, as well as the rarer Viognier grape. The wines from the best 16 villages in the region bear their own "Côtes du Rhône-Villages AOC" certification. Along with sampling wine, be sure to go by the Farmer's Market, which is one of the best in southern France.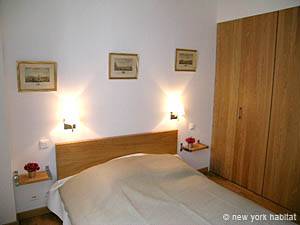 2 Bedroom Rental in Avignon, Provence (PR-969)
New York Habitat also offers several excellent
vacation rentals in the Avignon region
, such as:
For more info on Avignon region read Top towns in the South of France: Avignon, Provence
Have you been to any of France's wine regions, and what is your favorite?