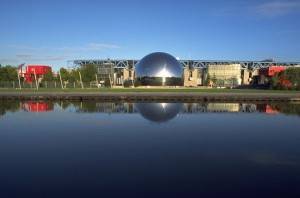 Parc de la Villette photo
With the long winter months upon us, it's hard not to want to skip right to spring – especially springtime in Paris. If you're planning a getaway to the City of Lights make sure to add the Parc de la Villette to your itinerary. This often-overlooked park offers an array of cultural offerings and plenty of green space for a full day of exploring.
Tucked away in the 19th arrondissement on the northeastern edge of Paris, the Parc de la Villette is the largest park in the city. French architect Bernard Tschumi created the futuristic grounds after winning the Parc de la Villette Design Competition in 1982. His vision was to transform the site, previously home to slaughterhouses, into a sprawling "garden of the 21st century".
On the northern edge of the park, you'll find the Cité des Sciences et de l'Industrie, a science museum and exploration center. Visitors can learn about the latest in science and technology, tour an authentic 1950s submarine and watch 3-D films at La Géode, a massive silver-domed cinema. The museum is a great destination for children.
On the opposite side of the park sits the Cité de la Musique, a music museum, library and state-of-the-art theater designed by another famous French architect, Christian de Portzamprac. The museum's outdoor terrace, Café de la Musique, is a lovely spot to lounge on a sunny day.
The park also features ten thematic gardens that integrate man-made elements with nature. In the Garden of Mirrors twenty-eight large mirrors are arranged among pines and maples, and in the soothing Garden of Bamboo, visitors can walk on elevated pathways above bamboo shoots and fountains. The Garden of the Dragon, with its gigantic dragon-shaped jungle gym and 80-meter slide, is a favorite among children.
With its post-modern aesthetic and range of activities, Parc de la Villette is definitely worth visiting. New York Habitat has hundreds of amazing vacation rentals nearby in the 19th arrondissement. Consider these:
– Spotless 1-bedroom Vacation Rental in Cite des Sciences – Buttes Chaumont – Paris (PA-1364). The apartment has a fully equipped kitchen and lovely hardwood floors.
– Charming and spacious 3-Bedroom Rental in Parc des Buttes Chaumont (PA-4335). Enjoy breathtaking views and the luxury of a concierge for your convenience.
Have you ever been to the Parc de la Villette? Please share your comments with us!