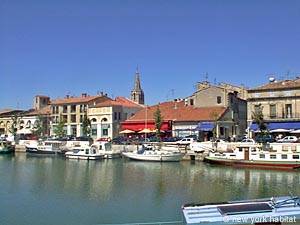 Beaucaire, Avignon Region in South France
As you enter the Provence region of France, every possible sensation will be suddenly duplicated: the sun will be harsher, the colors brighter and the smells stronger. A true festival for all the senses, this enchanting land owes its lasting popularity to its rich and varied history, its pretty villages nestled on rugged mountains or scattered on a radiant patchwork of fields, where the intensely blue lavender prettily competes with the exuberantly yellow sunflowers. And let's not forget, of course, the epicurean dimension of its culinary tradition.
Here too, wine is king and there are many "Routes des Vins" to choose from. The Côte de Provence wines are sunny and fruity, the perfect reflection of their terroir's blessed climate. But one of them is truly special. Well-known for its lightness and delicacy, Provence's rosé is absolutely unique to the region and much appreciated all over the world by connoisseurs and amateurs alike.
Now it is your turn to become acquainted with it.
If you are looking for a starting point to go out and explore, the medieval town of Beaucaire, right on the mighty Rhône River, offers endless possibilities with its proximity to the attractive cities of Avignon to the north, Nîmes to the west and Arles to the south.
We have plenty of vacation rentals in Provence for you to choose from, like this bright, spacious 3-bedroom downtown Beaucaire (PR 477) which can easily accommodate a large group of people and keep everybody happy. Located in a stunning stone building and featuring a private terrace, it is where you want to be.
Further east, you will come across the inconspicuously charming town of Saint-Remy-de-Provence. Overlooked by Les Alpilles, a miniature sierra immortalized many times over by Van Gogh, it is also home to one of the oldest Greek-Roman settlements in Provence in nearby Glanum, where a magnificent triumphal arch and mausoleum collectively known as "Les Antiques" still proudly stand. More than just worth a detour, it is definitely worth staying in.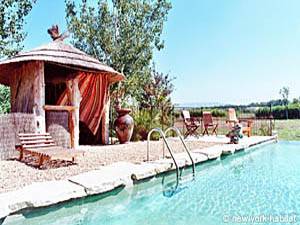 South France Vacation Rental in Saint Rémy de Provence, Alpilles (PR-939)
New York Habitat has several options for you there, including this quiet, private 2-bedroom Saint Remy de Provence (PR 939) right outside of town and already smack in the countryside. The apartment is modern, comfortable, full of light, and the garden boasts of an irresistible swimming pool. What more could one ask for?
If you happen to be there on Whitsun weekend, you'll also have a chance to witness the transhumance during which the shepherds in traditional costumes will gather no fewer than 3,000 sheep, goats and donkeys into the old village before heading off to greener and cooler pastures for the summer.
You will also have plenty of opportunities to peruse local arts and crafts as well as sample local foods and wines during the festivities.Whether you're there for visual, auditory, olfactory or gustatory pleasures, Provence will have something for you. Have you ever been under its powerful spell and would care to share?
Related apartment rental posts from New York Habitat: