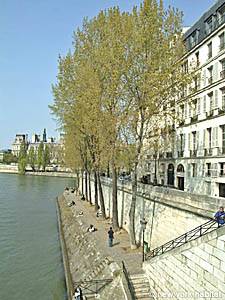 Paris has one of the world's best public transportation systems. That said, this is a walking city. Visitors hopping on and off the Metro—skipping from one monument to the next—miss the nuances that make Paris so enjoyable. Likewise, staying in a bland hotel room does not allow you to experience the true feel of the neighborhoods of Paris in the same way as staying in an apartment. At New York Habitat, we're committed to helping clients live like the real Parisians who bike about the city without the worry of a missed train or sore walking feet.
Thanks to the efforts of Parisian mayor Bertrand Delanoe, tourists can have the pleasure of traveling around the city on brand new bicycles.
The massive public initiative titled Velib aims at cutting automobile congestion and pollution throughout the city. Under the plan, tourists may borrow bikes from one of 750 pick-up stations around the city and drop them off at any other station within 30 minutes; keep the bike longer and a small fee is applied. Joining the program is inexpensive: 1 euro a day or 5 euros for the week.
With so many pick-up stations, nearly all of New York Habitat's Paris Vacation Rental are very close to the popular, shiny new bikes.
Picture this Seine-side bike ride:
Start out by waking up in this beautiful, bright, and spacious one-bedroom vacation rental in Île Saint-Louis, Le Marais – Notre Dame – Hôtel de Ville (PA-3412), pick up a Velib bike at the neighborhood station on Boulevard Bourdon, and peddle your way onto the docks of the Left Bank.

Ride your way along the river and make sure to keep your eyes on the road as you admire Notre Dame and the Louvre across the Seine.

Cross the river as you arrive at Les Invalides and drop your bike off at the Avenue Dutuit station just off the Champs Elysees (only the bravest, or craziest, would attempt to ride along the Champs).
Voila! From your accommodation in the 4th arrondissement on the Ile Saint Louis to lunch on the Champs Elysees.
If you have a favorite bike trip in Paris, let us know by commenting below.
You can find out more about bicycle programs in France via our article "Bicycle through Paris, Marseille or Aix en Provence".
Not only do the bikes provide a wonderful way to see Paris, but—after all the exercise—visitors can indulge guilt free on foie gras, wine and Camembert at lunch.