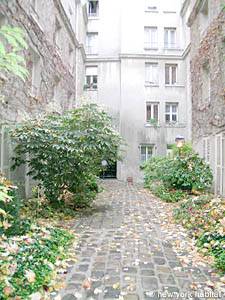 Two hundred and fifty years ago, the thought of spending a Paris vacation in Bastille was not very enticing. Today, thanks to a bloody revolution, the prison which stood as centerpiece of the neighborhood is gone. In its place is a towering spire, enormous roundabout (the Place de la Bastille), and the shimmering facade of the Opera Bastille.
Thanks to several renovation projects, the grit of the neighborhood has been scrubbed clean. And thanks to New York Habitat's apartment rental offerings in Bastille, native Parisians aren't the only ones lucky enough to enjoy it.
For those who don't know the origins of the Bastille neighborhood, the quarter takes its namesake from the hulking medieval prison that once defined the area. On July 14th, 1789 the prison was stormed by angry anti-monarchists, a revolution was sparked, a few heads were chopped off (thanks, Mr. Guillotine) and voila, the birth of French democracy.
Nowadays the Bastille quarter of Paris is no secret. Located at the crossroads of the 4th, 11th and 12th arrondissements, cafes, boutiques and galleries have popped up all along Bastille's grand avenues and petite cul de sacs. In addition to a world-class opera house, Bastille boasts a leading contemporary art gallery in La Maison Rouge.
The area directly surrounding the Place de la Bastille is an amalgamated swath of traffic: vehicular, human and bicycle. Exiting the Bastille metro station at night can be a bit wild, music funnels into the street from lively bars and club owners court passing customers in both French and English.
Walk five minutes away from the Place and the quarter becomes quieter, tidier and more residential. New York Habitat has plenty of Paris vacation accommodations down Bastille's grand boulevards and charming side streets.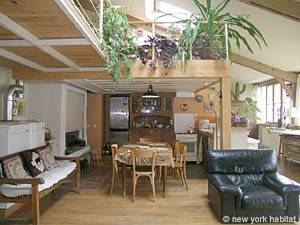 New York Habitat has an accommodation for everyone in this quarter.
Traveling families might find a home in this airy 3-bedroom duplex rental in Bastille (PA 3530).
And for couples in search of a trendy apartment there is an alcove studio in Bastille (PA-4399).
Related areas and neighborhoods in Paris :Bercy, Paris
Why does staying in Bastille attract you? The history, nightlife, location or something else? Leave us a comment below.