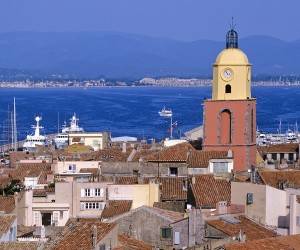 Seeking a lesser-known side of the French Riviera, apart from the  star-studded sidewalks and glitzy events of Saint Tropez? New York Habitat's vacation apartments in the smaller towns near the Mediterranean give you a chance to enjoy the uncrowded, provincial feel of the country, while still being close enough to visit the glamorous towns that characterize the French Riviera- the best of two worlds.
One such town is La Môle, a peaceful and secluded enclave from which to explore the attractions of the South of France. The valley where La Môle lies is the Massif des Maures, a hilly area between Toulon and Saint Raphael, not far from the Mediterranean Sea. In the autumn and winter the tourists clear out, but there is plenty to do: shop at year-round markets where artists sell their wares or at antique and brocante markets in the surrounding towns. You'll find several family wineries that sell their wine locally here. In this unspoiled setting, there are pine forests, villages, chateaus and plenty of trails for walking and hiking. But if you want to check out the more famous beach cities of the Riviera, Cannes events, Nice attractions, and the beautiful Italian border are only a short drive away.
Another village in the Massif des Maures valley and closer to the sea, is Cogolin, a port town known for its tradition of handicrafts. Carpet weaving and making bamboo furniture and pottery are the traditional crafts here. The town was the center of the French briar pipe-making industry; today craftspeople still give demonstrations of this art. The town's markets are on Wednesdays and Saturdays throughout most of the year. Cogolin has plenty of shops and restaurants, as well as sandy beaches a few kilometers away.
New York Habitat has gorgeous vacation rentals in these villages in the French Riviera that are perfect for you and your own entourage of friends, should you choose to bring them.
For example, New York Habitat's six bedroom vacation villa in La Môle, French Riviera (PR-743), you can enjoy a peaceful quiet corner in the country, yet just a few kilometers from St. Tropez. This sprawling house is on a vast lot surrounded by an enclosed park. Up to 15 people can sleep here, making it an ideal place to hold a reunion of family or friends. The villa has two living rooms, a kitchen, dining room, a television room and six bedrooms, each with a private bathroom. Outside, you can relax on the huge terrace under the trees, where there is a table and chairs. A swimming pool and outdoor shower blend into the garden-like landscape. Also tucked away on the property is a separate small guesthouse apart from the main villa that can accommodate two people. The small guesthouse has two twin beds, a bathroom and its own small mini-kitchen.
Near the town of Sainte Maxime New York Habitat offers a one-bedroom vacation apartment in the French Riviera (PR-1018). This apartment, which accommodates four, is another superb location to enjoy a quieter corner of the Riviera. It is on the third floor of a large residence, and has a shared swimming pool for guests.
And for more French Riviera travel tips, check regularly our blog for new articles and updates.