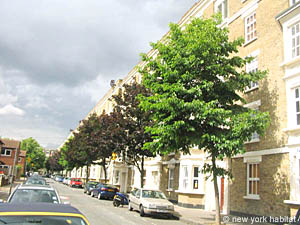 London Accommodation: 1 Bedroom Rental in Bethnall Green (LN-509)
Bethnal Green is situated in the lovely London borough of Tower Hamlets in Canary Wharf
. Tower Hamlets is one of five London boroughs that has been designated to host the 2012 Olympics! With museums, sports stadiums and parks galore, renting this one-bedroom apartment in Bethnal Green in Tower Hamlets near the bustling
Canary Wharf
is ideal!
Located near the Central Line, this 1-Bedroom Apartment (LN-509) in Bethnal Green is quaint and stylish. The apartment is completely furnished with comfortable, contemporary furniture. Notice the cozy red futon and gleaming white table in the living room. The black accent rug completes the modern look of this living area. Curl up with a book or daydream while sitting on the comfortable bay window, which illuminates this already bright room.
The best part of this Bethnal Green rental is its location! Near the Central Line, the heart of London, commonly referred to as "Central," is easily accessible and just minutes from your front door. London staples such as Tower Bridge, Big Ben, Parliament and Buckingham Palace are just a hop, skip and a Tube ride away. Canary Wharf, London's business district, is also close by. It has some of the tallest skyscrapers in Europe, and the architecture is truly a sight to see. With the opening of the Jubilee Place shopping center, Canary Wharf is a prime shopping destination in East London.
If the sleek, industrial architecture and the affordable shops in Canary Wharf strike your fancy, another one-bedroom apartment rental (LN-627), in the Docklands area of Canary Wharf awaits you. Some of the perks to living in this London apartment rental include a 24/7 concierge service and access to a gymnasium. The kitchen is stunning with its neutral colors stainless steel appliances.
Have you ever visited or stayed in Bethnal Green or Canary Wharf? Tell us about your favorite restaurant, a unique shop or an interesting museum. Feel free to comment on this blog below.