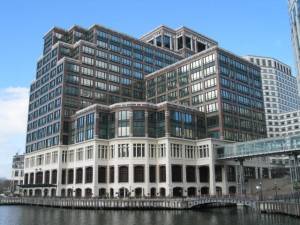 Canary Wharf offers breathtaking views of the city
In honor of Halloween and World Zombie Day (October 26), New York Habitat's choice for the
number three most cinematic spot in London is Canary Wharf, where much of the 2007 zombie movie "28 Weeks Later" was filmed
.  The on-screen living dead notwithstanding, the neighborhood is a beautiful location filled with iconic buildings, breathtaking city views and some of the best
vacation rentals in London
has to offer.
If you've seen "28 Weeks Later," you undoubtedly remember the scenes where the plague survivors (the non-zombies) gathered together in the modern conveniences of Canary Wharf apartments to wait out the flesh-eating storm that was sweeping through the rest of London's infected. Well, they couldn't have picked a better spot.
Spacious and contemporary, Canary Wharf embodies present-day London, boasting three of the UK's largest skyscrapers, as well as the sterling and efficient Docklands Light Railway, the most scenic way to get around the city. Although Canary Wharf is well-known as the heart of London's financial district, there are plenty of leisure activities to occupy every traveler, with an endless selection of sleek cafés, fashionable shops, international restaurants, choice galleries, and authentic public houses. The area absolutely buzzes after working hours and the skyline shines.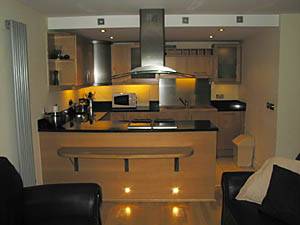 London Accommodation: 1-bedroom rental in Canary Wharf (LN_512)
For a stunning urban experience, check out Canary Wharf's winter ice rink with the gorgeous Canada Square Park as its backdrop. Or visit the outdoor sculptural art exhibits in Jubilee Park, the live You Are Hear musical performances and the singing by candlelight in East Winter Garden. The area's cultural events range from classical and acoustic concerts to comedy clubs—and with any luck, you can catch a zombie flick at the grand Starlight Cinema.
Of course, Canary Wharf has historical elements, too, like charming cobblestone streets, gaslight lamps and centuries-old structures that recall the area's maritime past and long ties to the shipping industry. The Museum of London Docklands will shed some light on this intriguing area and local ghost walks will bring its history back to life in a hauntingly entertaining and informative way.
To complement your stay in this colorful neighborhood, we suggest the following vacation rentals in Canary Wharf:
•    A 4-bedroom vacation rental in Tower Hamlets-Canary Wharf (LN-373) nestled in a private, leafy square on the banks of the Thames. This three-floor accommodation has a warm, wooden interior, a balcony, garage, spa pool in the en suite bath of the master bedroom, three double beds and one single. A recent client testimonial raves: "The riverside apartment in Canary Wharf more than met our needs and hopes. The owner was incredibly helpful."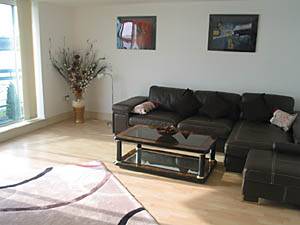 London Accommodation: 2-bedroom apartment in Canary Wharf
•    A sexy, chic 1-bedroom accommodation in Tower Hamlets-Canary Wharf (LN-512) on the eleventh floor of a modern development within walking distance of the DLR. This apartment is outfitted with a sleek hardwood interior, lush leather accents and a balcony.
Even the undead in "28 Weeks Later" would agree that Canary Wharf is a very lively area. See for yourself with a stay in an accommodation.
Be sure to check out our number two pick for the top cinematic spot in London—and let us know your favorite British horror film with a comment below.
Check out #5: Liverpool Street and #4: Earl's Court