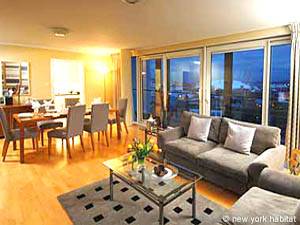 Enjoy modern city living in the industrial East London. The London borough of Tower Hamlets is nestled near the primary business district if the City in London. Forget those expensive, high-end stores and swanky, reservation-only restaurants on Oxford Street. Canary Wharf is packed with affordable shopping and dining inside a four-floor shopping center. All of the excitement of lively London is easily accessible from the nearby Jubilee line and the Docklands Light Railway (DLR). This 2-Bedroom Vacation Rental in Canary Wharf (LN-625) boasts a prime location.
One of the most famous historical landmarks in London is just a tube ride away. Visit the Tower of London, which is located off of the DLR at Tower Gateway or the Circle and District Lines at Tower Hill. On the North bank of the River Thames, the Tower of London was a fortress originally built by William the Conqueror in 1078, during the time of Queen Elizabeth I. It has been used for many different purposes over the centuries, but it is now home to the British Crown Jewels. So much history is nestled minutes away from this two-bedroom London apartment rental in Tower Hamlets.
Clad in earthy, neutral tones and warm, wooden colors, this new apartment rental on Limeharbour in Tower Hamlets is clean, contemporary and completely furnished. It's also situated in a brand-new development. The large window in the living room comes with custom window treatments and offers fantastic city views. Enjoy the luxury of cable television on the included flat screen while relaxing on the cozy couch.  Notice the sparkling can lights on the ceilings shining over the gleaming hardwood floors. Make yourself right at home in this cozy, modern space.
The master bedroom grants access to an airy balcony through a door with floor-to-ceiling windows. No matter where you are located in this two-bedroom apartment rental in Canary Wharf, you can always count on having a magnificent view of the docks. The master bedroom also includes a private, ensuite bathroom with a sand-alone shower, a washbasin and a water closet. With an open living room and kitchen, two bedrooms and two baths, there is plenty of room to stretch your legs.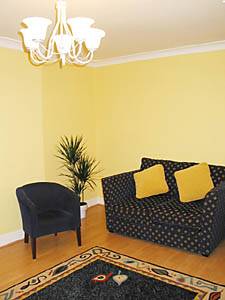 If you are looking for a more regal, old-fashioned living space, check out this 2-Bedroom Accommodation in Notting Hill (LN-45). Welcome to quaint, country-like living in the lovely Royal Borough of Kensington – Chelsea. A decadent chandelier brightens the living room in this apartment rental. Take a stroll to nearby Cambridge Gardens, which is lined with bars, restaurants and shops. On a Saturday, find a hidden treasure amongst the second-hand clothes and antiques at the nearby, world-renowned Portobello Road market.
What is your favorite part about Canary Wharf? What was your greatest find at the Portobello Road market in Notting Hill? Leave us a comment on this blog below.