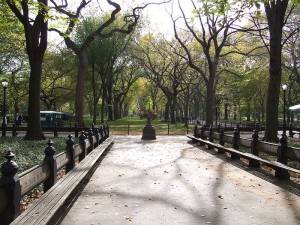 New York's Upper West Side is flanked by the Hudson River and Central Park on its sides and by Midtown West and Midtown East to its south and Harlem to its north. Home to Central Park West, Broadway and myriad brownstone residences, the Upper West Side truly New York, filled with typical New York Cafes, bagel shops, Museums and music venues. Here are some tips about the neighborhood.
Upper West Siders consider themselves less stuffy than their neighbors to the east and more refined than those to the north and south. Despite being smack dab in the middle of the New York Metropolis the Upper West Side, with its nice and cosy apartments, is largely residential and maintains a neighborhood feel. Travelers looking to stay within a short walk of the park, river and opera house need not look further than New York Habitat's Upper West Side accommodations.
Like we said, Upper West Siders are a refined bunch. They like to eat well, drink well and be entertained without leaving the neighborhood. Charming sidewalk cafes are a staple in the neighborhood and during the summer there isn't a better place to have a drink. The neighborhood forgoes jam-packed dive bars and instead is entertained by the fine arts of ballet, symphony and the opera. Lincoln Center, Beacon Theater, the New York Philharmonic and the New York City Opera all call the Upper West Side home. Also on the Upper West Side is the American Museum of Natural History, one of the oldest and best natural history museums in the United States.
Celebrities have always had a thing for the neighborhood–Seinfeld's fictional cast of characters lived here as did John Lennon, who was tragically killed outside of the famed Dakota building. The real star of the neighborhood though, is its geography. Central Park is unquestionably one of the world's finest urban parks and is never more than a few blocks away from anywhere in the quarter. And to the West is the famed Hudson river and adjacent Riverside Park.
At the northern end of the Upper West Side, is this open Room for Rent in Upper West Side (NY-7630). A bit further south on 75th street is this 2-bedroom rental apartment in Upper West Side (NY-1313).
Staying in an Upper West Side accommodation is a romantic New-York experience and an essential part of any visit to the Big Apple.
More on the Upper West Side: