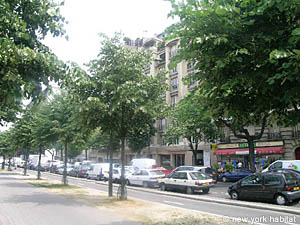 Any trip to France is incomplete without a few weeks spent living in the capital like a chic Parisian and at least a few days in a bucolic French-countryside village. Unfortunately for some of us, finances and a short time off from work force us to make a choice. And more often than not it's the boulevards, designer boutiques and grand restaurants that beat out the Roman ruins, small farms and funny French accents. Thanks to some ingenious urban renewal, Bercy Village plops the French countryside (or at least an imagined version of it) right in the middle of Paris. Many of New York Habitat's Paris accommodations put you within walking distance of the faux countryside charm.
We've already told you about the ascension of the city's Bercy quarter , but the Bercy Village deserves some attention all to itself. Located in the 12th arrondissement, the village brings to life the spirit of market shopping entirely unique in Paris. On each side of the street are low-rise buildings plucked right out of the 18th century and restaurant tables jut out onto the cobblestoned pedestrian rue from the village's several cafes.
Also filling the buildings are small art galleries, clothing boutiques, restaurants and, at one end of the street, a large UGC movie theater. The village is a perfect start to a stroll around the quarter and lies directly adjacent to Bercy Park and just across the Seine from the National Library. One storefront in Bercy is particularly mouth watering to Anglophone  tastebuds–The Frog micro-brasserie, an English-style pub brewing its own pints on site.
Fortunately, New York Habitat has plenty of apartment rentals in the picturesque 12th arrondissement of Paris.
This studio apartment in Daumesnil, Bercy – Gare de Lyon – Nation (PA-4199) is located between the Bercy Village and the bois de Vincennes, the largest public park in the city.  Another interesting apartment is a 2 -bedroom rental in Bastile (PA-3150).
So next time you're torn between visiting Paris or the countryside come to Paris, and take a trip to a country side village on your way to the Eiffel Tower.