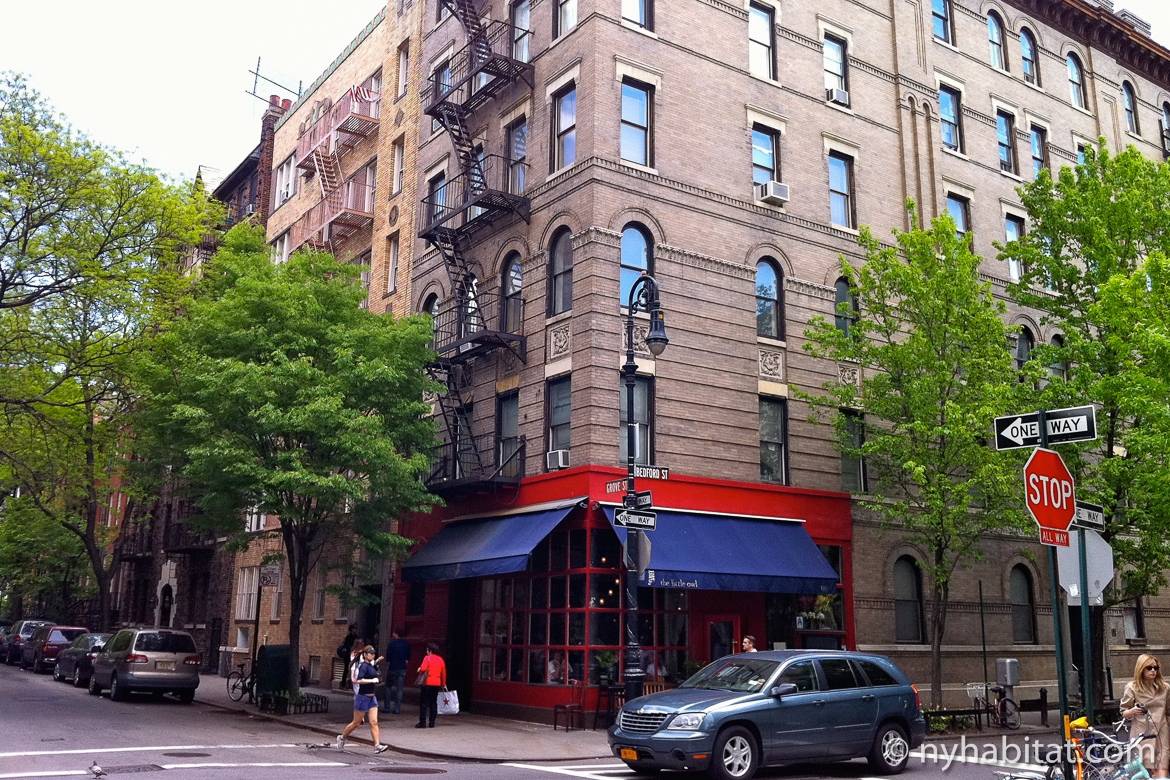 This is the kind of charming street corner you'll often see in Greenwich Village
Jack Kerouac wrote here. Jackson Pollock painted here. Odetta sang here. Greenwich Village–referred to by locals as simply "the Village"–and the West Village have traditionally been a refuge for New York's misfits like beatniks, bohemians, artists, and the LGBTQ community. For decades, these enclaves in Lower Manhattan stood at the forefront of the city's cultural heart as a place where folk music and avant-garde art could thrive. Today, you'll find designer boutiques, gourmet restaurants, and very few bohemians, but the historical impact of these artists lives on.
Welcome to Greenwich Village and the West Village
In downtown Manhattan, the Greenwich and West Villages are north of Soho, south of Chelsea, west of the Hudson River, and east of the East Village (take a look at our guide to this neighborhood here). The once-industrial neighborhood was claimed by New York's nonconformist crowd and fostered the talents of some of America's greatest artists. Due to the district's upscale makeover, most of the remaining artists have been priced out of the Village, but the neighborhood has never forgotten its roots. You'll find a mix of artsy businesses, concert venues, and designer fashion boutiques that sit between beautifully preserved brownstones. Upper-class residents–think movie stars and Wall Street businessmen–rub elbows with hip NYU students. As with anywhere in Manhattan, the area is served by multiple subway lines and bus routes, which means shuttling to other parts of New York will be a breeze. Our video tour of Greenwich Village will help you visualize the bustling neighborhood as well.
Go shopping in Greenwich Village and the West Village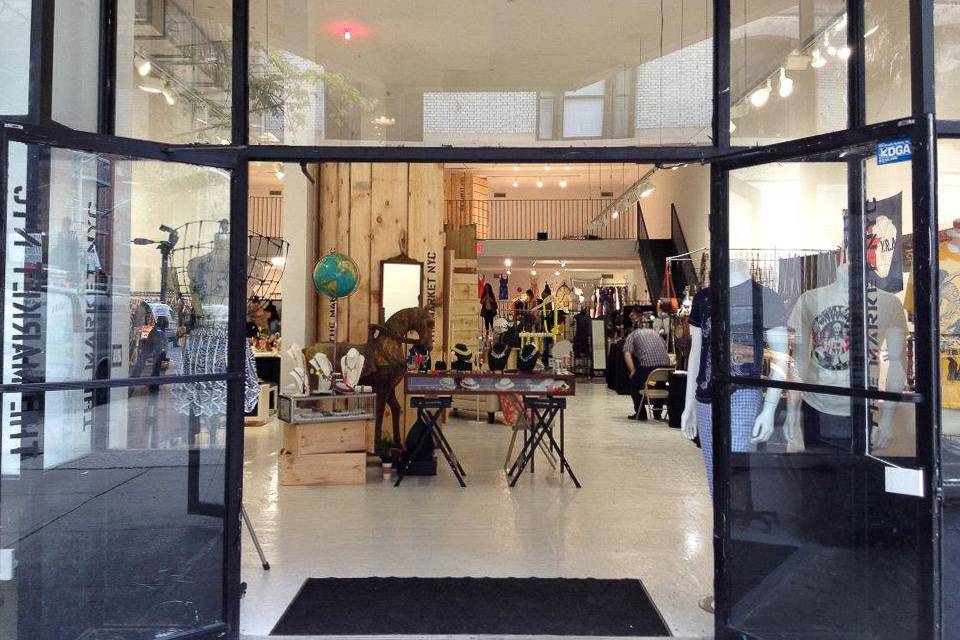 The Market NYC is a top destination for one-of-a-kind pieces
Like most of New York, the Greenwich and West Villages are shopping destinations. Whether you're in the market for mainstream trends or under-the-radar items, you'll discover a wide and exciting range of choices here.
Broadway, arguably New York City's most famous avenue, stretches into the neighborhood. And while you won't find dazzling musicals in this part of town, there's plenty of entertainment in the form of shopping and dining. The street's intersection around Union Square boasts familiar chains like Barnes & Noble and Sephora. For something more melodious, trek over to Thompson Street (beginning south of Washington Square Park) and sample the music on Generation Records' punk rock and metal shelves.
Bleecker Street, meanwhile, is a famed locale for concerts and live comedy. Bill Cosby, Jimi Hendrix, and Bob Dylan are a few of the performers who kick-started their careers along this street.
Looking for the perfect pair of shoes at a perfectly reasonable price? DSW (Designer Shoe Warehouse) on East 14th Street has a diverse inventory with discounted rates for international and high-end brands. Head east on E. 14th Street and you'll encounter Nordstrom Rack, an outlet version of the upscale department store. Go ahead and snag that Burberry tote you've always wanted for a wallet-friendlier price!
Two notable spots in the Villages are ideal for healthy food shopping. Whole Foods Market on Union Square East specializes in fresh organic ingredients in line with the franchise's name. Ensconced within Union Square Park is the Abingdon Square Greenmarket with tents that house crisp produce, beautifully cultivated flowers, and delectable baked goods.
Seeking a one-of-a-kind piece for your home or wardrobe? The Market NYC on Bleecker Street is the place to purchase unique jewelry, clothes, home décor and collectibles, and if you're lucky, you might see a live artisan at work within the giant store. Marc by Marc Jacobs in the West Village displays the latest fashions in the designer's collection. Flight Club along Broadway is an ideal place to hunt for rare sneakers at retail and consignment prices.
A wide variety of bath and body products await at C.O. Bigelow on the Avenue of the Americas (6th Avenue).
A paradise for bibliophiles, The Strand is a four-story wonderland on Broadway with all kinds of books, from current bestsellers to rare volumes, in every genre imaginable. Less than a block away, Forbidden Planet is a flagship shop for pop culture nerds; think comic books, action figures, and sci-fi/fantasy collectables. Why stop there? Our top 5 shopping spots in New York will ensure you get the most out of your retail adventures.
Coffee, restaurants, and nightlife in Greenwich Village and the West Village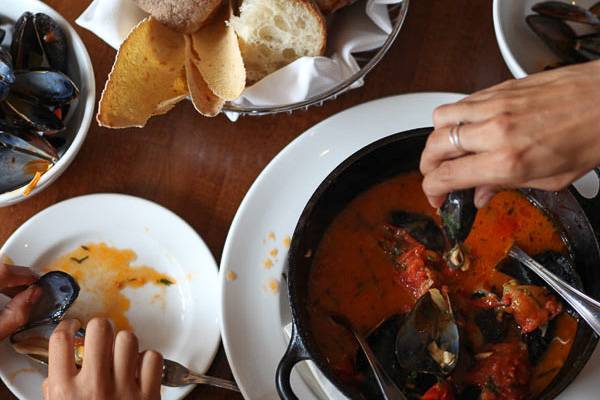 Indulge in bread, seafood, and other mouthwatering cuisine in the neighborhoods' many restaurants
After dark, the Greenwich and West Villages transform into city hotspots for dining, clubbing, and entertaining. With these top spots, you won't miss out on all the activity.
A warm and inviting atmosphere serving meat and seafood staples makes Jane (towards the southern boundary of the Village) a great dining experience.
The West Village's Spice Market brings Southeast Asian street food to a new level with a gourmet sensibility and a shareable style.
For cocktails and small plates–and an equally cozy interior–head to the candlelit Alta on West 10th Street.
Come to Minetta Tavern on MacDougal Street for the history (Eugene O'Neill and E.E. Cummings are just a couple of the writers who were regulars) and the many celebrity sightings, but stay for the French bistro's delicious menu.
Speaking of tiny interiors, Perilla on Jones Street accommodates roughly 18 tables without sacrificing its elegant American dining.
Have a mix of meat-lovers and vegans in your party? Red Bamboo on West 4th Street has a list of menu items catered to both tastes.
Italian cuisine gets the epicurean treatment at Scarpetta on West 14th and Lupa on Thompson Street. Both are run by gourmet chefs.
A three-course dinner awaits you at Gotham Bar and Grill on East 12th Street, which specializes in American cuisine with a chic twist.
To finish your meal, save some room for Max Brenner on Broadway: their decadent chocolates are too good to miss.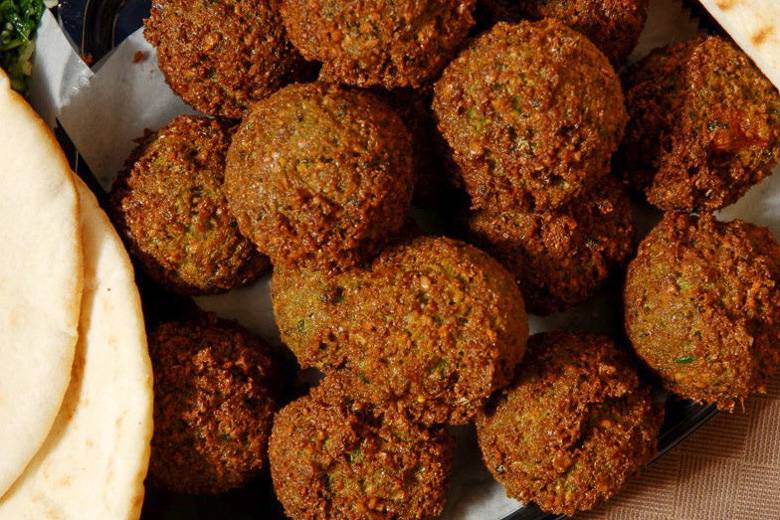 Expand your palate with a bite of falafel from Mamoun's
The Villages are not known for their inexpensive fare, but you can find cheap meals for less than $8 in this part of New York.
Mamoun's Falafel on MacDougal Street and Taim on Waverly Place serve Middle Eastern specialties that are sure to satisfy.
For mouthwatering Kati rolls (an Indian delicacy of meat and veggies rolled up in flat bread), look no further than The Kati Roll Company on MacDougal Street.
Carmine Street's Dos Toros Taqueria tantalizes the taste buds with perfected Mexican recipes like tacos, burritos, and quesadillas.
What would New York be without the best thin-crust pizza in the world? Joe's Pizza on Carmine and East 14th Streets brings the regional forte to delicious life.
We also recommend The Corner Bistro, Saigon Shack, and Dojo Restaurant.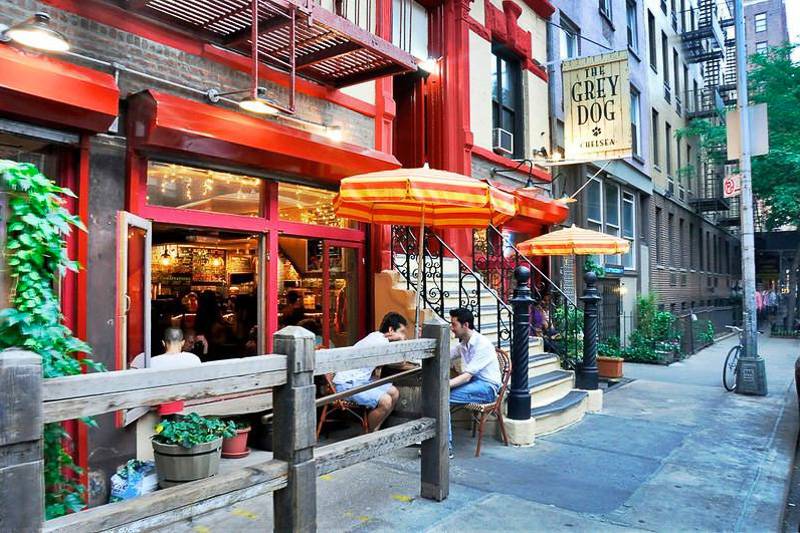 The Grey Dog is one of many cozy coffee shops in the area
In the mood for caffeine? You're in luck: both Greenwich Village and the West Village have plenty of coffee shops to start your day.
Intimate and dedicated to the best ingredients, The Grey Dog–with two locations on University Place and a coffee-only shop on Carmine Street–has over a dozen coffee varieties and an eat-in restaurant.
For a socially-conscious approach, Think Coffee on Bleecker Street works directly with coffee farmers around the world to create a fair cooperation system.
Joe the Art of Coffee on Waverly Place continues the sustainability theme by bringing in gourmet ingredients for its brews from Nicaragua, Costa Rica, and Ethiopia. There are also coffee-making classes for aspiring baristas.
Bourbon Coffee on West 14th Street honors its Rwandan roots by using beans and art made in the African country.
If you prefer tea, Bosie Tea Parlor on Morton Street offers over 100 types of tea cultivated by a resident tea sommelier, along with sweet pastries and macarons.
Check out Grounded, Third Rail Coffee, Roasting Plant, Jack's Stir Brew Coffee, and Presstea, too! For more café hotspots around the city, check out our list of the top 10 coffee shops in New York.
After-hours in the Greenwich and West Villages are just as exciting, with bars, clubs, and live performances that spring to life.
When it comes to taverns, it's often "go big or home," and Off the Wagon is not one to disappoint. With two levels and two different bars, this hotspot offers live rock and roll every night and over a dozen beers on tap.
The only rooftop beer garden in New York, the Brass Monkey on West 12th Street has two stories' worth of warm brick and wood interiors and a vast selection of beers, wines, and spirits. You can try something new from their rotating seasonal menu every time you visit.
For a multimedia experience, visit Le Poisson Rouge on Bleecker Street for drinks, an art gallery, and live music from eclectic indie and alternative rock artists.
Alternately, for something with a little more urban pizzazz, the Blue Note can't be beat for its lineup of jazz performers and wine samplings.
Later at night, walk over to Art Bar on 8th Street for a taste of the old Greenwich Village. The bar is slightly rough around the edges and has impeccable wall art and a kitchen open past midnight.
Other bars of notable interest are Little Branch, the Biergarten at the Standard, Down the Hatch, The Dove Parlour, Tortilla Flats, and Wicked Willy's.
If you want to dance into the wee hours of the night, then the club scene in this neighborhood is bound to get you on your feet.
For world-class DJs weaving a mix of the best EDM tunes, look no further than Cielo on Little West 12th Street.
For the club equivalent of a variety show, visit The Fat Black Pussycat on West 3rd Street: it hosts live musical performances, karaoke nights, comedy stand-up, and serves homemade infused vodkas.
Monster on Grove Street in the West Village celebrates its storied history. It was previously established for 1940s celebrities all the way to the disco days in the 1970s, but is now one of the most popular gay clubs in the area.
Meanwhile, VIP clientele flock to Hudson Street's Provocateur for its lavish interiors and guest-list-only parties.
Once you've exhausted these options, why not try the following: Le Souk Harem, Le Bain, The Griffin, Soho House, and the Village Vanguard?
Stay or live in Greenwich Village and the West Village 
Have we convinced you to stay or live in Greenwich Village or the West Village? If not, let our real estate do the talking! Our agents will work hard to ensure that you are paired with the perfect apartment or accommodation to suit your needs. If you're only in New York for a short time, our New York vacation rentals or bed and breakfasts across the two Villages are just the ticket.
If you're lucky enough to be moving to Manhattan, we suggest taking a look at our New York furnished apartments in the Village neighborhoods or a roommate share accommodation. No matter what you want in your future apartment, we can help.
Things to do and see in Greenwich Village and the West Village
The Center for Architecture honors the artistry of New York's and the world's infrastructures
As two districts full of historical significance, it's no surprise that Greenwich Village and the West Village are great for sightseeing!
The Gray Gallery of Art (partnered with NYU) prides itself on cultivating an ever-expanding discussion about art's relationship to greater historical and social contexts through rotating exhibits every few months. Its location at Washington Square East cannot be beaten, and its $3 entry fee is one of the cheapest you'll find in the entire city.
On LaGuardia Place, the Center for Architecture (free entry) honors the pioneering spirit of architecture on a global scale while celebrating the unique "urban fabric" of New York's buildings.
To understand the strength of New Yorkers, visit the Ground Zero Museum Workshop, which displays pictures and relics of the 9/11 tragedy. The museum is on West 14th Street between 9th and 10th Avenues and charges $25 for its tour (proceeds cover the gallery's running costs and are also donated to charities devoted to those affected by the tragedy). Be aware that tickets must be purchased in advance.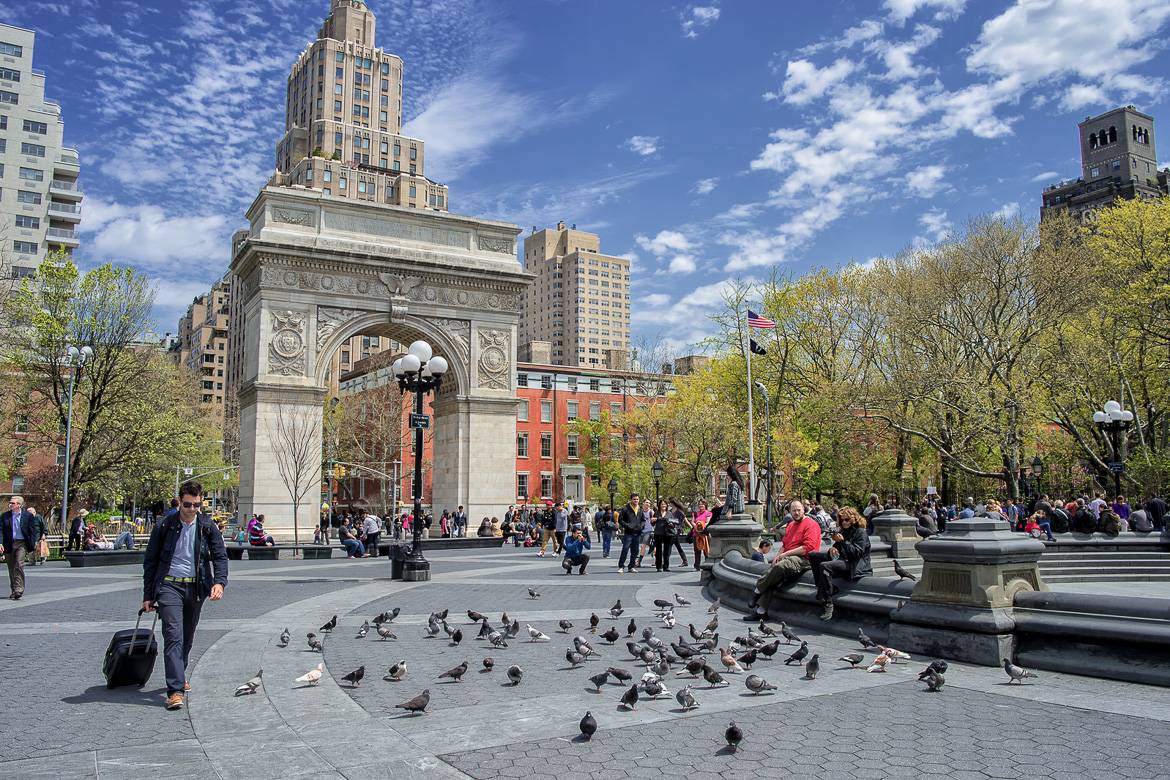 Street performers, families, tourists, and pigeons crowd around the famous Washington Square Arch
As an Episcopal church dating back to the 19th century, the Church of Saint Luke in the Fields on Hudson Street fosters community, activism, and faith. Feel free to take advantage of the church prayer if you'd like.
Likewise, Washington Square's Judson Memorial Church emphasizes the power of the community working together, but places a special emphasis on the arts.
The beautiful Victorian Gothic architecture of the Jefferson Market Library leaves an impact on patrons as they pass through the doors to browse the bookshelves. It's a quiet retreat from the hubbub of the Avenue of the Americas.
Washington Square Arch may be the most famous landmark in Greenwich Village. Its marble design was modeled after Paris's Arc de Triomphe, and it certainly lives up to the inspiration. Stroll along the Washington Mews or reflect on the generosity and empathy of people across the globe at Tiles for America, an art installation in memoriam of the 9/11 attacks.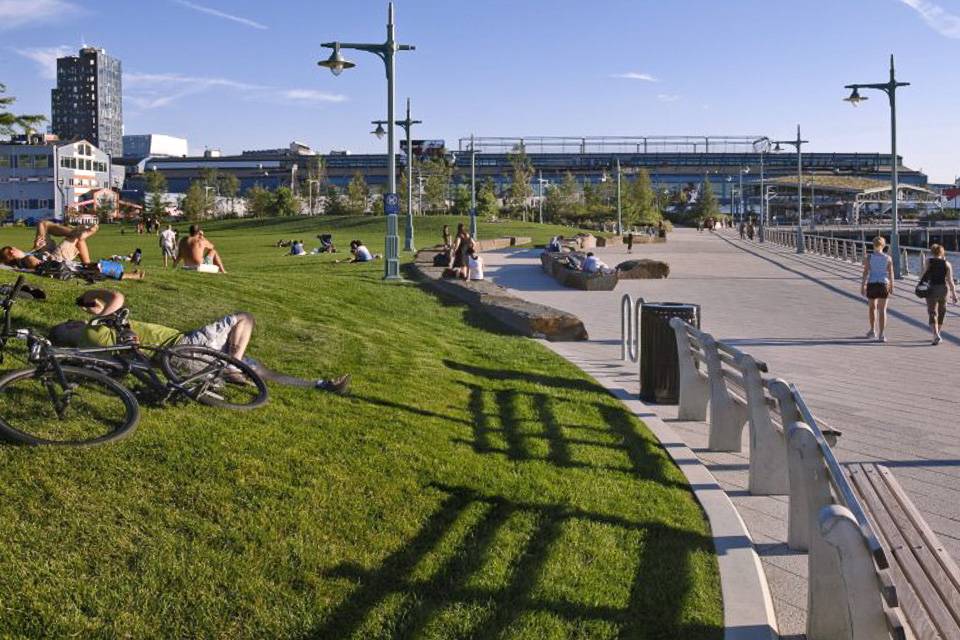 Lounge on the grass or get active in a pick-up sports game at Hudson River Park
One of Manhattan's most famous parklands, Washington Square Park, has certainly seen its share of changes from being the site of contentious riots in the 1960s to its current reinvention as a place for families, canines, chess enthusiasts, and avant-garde artists.
For more activity, head over to Hudson River Park. The parks is great for sporty pursuits such as kayaking, biking, ice skating in the winter, and the most unusual one of all: trapeze!
While it's nowhere near as grand as Central Park, Jackson Square provides an inviting escape from the urban jungle with its greenery, elegant central fountain, and Victorian-style fences and streetlamps.
For other parks in the area, walk through Jefferson Market Garden, Christopher Park, and Winston Churchill Square. Parks are some of the best ways to enjoy New York while on a budget. Here are some of our other favorite free things to do in the city.
What are your favorite spots in Greenwich Village and the West Village?