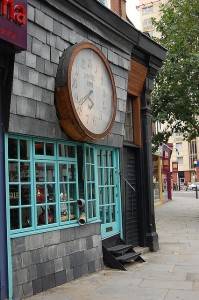 The London World's End shop
With a
Vacation Rental in London
, you can live like a local while taking in the city's sights. The only question is: With so much to see, how do you narrow it down? Simple—think like a local. New York Habitat wants to help by sharing some must-see musical sights.
So, in the spirit of Brit boy Nick Hornsby, author of High Fidelity, New York Habitat is bringing you its Top Five list of must-see musical sights around London.
Everyone knows about Abbey Road. Just ask the millions of visitors snapping pictures and clogging up traffic as they cross the famous zebra stripes to the Beatles' studios—and the line of drivers wondering just how much damage taking out a few tourists would cause to their Mini Coopers.
Okay, it's a pretty good photo op if four of you are traveling together. But there are other essential, in-the-know sights for music lovers in London that do not involve potential road rage or posing with wax statues of the Spice Girls. New York Habitat has London Flat Rentals within walking distance of each one.
What better place to start than at the World's End? Number 5 on the count down of must-see musical sites in London.
Despite its apocalyptic name, World's End is actually the area on the west side of The King's Road, one of London's most vibrant shopping streets where Sloane Rangers (think socialites) and trendy kids in trainers (think sneakers you can't live without) come together in funky boutiques (AdHoc), cool cafés (the Bluebird, which was converted from a car garage) and pubs too good to pass by without a pint (The Pig's Ear). At the edge of all this stands our Number Five spot. It's a store called World's End in Chelsea—and it's the place where British punk began.
In the early seventies, at 430 King's Road, Vivienne Westwood, first lady of avant-garde fashion, had a shop named SEX, co-owned by Malcolm McLaren. It was here that the members of The Sex Pistols first met and practiced in the store's back room—inventing an iconic punk statement and sound.
Even today, Westwood owns the store, now called World's End, which is easily identifiable by the backwards-spinning clock outside. Her new neighbor, ironically, is London's Conservative Club—but inside the shop, you'll swear it's still 'Anarchy.'
If you want to experience the action of King's Road first-hand, New York Habitat has some amazing Chelsea accommodations that will let you live a part of music history.
There's the 2-Bedroom Vacation Rental in Brompton, Kensington – Chelsea (LN-187) on Elystan Street between Old Brompton Road and King's Road, an area teeming with restaurants, shops and cafés all outside your door.
Also, there is a 2-Bedroom Accommodation in Kensington – Chelsea (LN-474) with a private terrace so that the sights and sounds of the city come to you.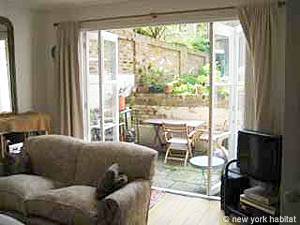 London Accommodation: 2-bedroom apartment in Kensington - Chelsea
These vacation rentals are minutes away from unparalleled views of the Thames River—and a world away from anything you've experienced before. Skip the hotel and live like a local in one of our accommodations. While you're at it, forget the tourist t-shirt that anyone can buy.
Nothing says London like visiting its punk rock roots at the World's End Shop.
Tune in next week to see what our Number Four can't-miss music sight will be. What do you think will make the list?