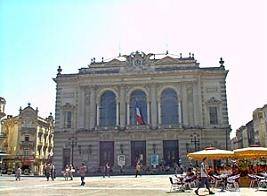 Montpillier South of France
Summer not only means vacations at the beach; it's also a great time for music festivals, both indoors and out.  Many larger cities in the South of France offer events in the summer such as festivals, highlighting just about every musical genre. In the next few weeks, we'll be looking at some of the best and letting you know what vacation rentals New York Habitat has to offer in the South of France.  This week, we'll explore Le Festival de Radio France et Montpellier Languedoc-Roussillon, a two week festival featuring classical music and opera.
Beginning on July 14th, and continuing on through the end of the month, this festival a must for classical music lovers.  Nightly events include recitals, choral concerts, and operas, both staged and in concert format.  There are also numerous free events going on throughout the festival, including recitals by young musicians, films, and even some jazz and electronic music.  Many of these events are held in the city's historic courtyards.  There are also two museum exhibits to see: one featuring Stradivarius violins and violas, and a retrospective of the work of 19th century artist Gustave Courbet, which was just recently housed in the Metropolitan Museum of Art in New York.
And when you want to break away from the festival activities, there is plenty of activities to do in Montpellier itself.  One of the oldest university towns in Europe, medieval and other ancient architecture can be seen throughout the city.  Talk a walk through the Esplanade or the city square to enjoy many shops and restaurants or pick a café in which to sit, relax and people-watch for a few hours.  There are also splendid botanical gardens to enjoy and the Musée Fabre, which mainly houses European painting and sculpture, and which recently underwent an extensive renovation.
New York Habitat has many vacation rentals in the Montpellier Region from which you can choose.  For instance, there is this 1 bedroom rental in the historic center Montpellier (PR-750), one of the most sought-after residential districts of the city.  The apartment itself is clean and simply furnished.  The separate kitchen and bathroom are both modern.
If you enjoy classical music, opera, or both, Le Festival de Radio France et Montpellier Languedoc-Roussillon is not to be missed. Not only will you hear some great music, but you'll also be vacationing in a wonderful city in its own right.  With a vacation rental from New York Habitat, you'll feel much more at home and like a true Montpelliard!
Have you visited Montpellier before?  Do you have any recommendations or tips for those wishing to go?  Please share them with us in our comments section.