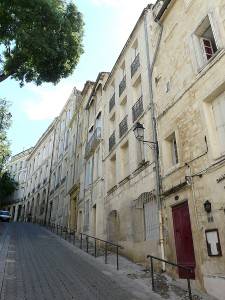 Historic Streets of Montpellier, France
The long-time capital of Languedoc-Roussillon, Montpellier has steadily maintained its well-deserved reputation of one of France's youngest and most multi-national cities.
The only major town in the region founded after the Ancient Times, Montpellier has never lost its lust for growth since its medieval beginnings.  Accordingly, it has forever attracted youngsters and foreigners thanks to its prestigious schools, global-minded companies and cultural vitality.  Add to that an ideal location between the Alps and the Pyrénées bathed by an unbeatable Mediterranean climate and you have an all-around winner.
One of Montpellier's most compelling jewels, these days, the Agropolis museum presents an exhibit that promises to enlighten its audience about "The Mediterranean: world of spices, garden of aromas" (Méditerranée : terre d'épices, jardin d'arômes).  Prized for their medicinal and savory virtues, spices have always been a never-ending source of wonders, and you'll be able to learn all about them with not only fun reproductions of ancient exotic homes and gardens, but also through seminars, workshops and activities for the kids.
When you're done with the educational stuff, you can guiltlessly enjoy the "Casanova Forever" project. For this occasion, numerous artistic endeavors all over town and beyond allow locals and visitors to find out more about one of history's most fascinating characters: Casanova.  Just know that the great seducer will not wait forever though, and this closes early October.
If you're feeling a bit nostalgic for home, go check out the "American Dream" exhibit at the Pavillon populaire. There, you'll be able to peruse some unusual photos of America by American photographers.  After all, what's a little bit of patriotic pride when traveling abroad?
To enjoy the city and its surroundings, we have various types of vacation rentals in the Montpellier Region well-suited to fit everybody's needs.
If you're bringing a group of nature lovers with you, you cannot beat our
5-bedroom furnished villa – Cabrias Aumelas (PR-992) 20 km from Montpellier and a whole world away.  There, you will be able to fully revel in a 14-century mas and its 1,000-hectare private domain as if they were your own.  Additional perks include a clay tennis court and a luscious swimming pool with many views on the stunning setting.
Another irresistible pool, Olympic this time, awaits you near our modern
2-bedroom furnished duplex – Montpellier (PR-819) right in the Antigone district of Montpellier.  With the regional library and the farmer market around the corner as well, not to mention a 10 km track that will take runners, bikers and roller-bladders right to the beach, you can indeed have it all!
If history is what you're after, our spacious 2-bedroom furnished apartment – Montpellier (pr-1133) in the city's historic quarter is it.  Next to the Place de la comédie and the train station, this rental is surrounded by cafés, restaurants and shops that will keep you busy for days on end.
Regardless of your circumstances, Montpellier won't disappoint you.  Have you been there and would care to share in our comments section?