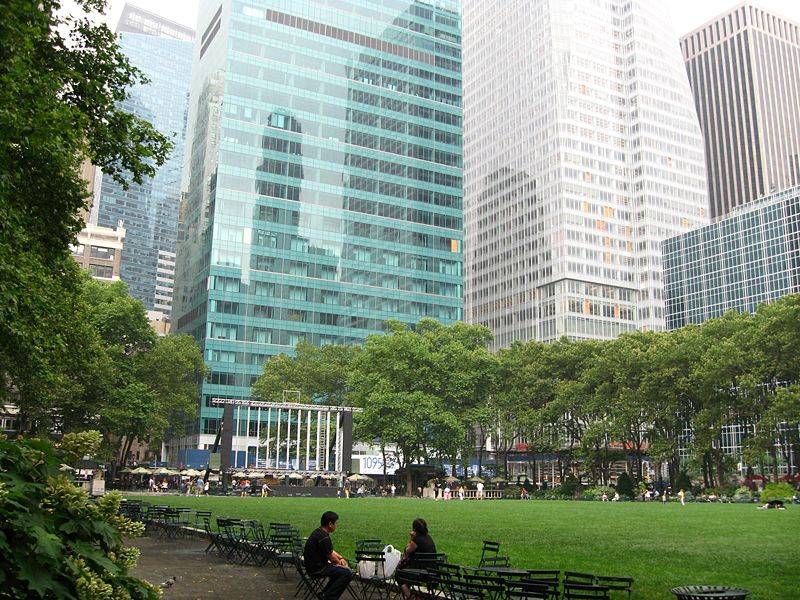 Bryant park in New York City
Mention a green oasis in the middle of Manhattan and most New Yorkers immediately think of Central Park. And rightfully so, the park has earned its reputation as the place to go for a bit of grass and space amid the city's concrete walls and cramped cubicles. Just south of its very big brother, on the edge between Midtown West and Midtown East, is Bryant Park, tucked into an 8 acre lot on 42nd street. The park is buttressed by the Beaux-Art New York Public Library building and surrounded by the awe-inspiring towers of midtown Manhattan.
More than just an open green space, Bryant Park has a busy schedule of free events planned for the summer. Bryant Park is named after New York poet William Cullen Bryant and has a literary feel to it. Besides sharing its space with the library, the park is home to sculptures of Gertrude Stein, German writer Johann Wolfgang von Goethe and, of course, Bryant. During the summer, students and intellectuals pour out of the library onto the main lawn to tap away on their computers or catch up on a novel—at lunch time the lawn fills with professionals from the nearby office buildings. In keeping with the literary tradition, the park holds outdoor readings with international authors all summer and houses an outdoor reading room for children. Virtually everyday the park has some sort of activity; from morning Tai Chi classes to screenings of live Yankee games at night. Bryant Park also has chess and backgammon tables, a functioning carrousel and a special area for Pétanque, the French game similar to the Italian Bocce. Also on site is the Bryant Park Grill and Café and four 'Wichcraft sandwich and coffee kiosks. Bryant park is located only a few blocks from Grand Central Station, one of New York's major transportation arteries and notable buildings. Consider apartments rentals in Midtown West to stay close to the park.
New York Habitat has always had a love affair with New York's smaller parks including Fort Tryon Park in Northern Manhattan, and Bryant Park happens to be steps from dozens of New York Habitat accommodations in Midtown East. This modern 1 bedroom apartment in Midtown East (NY-12109) is within 5 blocks of the literary park that could. This 1 bedroom loft apartment rental in Midtown East (NY-12330) sports big windows and a typical New York feel.
Do you have a favorte tree to sit under in Bryant Park? Comment below!