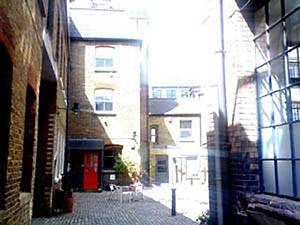 Shoreditch, London: Hackney apartments
A few years ago, you may not have heard of Hackney. Nowadays, it's one of London's most up and coming neighborhoods, thanks to an influx of spectacularly inexpensive and eclectic restaurants, a thriving art scene, and popular event nights at area clubs. If you chose a London vacation rental here, you can stay in the first place that many locals head to on their days off and the last place a lot of tourists think to look.
What makes Hackney a great neighborhood is its sense of community and shared spaces. In Hoxton Square, the heart of the area, you can run into students, moms with strollers, practitioners of yoga and tai chi, artists with sketchpads, international travelers, young Londoners taking it easy after a night out and old-timers enjoying these ever-shifting scenes. There's no better place in the city to strike up a conversation.
In the streets directly surrounding the square, you can discover a great tapas café, fresh sushi, a stylish, subterranean restaurant, a traditional pub, a chill cinema/lounge, a small shop selling graffiti-inspired graphic tees, an independent music store, and the always worthwhile White Cube art gallery. That's four blocks filled with the type of funky (counter-) cultural places that London is so famous for. Now you know where to find it! Do yourself a huge favor and, after booking your New York Habitat accommodation in Hackney, check out local city guides or websites that will tell you what's happening around London in any given week of any given season. You don't want to miss anything that's going on in Hackney! There are sure to be festivals, art fairs, musical celebrations, retro street parties and any number of community-oriented events when you're there.
In the fall and winter, you can already look forward to the Sutton House Craft Fair, the Ogle Everything holiday shopping stalls, various ghost walks (great for Halloween), Mother Goose children's theatre, and Bonfire Night (Nov. 5) in Hackney's Victoria Park, which marks an historic failed attempt to blow up Parliament by celebrating with—what else?—fireworks! Anything going on in Hackney is a guaranteed good time. Some amazing flats to stay in Hackney are: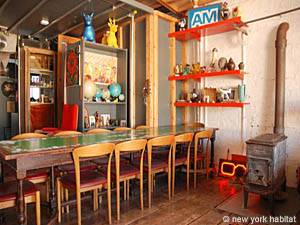 London Accommodation: 2-bedroom apartment rental in Hoxton (LN-573)
A fun and funky 2-bedroom vacation rental in Hackney, Shoreditch (LN-573) that has a balcony, laundry and eclectic décor. This second-floor loft near Hoxton Square sleeps six comfortably, with an additional double bed in its light, airy attic.
A 1-bedroom accommodation in Hackney, Shoreditch (LN-436). This rental comes with a terrace, parking space, laundry, garden and deck, stylish mod interiors…and three goldfish! It's on a quiet street closed to the main artery but within short walking distance of all the hippest clubs and bars.
A stay in a New York Habitat rental in Hackney will show you another side of London. Welcome to the neighborhood!
Let us know some of your favorite London festivals and can't-miss community events in Hoxton by leaving a comment below.
Related apartment rental posts from New York Habitat: