We're back for another installment of our video tour of Central Park.  In our first Central Park video we took you to some great places like Bethesda Terrace and the Central Park Zoo.  We've got a lot more in store for you in this next video.
Click above to watch this video: Central Park Video Tour – Part 2. (5:22)
The Bow Bridge:
There are 36 bridges in Central Park, and not one of them is alike.  Bow Bridge is one of the most photographed and filmed locations in Central Park.  Completed in 1862, it is constructed of cast iron.  It offers a fantastic view of the Lake and you can wave at boat riders as the pass under the bridge.
The Ramble:
We're entering Central Park's forest.  It's hard to believe that this is not a natural forest, but rather was hand-planted 150 years ago.  Today it has grown into a mature forest ready to be explored.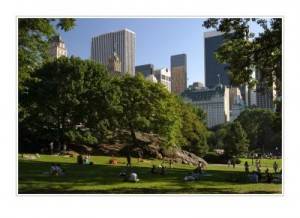 Central Park
Strawberry Fields:
–
Upper West Side
between 71st and 74th Streets
We're at Strawberry Fields.  Just across the street is the Dakota Apartment Building where John Lennon was shot in December 1980.  After Lennon's death, Yoko Ono donated money to have this small corner of the park dedicated in his honor.  It's one of the more popular spots in the park, so you'll want to come pay a visit.
Belvedere Castle: – Mid-Park at 79th Street
Perhaps the most magical monument in Central Park, the Belvedere Castle provides a panoramic view in almost every direction.  You'll get great views of the Delacorte Theater, the recently restored, 55-acre Great Lawn and Turtle Pond.
Delacorte Theatre: – Mid-Park at 80th Street
The Delacorte Theatre is the summer home of the annual Shakespeare in the Park production.  Home to the very popular Shakespeare in the Park series, thousands of theatre lovers come here every year.
The next best thing to being in Central Park is living near Central Park.  For your next trip to New York, consider renting one of our many apartments found around the Park. For example, think about an accommodation in the Upper West Side or an apartment in the Upper East Side.  You'll have quick access for an early morning stroll through the Park or prepare a lunch in your fully equipped kitchen for a mid-day picnic.
A great apartment just a stone's throw from Central Park is this beautiful two bedroom accommodation located in an Upper West Side building with roof terrace (NY-1313).
If you'd like to be near the park, consider this Upper West Side furnished rental studio  (NY-14876).
Summerstage:
I've mentioned this before in other videos, but it's worth repeating, one of the best summer events in New York is a string of free concerts from June through August.  The event is called Summerstage and it's held in the heart of Central Park.
Great Lawn: – Mid-Park from 79th to 85th Street
This area is called the Great Lawn.  It's another one of my favorite parts of Central Park.  The New York Philharmonic gives two free performances here every year.  There are 8 permanent baseball fields.  You'll find kite flyers, sunbathers, book readers and more.
Turtle Pond: – Mid-Park between 79th and 80th Streets
What's nice about Turtle Pond, besides all the turtles, is that this area is a designated quiet zone – making it a great place to relax, read or take a quick nap!  And come on, who doesn't like turtles!?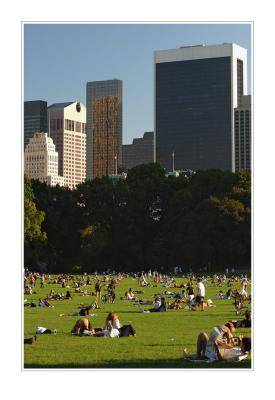 Central Park Photo
The Obelisk:
-East Side Drive at 81st Street
The Obelisk, or Cleopatra's Needle, is the oldest public monument in North America.  Installed in 1881 it was a gift from the Egyptian government. It's amazing to think that this was built in Heliopolis around 1500 BC!
Central Park Reservoir: – Main entrance to the Reservoir: 90th St. and 5th Ave
This is the Central Park Reservoir.  It's probably best known now as home to the 1.58 mile running track that surrounds it.  You've probably seen it in tons of movies.
Alice in Wonderland:
Probably the park's most beloved sculpture, it is a depiction in bronze of a group of our favorite characters from Lewis Carroll's Alice's Adventures in Wonderland.
Well that's all we have time for today.  And yet there's still more fun to be had in Central Park.  If you've  any advice on what to do in Central Park, take a moment and share with us in the comments section below.
And if you're coming to the city, why not rent one of our hundreds of vacation rentals in New York.  You're sure to find the apartment that's just right for you.  You can also follow us on Twitter or watch other videos on our New York Habitat Video on Youtube.  We'll let you know when new videos are posted to our blog as well as other apartment rental news and special offers.


Pictures from Francois Roux Photography